Aleppo Pepper Vs Gochugaru? Are Both The Same?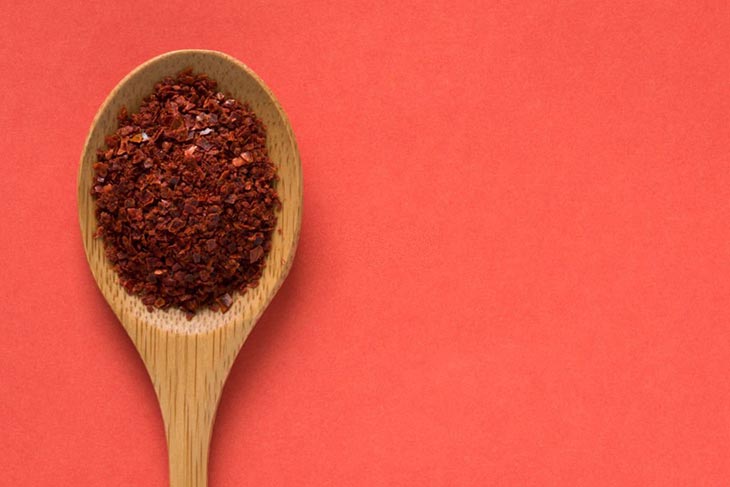 Some people tell me that Aleppo pepper is same as gochugaru, yet other said NOT. So what is different between Aleppo pepper vs Gochugaru? Check it out!
Aleppo pepper was named after the Northern Syrian city of Aleppo. The spice continues to be sauced from great cities all over the world.
Aleppo is a spice used to season meat, beans, and salads. However, you can still use this spice like any other dried pepper.
It also can be used in several meals to enhance their taste, give them a smoky effect, and, in a few instances, enhance the color of the food with its bright red elegance.
How about the gochugaru taste and texture compare with Aleppo pepper. Is it the same as aleppo? Dont be hurry! this article will help you out of this problem.
What is Aleppo pepper?
Aleppo pepper is known as the other name – Halaby. It is a common spice that was widely used over the world. This spice was first discovered in Syria, then was used popularly in the Mediterranean.
It has a red, bright color and mild, smoky taste, so It is easy to go with some dishes such as eggs, vegetables, or even with pork or beef dishes.
If you are a pizza lover, just put on a little Aleppo on it, you will feel the difference that this pepper brings to the pizza.
What is the Main Difference between Aleppo Pepper Vs Gochugaru?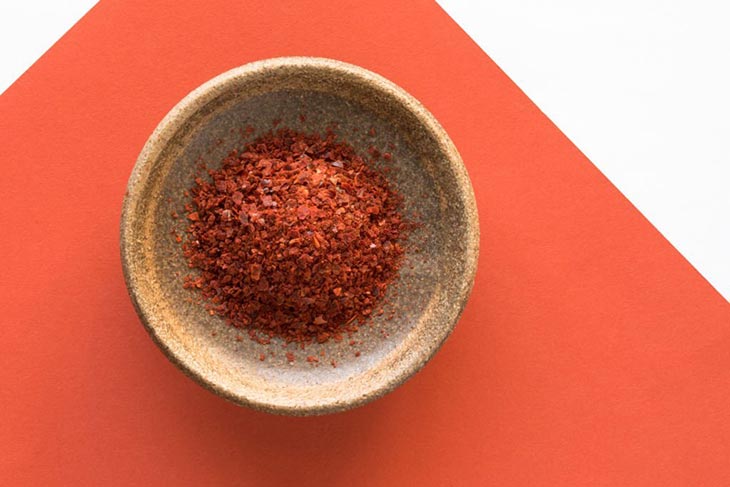 Aleppo pepper Powder, unlike Gochugaru, is mildly spicy with 10,000 SHU. It is made from Aleppo pepper Powder that you can smoke and dry with jalapeno peppers.
Aleppo is perfect when needing to add a bit of smokiness to your meals.
Gochugaru, on the other hand, is a Korean ground chili that looks similar to red pepper flakes, especially in texture.
Every Korean cook keeps the Gochugaru spice close. It is essential. If you need to have a fiery, extremely smoky flavor in your meals, Gochugaru comes in handy. It will still play the part if you also need just a mildly smoky flavor.
Gochugaru offers different levels of flavor to your food. It can enhance the sweetness of your food and how hot it should be and is used widely in Korea to make Korean cuisine.
What then is the main difference between Aleppo pepper Powder and Gochugaru powder? While there are many similarities between the Aleppo and gochugaru powders, they are not entirely the same.
Their making and production are different. They are also sold by various manufacturers and at other local shops.
As the spices are, they also have their main differences in what they do to the meals that they are used in. Aleppo is a mild spice.
If you need to add a bit of smokiness to your food, it is recommended. Gochugaru, on the other hand, can be soft and hot. It can therefore give extreme smokiness or mild, as needed.
Can You Use Aleppo Pepper Powder Instead of Gochugaru?
If you have delved into Korean cooking, you must have an idea of the Gochugaru or Gochujang spice and its use.
While you can find the gochugaru available in a specialty food market, you may need to think outside the box to get an alternative for it.
It is an exotic spice, but it is a type of crushed chili pepper in simpler terms. With this, the options at your fingertips increase in number.
While all these options are a good choice and can be a substitute gochugaru, consider their strengths and weaknesses and if they will meet your specific needs.
So, can Aleppo pepper powder be a substitute for Gochugaru? The answer is yes.
Both gochugaru and Aleppo pepper can be used as other substitutions. Because they will not change the taste of the dish when add as a substitute.
Moreover, when you need to add some smoky flavor to your dishes. I bet that nothing can be better than Aleppo.
One more thing is Aleppo is an easy-to-find spice. It is easy to buy an Aleppo pepper package at any local Middle Eastern grocery store or online order on the Amazon platform.
What is Aleppo Pepper Used?
Aleppo pepper is not as spicy as other pepper products. It is half as spicy as other red chili flakes. Unlike other chili powders, the smokiness of the Aleppo powder builds slowly.
Aleppo flavor is tangy and sweet and has hints of raisin, citrus, and tomato notes. You can feel some earthiness and roasted flavors in the powder in some cases.
You can use Aleppo pepper in meals that you intend to have slow-building but complex heat. It can also be used as an additional spice in a meat mix.
You can combine the Aleppo with spices such as garlic powder, sugar, turmeric, and cumin in such a case.
You can also substitute the Aleppo powder with ancho chile powder and ensure to add a little powder and red chili pepper flakes. The only thing is that the taste does not match the Aleppo paper without substitution.
Conclusion
Aleppo and gochugaru are similar and can be used together in the same recipes. However, you need to understand your preference and if the use of one or both will meet your required needs at that particular time.
In addition to this, it is also good to note that Aleppo powder is an excellent substitute for gochugaru. While making a recipe and you realize that you do not have the gochugaru, consider using the Aleppo as a substitute.