11 Best Almond Butter Substitutes In Baking
Take a look at some of the best almond butter alternatives that you can use in your next recipe! They are all fairly easy to find and taste great as a replacement!
So, if you've been wondering, "What can I use instead of almond butter?" or "What can I substitute for almond butter?" Save time with my almond butter substitute list below!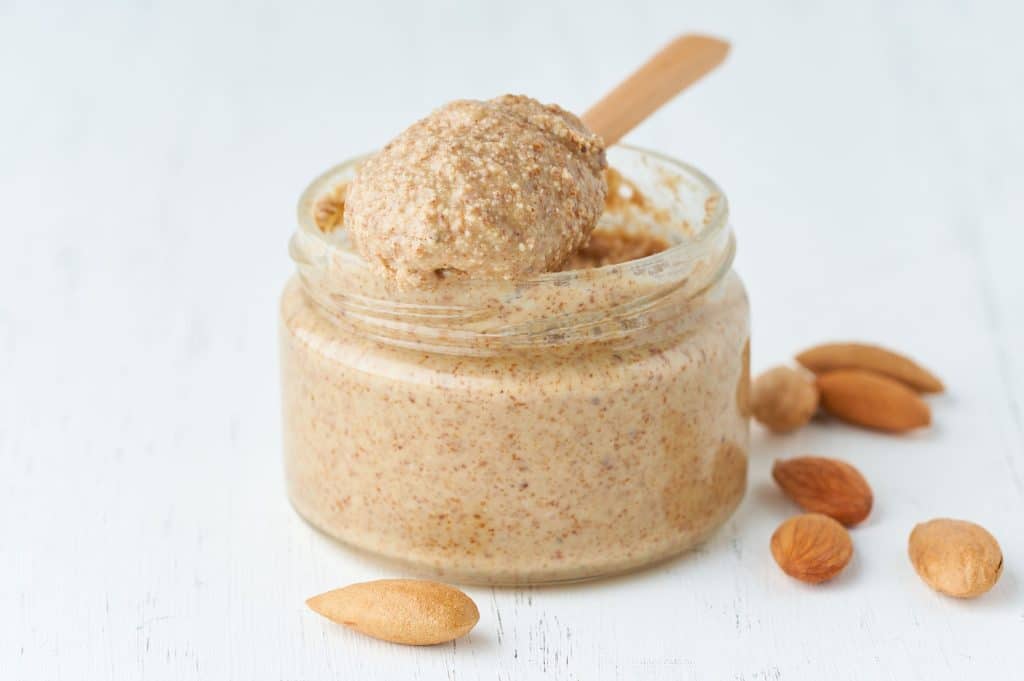 What Does Almond Butter Taste Like?
Almond butter has an interesting combination of sweet, savory, and roasted flavor with a strong almond undertone.
The texture of roasted almonds is super creamy, silk-like, and is easily mistaken for peanut butter. Because of this big similarity, you can also substitute almond butter for peanut butter recipes.
This delicious butter is great to be on top of your toast slices and vegan pancakes. You can also use it as a flavor enhancer for your healthy smoothies and shakes. It can also be a great topping for many cakes, cookies, puddings, and cupcakes.
Almond Butter Substitutes
Almond butter is a tasty ingredient that can elevate your dishes' flavor greatly. However, it is not an average price ingredient that you can find in any local store. So, what is a substitute for almond butter?
If you're looking for a cheaper version, or you have a nut allergy, here are these almond butter substitutes:
1. Sunflower Butter
Sunflower butter is an ideal substitution for almond butter when you're allergic to nuts. This butter is made with butter and sunflower seeds to give you a similar flavor and texture to almond butter. The sunflower seed butter has a sweet and salty flavor with a creamy and silky texture resembling almond butter.
However, the color of sunflower butter is green, which is quite different from the yellow mustard color of almond butter. So, you need to be careful when substituting it with mixing butter recipes.
When using sunflower seed butter to substitute in almond butter recipes, you can use less baking soda or baking powder to prevent the bold green color in your baked goods.
2. Pumpkin Seed Butter
Another great almond butter alternative for a free-nut experience is pumpkin seed butter. Pumpkin seed butter is a combination of butter and pepitas. It has a creamy and smooth consistency that you can find in almond butter.
Pumpkin seed butter is creamy with a green outlook. When tasting the butter, you can find a buttery and sweet taste with a rich and earthy note of pumpkin seeds.
People use it to enhance the flavors of many dishes, like spreading it on crackers, muffins, and sourdough pancakes. You can also mix it with yogurt to create an earthy flavor. It is also great to be added in shakes, smoothies, cooked oatmeal, and other types of baked goods.
3. Cashew Butter
One of the good alternatives to nut butter that can be used for almond butter is cashew butter. Raw cashew is crunchy and sweet for snacking, and it is also a great ingredient for butter. The butter has the rich and sweet taste of cashew.
When it is mixed with butter, the mixture is creamy and smooth, similar to almond butter. And a bonus point is the color of cashew butter is also yellow.
Because of the similarities, you can use cashew butter for many almond butter recipes like on toast, smoothies, and baked goods. However, cashew butter has less protein than almond butter, so it is not the first option for protein-based recipes.
4. Walnut Butter
If you're a walnut lover, you would love this almond butter substitute. Walnut is known for its amazing health benefits that are widely used in vegan diets. It contains many omega fatty acids that strengthen your body structure and provide enough energy for the day. When it is mixed with butter, it becomes a yummy and healthy ingredient for your diet.
With a creamy texture, walnut butter has an earthy flavor with a slight bitterness of walnuts that can substitute for cashew butter. You can use it as an energy boost for your breakfast or a nice creamy addition for your smoothies and shakes.
5. Peanut Butter
If you wonder, "Can I use peanut butter instead of almond butter?" or "Can you substitute peanut butter for almond butter recipes?" The answer is a big yes! You can substitute peanut butter with almond butter because of a huge similarity between them. Furthermore, peanut butter is a popular ingredient that you can find in any local store at a reasonable price.
Peanut butter is a tasty nut-based butter with a specific nutty, sweet, and salty flavor combination. It is also creamy and fluffy enough to be a great almond butter replacement in topping up on slices of toast and adding a bowl of oatmeal.
6. Pistachio Butter
Pistachio butter is such an underrated nut butter substitute compared to peanut butter. This amazing butter has a tasty flavor and texture that can be used in many almond butter recipes.
With a classic creamy texture, pistachio butter has a great flavor combination of sweet, nutty, and earthy roasted pistachios. The butter is also super healthy with many nutrients like fiber, potassium, vitamin B6, amino acids, and protein to give you enough nutrition for your diet.
As the flavor of pistachio is quite versatile, it is known to be a great replacement for almonds or pine nuts in pesto sauce. You can also use it in your oatmeal, desserts, filling for crepes and toasts.
7. Pecan Butter
How amazing it is to have a diversity of nut butter alternatives! Pecan butter is another potential substitute for almond butter in baking because of its ability to complete your dishes with its creamy texture.
This pecan-based butter has a strong nutty taste with a slight bitterness that gives you an authentic flavor of natural pecans. You can also find pecan butter, a rich source of fiber, monounsaturated fat, calcium, magnesium, zinc, and iron that keep your body healthy and energetic.
With the signature taste of nuttiness, pecan butter can be used on toasts, sandwiches, and savory crackers. It is also great to pair up with bananas, blueberries, and strawberries on finely toasted bread.
8. Hazelnut Butter
Hazelnut butter is another tasty almond butter alternative that I have to put on this list. Hazelnuts are a popular nut type widely used in many condiments, and pastes like the famous yummy chocolate spread Nutella.
Hazelnut butter has an amazing nutty, earthy, and lightly sweet flavor similar to almond butter. This nut butter replacement is a great source of protein, fiber, calcium, antioxidants, and vitamin B6 that can replace almond butter in your diet plan.
You can use it for most almond butter recipes like on toasts, dessert toppings, smoothies, and baked goods. You can even create your own homemade Nutella by simply adding chocolate inside.
9. Greek Yoghurt
The creaminess and smooth texture with low-fat content are what you're looking for? You can substitute almond butter with Greek yogurt in many dessert recipes. Greek Yogurt is a dairy product with a higher protein content than other dairy yogurts. This produces a creamy and thick consistency with a mildly sweet and tangy taste.
To substitute for almond butter, you can use 1 ½ tablespoon of Greek yogurt for one tablespoon of almond butter. It is better if you use plain yogurt that can easily blend with many dessert recipes.
10. Mashed Avocado
If you're not into any nut-based butter and short ingredients for your favorite toast or desserts, you can use mashed avocado as one of the substitutes for almond butter. It might not be the best in flavor, but avocado is a healthy ingredient that you can process quickly for a quick breakfast.
With a creamy and fluffy texture, you can utilize it in other baked dishes in place of butter. When it is mixed with other ingredients, avocado can give extra moisture to your vegan recipes.
11. Unsalted Butter
If you wonder: "Can I use butter instead of almond butter?"
The answer is, of course! Unsalted butter can work as an almond butter substitute when you are in a hurry. The butter should be vegan-friendly and low-fat unsalted to substitute in your vegan recipes.
However, when using unsalted butter, you won't be able to achieve the same nutty flavor. Therefore, it is best to mix it with some nuts and fruits to spice up your dishes.