Mushrooms are a popular food item that have been enjoyed by humans for centuries. However, there is a debate about whether mushrooms should be considered vegetables or not. Some people argue that since they are often used in savory dishes alongside other vegetables, they should be classified as vegetables. Others point out that mushrooms are actually fungi and not plants.
Regardless of how you classify them, mushrooms offer many nutritional benefits. They are low in calories, high in fiber, and contain important vitamins and minerals like vitamin D and potassium. Some types of mushrooms even have medicinal properties and can help boost the immune system.
So, whether you love mushrooms or are just curious about them, this blog post will explore the debate and highlight the nutritional benefits of these tasty fungi.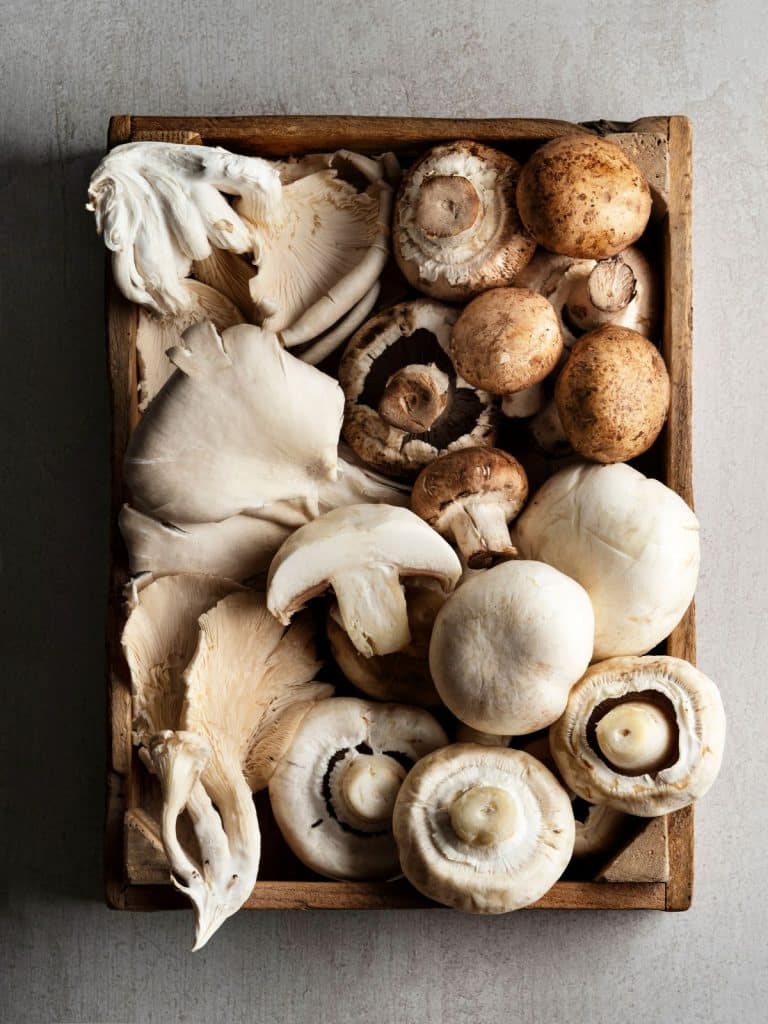 What Types of Mushrooms are Edible Mushrooms?
There are numerous types of mushrooms that are edible and safe for human consumption. Here are some of the most popular and widely available edible mushroom varieties:
Button Mushrooms: Also known as white mushrooms, these are the most commonly consumed mushroom variety in the United States. They have a mild flavor and are often used in salads, soups, and stews.
Portobello Mushrooms: These large, meaty mushrooms are often used as a vegetarian substitute for burgers or steaks. They have a rich, earthy flavor and a meaty texture.
Shiitake Mushrooms: These mushrooms have a slightly smoky flavor and are often used in Asian cuisine. They are also used in many vegetarian dishes and have been shown to have medicinal properties.
Oyster Mushrooms: These mushrooms have a delicate, slightly sweet flavor and a velvety texture. They are often used in stir-fries and soups.
Porcini Mushrooms: Also known as cèpes, these mushrooms have a meaty texture and a rich, nutty flavor. They are often used in Italian cuisine, particularly in pasta dishes and risottos.
Morel Mushrooms: These mushrooms have a distinctive honeycomb texture and a nutty, earthy flavor. They are often used in French cuisine and are considered a delicacy.
It's important to note that while many types of mushrooms are edible, there are also many poisonous mushrooms that can be harmful or even deadly if consumed.
Therefore, it is essential to only consume mushrooms that you can positively identify as safe to eat or purchase them from a reputable source.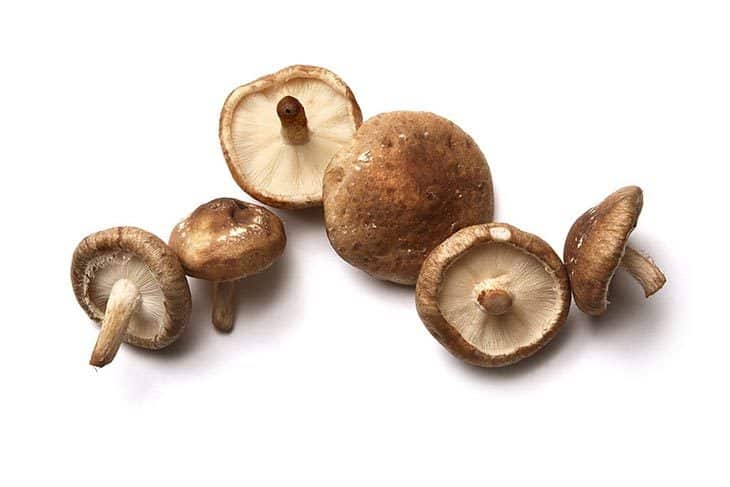 Types of Fungi
1/ Parasitic Mushroom
this type of fungi almost belongs to wild mushrooms. Because they are grown and live on the tree, take all nutritions to live from the tree until die.
They didn't contribute anything back to the tree, so it will be rejected due to the law of nature.
2/ Mycorrhizal Fungi Mushrooms
This type is considered a symbiotic relationship between the mushroom and root system of the tree. They eat the nutrients that are taken from the tree, but also help the tree root get better and better.
Some popular edible Mycorrhizal mushrooms may include cremini and portabello mushrooms.
3/ Saprotrophic
This fungus included mostly 3 kinds: shiitake mushroom, crimini mushrooms, and Agaricus Bisporus.
Saprotrophic mushrooms are grown for the plant such as tree roots, or dead leaves (organic matter) that they killed by releasing the enzymes and acids to decompose tissue into small molecules, then absorb them.
Based on this feature, saprotrophic mushrooms were widely produced in mushroom farms.
This type of fungus provides a lot of nutritional value and health benefits as well. What is it?
What Are The Health Benefit And Nutritional Benefits Of Mushrooms?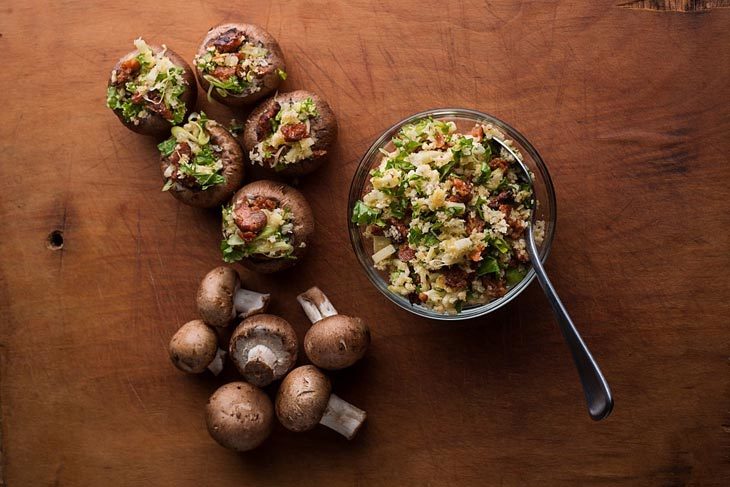 Not only delicious food, but this also doesn't take away from the fact that mushroom consumption gives a ton of health benefits to our body.
There are many kinds of mushrooms such as shiitake mushrooms, needle sticks, oyster mushrooms, or chicken drumsticks that also work to enhance resistance, anti-aging, lower risk of heart disease, and reduce cholesterol levels.
Especially, new research shows that mushroom extracts can reduce estrogen, which can prevent breast cancer risk. However, that is an animal trials report for reference only, not official reports.
On average, 100 grams of fresh mushrooms contain 25-40% protein, 17-19 types of amino acids, including 7-9 types of amino acids that the body cannot synthesize, and 7% of mineral content.
Besides, the fresh mushroom is a good source of vitamin D, B1, B6, B12, PP and pantothenic acid. Recently research shows that a huge of vitamin D will be generated by illuminating ultraviolet light in mushrooms.
The UV light will convert ergosterol in mushrooms into vitamin D. Thus, mushrooms contain high calories, helping you get enough energy to work.
In particular, mushrooms have antioxidant reserves equivalent to the healthiest products in vegetables. Fungal selenium inhibits tumor growth, high blood pressure problems.
It also fights inflammation, activates liver enzymes, and aids in the deactivation of prostate cancer-causing elements.
Mushrooms are an excellent source of fiber with a relatively high value, even higher than some plants, for instance, sweet potatoes or tomatoes.
Nutrition experts and professionals have announced: Same as red bell peppers, the mushroom is a great source of dietary fiber, on average, a 100-gram serving of mushrooms contains about 1.02 gram of dietary fiber,
Depending on the type of mushroom that may contain higher levels, such as dried mushrooms with 21 grams of fiber and abalone mushrooms containing 8-14% by weight of fiber.
In general, eating mushrooms will boost your immune system.
One more good news for the person who has been hypertensive. There is one kind of edible mushroom that may help lower blood pressure – the Reishi mushroom.
Don't worry this type is safe for eating but make sure you are not pregnant or breastfeeding.
Have you ever wondered why mushrooms have so much nutritional value? The answer is a mushroom's characteristics.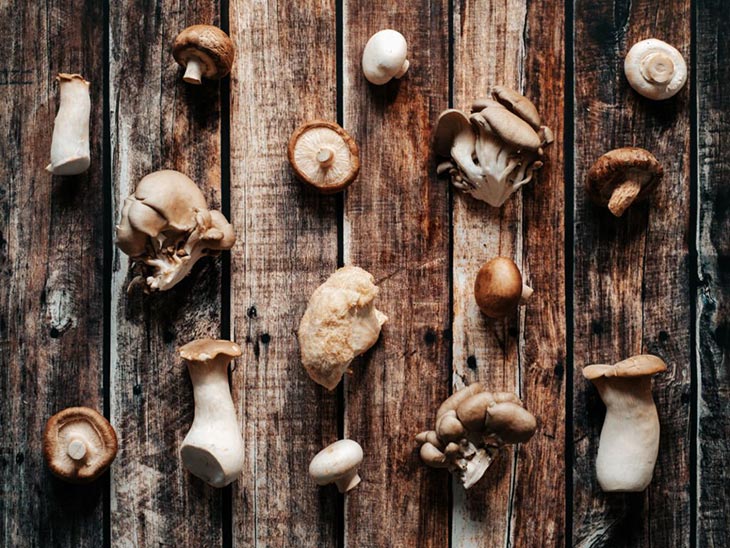 What Are The Characteristics Of Mushrooms?
1/ Biological structure of mushrooms
The structure of the mushroom has two main parts: the mycelium and the mushroom cap.
Mycelium is a vegetative organ consisting of septum cells, each with two nuclei, and free of chlorophyll.
Meanwhile, the mushroom cap is located on the stalk. It is a reproductive organ. Under the mushroom cap, many thin sheets are containing many spores.
Hats are usually conical or funnel-shaped, with a sticky stalk in the middle or side. The underside of this group is composed of thin sheets that are arranged close together like spokes. In some cases, the blade extends from the cap to the stem.
In cuisine, people often use the body and the mushroom hat to process food. However, it is necessary to prepare very carefully because many types of fungi contain toxins that can cause poisoning and danger to humans.
2/ Ecological characteristics
Mushrooms have a symbiotic relationship with almost all other plants. Their relationships can be mutually supportive or mutually exclusive.
The symbiosis with plants has a long history, at least from more than 400 million years ago, which is also known as mycorrhiza.
It is divided into two types: mycorrhiza (endomycorrhiza) and external mycorrhiza (ectomycorrhiza). We can easily find both of these kinds while picking mushrooms in the forest.
This is the best known fungal complex. They play an important role in plant growth and many ecosystems. More than 90% of the plant species are fungal-related in the mycorrhizal form and depend on this affinity for survival.
They often increase the ability of plants to absorb inorganic compounds, such as nitrates and phosphates.
In some mycorrhiza, the fungal composition can act as an intermediary between the plant and the plant, transporting carbohydrates and other nutrients.
Some mushrooms can stimulate plant growth by secreting plant hormones, such as indoleacetic acid (IAA). Also, they can secrete mycotoxins to prevent herbivores from eating their hosts.
These toxins are the cause of mycotoxicosis, causing many dangerous diseases for humans. If it is mild, you may experience abdominal pain, dizziness, and severe health conditions such as coma or death.
3/ The diversity of mushrooms
Mushrooms are distributed around the world and grow in a variety of habitats, including deserts. You can easily find a specific mushroom substitute everywhere on Earth.
Most of them live on dry land, but some species are only found in aquatic environments.
Mushrooms are major decomposers that play an important role in terrestrial ecosystems around the world.
Based on the ratio of the number of species of fungus to the number of plant species in the same environment, it is estimated that there are about 1.5 million species of fungi.
There are about 70,000 species of fungi that have been discovered and described by taxonomists. Still, the actual size of the fungus diversity remains a mystery.
Most fungi grow as multicellular filaments called mycelium, which makes up mycelium (or mycelium), while other species develop a single-cell amorphism.
Until recently, many mushrooms have been described based on morphological features. These contain sizes and shapes of the spores or pods, or organism concepts.
This has greatly increased the way and ability to estimate fungal diversity within different taxonomic groups.
How To Preserve Mushrooms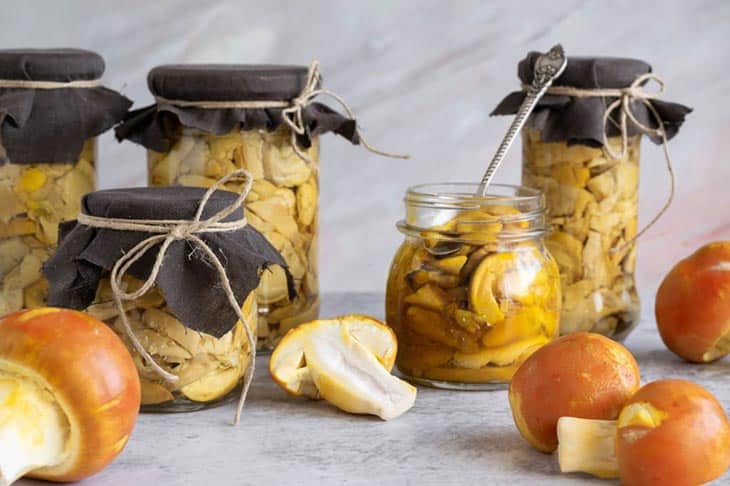 Mushrooms often have a short shelf life, difficult to preserve freshness. They can be severely damaged in just about 1 to 2 days. It would help if you only bought enough to eat. In the event of a hoard purchase, we will show you the proper storage.
Store the mushrooms at room temperature
Mushrooms can be kept fresh for four days if kept at 10 – 15 degrees Celsius. If you want to keep mushrooms longer, put them in vacuum bags and put them in the refrigerator.
If not, you can also use the way to blanch the mushrooms over boiling water for about 2 minutes and then take them out and drop them into cold water and let you put them in the refrigerator cooler.
With this method, you can preserve the mushrooms for about 3 to 4 days while the mushrooms are still fresh.
Preserving the mushrooms in salt
You should simmer the mushrooms in boiling water and salt for 10 to 15 minutes. Once the mushrooms are softening, remove them quickly and let them cool.
Wait a while, then put the mushrooms in a clean bottle, soak them in saltwater with a concentration of 20-23%.
During such a salt bath, if the brine is cloudy or moldy, it is advisable to change to another saltwater to avoid infection. This way, you can keep the mushrooms for several months.
Dry the mushrooms
If you want to preserve it for longer, you should not refrigerate and dry the mushrooms. First, you need to use a small knife to cut the mushrooms in half and dry them in the sun.
When you use it, it would be best if you soak the mushrooms in the water. At this point, the mushrooms will bloom, and you can make delicious dishes like sautéed mushrooms with olive oil.
It is much better than canned mushrooms you get from the supermarket.