The Best Au Jus Substitutes
Looking for the perfect au jus substitute to enhance your dishes? Look no further! In this comprehensive guide, we'll explore the best alternatives to au jus.
From rich and savory gravies to aromatic broths and innovative homemade concoctions, we've got you covered. Get ready to discover the top au jus substitutes that will impress your guests and leave them craving more!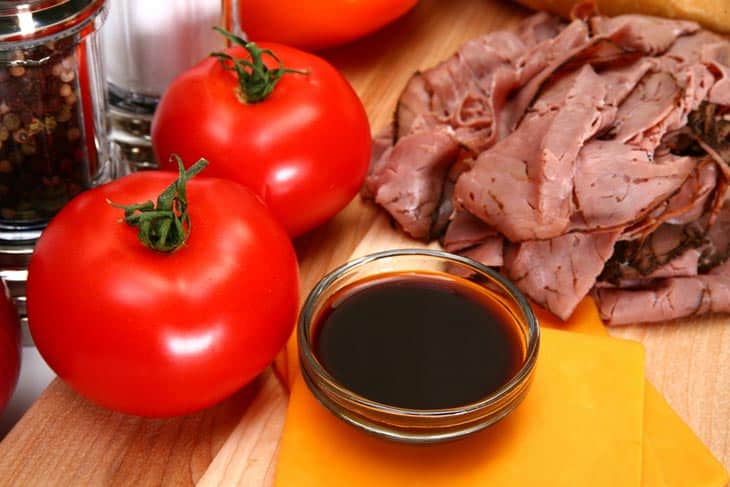 What Is Exactly Au Jus?
Au jus is a French term that translates to "with juice." It refers to a thin and flavorful sauce made from the natural juices that are released by meat during cooking, particularly roasting or searing. When meat cooks, it releases juices that contain a combination of meat flavors, fats, and other rich elements. These juices are then collected and transformed into a sauce known as au jus.
To make au jus, the meat is typically removed from the cooking pan, and the pan drippings are deglazed with a liquid such as beef broth, red wine, or a combination of both. This process helps extract the concentrated flavors and browned bits (fond) that cling to the bottom of the pan. The liquid is then simmered and reduced to concentrate the flavors, resulting in a thin and savory sauce.
Au jus is often served alongside roasted meats, such as prime rib, roast beef, or steak. It adds moisture, richness, and a depth of flavor to the dish. The sauce can be spooned over the meat or used for dipping to further enhance the overall taste experience.
Best Au Jus Substitutes For Your Dishes
1. Beef Stock Powder Sauce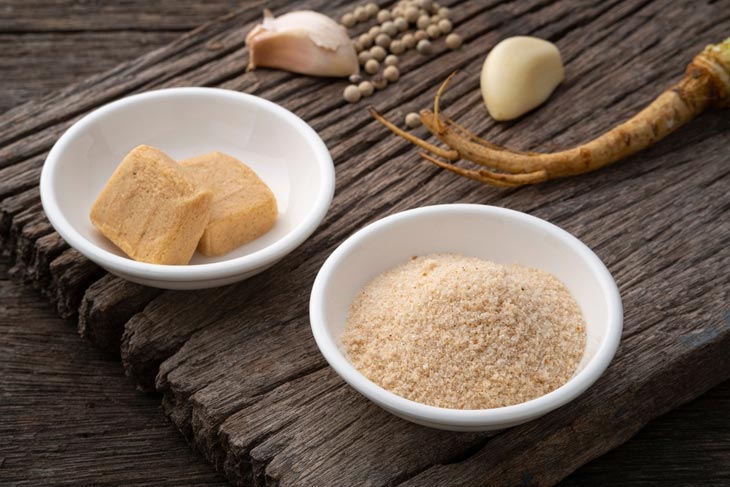 Beef stock powder sauce is nearly the most common replacement when you have no Au Jus on hand.
Firstly, you can find this powder available in large numbers on the current market.
Some people almost cannot taste the difference, so there is no need to worry about the flavor that can be affected here.
Only this powder cannot create beef stock powder sauce itself. Instead, you have to mix it with some additional ingredients, like onion powder, garlic powder, cornstarch, black pepper, and dried parsley in a bowl.
Do not forget to add some water and boil the mixture until the texture becomes thick.
Always consider how much powder you want to serve with your meals to prepare the exact quantity.
2. Beef Broth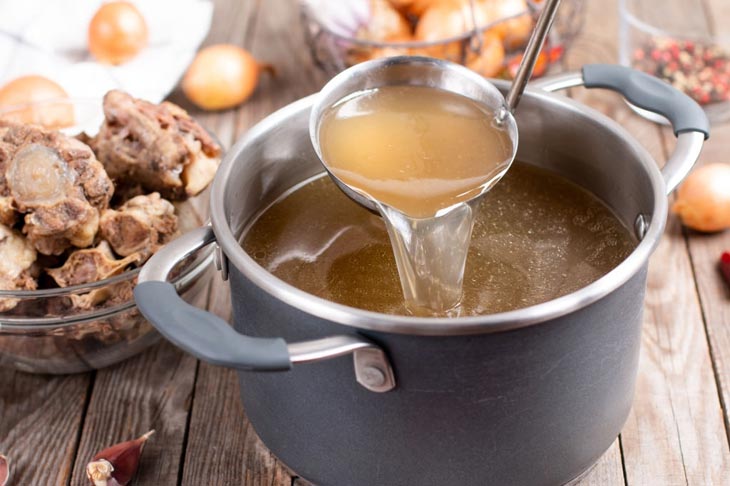 If you are making a dish of grilled steak or roasted meat and run out of Au Jus to use, let's opt for beef broth as a great substitute for Au Jus gravy mix.
It is simple and not time-consuming to cook this mixture.
You only need beef bones seasoned with pepper and salt, onions, carrots, celery, and herbs. Put all these things in a pressure cooker, add some water, and leave it alone to boil.
After nearly one hour, you can take the ingredients out and serve the liquid to your delicious meals, like a roast beef dish.
3. Chicken Broth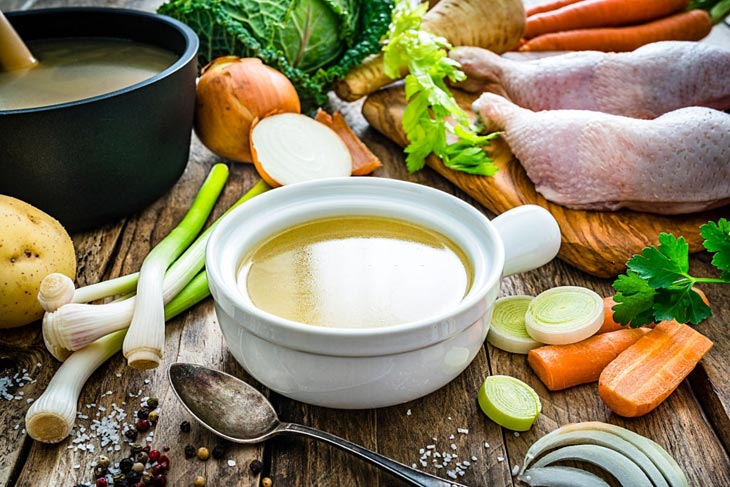 Do not worry when you do not have beef bones. Using chicken bones to replace a substitute for Au Jus with a beef base sounds amazing.
Chicken broth involves roasting the bones in the oven and simmering them again on the stove. It takes you about one hour to finish the sauce.
The primary ingredients to make this type of broth are similar to the above one, like onions, celery, carrots, and some herbs.
You need to put them all into a slow cooker, bring them to a boil, and wait for the result.
4. Bouillon Cubes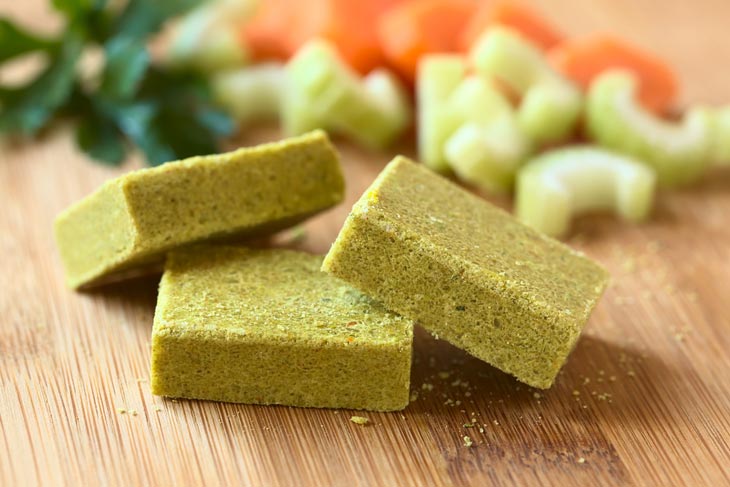 Do not miss out on bouillon cube, the convenient and quick Au Jus mix replacement that most busy cooks highly recommend.
Creating the liquid from these cubes is quite simple by stirring them with some water.
Remember to crumble them, along with onion powder, carrots, parsley, and other flavorings, into a fine powder first.
Bouillon cubes often create a thicker sauce, but it fits any dishes requiring Au Jus well. Hence, you can consider this option when you are short on time but still want to enjoy a similar flavor.
5. Brown Gravy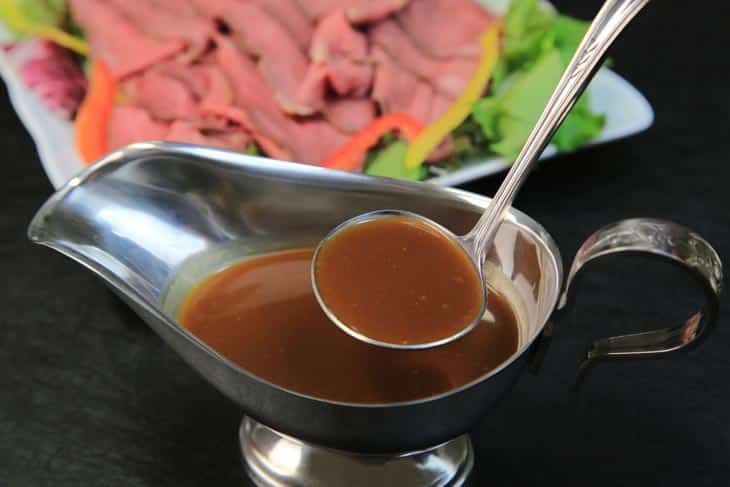 It is a big mistake if you do not take brown gravy mix into account as a perfect Au Jus mix alternative.
However, the texture of Au Jus is originally lighter and thinner than this one. You had better consider which meals are suitable for this option before cooking as a result.
Beef stock, butter, heavy cream, flour, seasoning, and the Worcestershire sauce helps you do the trick well.
Be careful while making the cooking progress as brown gravy is easy to form lumps, and we bet you do not want this to happen.
First, cook the flour and add the butter, and beef stock to the pan in turn. Remember to stir the mixture evenly until you jump to the stage of a thick and thin texture.
Then you can pour the Worcestershire sauce and some seasonings.
At the final touch, a bit of heavy cream is a must to make your brown gravy mix all ready to serve.
6. Onion Mixed Soup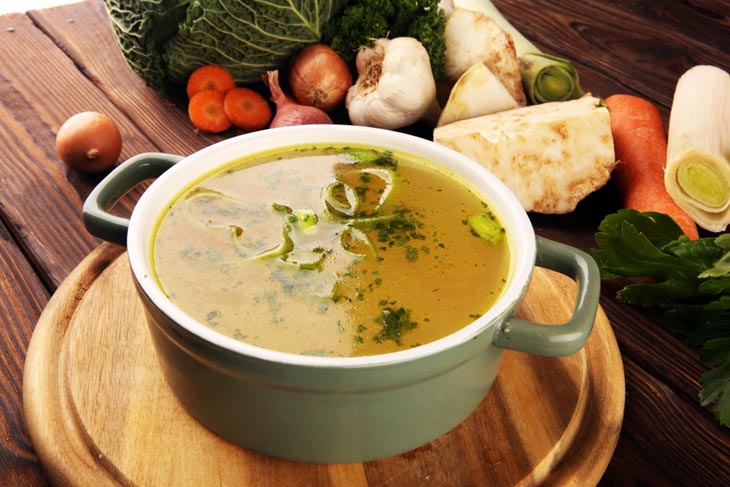 When you have no time to prepare several ingredients to cook a complicated substitute for Au Jus packet above, you can end up with onion mixed soup.
There is no problem with taste despite its quick preparation. Onions are not too pungent to alter the taste of the dish.
On the contrary, its caramelization contributes greatly to the rich flavor of your soup. If this still matters to you, here is an instruction on how to neutralize onion taste in food.
It takes about ten minutes to mix all the crucial ingredients in a pan and cook it until everything is ready to serve.
They include onion flakes, celery seed, dried parsley, paprika, seasoning, beef bullion, and water.
Salt can help improve the taste if needed, and you can enjoy a nice liquid mixture that tastes as superiorly as the original Au Jus.
7. Vegetable Stock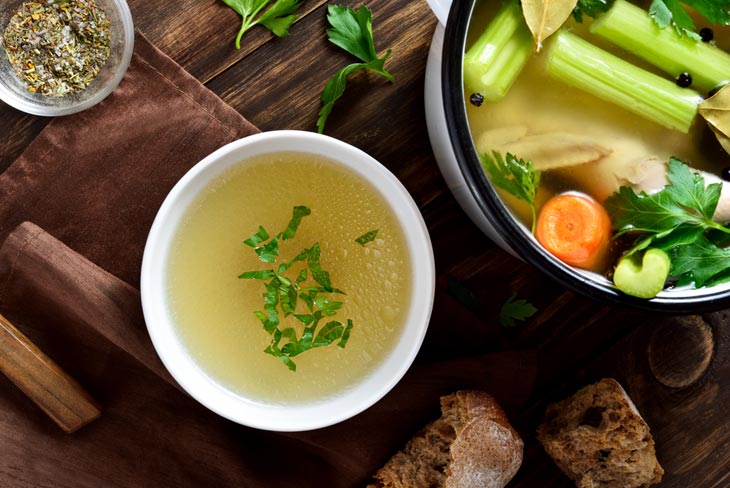 This substitute for Au Jus mix might taste differently, yet it is delicate and delicious enough to use with lots of meat recipes. All the veggies and herbs you should have to cook in this stock are onions, mushrooms, carrots, celery, leek, parsley stalks, bay leaves, and thyme.
8. Demi-glace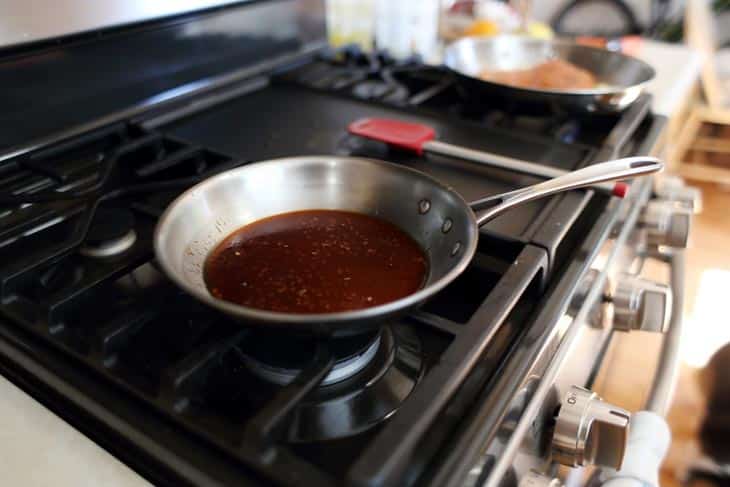 Let's move to demi-glace, a French ingredient that many cooks highly recommend as an Au Jus packet substitute. Its thick and flavorful sauce can surprise you every time you try it.
Demi-glace involves the process of reducing the broth until you get the perfect level of liquid. The primary stock here can be chicken, beef, or vegetable.
Do not forget to prepare additional onions, carrots, celery, bay leaf, parsley, dried thyme, peppercorns, and flours to make this.
9. Homemade Au Jus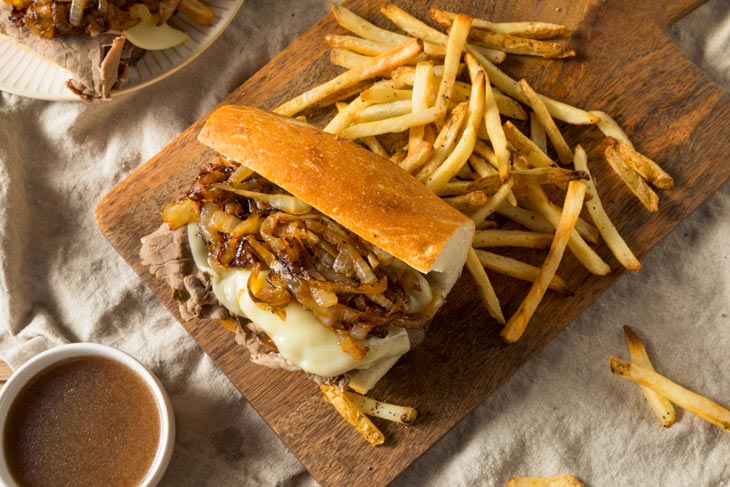 Listing all the potential substitutes for Au Jus does not mean that you cannot cook the homemade Au Jus at home. Follow this recipe if you aim at the perfect level of Au Jus taste.
Add some butter and flour to a saucepan and put it on medium heat until there is a paste texture. Stir it with red wine continuously, and the purple color will appear at that time.
After you do not smell the alcohol anymore, pour the beef broth and keep whisking to make the mixture blend well.
In the last five minutes, Worcestershire sauce is helpful to thicken the liquid. Now, it's time to enjoy your mouth-watering homemade Au Jus.
Frequently Asked Questions
Is Au Jus Substitute Necessary?
Au jus is not necessarily a requirement for every dish, but it can certainly add an extra layer of flavor and richness to certain preparations. While au jus is not essential, it can elevate the overall dining experience by adding depth and complexity to the dish. Ultimately, the use of au jus or its alternatives depends on personal preference and the specific dish being prepared.
How Do You Thicken Au Jus?
To thicken au jus, you can follow these simple steps:
Remove the meat from the pan: After roasting or searing your meat, remove it from the pan and set it aside to rest.
Skim the fat: Skim off any excess fat from the surface of the pan drippings. You can use a spoon or a fat separator to accomplish this.
Deglaze the pan: Place the pan back on the stovetop over medium heat. Add a liquid such as beef broth, red wine, or a combination of both to the pan drippings. Use a wooden spoon or a spatula to scrape up any browned bits stuck to the bottom of the pan. These browned bits, also known as fond, are packed with flavor.
Simmer the mixture: Allow the liquid and pan drippings to simmer for a few minutes to reduce and concentrate the flavors.
Thicken the au jus: There are a few methods you can use to thicken au jus:

Roux: Create a roux by melting equal parts butter and flour in a separate pan. Once the roux is smooth and bubbly, gradually whisk it into the simmering au jus until it thickens to your desired consistency. Be sure to cook the roux for a couple of minutes to remove any raw flour taste.
Cornstarch slurry: Mix cornstarch with a small amount of cold water to create a slurry. Slowly pour the slurry into the simmering au jus while stirring continuously. Continue to cook for a few more minutes until the au jus thickens.
Reduction: If you prefer a more concentrated flavor without a thickened consistency, you can continue simmering the au jus over low heat until it reduces and reaches the desired flavor profile.

Strain if desired: For a smooth and refined au jus, strain the sauce through a fine-mesh sieve to remove any solids or lumps.
Adjust seasoning: Taste the au jus and adjust the seasoning as needed with salt, pepper, or any additional herbs or spices.
Once thickened, your au jus is ready to be served alongside your meat or poured over your dish for added flavor and moisture.
What Is The Difference Between Au Jus And Beef Broth?
Au jus is a thin and flavorful sauce made from the natural juices released by meat during cooking, particularly roasting or searing. It is typically served alongside roasted meats to add moisture and enhance the savory flavors.
Beef broth, on the other hand, is a clear and light-bodied liquid made by simmering beef bones, meat, vegetables, and aromatics. It serves as a versatile base for soups, stews, gravies, and sauces, and can be used independently of meat drippings.