6 Choices For A Baharat Substitute
While preparing an Arabian-tasting dish, you suddenly realize it is quite hard to find a typical Baharat spice mix, which is one of the popular Eastern spices.
But that will no longer be a big deal because you can make it by yourself at home.
Or else, follow our suggestions for a Baharat substitute below, and you will have a Baharat recipe right away!
Baharat Information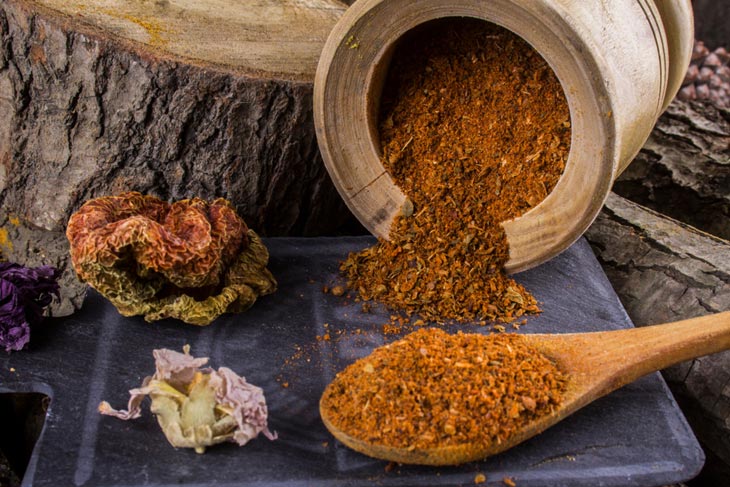 What Is Baharat Seasoning?
Baharat spice blend is an indispensable spice mix in the Middle Eastern or Greek cuisines. This popular spice blend contributes to creating a unique taste we can not find anywhere else.
It is a spicy and flavorful spice mixture commonly added to enhance the aroma of the food.
Baharat has some diverse variants in many parts of the world. It may bring a distinct taste to each region based on different cultures or cuisines.
The Middle East, Turkey, and Arab are places where most recipes contain Baharat seasoning such as stews, soups, vegetables, etc.
Sometimes, they can use this Baharat spice blend as a condiment to sprinkle on the top of the finished dishes.
What Is It Made Of?
As we have mentioned earlier, the Baharat recipes have a little bit of difference depending on many factors. But in general, they are fairly similar to each other.
A basic recipe may include these finely ground ingredients:
Black peppercorn
Cassia bark
Cloves
Coriander seed
Cumin seeds
Nutmeg
Turmeric
Saffron
Ginger
Dried red chili peppers or paprika
Wonderful Choices For Baharat Substitute
Create Your Recipe For Baharat Substitute
The spices from the Middle East typically contain cumin, paprika, cardamom, and nutmeg.
For Baharat, a seven or more spice blend, it will have more local spices such as black peppercorn, coriander seed, saffron, and dried red chili peppers or hot paprika. Moreover, the formula will be diverse based on region to region.
In Turkey, for example, this reddish blend of spices may also have mint. The key to making homemade Baharat here is your creativity.
Making this spice mix by yourself enables you to add a unique spice rub to your cooking list. Also, you can freely adjust the ingredient list to suit your taste.
1. Ras El Hanout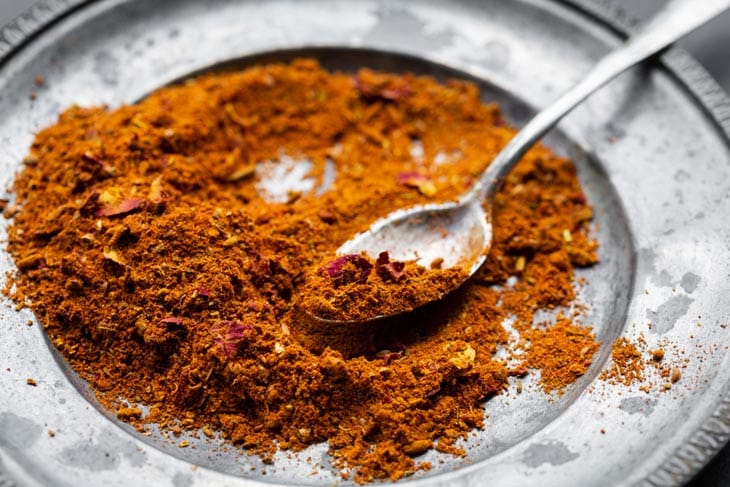 Ras hanout spice mix is common in North Africa, usually known as one of Moroccan spice blend names
Technically, ras el hanout is translated into "best in the store". That phrase means it is the best combination of all the shop owner's good spices.
Ras el hanout is often used as a wonderful marinade or powder to marinate meat, beef or lamb.Sometimes, it is the main component for seasoning soups, stews, and ras el hanout tagine.
This Moroccan spice mixes many basic spices such as coriander, cinnamon, cloves, cumin, which is 97% similar to Baharat.
Whereas Baharat blend's flavor tends to be slightly stronger, the North African spice gives us a sense of elegance. Nevertheless, they will generally give the same taste if we reduce the more complex parts.
So it is understandable that these two spices could be an alternative for each other when we compare baharat vs ras el hanout. You can follow the ratio 1:1 substitution or add more or less as you need.
Starting with a small quantity and then adding more will help you control the taste of your food.
2. Berbere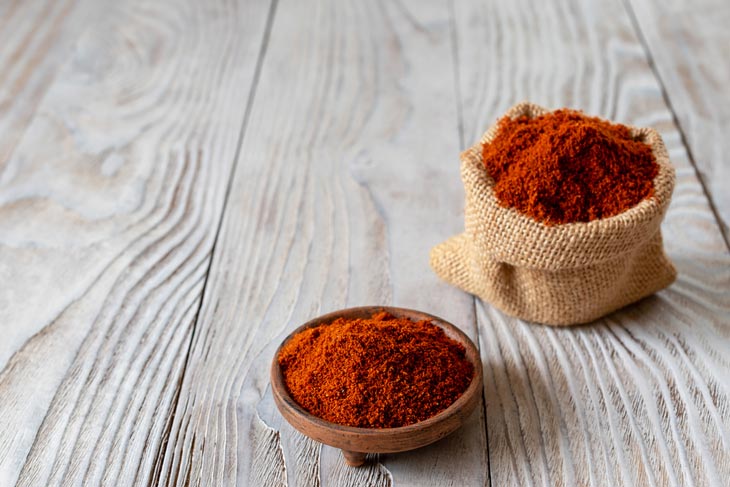 This distinctive spice mix stems from Ethiopian cuisine and is very popular in America. If you ever learn about this spice blend recipe, you will certainly find a surprising coincidence.
Berbere contains a wide range of spices. Most of those also show up in the spice list of Baharat cooking recipes.
They both have clove, cumin, paprika, and other basic spices. So berbere in cooking will be a smart choice for baharat spice substitute. The ratio 1:1 substitution is the standard and easiest way.
However, depending on the characteristics of each region and production brand, there will be differences in taste.
Therefore, the best way is to gradually replace Baharat with a moderate amount of berbere and increase it until it suits your taste.
Apart from that, berbere could double as a substitute for ras el hanout spice mix; or reverse, the spice originating from North Africa could be used as a berbere spice alternative.
As we said before, they both include common ingredients. So the flavor of the cooked dish will not be affected respectably.
Generally speaking, this trio of spice rubs are similar in terms of basic ingredients and taste, so rest assured that one of the three is quite equal to the other two.
3. Garam Masala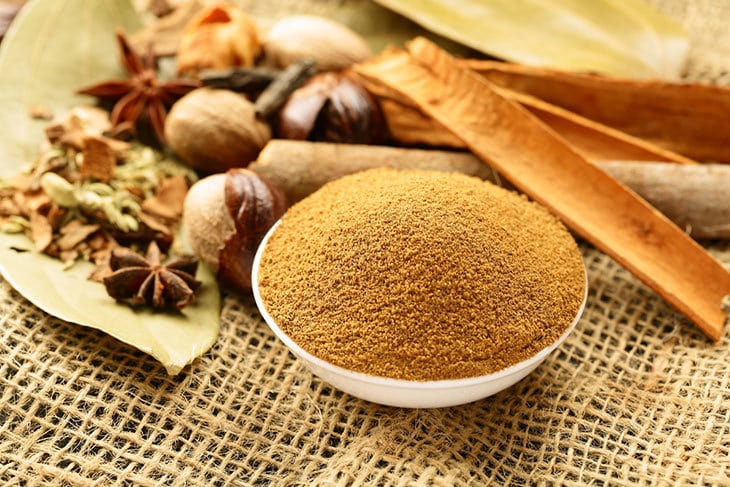 Garam masala – a flavorful powder originates from Indian cuisine and has many versions in other regions.
The term loosely translates to "warm spices," which shows a harmonious combination of diverse appealing aromatic spices.
Like other powder mixtures, the Indian spice blend also includes essential components such as black pepper, cinnamon, cardamom, nutmeg, cloves, cumin,
If garam masala is being available in your kitchen instead of Baharat, be comfortable using it as a substitute for baharat
Despite different origins, these two mix powders are alike to each other. They both serve a sense of warm, strong aromatic flavor.
Aside from Baharat, the spice blend from India could be in place of ras el hanout. Also, if you want a substitute for berbere spice, you can go ahead with garam masala.
When we consider ras el hanout vs garam masala, we will notice several differences in origin anđ several ingredients. Nevertheless, they are still similar enough to be interchangeable.
In other words, the warm spice mix may be a bright substitute for ras el hanout. They work brilliantly with the same dishes.
4. All Spice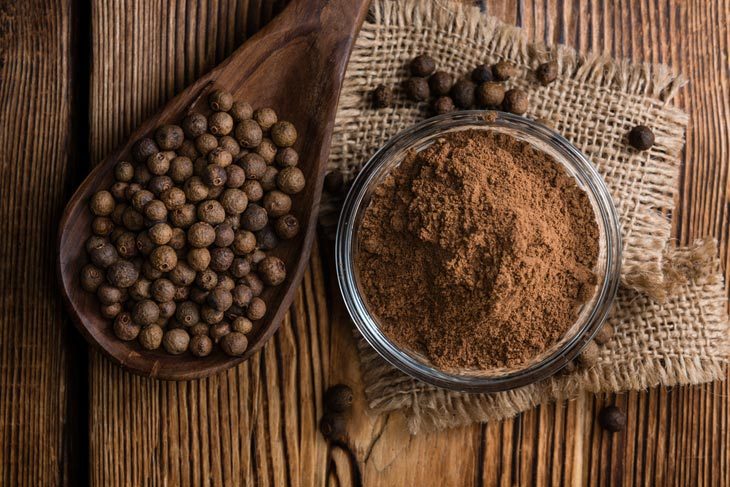 Like Baharat, allspice is widely used in Eastern cuisine, among other common spice blends. This seasoning is a spice made from the Pimenta dioica plant, a member of the myrtle family.
You can easily trace cinnamon, clove, nutmeg, and pepper in allspice, which are also available in the Baharat spice recipe.
Despite being not completely the same, these two seasonings from the Middle East had a very equivalent flavor profile. To be more detailed, allspice tends to be stronger than Baharat.
So we say that you should add a small quantity of substitution-fitting Baharat recipe first. Based on the preferences, adjust more until it suits your taste.
5. Ground Cumin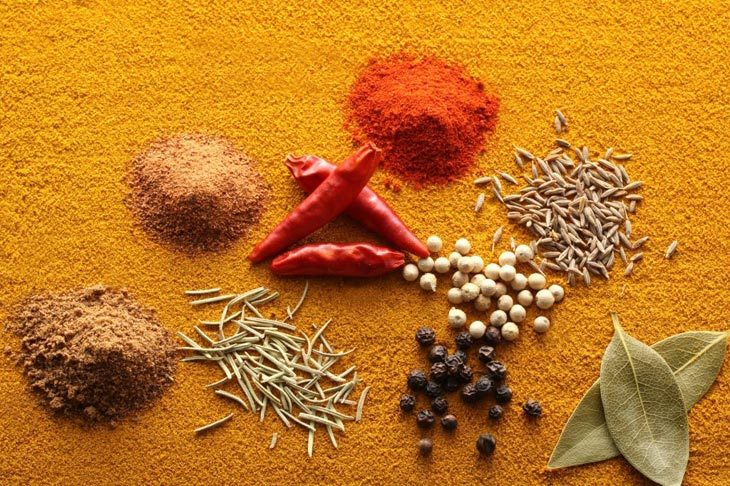 You may hear the name of a quite common plant – Cuminum cyminum, which belongs to the parsley family. And ground cumin is mostly deprived of it.
Cumin plays a key role as an essential ingredient in many cuisines of the world, such as Latin American, Middle Eastern, North African, and Indian cuisines.
These seeds are the key ingredient normally mixed into other popular spice blends such as garam masala, berbere, or Baharat.
Ground cumin may bring a different vibe, a mellow spice flavor to your dish. But switching it with Baharat should work in a pinch.
As we recommended before, always start with half of the amount, then increase to reach your satisfaction.
Recipes Using Baharat
One-Pot Baharat Chicken And Rice
This national dish promises to bring flavor bomb on the followers of chicken dishes once they try it.
It is really elegant and sophisticated when you add this dish to the menu to treat family members and close friends. The preparation materials are quite a lot, but they are not difficult to find.
Of course, you need to have chicken and rice beforehand. Then, prepare a variety of spices and coriander thoroughly to create this characteristic Middle Eastern flavor.
They include fresh cracked black pepper, smoked paprika, Baharat spice, ground cumin, olive oil, purple onion, cloves of garlic, tomato paste, dry white wine or light beer, bay leaves, chopped fresh parsley.
Although the preparation and cooking steps are a bit complicated, in the end, the cooked dish will bring a sense of satisfaction.
Moroccan Chicken Stew
We recommend this Moroccan chicken stew recipe if you love the soft, tender texture and flavorful food.
Topped with many healthy veggies, slowly-simmered in Baharat mix sauce, this tasty stew is a real crowd-pleaser on the dinner table.
Normally, they use ras el hanout combined with other ingredients for rubs like cinnamon, sweet paprika and ginger. But if you like, you can also add baharat spice blend as a ras el hanout alternative.
Although the taste is slightly different, it still brings more depth to the dish in general.
FAQs
Where Can I Buy Baharat?
Of course, it is just a piece of cake to buy this spice if you are in a Middle East country. Baharat is also available in any grocery or gourmet food store and spice market. But if you are not, then where can you find them?
Fortunately, e-commerce will be a great assistant for you. You probably order online from reputable e-commerce sites like Walmart or Amazon.
There are a variety of models from different brands. They have provided full-detailed product information. Therefore, you can completely pick a suitable Baharat package according to your needs.
How To Store Baharat Properly?
Any spice degrades its quality over time, and Baharat spice is no exception.
So it is quite important how we store them. Firstly, put the spice blend in an airtight container. Then, find a dark and dry, cool place to store it.
In that way, we ensure your Baharat spice mix will remain fresh for a long time. Possibly up to a year for homemade Baharat or around three months if you buy it from the grocery store.
Is Baharat Good For Our Health?
The answer is a big yes. That is why it is commonly used as the main spice in the Middle East's food.
The ingredients in Baharat offer a wide range of useful chemical compounds for our bodies.
For example, cinnamon and black pepper provide a mass source of vitamin A, B which help improve your vision.
In addition, cloves and cumin are chock-full of minerals and other compounds like vitamin K vitamin C to boost the digestive system.
Conclusion
To sum it all up, we would like to thank you for your kind interest in reading until now. Hopefully, this article can help you see a whole picture of anything related to Baharat.
Moreover, we would be even happier if you could successfully put these Baharat substitute recipes into practice.