Are you looking for an easy to make baked apple fry recipe? If so, we can help!
All you need to do is follow our baked cinnamon apple fries instructions below to make this delicious snack!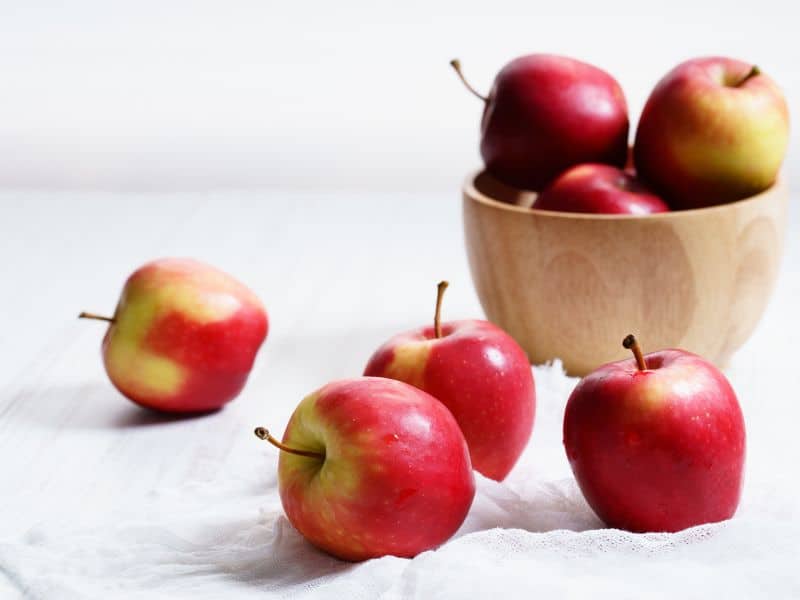 Baked Cinnamon Apple Fries Recipe
Ingredients
1. Apple
To make great cinnamon apple fries, first, you need to prepare fresh and delicious apples. This may sound obvious, but it is the key to create great flavor for your dish.
It would be best to choose to buy apples with fresh-color, shiny apple peels when touching without feeling rough.
If you like sweet apples, pick the darker one with some white dots.
Another thing to keep in mind is to buy moderately sized apples that are slightly larger than a tennis ball. Don't pick apples that are too small or too big.
After buying the apples, you should rinse the apples with clean water to remove dirt from the skin. Then, use your hands to wash the apple peel thoroughly with diluted saltwater.
The antiseptic substances in the salt will remove the remaining parasites on the peel. Finally, rinse them with cold water and let them dry.
2. Batter
The batter is the next thing you need to prepare. You will need a bowl, and I recommend using a bowl made from glass or porcelain.
The next thing that needs to be done is to break the eggs, separate the yolks and egg whites, and then have the rest of the ingredients ready.
Add egg yolks, butter, granulated sugar, cinnamon powder, ginger powder, and salt to the bowl.
It would help if you only used half a teaspoon of cinnamon powder (approximately 2 grams) to avoid the cake's flavor being strong or difficult to eat.
Home chefs can be flexible at this step and add a bit of beer or sour buttermilk to the mix. The beer-fermented barley flavor can add to your appetite.
Next, add flour, beat until all ingredients are mixed well, cover with plastic food wrap and leave for about 30 minutes to rest.
It would be best to place the bowl in the fridge to avoid bacteria's impact from the surrounding environment.
After waiting half an hour and taking the apple cinnamon sugar mix out of the refrigerator, you need to whip the prepared egg whites and pour into the mixture.
How to Make Apple Fries
Step 1: Preheat the oven to 375 F for 5 minutes.
Step 2: For the apples, you have to wash, peel them, and slice the apples into circles about 1 cm thick. Put the slices of apple on absorbent paper to soak them dry so that they will last long after you fry the apple pie.
Soaking is important step which can prevent apple pie will be not watery.
Step 3: Then, dip the sliced apple into the prepared flour mixture. Make sure the entire apple slices are coated with fried flour so that the result can be crunchy and tasty.
Step 4: You can put it in the oven for 15 minutes at 150 degrees, but we recommend using an air fryer.
Compared with traditional deep-frying like how you deep-fry shrimp, the oil-free fryer is a major revolution in cooking.
This is because it can cook foods with only a minimal amount of oil (or vegetable oil), which reduces costs and is also good for the health of people with cardiovascular disease.
To bake cinnamon apple fries by using Air fryer, you need to preheat the pot to 100 degrees C for about 10 minutes.
Then, put the apple on the baking sheet in the air fryer basket, set the temperature to 150 degrees for 10 minutes on each side.
Step 5: Make The Sauce And Serve
Apple french fries can be served with many sauces, such as melted Nutella or chili sauce, but the best must be caramel sauce.
To make this deliciously delicious sauce, you first need to boil the brown sugar and water until it boils and the sugar completely dissolves. Cover and simmer over low heat for a few minutes.
Then, open the pot and shake the pot to evenly heat and cook for another 30 seconds – 1 more minute on medium heat or until the sugar starts to turn golden brown.
Season the caramel sauce with heavy cream, salt, and stir for a few more minutes.
At this point, all you need to do is take the fried cinnamon apple out, spray a little sugar on top and serve with delicious caramel sauce.
---
I hope you enjoyed these baked cinnamon apple fries! They are a simple but a delicious recipe that everyone will love.