Best Banana Peanut Butter Pancakes Vegan Recipe
Are you looking for a banana peanut butter pancakes recipe that is vegan? If so, read on down to find a quick and easy banana peanut butter pancake recipe to make!
Vegan Pancakes
For those who do not know what it means to be vegan, allow me to explain to you. Vegans are people who choose to avoid consuming meat, eggs, dairy, and other animal-origin products. They believe that veganism helps lower the risk of diabetes, heart diseases, and cancer.
They also respect the animals' right to have freedom and detest animal cruelty by using them to produce food.
As we know, pancakes are made from sugar, flour, eggs, milk, and baking powder for decades. As the world evolves, veganism has become a lifestyle for many people worldwide and changed their diet completely. Thus, most vegans have given up on pancakes due to being incompatible with their lifestyle.
Best
Banana Peanut Butter Pancakes Recipe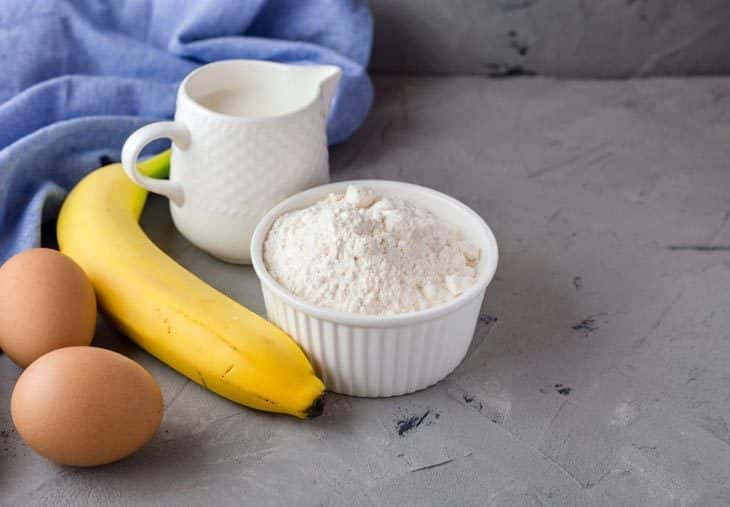 Many of us may know how to make pancakes, yet only some know how to improve them. I decided to combine banana and peanut butter syrup with plain pancakes to add more flavors and nutrition to this recipe.
In our banana Bisquick eggless pancakes, we will use melted peanut butter to create a sweet peanut butter syrup.
Now, let's get to work!
Ingredients
16 ounces of Bisquick pancake baking mix
One teaspoon of vanilla
One teaspoon of cinnamon
One liter of plant milk
Instead of dairy milk, you can use nonfat milk such as almond milk or rice milk.
Two teaspoons of baking powder
Two ripe bananas
Two ounces of peanut butter
Four ounces of pancake syrup
Step-By-Step Instructions:
1. Add sugar, baking powder, vanilla, cinnamon, and Bisquick pancake mix in a large mixing bowl.
2. Peel and slice bananas into medium-sized pieces, then smash half of the bananas in the bowl with milk. Stir and mix them well. The other half will be used for decoration.
3. Put an electric griddle or saucepan on medium heat and spray it with cooking spray.
4. When the surface is hot, start putting in the pancake batter. You can choose which size you want. The average size would be ¼ cup of pancake batter.
5. Cook 3-6 minutes until both sides are all brown.
6. Mix syrup with butter peanut in a cup until they are smooth. You can add some milk for a syrup texture-like.
7. Put the pancakes on a plate and decorate it with banana slices and butter peanut syrup.
Tips To Make The Perfect Banana Peanut Butter Pancakes
While cooking pancakes, there are some factors you need to consider, making your pancakes even better.
Be patient and let the batter rest for a few minutes. This action will help the milk to soften the baking powder and other remaining lumps. You can leave the batter rest for 15 – 30 minutes while heating the pan or making the syrup.
Using a thin pan may burn your pancakes. Instead, you can use a pan with a wide, heavy bottom for you to flip the pancakes. Or else, it is best to use a griddle which you can control the heat and space.
When frying your pancakes, try to flip them only when bubbles and holes appear on the surface. Then the heat can go through each of them evenly and give you a beautiful golden-brown color.
Nutrient Facts
Banana peanut butter pancakes is a tasty and rich in nutrition dessert for breakfast. The healthy nutrients mostly come from our combination ingredients: bananas and peanut butter.
Bananas are known to be a superfood due to their health benefits. Two bananas can give you enough energy to walk or work out for an hour. It can also help boost your brain's oxygen and maintain a regular heartbeat, low blood pressure, and balance of water in your body as bananas are rich in vitamin A, potassium, fiber, and other minerals.
Peanut butter is also another food containing many proteins, vitamin B-6, and other minerals. It can improve heart health, muscle strength, and blood sugar levels.
In total, the pancake contains 141 calories, fat 5.8g, carbohydrate 18.5g, cholesterol 15.7 mg, sodium 380 mg, and potassium 142.5 mg.
FAQs
Is Banana Peanut Butter Pancakes Healthy?
As this recipe is for vegans, I also opt for a healthy dish for you to not worry about risks when enjoying this delicious dish. According to the nutrient fact, banana, and peanut butter help to enhance your heart strength.
How Long Can Banana Peanut Butter Pancakes Leftovers Last?
If you happen to make too many banana pancakes, and can't finish them all, you can always store them in an airtight container and refrigerate them for up to 2-3 days. If you have a freezer, the pancakes can even be kept for three months.