The 9 Best Basmati Rice Substitutes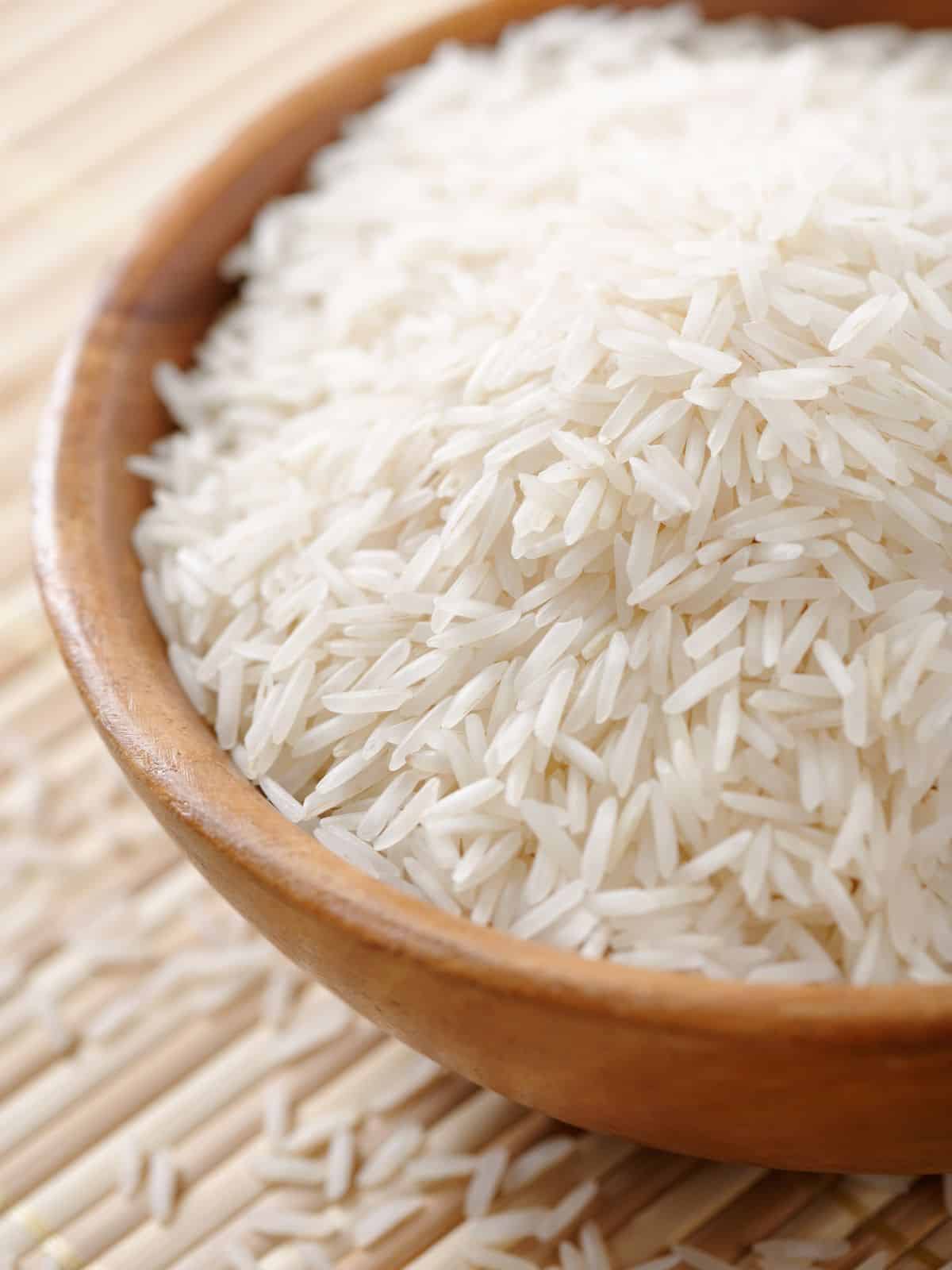 If you're trying out Asian dishes, it is easy to find many recipes requiring Basmati rice.
This Indian rice is well-known for its amazing flavor, texture, and unique aroma that bring your recipes to a higher flavor combination.
However, Basmati is not always available in many countries, so what is a good Basmati rice substitute? Find out in my post below!
Best Basmati Rice Substitute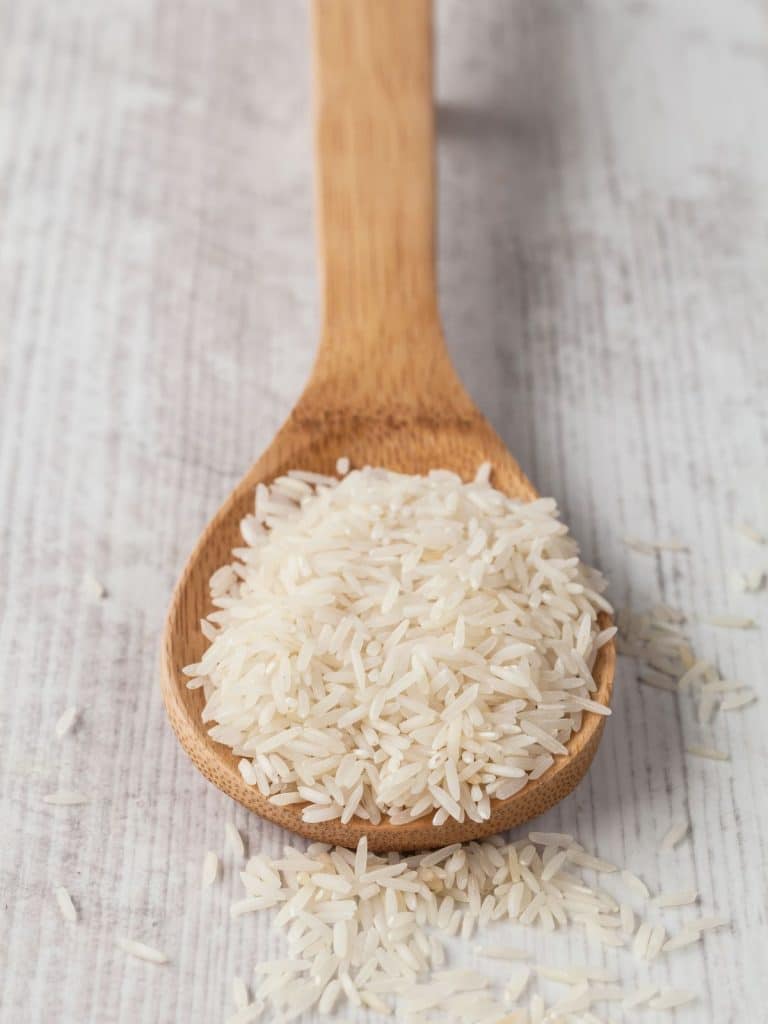 Basmati rice brings such an amazing flavor and texture to your dish. It's not too sticky or clumpy, yet each of its separated grains is fluffy and creamy to the taste.
When you cook this tasty rice, a distinctive floral aroma will spread across the rooms and invite any hungry stomach to the table automatically.
In this post, we will find out another type of rice with a similar trait to Basmati. Let's start with our Basmati rice substitutes list!
Kasmati Rice
First, on the list, we have Kasmati rice as one of the perfect varieties of rice that can substitute for Basmati rice.
At first glance, you might think it is another type of Indian rice, but it is native to Texas, America. The reason why it is such a good substitute for Basmati is that it is originally Basmati rice!
Kasmati is one of many Basmati varieties developed by Rice Select to particularly serve the American market. Therefore, you can rest assured that all the elements of Basmati are showing in the Kasmati.
Kasmati rice is long-grain white rice with a fluffy and dense texture with a mild flavor and rich aroma. You can use it for any Basmati recipes without many adjustments to the ratio.
Texmati Rice
As I have mentioned Kasmati, it is also reasonable to put Texmati on the list. Texmati is another popular rice variety of white Basmati rice in Texas that can be a good substitute for our favorite rice.
The good thing is you can find this rice more often than Basmati as they are always available at stores.
As a cousin of Basmati, the separated long-grain and fluffy rice characters also existed in Texmati.
However, this rice has a slight change in taste as it is nuttier than other regular rice. Some people also find it a little chewier than the Basmati, so it is fantastic for pilafs, fried rice, and savory dishes.
Brown Rice
The common version of Basmati rice we tend to see at the markets is white long grain rice. But this tasty rice also has a brown version.
The brown Basmati is the healthier rice with the bran and germ intact. Therefore, if you run out of the white long grain Basmati, why not try the long-grain brown rice?
Although the color is different, the intense floral aroma, dry and fluffy texture of the long-grain rice are still visible.
This is one of the healthy alternatives for a tasty family dinner. When cooking brown rice, it might take longer and more water to cook the rice thoroughly.
Arborio Rice
If you have had risotto before, there is a high chance that you have tasted Arborio rice. Originally grown in Italy, this rice is the largest short Italian rice variety.
With white color and creamy texture, you'll find Arborio, a potential Basmati substitute in curry and baked recipes.
This rice was named after the commune of Arborio, Piedmont, which produces this particular high amylopectin starch rice.
Arborio has oval-shaped grains with two versions: white and brown ones. However, this short-grain rice is known for the starchy white one with a fluffy and creamy texture.
With its texture but less intense aroma, you can use this rice for fried rice, chili, rice pudding, and paella.
Jasmine Rice
Basmati is known to be the rice of intense fragrance and aroma. So, what would be a better substitute than a type of rice with a strong aroma?
Jasmine rice is native long-grain rice in Thailand. It is also very popular in many Taiwan, Indonesia, and Malaysia recipes.
From the name, we can already tell that this rice will be full of floral fragrance, which is a great Basmati alternative. In addition, there is also brown jasmine rice if you want to choose a healthy ingredient for your perfect dish.
Regarding the look, this fragrant rice might be slightly smaller and whiter than Basmati. The flavor profile of Jasmine is also mild and sweet, while Basmati is more about the nutty taste.
However, both of these types of rice are fluffy and creamy when cooked. Therefore, it is great to use Jasmine as a side dish for your curry or chili con carne.
Della Rice
Another great substitute for Basmati rice is Della rice. People say that it is a product of Basmati rice and long-grain white rice, which is understandable because of its similar flavor.
This rice is used a lot in many South-style recipes as it has the aroma of Basmati and the texture of long grain rice.
When Della rice is thoroughly cooked, it becomes separated and dry with a distinctive taste of roasted nuts.
Kalijira Rice
Kalijira rice might not be so popular in the States, but it is the premium type of rice in Bengal. This rice is such a star that it earns its title as the "Prince of rice."
It also has different names like Govinda Bhog and baby Basmati, which is why it is on our list!
In Bengal, it is mostly used for special events and occasions, but you can have it as a daily meal because of its amazing character.
The Kalijira has medium-size rice grains from the outside, which is why it is called baby Basmati. Because of its small size, it can take only 10 minutes for the rice to be cooked.
To cook this baby Basmati rice, you only need to boil it for a short duration. This steamy rice will reveal an intense aroma with a delicate and nutty flavor that is similar to Basmati.
The short-grain rice is firm, separated, and fluffy to the touch. With this delicate flavor and texture, you can definitely use it for pilafs and curry or create an amazing rich rice pudding.
Long-grain White Rice
Long-grain white rice can be a good substitute for Basmati rice because of the size of the rice. It is a popular type of rice in America and many other countries.
As you can already tell from the name, it is a long-grain white rice with a similar size as Basmati grains.
Regarding the taste, the long-grain white rice might be milder than with less nutty notes. It also doesn't have the strong fragrance that Basmati usually has during cooking.
However, it is a greatly versatile rice that you can use for any type of dish and combine with different ingredients.
You can replicate the nutty flavor of Basmati by adding roasted peanuts, almonds, and parmesan to the aromatic rice substitutes.
Popcorn Rice
Lastly, popcorn rice is a Louisiana hybrid long-grain rice of Basmati which can be a great substitute for long-grain rice. The name of this rice comes from the strong popcorn-like aroma.
As it is one of the long-grain varieties of Basmati, popcorn rice inherits significant traits like fluffy texture and nutty flavor of Basmati.
Although its fragrance is not as strong as its predecessor, you can still substitute it in soup, curry, and stir-fries dishes.
FAQs
1. Texmati Vs Basmati: Is There A Difference?
As mentioned above, Texmati and Basmati are quite similar as Texmati is a hybrid variant of Basmati. However, their flavor is slightly different as the nuttiness of Texmati is more noticeable than Basmati.
2. Can Kasmati Substitute For Jasmine Rice?
Kismat is a different version of Basmati with its inherent flavor profile traits. Jasmine rice can also be used to substitute Basmati because of its distinctive aroma. So, it is perfectly fine to use Kasmati as a jasmine rice substitute.
Conclusion
Basmati rice is a popular ingredient in many recipes, especially in Indian cuisine. Although it seems difficult to replicate its flavor and aroma, you can always find a suitable Basmati rice substitute for your recipes in this list.
With a good texture and similar flavor, you can add more ingredients like ground cloves to achieve your desired flavorful dishes.