Benedictine drives liquor enthusiasts crazy worldwide with its unique flavor and sophisticated sweetness, making it perfect for cocktails. Finding a substitute for Benedictine can be tricky, as it can greatly impact the taste of your dishes. If you're struggling to find a similar liquor, we'll suggest some excellent choices to elevate your drink recipes.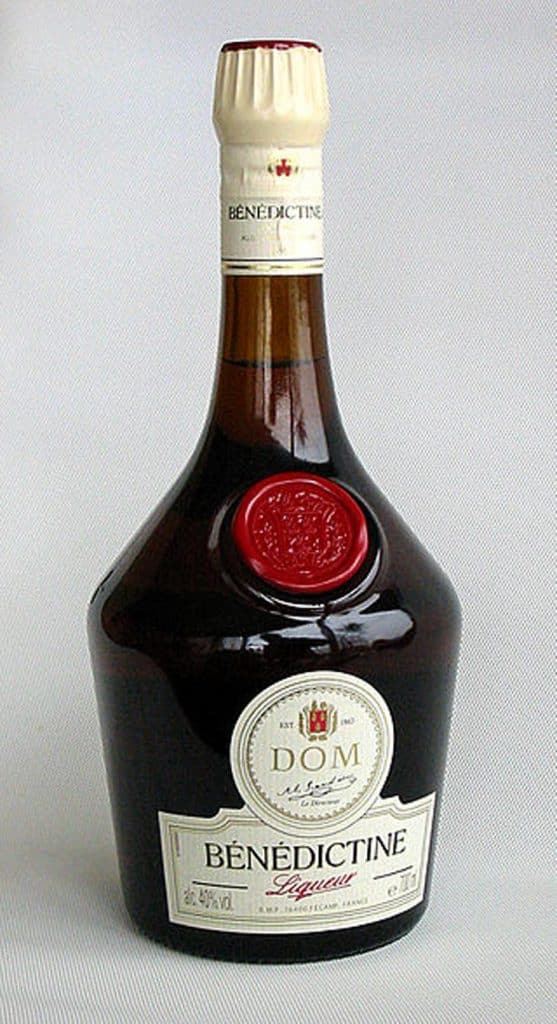 What is Benedictine?
Before delving into the primary section, you need to learn what's inside this liquor and how it exactly tastes, so it'll be easier to figure out a suitable alternative!
Origin
Benedictine is a herbal liqueur made in France whose recipe originates from a monk in the 16th century and contains a secret combination of 27 spices and herbs.
People believe that producers sweeten the drink's neutral spirit with honey and mix orange peel, lemon, clove, thyme, cinnamon, arnica, aloe, juniper, and hyssop into the blend.
However, the brand only reveals saffron and angelica, providing no other allusions or claims relating to the precise ingredients list.
Taste
It's hard to describe the taste since Bénédictine is a unique liquor precisely. Often, you can feel the dominant flavor of stone fruits, sweet honey, holiday spices accented with a herbal nuance.
The taste is delightful and pleasantly sweet – a perfect addition to cocktails, like Chrysanthemum, Bobby Burns, or Vieux Carre.
Uses of Benedictine Liqueur
This liquor doesn't affect your dish's flavor despite the strong aroma since the alcohol element will evaporate and leave a gentle, sweet taste and fragrant gravy.
It applies best to rice, cocktail recipes, stir-fry dishes, and simmer marinated meat, such as Singapore sling, chicken mushrooms, or stir-fry ginger chicken.
What Can I Use As A Benedictine Substitute?
When asked about the best Benedictine liqueur substitute, we'd immediately think of these 15 recommendations.
1. Drambuie
Concerning a replacement for this French beverage, the first option that pops in our heads is the gold Drambuie.
The main elements made of Drambuie include Scotch whiskey, honey, spices, and herbs.
Besides the fascinating sweet flavors, you'll feel a bolder taste than Benedictine. This liquor will lend cocktails a sweet trace.
2. Dom Bénédictine B&B
Dom B&B is one of the closest alternatives to our French liqueur, giving the desired flavor you attempt to replace.
Dom B&B uses 40% Cognac and nearly 60% original Benedictine. Yet, you'll feel the herbaceous, spicy flavors drier and less prominent in this beverage.
Though it'll show a difference as drunk neat, it's a fantastic addition to your next Vieux Carre or Singapore Sling.
3. Yellow Chartreuse
Another substitute for Benedictine we'd prefer to introduce to you is the yellow Chartreuse.
It's a France-rooted drink made of numerous herbs, including licorice, anise, saffron, violet, honey, and citric. If you wish for a spicier, woodier nuance, we recommend adding cinnamon – a star anise substitute.
We find it a bit sweeter, tangier than Benedictine, but it'll complement your Vieux Carre just as well as the other.
4. Green Chartreuse
While the yellow version is 40% alcoholic, green Chartreuse has a 55%-alcohol content, featuring a unique floral flavor.
Due to the higher alcohol level, this version delivers a stronger flavor.
That's why restaurants usually use it for their expensive desserts, while bars pair it with Brandy, Rum, or Gin to accentuate the unique aroma.
5. Italicus
The reason for choosing this Benedictine DOM substitute is due to the natural spirit sparked by herbs, citrus, and flowers.
Notably, it's neither more bitter nor sweeter than the other – a beautifully balanced flavor for any cocktail recipe.
6. Chardonnay
Here comes one more France-rooted liquor with a deep, rich profile containing spicy, herbal, and floral overtones.
The same floral fragrance as Bene helps Chardonnay blend nicely with cocktails, such as Honeymoon Cocktail or Frisco Sour.
7. Fernet Branca
We'll refresh the list with a renowned Italian beverage, which can replace Bene in many recipes.
With 30 different herbs, roots, and spices, the liquor delivers a bitter yet sweet, intense flavor.
Fernet will be an appealing condiment in the kitchen, applying best to chicken livers and homemade oreo cookies.
8. Licor 43
Licor 43 is a complex cocktail containing 43 distinct elements in a bottle. It can serve as a background liquor for vanilla and citrus enthusiasts.
This beverage is flexible enough to blend in most Bene-based cocktails, like the Monkey Gland or Bobby Burns. Yet, please don't overdo it as you may overly stress on sweetness.
9. Brandy
Brand's alcohol content is somewhere between 35% and 60%, primarily made of distilling wines. You can cook it into various sauces and use it at room temperature.
We love this unconventional substitute since the sauce cooked from it can pair with many food items and meals.
10. Jagermeister
When enjoying Jagermeister alone, you can feel the beautiful combination of sweet rice, licorice, saffron, spice, and citrus.
We highly recommend adding it to grilled meat recipes to boost the taste and flavor of meats. The identical sweetness also ties up with many Bene-based cocktails.
11. Dolin Genepy Des Alpes
This alternative is the best idea if you usually prefer combining two drinks to create a personalized cocktail.
For instance, you can mix Dolin Genepy des Alpes with Maraschino in the 1:3 ratio. We bet you'll be nuts about this twist.
12. Grand Marnier
Grand Marnier is a lovely orange-flavored liquor with a hint of vanilla and cognac. Surprisingly, many people use it as an excellent condiment for baking.
This tasty orange beverage is also ideal for roasting poultry dishes like duck and can serve as a poultry seasoning substitute.
13. Sake
Our list wouldn't be complete without enlisting Sake – a Japanese liquor made of water and rice. This benedictine replacement is delicious largely thanks to quality water and rice.
The best use of Sake is to marinate meat and fish to remove the fishy odor and tenderize them.
Besides, it'll help highlight the sweet flavor in your dishes, thanks to the rice's starch content.
Japanese people use Sake in numerous recipes, such as grilled foods (yakimono), stocks, soup, and simmered foods (nimono).
14. Amaro
We find Amaro incredibly identical to Bene because of the similar herbal ingredients. This beverage acts as the main ingredient in various Italian cocktails.
While it may create a tiny change in your fav liquor's taste, it still tastes great. And sometimes, that's what you need – something new and fresh.
15. Glayva
The last name in this list is a familiar presence in winter drinks and Christmas desserts. We're pretty into the warming, woody flavors of tangerines, honey, cinnamon, and almond.
Notably, you can cook Glayva into sauces and use the sauce as an almond butter substitute in soups or baked goods. Also, its musky flavor and golden color make it a fantastic dessert float.