Top 10 Brown Sugar Substitute Ideas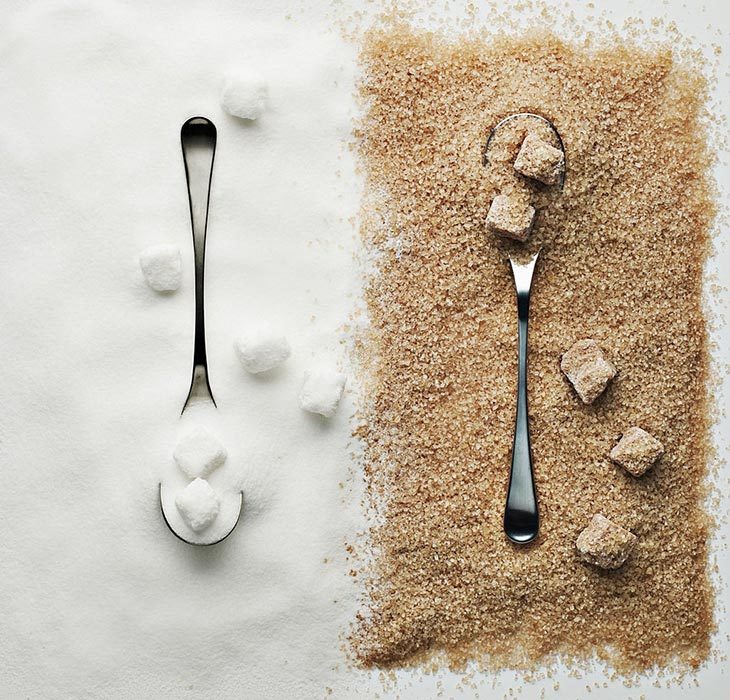 Sugar has been one of the most fundamental food ingredients in baking and cooking for ages. There are many kinds of sugar, but white and brown versions are the most popular.
But what if you don't have brown sugar? We will also help you choose a brown sugar substitute if it is not available in your kitchen.
This article will also help you know how it is made and the differences between brown sugar and white sugar.
What Is Brown Sugar?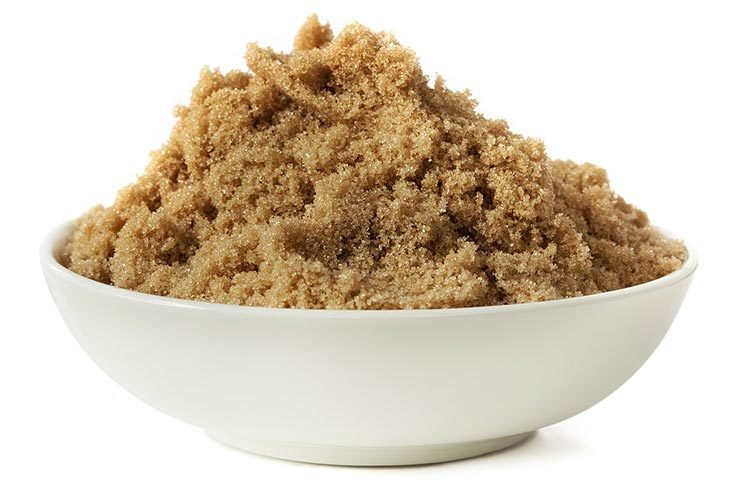 How Is It Made?
Sugar is usually produced in tropical countries by extracting the juice of sugarcane plants. Then the juice is heated and gone through several refining stages to remove the molasses.
Molasses is why unrefined or partially refined sugar is usually brown or dark brown. That is brown sugar.
By removing molasses, brown sugar becomes white sugar, a.k.a. granulated sugar.
What Is The Difference Between Brown And White Sugar?
They are produced differently. Unlike white sugar, the brown type still retains molasses, giving it the unmistakable brown color, flavor, and moisture.
While they are interchangeable, the result in your final product will come out differently. Baked goods with white sugar have a crispier and dryer texture.
That kind of texture is not bad, but it's just… different. On the other hand, baked goods using brown sugar have more moisture, making your cake fluffier or denser.
Their flavor and color are also a big factor. White sugar gives a neutral taste, lighter color, so it is more versatile in baking. If you substitute granulated sugar for brown sugar, the final product will have a distinct caramel-like color and flavor, thanks to the molasses.
That said, brown sugar is also not that much higher in minerals and nutritional contents than its counterpart. They're both bad for your health if you consume them too much.
10 Recommended Substitutes For Brown Sugar
White Sugar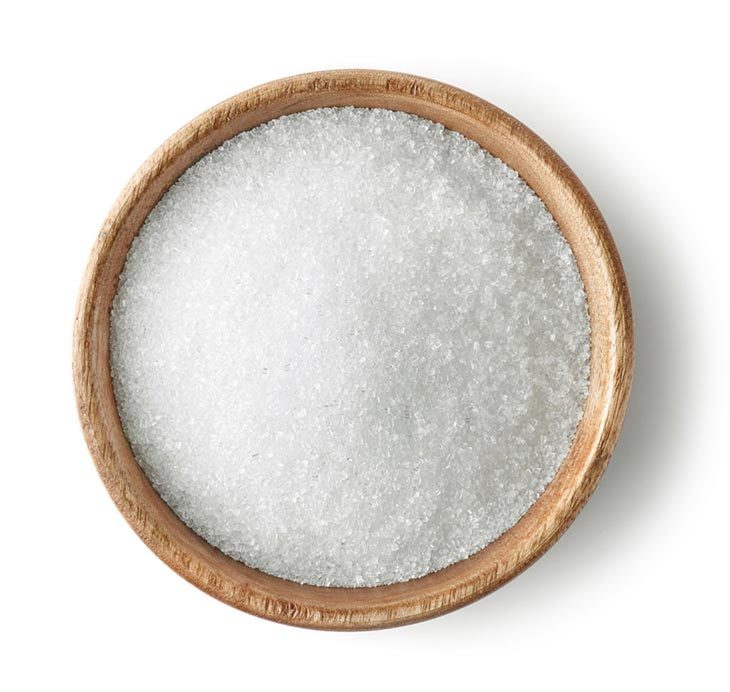 Sure, you can run granulated sugar in most recipes here. It's probably the easiest contender for a brown sugar substitute.
You can even use it in a 1:1 ratio without further calculation. However, keep in mind that if you're using plain white sugar, you won't have the darker, stronger color and flavor that brown sugar provides.
That being said, the result is a little different here. Brown sugar is used to add soft texture and moisture to your cake. So, if you use white sugar in your recipe, the texture will be crispier, and the flavor will not be on the same level as the other.
But it's not a bad choice for a brown sugar substitute in cookies, since crispy cookies are fun in their own way.
Coconut Sugar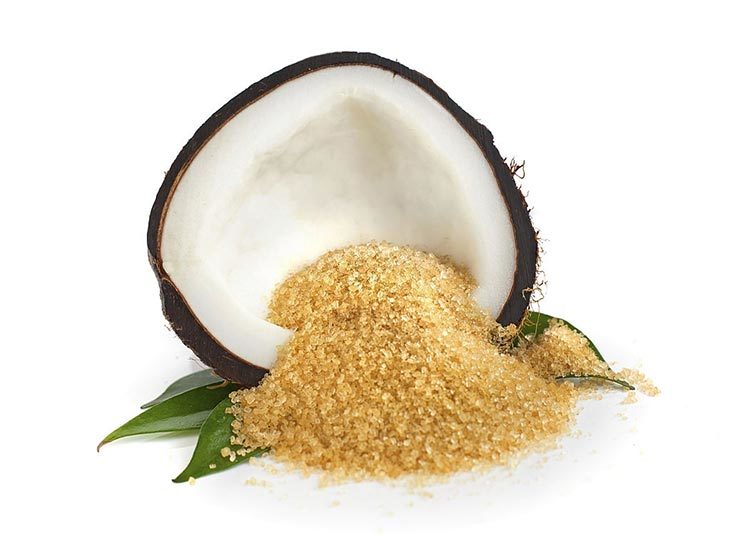 Coconut sugar, as known as coconut palm sugar, is a palm sugar made from the sap of coconut palm.
To produce coconut sugar, the sap is harvested by cutting the flower bud stem from a coconut tree. Then the sap will go through processing stages to remove moisture. The sugar produced from the syrup will have a nice brown color because of caramelization.
You can use this coconut's product as a substitute sugar for brown sugar in a 1:1 ratio. Although coconut sugar looks like brown sugar (and also tastes like brown sugar), it doesn't contain as much moisture.
This results in a drier texture than expected. Try melting the sugar or adding butter to your recipe.
Jaggery (Palm Sugar)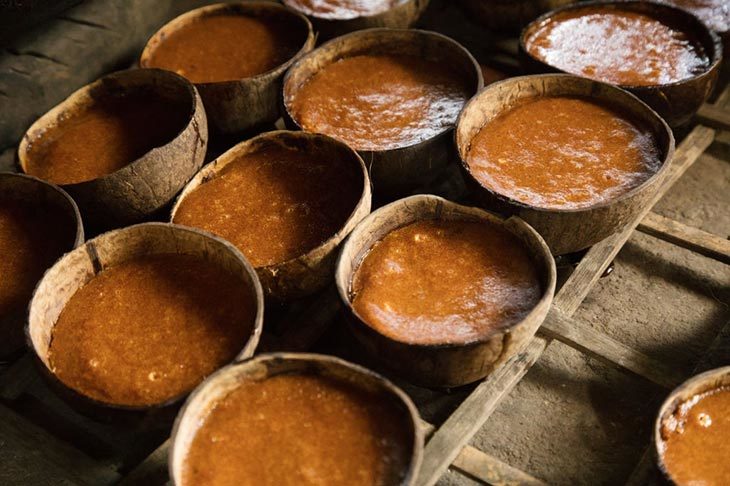 Jaggery is a product made from palm sap or sugarcane juice without removing molasses. Jaggery bears a resemblance to muscovado, and its color varies from light to dark brown depending on the type of sugarcane or palm.
Additionally, jaggery has more essential minerals than brown sugar, thus making it healthier than the normal type.
Since jaggery is a great choice for a brown sugar substitute with more depth of flavors. Still, baking with jaggery can be tricky since it has more moisture than the typical brown one. So you should try experimenting with it. Be more playful (and healthier)!
Date Sugar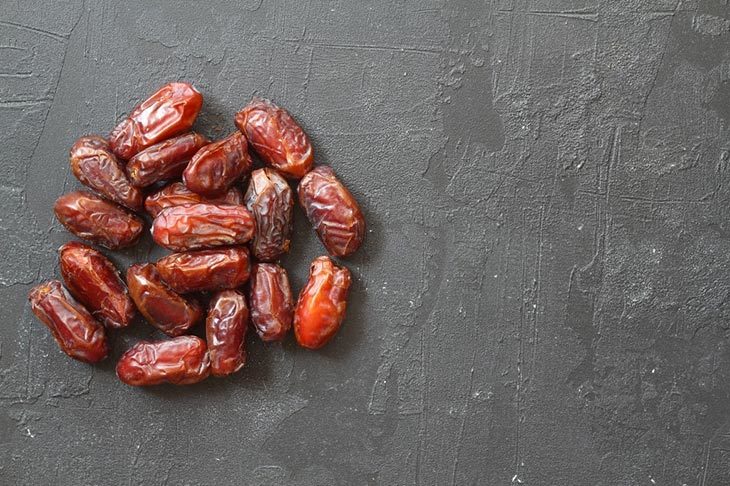 Date sugar is derived from dehydrated dates and has a flavorful sweetness. It is touted to be a healthier brown sugar alternative. However, be careful that date sugar and date palm sugar are not the same thing, since the latter is extracted from the sap of the date tree instead of the fruits.
Sure, you can use date sugar as a replacement for brown sugar in most baking recipes. But this stand-in can be a bit pricey, so you might want to save it for special occasions.
Muscovado Sugar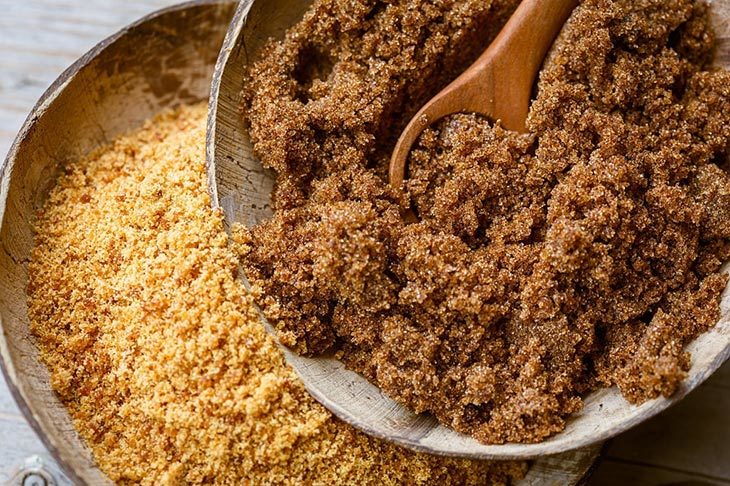 "Muscovado" is from a Portuguese word called "açúcar mascavado" (unrefined sugar).
Muscovado is a type of less refined sugar with a higher molasses content than normal brown sugar, resulting in a richer flavor and darker brown color. This sweetener also holds more minerals than refined sugar, considered healthy.
You can use muscovado sugar instead of brown sugar in most recipes. However, you might want to reduce the liquid content a bit because muscovado already contains lots of molasses and moisture.
Substitute for brown sugar in a 1:1 ratio. Muscovado is as close to the original element as it gets.
Raw Sugars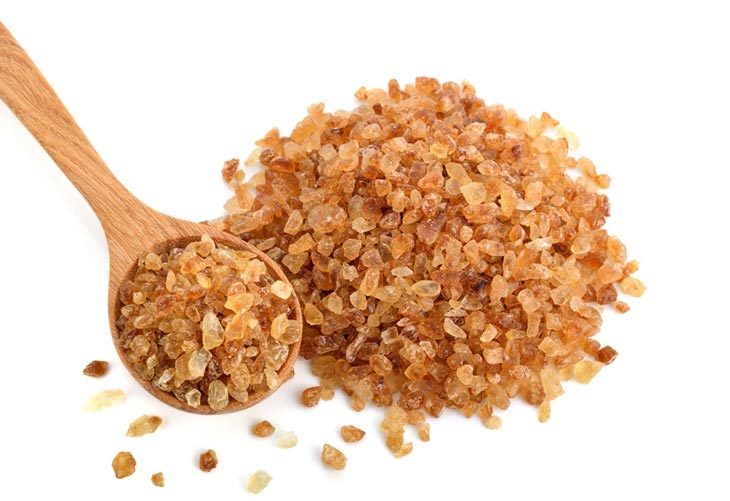 Raw sugars such as demerara or turbinado are great substitutes for brown sugar. Despite the name "raw sugars", demerara and turbinado are not exactly "raw".
Demerara sugar, like other unrefined or partially refined sugars, is a type of sugar that originated from sugarcane. It is also less processed like its counterparts, has large grains and brown color.
Demerara sugar's name comes from a British colony – Demerara, now known as the Republic of Guyana.
Turbinado sugar is a less refined version which still contains molasses, giving it a golden brown color. This sweetener consists of large and brown crystals.
To produce turbinado, the sugarcane juice is boiled and dehydrated to make it crystalized. Then the thickened juice is ground in a turbine, hence the name "turbinado". This method is old-fashioned, though.
At the initial stages, both demerara and turbinado are somewhat hard to mix into the dough as well as brown sugar because of their crystallized nature.
However, raw sugar is still a good substitute for brown sugar since it contains molasses. You can solve this by grinding the crystals manually or dissolving them in warm liquid. Sub for brown sugar in an equal amount.
Honey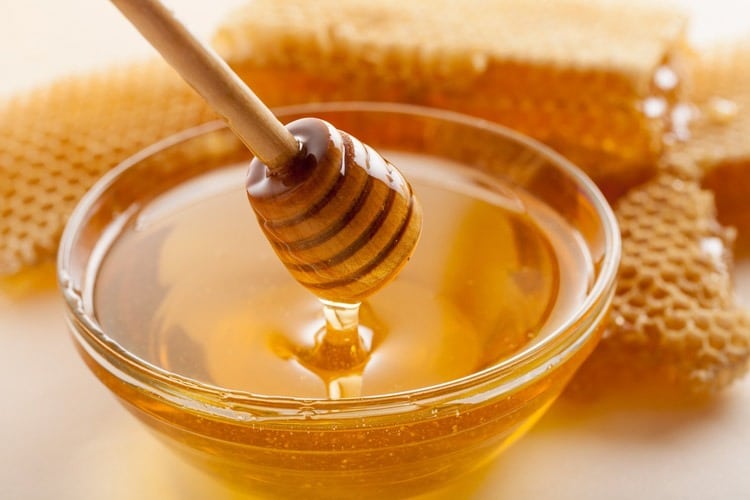 In theory, you can replace molasses with honey because honey is very sweet and contains acids like brown sugar. It also provides a flowery flavor to your cake. But be mindful that honey gets brown really fast at high heat (350 °F or higher).
You can also use buckwheat honey to achieve a strong flavor similar to molasses, producing a tastier brown sugar.
To make brown sugar with honey, use ½ to ¾ cup of honey for each cup of the original sweetener.
Furthermore, you should cut down 20% of the liquids in your recipe and reduce the temperature by 25 degrees. Additionally, try to avoid using honey in dishes that need brown sugar to cream butter.
Agave Nectar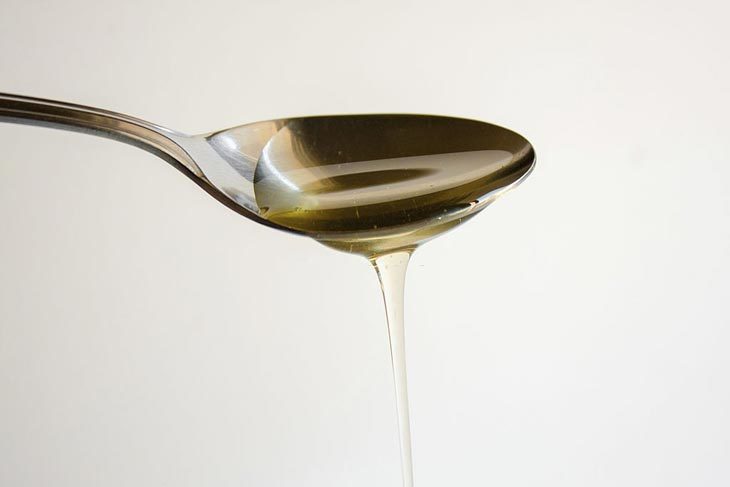 Agave nectar, also called agave syrup, is a popular sweetener derived from several agave species, including blue agave.
To extract the syrup from agave trees, they cut off the leaves, then squeeze the juice from the agave's core. After processing, the juice is condensed to a liquid akin to honey.
That's why their replacement ratios are the same. ½ to ¾ cup of agave nectar is equivalent to each cup of brown sugar. Use 20% less liquids in your recipe and maintain the temperature at 25 degrees.
Keep in mind that agave is thinner than honey. And it is an excellent honey substitute for brown sugar if you seek a vegan substitute for honey, since it comes from a plant.
DIY Brown Sugar
White Sugar and Molasses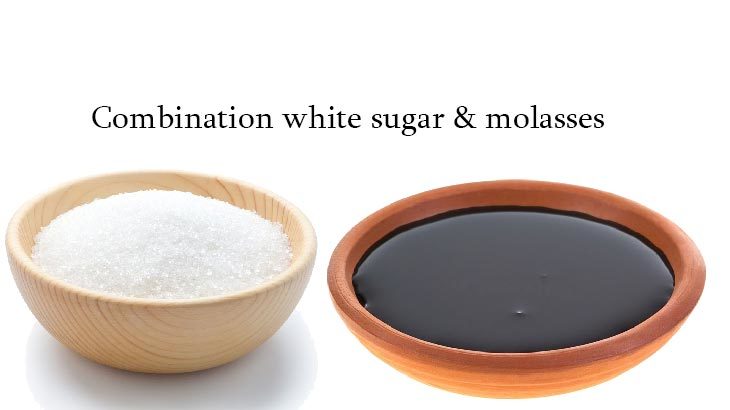 White sugar and molasses are literally what brown sugar is made of. Since the brown type is a less-processed version of the granulated one, the molasses is there to add flavor and color.
So, this combination is obviously your best choice for a brown sugar substitute.
To make a light-brown sugar substitute, mix 1 tablespoon of molasses with 1 cup of granulated white sugar.
If you need a sub for dark brown sugar, add 1.5 or 2 tablespoons of molasses to the mixture. Remember that the more you add, the stronger the flavor. Now you can make your own brown sugar at home.
If you don't have any molasses left, please keep reading to find substitutes for brown sugar without molasses.
White Sugar and Maple Syrup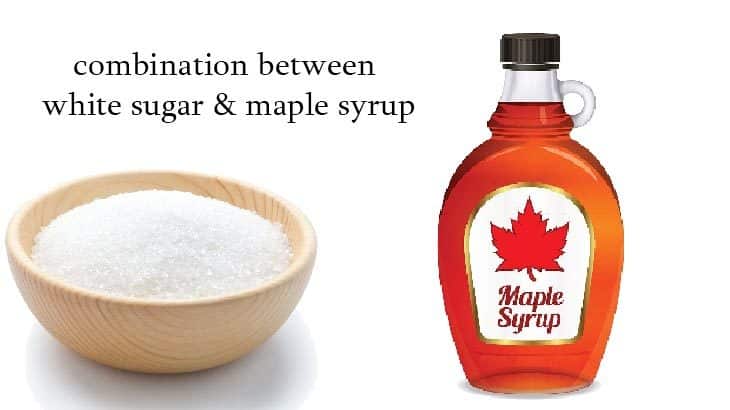 Maple syrup is a syrup made from the sap of black or red maple trees. It is often used as a dressing for waffles, pancakes, etc. Maple syrup also serves as a sweetener or flavoring agent.
There are many recipes for DIY brown sugar, but most of them require molasses. Molasses is a thing that every family might not have. People try to use maple syrup, but its structure and taste are a bit weaker than molasses.
However, you can still use it to make brown sugar. Try to follow the same proportion of white sugar and molasses.