Buckwheat Flour Substitute – The Best Alternatives Available Here
Are you trying to follow some favorite recipes with Buckwheat flour, but it is not available in your area? The Buckwheat flour substitute below will help you!
In the framework of this article, we will share with you ten choices that you can substitute for buckwheat flour.
Buckle up and delve into choosing which suits your recipe best now!
What is Buckwheat Flour?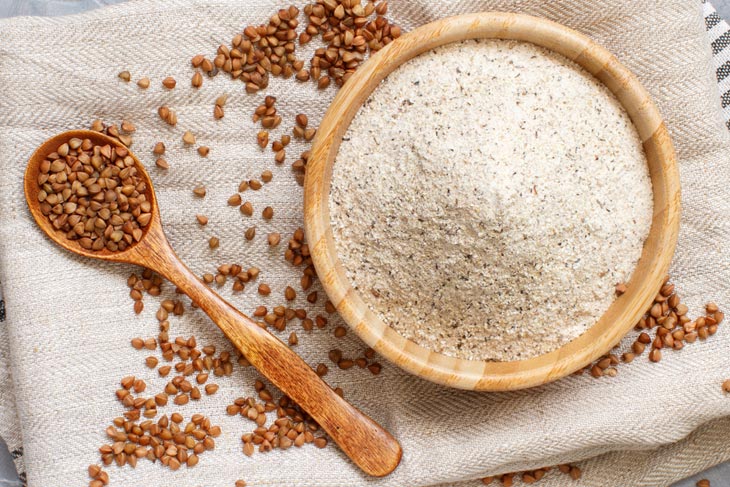 But first, let's find out what buckwheat is and what today's main character – buckwheat flour is!
Buckwheat is a pseudocereal, and its wild ancestor is in China. They are seeds and are often used like cereal grains.
Even though it contains "wheat" in the name, it has nothing to do with wheat. It is a gluten-free grain.
Humans usually harvest it and process it into buckwheat flakes, crispbread, noodles, or flour. So, now you know what is buckwheat flour made of? It is made from buckwheat.
People use a food processor to grind it to the powder form.
About nutrients, it is a rich source of fiber, protein, vitamin B6 and several minerals that are super potential for human health.
Taking a cup of buckwheat flour as an example, it includes 12 g of fiber which can support gut health and reduce the risk of getting colon cancer.
Additionally, with up to 301.2 mg Magnesium, 692.4 mg Potassium, and 13.2 g Sodium, the pseudocereal also contributes to improving muscle toning and heart health and decreasing the risk of chronic diseases.
Buckwheat Flour Substitute
Now, we'd like to present the best buckwheat flour alternatives! Like buckwheat groats substitutes, no substitute can be the exact 100% same with buckwheat flour.
We've tested, and this experienced ideal list will introduce picks that are only partially or very similar to the main character but are currently the most relevant replacements!
1. Oat Flour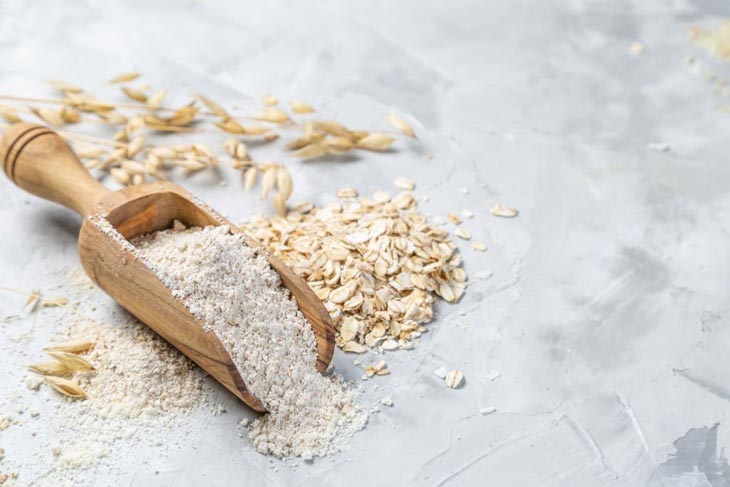 Grind the oat into fine flour, and you have the first substitute. It is an excellent source for replacement.
Compared to our main character, the oat is also very popular in the US when American consume up to 50% of the total market. Therefore, you can find it effortlessly anywhere around you!
It becomes a choice in buckwheat flour substitution because it is also gluten-free. It has a milder flavor than buckwheat flavor if you put two of them on the scale.
About the amount, you can replace the same volume with buckwheat flour in almost any situation. However, the texture of oats flour will be softer, light, and airy.
Therefore, it will be the best selection if you search for a sub for buckwheat flour in making cakes or muffins.
2. Wheat Flour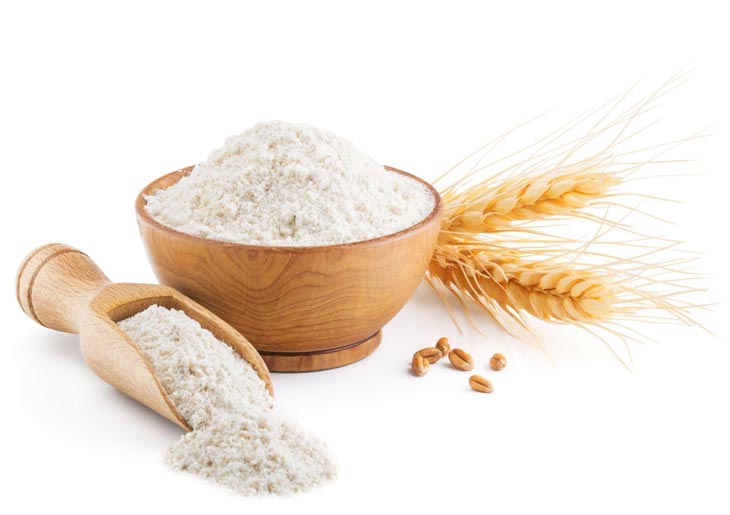 Wheat flour is a perfect buckwheat flour alternative if you are about to make cookies! It makes the cookies more crispy in terms of texture. However, please do remember that it is not gluten-free.
It shines among all the alternatives because it is easy to find, wherever you are, even if you go to a convenience store, a grocery store, a big/giant supermarket, or a baking shop.
Compared to oat flour popularity, it is a winner.
The ratio substitute you can use is 1:1. Still, please be careful with the difference in texture.
When you use wheat flour to make dough, it will bind quicker and chewier. Thus, don't forget to modify the amount of leavening for your recipe to get the expected result.
The wheat flavor is also milder than the earthy flavor of the buckwheat one. But all in all, it's a near-perfect alternative if you like the light brownish and don't mind if it is not a gluten-free substitute!
3. Potato Starch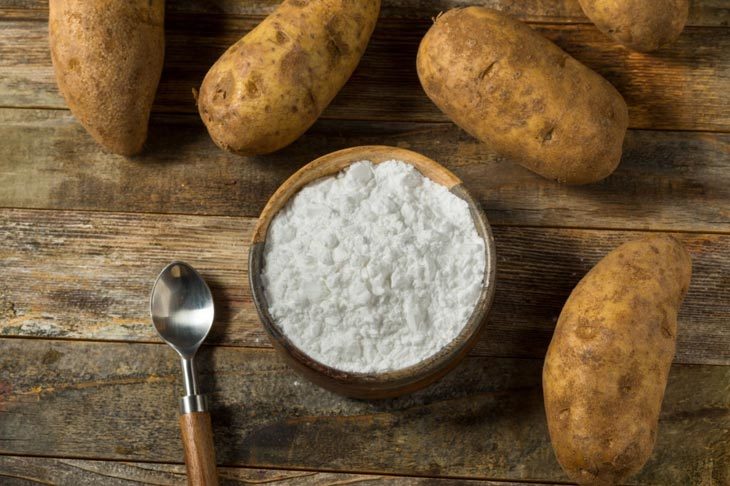 The next we would like to introduce is potato starch. It is not potato flour but is light, white, and fluffy.
The starch promises to bring the sweet flavor similarity compared to other candidates on the list, and it's also a gluten-free flour!
In terms of texture, it has a softer and lighter texture than our main character. If you are doing some baked product, potato starch is the proper replacement choice.
Besides, if you are looking for a soba noodle alternative, you must call out potato starch.
The starch can be an interesting choice for making noodles even if it does not have the sour and bitter taste from the host!
Despite some differences to the original version, it is still the potential candidate for a substitute for buckwheat flour gluten free!
4. Rice Flour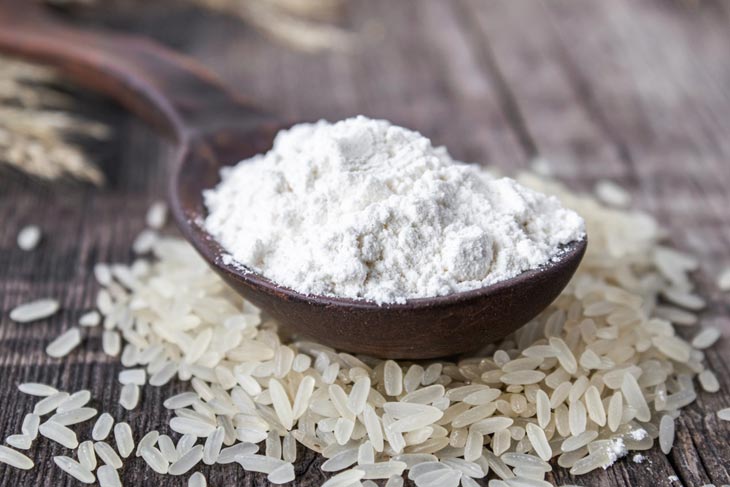 The rice flour we want to recommend here is brown rice. It is a light flour and has a nutty flavor like our star today, but just at a slight level, not in intense volume!
About the texture, when making noodles, the brown ones are also chewy and flavorful, like soba made from buckwheat flour! Compared to potato starch, it's a better replacement because of the similar color.
In case you apply it for baking, its texture will be a bit dense. So, do remember to mix with other flour if needed to have the desired result.
5. Sorghum Flour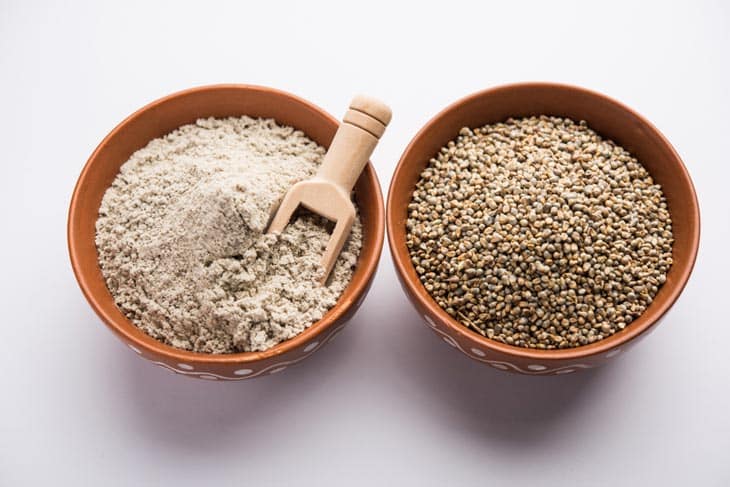 Even though the nutty and moderate sweet flavors are not dense and intense like the original ingredient, the Sorghum is another interesting replacement for buckwheat flour.
For the best outcome, you can choose to replace it in some cookies or pancakes recipe. But the final product texture will be a bit crumbly.
Like the host, to get a fluffy and consistent structure, you need to mix Sorghum flour with other flour/starches!
With all the tips and tricks, Sorghum is a formidable opponent when you choose alternative ingredients for our protagonist.
6. Chickpea Flour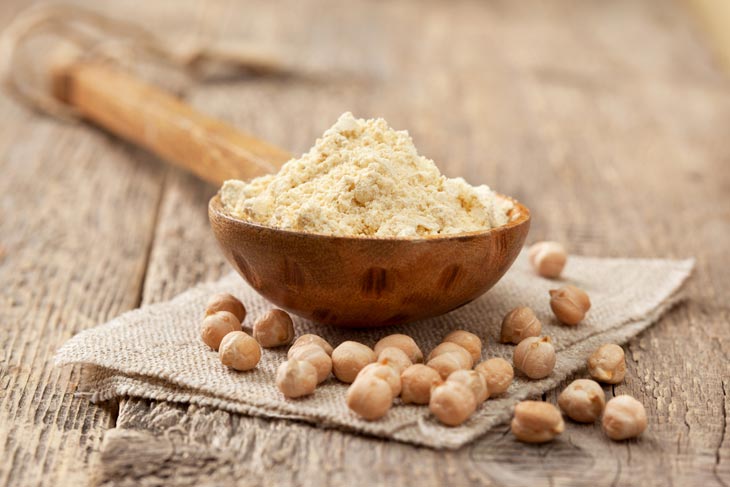 Ground chickpeas, also known as Chickpea flour, have a different flavor to Buckwheat. But, it is gluten-free, so the sweet taste resembles.
About the texture, it also will be more creamy than the host. Thus, it's the best-suited alternative for baking.
Additionally, ground chickpeas can be a pasta noodle replacement when talking about interesting alternatives because of the unique flavor!
Same at some parts in texture but burst out in flavor! That's what we want to talk about!
7. Quinoa Flour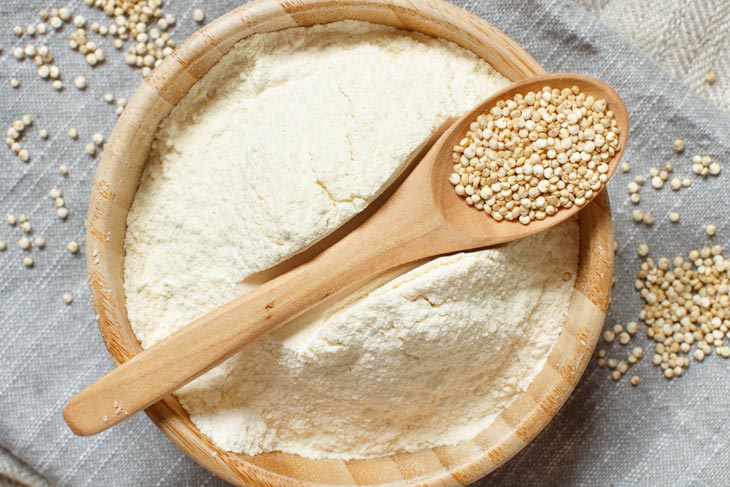 Grind quinoa by a food processor until you have fine form, and you have ground quinoa, or also called quinoa flour.
Quinoa gluten-free is considered the most comparable flavor with our main character because of its bitterness, grassy, and earthiness.
A small minus point is that it is not as sweet as the brother. But, it is still a better choice than chickpea in terms of flavor in case you flavor is your priority!
When baking, ground quinoa is usually chosen when people need the replacement for buckwheat flour. The finished texture in some of the cookies recipes will be more crispy.
8. Barley Flour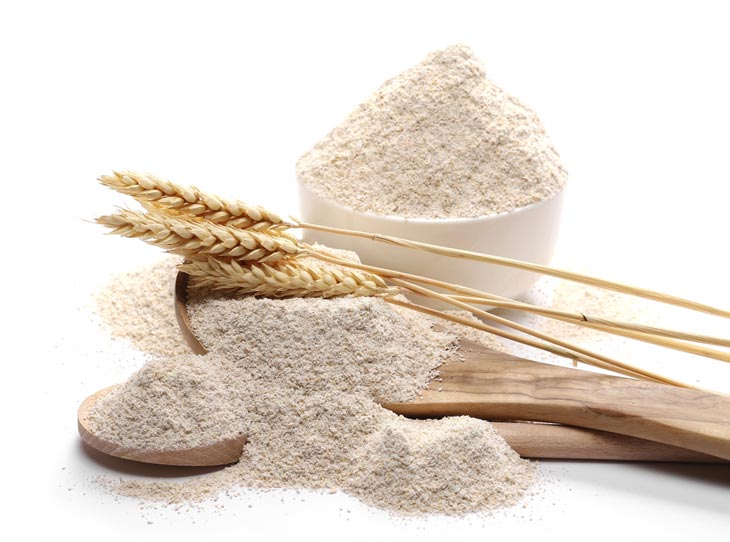 Barley flour is not gluten-free. It has a nutty flavor, but it is not 100% similar to our main character. About sweet degree, it is a bit mild and is not as sweet as buckwheat flour!
The assertive taste of Barley is pretty strong and tends to overshadow other flavors.
The texture is not soft like the original ingredient. Therefore, if you use this in another replacement recipe, we recommend you mix it with other sweeter flour to get the similarity for the replacement.
9. Kamut Flour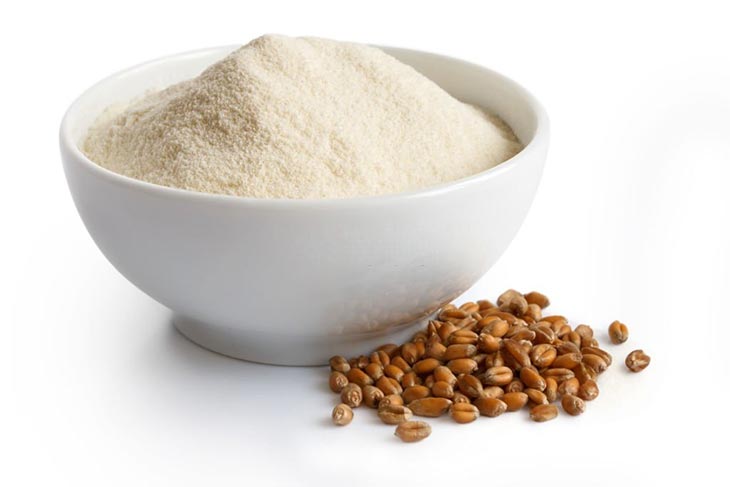 Kamut contains gluten. So, be careful to use it in food for people with celiac disease because they have food allergies.
Still, it can be used as a replacement for our host in baking recipes. You can spot a firm texture that differs from the host; however, it is very distinctive to add a unique touch to your new recipe.
The Kamut also possesses a nutty flavor that is akin to buckwheat flour. Also, thanks to its light tan hue, it becomes one of the best replacements.
The amount ratio replacement is: 7/8 cup of Kamut Flour: 1 cup of the buckwheat flour (feel free to change based on your experiment and recipes)
So, if you don't mind gluten and need to make an innovative replacement with a similar color, Kamut should be on the list of your substitutes.
10. Spelt Flour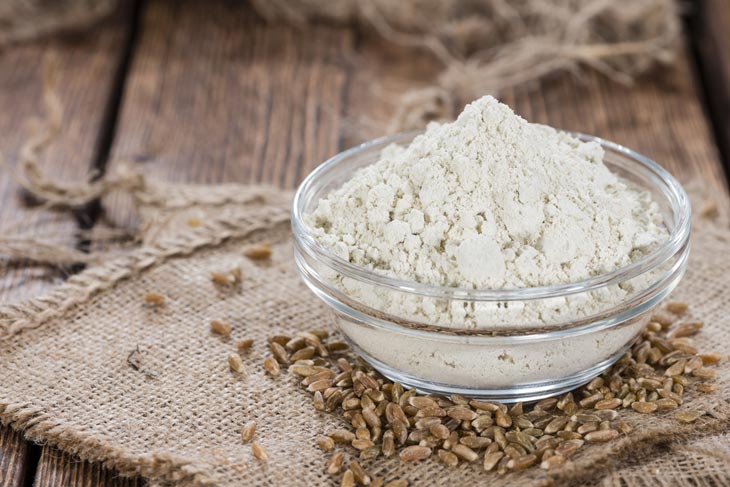 Spelt is not gluten-free flour, and it even comes with one of the highest contents. So people with celiac disease will want to stay away from it. However, the good news is that its flavor is the closest to our star.
It has a coarser texture when people grind it with the outer bran. That said, when you exclude those brans, the texture is finer and more alike with the buckwheat flour.
It is recommended to substitute buckwheat flour in cakes and bread recipes. A 1:1 ratio will get the job done right. When you first taste the outcome, you will notice a nutty kick and a tangy undertone
Conclusion
Above are all the buckwheat flour substitutes that we want to introduce.
We recommend both gluten-free and gluten-contained products to increase the diversity of selections supporting you to dig down further in the substitution.
The flavor of the buckwheat flour is pretty unique. Some of the replacements will look alike in dark color; some are similar in texture, some are partly the same in flavor. Each will have its own signature point.
However, one out of ten stands out in the crowd that we'd like to put in front: It is wheat flour because the brownish color between the wheat and buckwheat flour is pretty similar.
Moreover, if you try to create soba noodles, it's not obviously different in sight and taste. Last but not least, its popularity is global!
We hope you will find a sincere replacement for your dish here! Good luck!