Cheap Buckwheat Groats Substitute For Your Healthy Recipes
Buckwheat groats are a premium source of quality protein, vitamins, and antioxidants for your calorie diet. Buckwheat is also gluten-free.
You might even know it from its other name: Kasha – which is simply roasted buckwheat groats.
What Are Buckwheat Groats?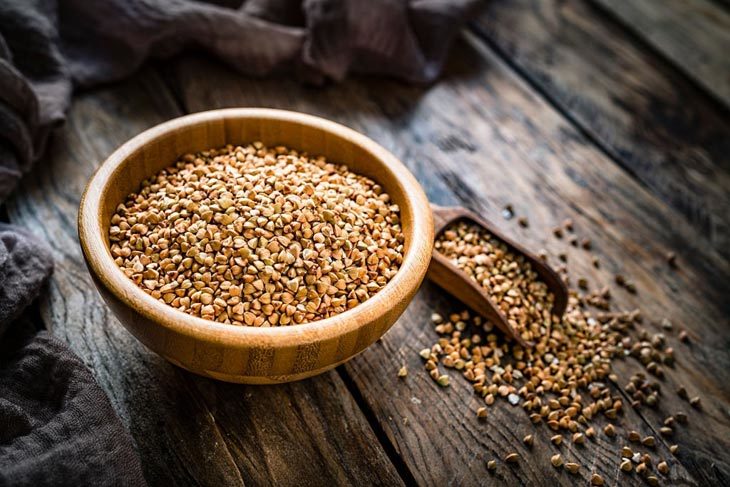 Despite its name, buckwheat is not a version of wheat. It is not a grass like regular wheat, and in fact, buckwheat is more closely related to the rhubarb plat! Buckwheat groats are the hulled seeds of the buckwheat plant, and their taste is quite mild.
Buckwheat groats look and taste a lot like steel cut oats, and can be enjoyed raw as well. When buckwheat is roasted, it takes on a delightful, more intense flavor.
Buckwheat contains high amounts of protein, dietary fibers, and an essential amino acids, all of which are beneficial to control our blood pressure, sugar levels, and cholesterol levels.
Buckwheat is common in many vegetarians' and vegans' diets.
This pseudocereal, meaning non-grass plant seeds, has a stronger nutty flavor than regular grains and also has a slight bitterness when consumed raw.
10 Best Buckwheat Groat Substitutes
Since buckwheat is so expensive, it is good to have some alternatives. Here are our top replacements:
1. Buckwheat Flour
Buckwheat flour can be used as a buckwheat groats substitute, but only when a flour can be used.
Since it's ground buckwheat, so you won't get that signature crunch at the end of your meal like you would with the dried buckwheat groats.
However, in terms of flavor and nutrition, they are exactly the same.
2. Chickpeas
Another great buckwheat alternative in salads is the chickpea. Chickpeas, also known as garbanzo beans, are a popular ingredient in many recipes with high nutrition and provide good substitute for buckwheat groats.
The taste of chickpea has a nutty and beany taste that you can use in both savory and sweet dishes.
You can find chickpeas in most grocery stores, either in cans or dried. If you decide to use the dried ones, make sure to rehydrate them before adding them to your recipes.
3. Quinoa
Quinoa has always been known as the healthy ancient grain with a long history, dated back almost 3,000 years ago.
Quinoa's amazing nutrition and earthy flavor makes for a great substitute for buckwheat groats. Quinoa is rich in minerals and vitamins, making it ideal for a gluten-free diet.
In addition, Quinoa is low in carbohydrates. This makes it perfect for people with diabetes or those that are on low carb or keto diets.
This grain is also very simple to cook. You just have to boil it gently in water or broth for about 30 minutes, and it will be soft and ready to eat.
4. Farro
When cooked, farro has a distinctly chewy and nutty flavor. Farrow has recently become my favorite grain outside of rice or wheat. It has a wonderfully chewy texture and is a perfect addition to salads or any side dish you're looking to add a special twist to.
5. Steel Cut Oats
Steel cut oats can be a good buckwheat groat substitute because of their similar size and flavor. This ancient cereal grain is also a common whole grain ingredient that you can find in any local store.
Groats are similar in shape, size, and texture to oats, but buckwheat groats are slightly more nutritious than oats. Roasted buckwheat groats have more protein and fiber than an equal amount of oatmeal does.
Oats also have a high content of fiber, vitamins, and minerals with many similar health benefits to buckwheat.
4. Other Gluten-Free Flours
If you happen to need a substitute for buckwheat flour, then you should find other flours that have similar flavors and that are also gluten free.
Gram Flour
If you're using buckwheat flour, you should try gram flour as a buckwheat substitute. Gram flour – or chickpea flour – is an amazingly healthy flour that can give you a similar taste to buckwheat flour.
Since it is a flour, gram is more suitable as a substitute for buckwheat flour in gluten-free baking cakes, pancakes, and dessert recipes.
Coconut Flour
If you're seeking a buckwheat flour replacement with a high nutrition content, coconut flour is a great ingredient for your baked goods.
This flour has a very high amount of fiber, when compared to regular flour.
As it is made from dried, ground coconut flesh, the flour is already sweetened, so you don't need to use a lot of sugar in your recipes.
When using coconut flour, you should note that it can absorb moisture and liquid more than other flours, so it is best to use more wet ingredients than your recipe asks for.
Almond Flour
Although it is not as popular as all-purpose flour, almond flour can be used as a substitute for buckwheat flour in baking cookies and cakes.
Almond flour is blanched and ground almonds.
White Rice Flour
White rice flour has a mild and neutral flavor, which makes it a perfect alternative to buckwheat flour.
All-Purpose Flour (Not Gluten Free)
If you're looking for a replacement for buckwheat flour with a low budget, you can use regular all-purpose (wheat) flour in any baking recipe.
All-purpose flour is the most common version of flour, but it is not gluten-free. If being gluten-free is not a requirement for you, then this would be a great substitute for buckwheat flour.