Can You Freeze Deli Meat?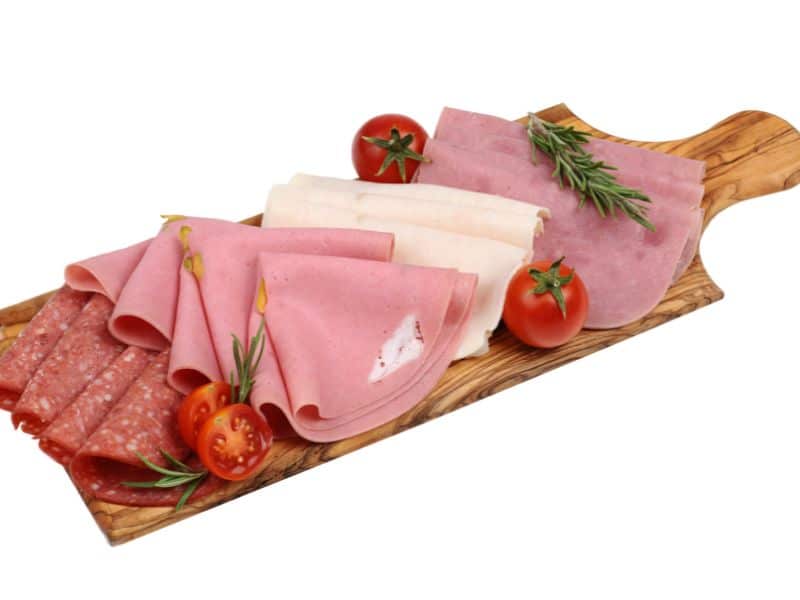 Deli meat or precooked or cured meat is one of the most common food types around the world.
You may have asked yourself the question, can you freeze deli meat? If so, read on down to find out the answer.
Why Do You Need To Freeze Deli Meat?
Having a fantastic taste, there is no surprise that deli meat is consumed in all over the planet. Cold cuts are served as a component in the regular meals of numerous families.
Nevertheless, the best thing about deli meat is that it can be easily combined with many other types of food. Thanks to this flexibility, you can use cold meat to make many dishes, including sandwiches, pizza or salad.
Deli meat's flavor and versatility are the reasons why people often keep in reserve their luncheon meat leftovers. By far, the most common way to store this food is freezing. 
However, many people still hesitate to do so as they worry about the safety of this method.
Can You Freeze Deli Meat?
Yes, All meat deli such as ham, chicken, turkey hold up exceptionally well in the freezer, but you must consider the method you freeze it. There are two things you should keep in mind to ensure flavor, texture, and safety preservation. Is it adequately vacuumed yet?
Contrary to what many people think, freezing deli meat does NOT cause any harmful effect either to the meat's quality or consumers' health.
In fact, the U.S. Food and Drug Administration (FDA) even provides us a CHART holding information about types of food that can be stored in the freezer and deli meat (lunch meat) is one of them.
Despite being safe, freezing lunch meat inappropriately can lead to negative modifications in the meat's texture and flavor and shorten its shelf life.
Therefore, it is necessary for you to know how to do it properly.
How To Freeze Deli Meat Correctly
Preparation
The first thing you need to care about is the container.
The top choice for meat container is Ziploc freezer bag, a type of bag that has a zipper. This feature allows you to tightly seal deli meat.
You can also use plastic boxes, which can be purchased in grocery stores or found in your own kitchens.
Another possible choice is aluminum foil. However, you need to be careful with this material as it can create gaps and messes if you don't wrap it closely and accurately.
After wrapping deli meat with aluminum foil, you should consider placing it in another container such as boxes.
Instructions
The main purpose of this action is to prevent as much air from the container as possible. Poor wrapping can expose deli meat to air in the low moisture environment of the freezer, resulting in the freezer burn phenomena. Now just follow 4 simple steps below:
Cut deli meat into slices and put them in separate containers to increase the storing time and maintain the taste better.
Wrapping the container tightly, remember to check one more time the wrapped containers to make sure everything is alright.
Labeling each package with the start date of the freezing period. This can help you to keep track of the meat's storage time and usability.
Put them in the freezer.
Tip:
Separate meat slices with paper towel or tissue before placing them into a Ziploc bag to further create a moisture-free package
To achieve the best storing result, you should use the vacuum sealer to extract all of the air from the container. Find out more about how to use a vacuum sealer in the video below.
Other Tips About Meat Deli
1. Storage Time Limits
As you can see from the FDA chart provided earlier, the ideal amount of time to store most types of deli meat range from 1 to 2 months.
Dry cured meat can be frozen in 3 months as it contains less moisture.
However, FDA also says that because freezing in 0oF (-18oC) indefinitely keeps food safe, the information in the chart is recommended for quality only.
In fact, deli meat can still be usable if stored in the freezer for more than 2 months, but its texture and flavor won't be fully preserved.
Nevertheless, you need to bear in mind the maximum length of storage: 6 months.
2. Thawing Deli Meat
You should defrost lunch meat in the refrigerator to prevent it from being an environment for harmful bacteria.
However, you can accelerate the thawing process with a microwave or by submerging the meat in cold water. But remember to use the meat instantly after being defrosted if you use these methods.
Thawed deli meat can last 3 – 5 days in the fridge, except for vacuum sealed ones, which can last up to 3 weeks.
Defrosted dry, cured meat can last for 3 weeks in the refrigerator.
3 Easy Recipes With Deli Meat To Make A Best Meal
#1. Deli meat fried with cheese
If you ever think "who would ever fry cold meat?" you might want to think again. This dish of deli meat fried with cheese will easily beat any picky eater in your family. The crispy fried meat with the greasy cheese flavor is to die for.
Ingredients
10 to 14 slices of cold meat
10 to 14 slices of cheese
150g of flour
150g of bread crumbs mixed with 15g of chopped parsley
Chili sauce, ketchup
Cooking oil
Step-by-step Instructions:
Place two pieces of cheese on a piece of deli meat.
Put another piece of cold meat on top to clamp the cheese inside.
Roll the mix into the flour to form the first coat
For the second coat, roll the mix in step 3 into bread crumbs (which is mixed with parsley)
Fry them in boiled cooking oil.
When the flour coat turns yellowish and crispy, you can move it to the strainer for the oil to drain.
There you go! You can sprinkle some tomato or chili sauce to make the dish even yummier.
#2. Deli meat salad
If you are not into greasy food, you may want to try my second recipe – Deli meat salad. This is a pretty healthy dish. If your kids are such picky eaters and usually say no to vegetables, this is a great choice to whet their appetite. And more excitingly, it is pretty simple to make.
Ingredients
Deli meat: 200g
Chestnuts: 100g
Cucumber: 100g
Tomatoes: 100g
Bell peppers: 100g
Lettuce
Spices: Vinegar, sugar, salt, olive oil, and pepper.
Instructions:
First, you need to cut the deli meat into long slices (from 1.5 to 2 cm is perfect). Do the same with cucumbers (get rid of the core), tomatoes, lettuce, and bell peppers.
For the sauce, you need to mix 1 spoon of vinegar, 1 spoon of sugar, 1 spoon of olive oil, and ½ spoon of pepper. Then, you spray the sauce on the mixture above and mix it well. Finally, you sprinkle chestnuts on the top. There you have a bowl of delicious deli meat salad. Easy, right?
Besides the above vegetables, you can add more or other ingredients for your favorite deli meat salad. The choices can be corn, carrots, beans, and eggs, etc.
#3. Deli meat rolls
What would you say if you could enjoy your cold meat as a snack? I decide to push up a level here with deli meat rolls. This does not sound as complicated as you think. You can totally cook it with one hand tied. (Just kidding!).
Ingredients
1 piece of pre-rolled puff pastry dough
50g of mustard
30ml of honey
15g of rosemary leaf (minced)
5g of ground pepper
6 pieces of round bacon.
300g of grated Cheddar cheese
Instructions
Mix mustard, honey, rosemary, and ground pepper together.
Roll puff pastry onto a cutting board.
Apply a thin layer of the mixture in step 1 on the dough.
Sprinkle half the cheese and then put a piece of deli meat on the cake on top.
Sprinkle the remaining half of cheese on the deli meat.
Roll the dough horizontally. Thereafter, wrap it in plastic food wrap and let it rest for 20 minutes.
Use a sharp knife to cut the dough into slices, about 1.5 cm thick. Then place them in the baking tray.
To make the food more eye-catching, you can break an egg and spread it on the surface of the dough before cutting.
Heat the oven at 190 degrees for about 10 minutes. Then bake the cake in about 15 minutes, until the coat is yellowish.
Tada! The super-delicious deli meat rolls are ready. You can dip it in mustard or chili sauce for a better taste.