Can You Freeze Egg Salad?
Have you ever found yourself with leftover egg salad and wondered if you could freeze it for later? It's a common question many of us have when trying to avoid food waste.
In this post, let's delve into the world of freezing egg salad and discover whether it's a good option or not. We'll explore the advantages and disadvantages, and I'll share some practical tips to help you make the best decision.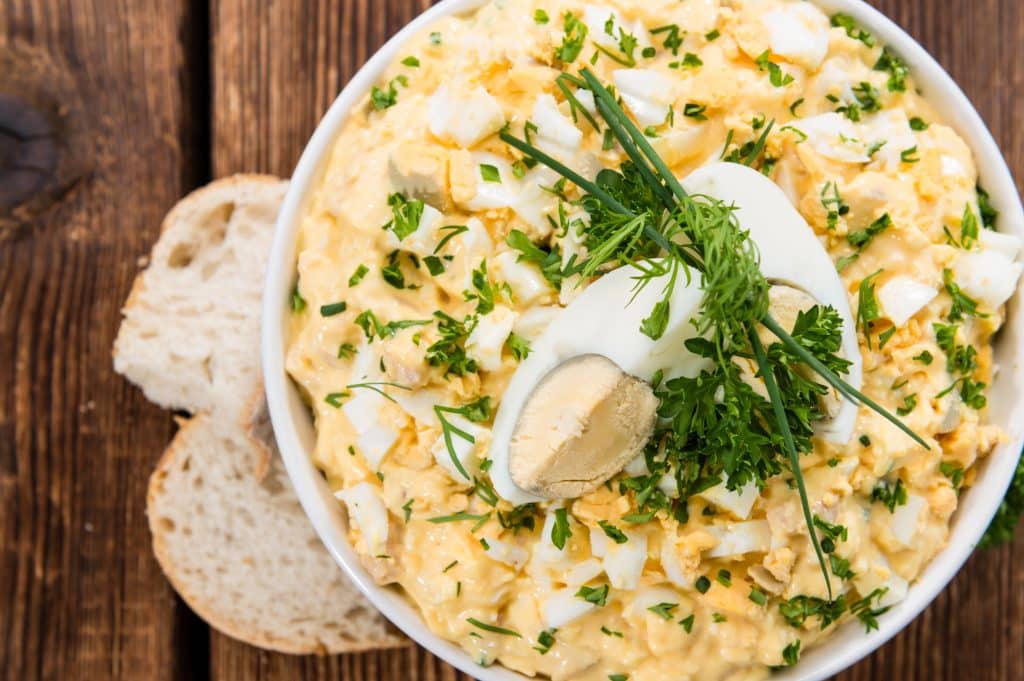 All About Egg Salad
Egg salad is a popular dish made with hard-boiled eggs and various other ingredients. It is a type of salad that is typically served as a spread or filling for sandwiches, but it can also be enjoyed on its own or as a topping for crackers or salads.
To make egg salad, hard-boiled eggs are peeled and then mashed or chopped into small pieces. The eggs are mixed with other ingredients to add flavor and texture. The exact ingredients and proportions can vary depending on personal preferences, but common additions include mayonnaise, mustard, salt, pepper, and chopped herbs such as parsley or chives.
Mayonnaise is a key component of egg salad, as it adds creaminess and helps bind the ingredients together. Mustard, another common ingredient, adds a tangy flavor and can range from mild to spicy depending on the type used. Salt and pepper are added for seasoning, and herbs are often included for a fresh and aromatic touch.
Additional ingredients can be added to enhance the flavor and texture of the egg salad. Some popular choices include diced celery, finely chopped onions, pickles or pickle relish, and sometimes even bacon. These ingredients provide crunch and a bit of zing to the salad.
Once all the ingredients are combined, the egg salad is typically chilled for a short period to allow the flavors to meld together. It can then be served as a spread on bread or used as a filling for sandwiches. It is a great dish that can be enjoyed as a light meal, a picnic snack, or a party appetizer.
Egg salad is a popular choice because it is easy to make, cheap, and uses hard-boiled eggs up as well, which is great during the Easter season. It also offers a creamy and flavorful option for those looking for a protein-packed dish that can be easily customized to suit individual tastes.
Can You Freeze Egg Salad?
While you technically can freeze egg salad, it's not the best idea. Freezing can cause some issues with the texture and taste, especially because egg salad contains mayonnaise. Mayonnaise doesn't freeze well and tends to separate and become watery when thawed. As a result, the salad might become a bit soggy and lose its creamy consistency.
However, if you find yourself with excess egg salad that you don't want to waste, there's a workaround. Instead of freezing the entire mixed salad, you can freeze the individual components separately. For instance, you can freeze the hard-boiled eggs on their own, without the dressing or other ingredients.
To do this, peel the hard-boiled eggs and store them in an airtight container or freezer bag. It's a good idea to label and date them for easy identification later. When you're ready to use them, simply thaw the eggs in the refrigerator overnight. Once thawed, you can chop or mash them and combine them with fresh ingredients and dressing to create a delicious egg salad.
By freezing the components separately, you can maintain a better texture and flavor. The eggs will retain their original quality, and you can mix them with fresh ingredients when you're ready to enjoy the salad. This way, you'll avoid any undesirable changes that may occur when freezing the complete salad.
So, while freezing egg salad as a whole is not ideal, freezing the individual components allows for better control and ensures a more satisfying result when you're ready to enjoy your homemade egg salad.
How To Store Egg Salad In A Fridge?
Once you've made your delicious egg salad, here's what you need to do to store it properly in the refrigerator:
Choose the right container: Select a clean and dry airtight container that can comfortably accommodate the amount of egg salad you have. It should have a tight-fitting lid to keep the air out and maintain freshness.
Transfer the egg salad: Carefully transfer your prepared egg salad into the container. Use a spatula or spoon to scoop it in, making sure not to press it down too much.
Seal it tightly: Close the container tightly with its lid to create a secure seal. This step is crucial to prevent air from getting in and to preserve the flavors and texture of the salad.
Label it: Take a moment to label the container with the date of preparation. It might seem like a small detail, but it helps you keep track of how long the egg salad has been stored and lets you know when it's time to use it up.
Find a good spot in the fridge: Locate a suitable spot in your refrigerator for the container of egg salad. Aim for a shelf where the temperature remains consistently cool, preferably not in the door, as it tends to have temperature fluctuations due to frequent opening.
Keep it chilled: It's essential to maintain a consistent temperature of 40 °F (4 °C) or below to ensure the safety and freshness of the egg salad. The cold environment of the refrigerator will help keep it chilled and prevent any potential bacterial growth.
Consume within the recommended timeframe: For best quality, it's generally recommended to consume the stored egg salad within 3–5 days. Pay attention to any signs of spoilage like an off odor or unusual texture, and if you notice anything suspicious, it's better to err on the side of caution and discard it.
By following these steps, you'll be able to store your egg salad properly in the refrigerator. Just remember to keep an eye on the expiration date and trust your senses when it comes to determining its freshness.
Is It Safe To Eat Frozen Egg Salad?
Yes, it is. Although it is still safe to consume after putting it in the freezer, it more than likely will not taste the same as when it was freshly made.