Can You Freeze Feta Cheese?
Have you ever had too much feta cheese and didn't know what to do with it?
Well, have no fear because today we're talking about a handy trick: freezing feta!
Not only will this reduce food waste, but it'll also make your feta last longer. But is it safe? Let's find out.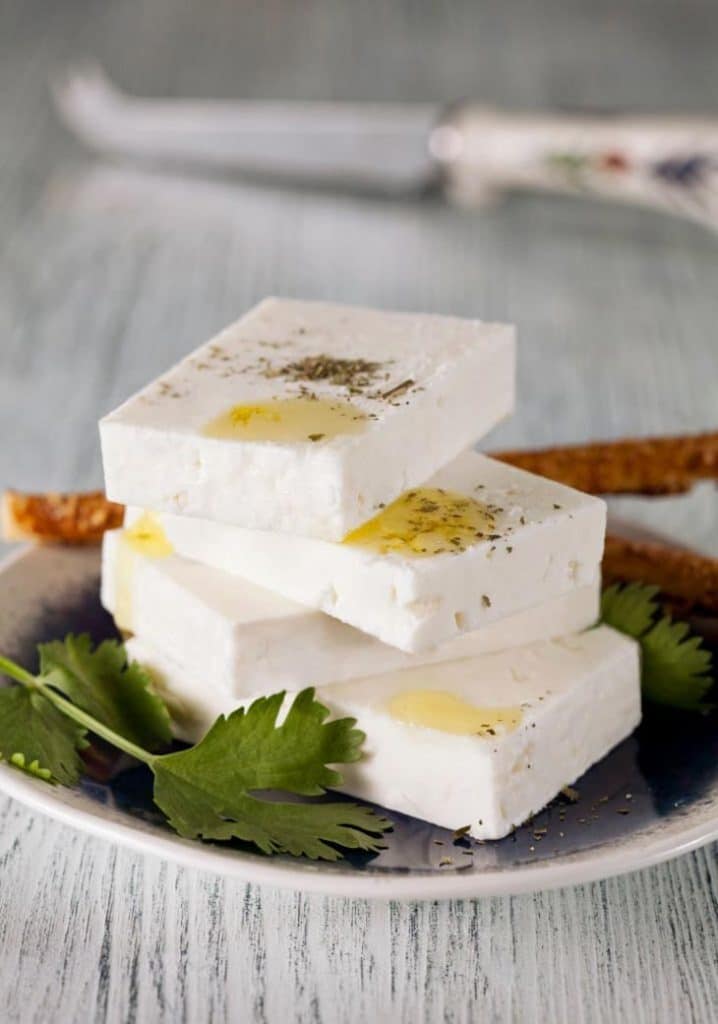 Step By Step on How To Freeze Feta Cheese
Step 1: Prepare Your Feta Cheese
The first thing you need to do is decide the size of cheese you want to freeze. It is recommended that you keep your piece as large as you can.
Have in mind the quantity you will use, and then begin to freeze your cheese in portions. Once the frozen Feta is completely thawed, you can cube or crumble it—your choice.
Step 2: Wrap Your Feta Cheese
Wrap each piece of your Feta in a cling film. As you wrap, ensure that no air is getting in. If you are not sure about air getting into your wrapped piece of cheese, you can use two layers of the foil or cling film.
Step 3: Store in a Container
Place all the wrapped pieces of your feta cheese into a container. You are recommended to use a rigid box for storage and not a bag. Bags are more likely to cause unwanted damage to your cheese.
Step 4: Freeze Your Feta Cheese In The Freezer
Now that all your Feta is well packaged in a container, proceed to freeze it. You can get your cheese as and when you require it.
Do not tamper with the storage mode, as this may tamper with your Feta's life cycle.
Now that you know what steps to follow in freezing your cheese, follow the below tips and incorporate them while freezing your cheese.
Tips For Freezing Feta With Better Results
#1. Keep it Large
The more you cut your large piece of the frozen cheese, the higher the risk of an icy burn. To avoid incurring this risk and making your feta cheese go bad, store every piece of the Feta in large chunks.
#2. Keep Your Cheese From Touching Outside Air
Air from outside is your Feta's greatest enemy. You wrap your cheese before placing it in the rigid box matters a lot.
Your Feta needs to be protected, so ensure that you cover it accordingly. An airtight container is remarkably enough to ensure no air goes in and tampers with your cheese.
#3. Soak in Saline Solution
If you find that your frozen cheese is already beginning to go wrong after thawing, you can try soaking it in a saline solution. Add a teaspoonful of salt into a cup of water and soak your Feta for about half an hour.
#4. Defrost Slowly
Once you freeze your Feta, you will notice a change in its texture. If you want to change this texture, consider picking a few large chunks and defrosting them with no rush.
#5. Use Frozen Feta for Cooking
As initially mentioned, frozen Feta will change its texture and not be the same as its initial state. While cooking your meals, ensure to use your cheese while in its frozen state.
You will hardly notice the change in texture at this point.
How Long Can You Freeze Feta Cheese?
Theoretically, you can freeze your cheese for an indefinite period. However, this is not something you want to do, considering your cheese has a lifespan.
Storing your cheese for more than three months makes it lose its original salty flavor. That is why you need to use it within the first two months of having frozen it.
Another tip you should consider is labeling your cheese for the date you need to have consumed it. This will help you stay organized and also help you easily track the days and period your Feta will be fit for consumption.
Finally, if a time comes and you need to defrost your Feta, ensure that you do it slowly and not in a rush. Rushing the defrosting process tampers with your cheese's original taste and texture.
So, can you freeze feta cheese? Yes, with the right procedures, you can proceed to freeze your feta.