Bread is one of the staples for every household, especially for breakfast as toast. However, if you are like my family, we usually buy a couple of loaves of bread at a time and freeze it.
So, the question is: Can you toast frozen bread?
First, you need to ensure the way to store loaves of bread is safe and can maintain its taste.
Can You Toast Frozen Bread Or Not?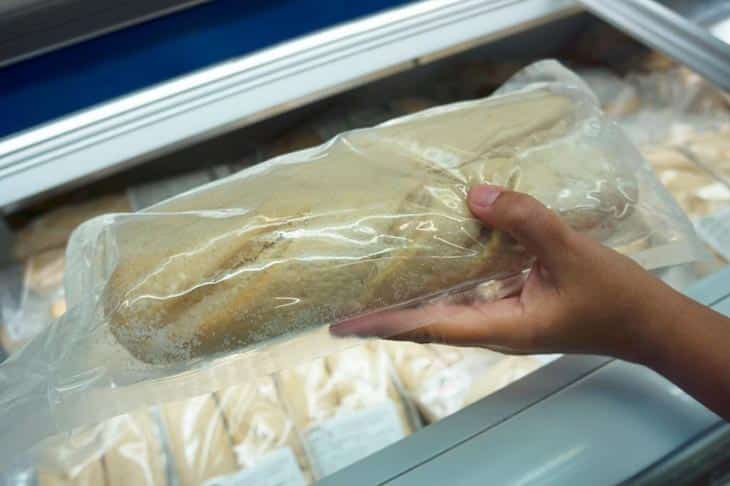 Can I toast frozen bread? Of course, you can do this! Not only safely, but also for both pieces of store-bought and homemade bread.
Moreover, you also have more than one way to toast it. A popular one is using the toaster, but you still can treat a hard loaf of bread without this kitchen utensil.
Is It Safe To Toast Frozen Bread?
We can say that it is possible to toast frozen bread, but whether it is safe or not depends on many factors.
How long you stored your deep freeze loaf, how you defrost it, and the way you toast it again are just a few to name.
Knowing these three main things clearly, you can completely toast frozen loaves. No problems about health, taste, nutritional value, etc., can occur.
Will Toasting Hard Bread Be Better Or Worse?
And because it can be safe or not, it also can be good or bad. Some studies show that frozen food might be better.
Conversely, if you don't make sure you freeze, thaw, and bake them properly, these good effects won't last.
Advantages
First, you can easily see that freezing and defrosting loaves make them last longer. It prevents being moldy or stale.
Next, the current study also shows that the deep-freeze loaf has resistant starch (a good one) after being toasted and will provide fewer calories. It prevents being moldy or stale.
Not only that, but defrosting frozen sandwiches can help reduce Glycaemic Index, making it more suitable for some particular subjects.
It is better to maintain blood sugar levels. You can eat that loaf that tastes like fresh bread samples with better nutrition.
Disadvantages
You will not avoid all disadvantages too. Storing loaves in the freezer too long can change its structure. If it alters too much, it can affect the bread quality, taste, as well as food safety.
Not only for frozen sliced bread but also other food, you just ought to store in a period allowed.
At that time, you get the answer "Yes" for the question " Can you toast frozen bread slices?". If longer, the solution for you may be "No, you shouldn't do that." Remember that everything always has two sides.
How Do You Defrost Bread Before Toasting?
Do you know how to defrost bread fast and correctly? We think that many people defrost bread in a toaster.
It means you defrost and toast at the same time. Or someone will let their loaf defrost naturally at room temperature before toasting.
Neither of them are good. Therefore, we have a better way here. It can make your loaf stale and starch molecules down. It may be more complicated, but worth trying.
You will wrap a quite damp cloth around the hard loaf. Then put them into a microwave. This way ensures maintaining the loaf's quality and saves time.
How long does it take frozen bread to thaw? You only need to wait for about 30 seconds.
How To Toast Frozen Bread With A Toaster?
Continually, we will guide you on how to toast frozen bread step by step. There are some ways to do this, but we will show you the most popular one, using a toaster.
Step 1: Prepare Unfrozen Bread
Now prepare bread to toast. A good point of baking frozen bread with a toaster is that you can process four pieces at a time. Besides, you will not need to turn over the bread either.
Step 2: Set A Suitable Temperature Level
At this step, turn your toaster on and choose a suitable temperature level from its range.
Actually, it is not really for you to toast hard loaves of bread at high temperatures. It will be better to set the temperature at medium levels.
For instance, you can choose level 2 if your device has three different levels. Or select level 2 or 3 in case the toaster has five levels.
Then put frozen bread in toaster and bake frozen bread at the temperature. It brings a more excellent experience for you.
Step 3: Wait And Remove Slice Of Bread
After pushing the lever down, your bread will be toasted. Now just wait for it to pop up. It is done, and the toaster also has an alarm to let you know. Remember to take them out carefully and then enjoy them.
Baking time is about 3-5 minutes. In case you bake it too long, it can have some problems. Such as burnt bread, crumbed bread, changed bread taste, etc.
How To Toast Frozen Bread Using Without Toaster
Here we find three other ways for someone who doesn't have a toaster. The process is more straightforward, too.
With Frying Pan
Using a frying pan is an ideal one. Add a little oil or butter. Next, turn on the stove to medium or high heat.
When the pan is hot enough, put bread into it and toast two sides—cooking time maybe 1-5 minutes.
After putting a loaf into the pan, we advise you to lower the heat to ensure they don't burn. Now you know how to cook frozen bread with a frying pan.
With Toaster Oven To Bake
Toasting frozen bread in the oven is also effective. With this method, you can bake many pieces of bread simultaneously.
Additionally, it also saves time and is safer. Let's learn how to toast frozen bread in the oven.
First, prepare defrosted loaves. Second, preheat your oven. You should put it at 325-350 degrees F. Then, spread the loaf on the baking sheet gallon and put frozen slices in a 325-degree oven.
How long to bake frozen bread? Each side might only need one minute to be ready, so don't forget to keep an eye on them.
With Microwave
Microwave is an excellent method. However, it is more effective in defrosting than toasting. After wrapping the deep freeze loaf with the napkin, you can put it into the microwave to reheat for minutes.
How Long Does Frozen Bread Last?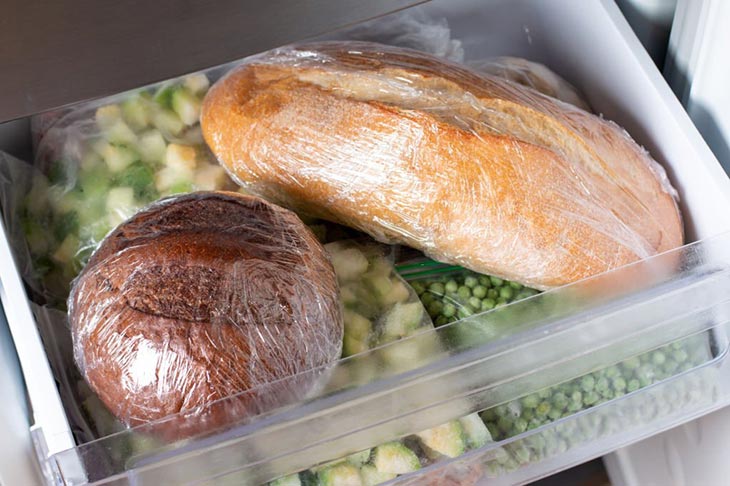 To have perfectly toasted bread, you need to know, "How long does the hard loaf last?"
The fresh bread can last about three days in average condition. Thereafter, it may have mold or be stale.
With deep freeze bread, you can store it for about two weeks. We don't think longer time is good. But two weeks may be enough for most people.
How To Freeze Bread
Another important thing for you is to prepare bread before freezing. Of course, you can directly put the loaf into the freezer. How about learning some tips to store it better?
Slicing loaves, separating bread slices, and re-sealing each one with a new bag before freezing keeps them in good condition. It also helps you defrost and toast enough amount each time eating.
Conclusion
Here is the end. We gathered all excellent answers for the question "Can you toast frozen bread?". You can completely freeze and toast frozen bread if you want to store it for some days.
Besides, you also have different ways to do this, like using a toaster, a frying pan, an oven, or a microwave. Don't skip any parts, and they are all useful in our busy lives.