Can You Use Bread Flour For Cake? Here's Your Desired Answer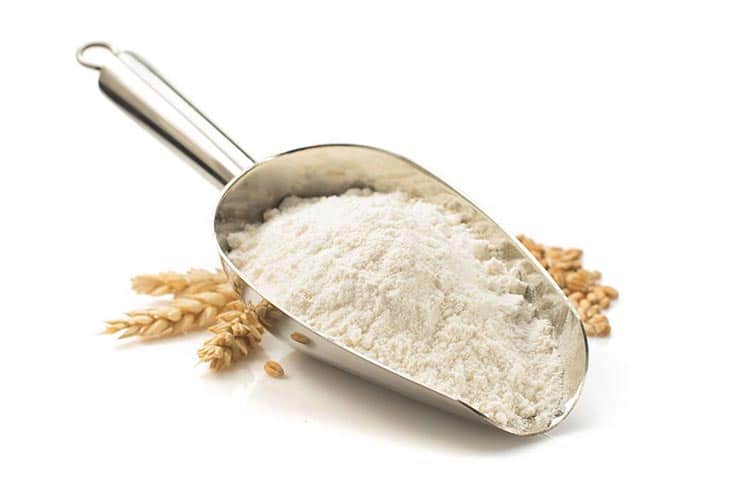 You want to bake a cake, and you have prepared almost all food ingredients except for cake flour because you don't have it on hand and are in a hurry.
If the only type of flour available is bread flour – can you use bread flour for cake? Of course, you can use this substitute, but it doesn't result in the exact taste and the texture.
How do differences between two kinds of powders affect the final products? Let's scroll down to know more. We're sure we have the information you need.
Can You Use Bread Flour For Cake?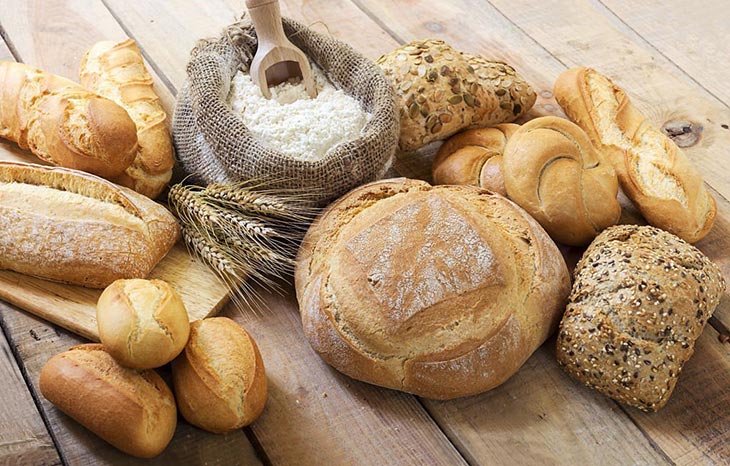 Simply, bread flour is specifically used for bread, while cake flour is used for cakes. The two kinds of ingredients have different purposes.
So, it is understandable if you have the question: "Can I use bread flour instead of cake flour?".
The answer is "Yes", you can substitute bread flour for cake flour to create a delicious dessert if it is the only one you can find in the kitchen.
However, at first, you should not expect that much. It might not be your desired result because the texture and the taste will be slightly different.
The starch used for making bread will result in a chewy and dense structure. On the other hand, cake flour has a light and airy, crumbly texture.
The main factor leading to this difference is the protein content of the powders. The more protein it contains, the more gluten can be made.
Gluten is a form of protein that produces a sticky texture that has a glue-like consistency.
Bread Flour vs Cake Flour: What Is Better?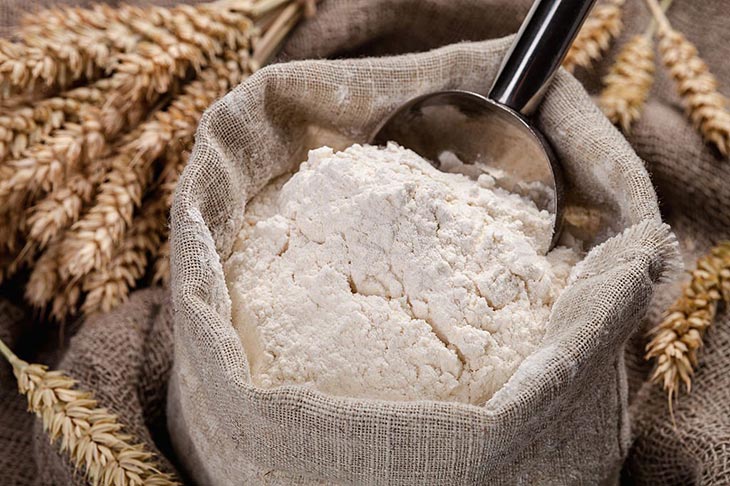 Is bakers flour the same as bread flour? Based on their names, it is obvious they are distinct. There are two main criteria setting the two apart: protein content and fineness of the mill.
Protein Content
Bread flour, also known as wheat flour, is made with white and whole wheat varieties. It includes approximately 11 – 13% protein content – one of the highest percentages among all kinds of starches.
The most important information you need to know from the percentage of protein lying in different powders is that the higher the protein content, the more gluten is made, leaving a chewier structure.
On the contrary, pastry powder has the lowest protein content compared to other flour, around 7 – 9%.
This percentage of protein makes it the best choice for softer desserts with an airy and melt-in-the-mouth texture.
Cake flour is produced from soft wheat, which includes lower protein content than hard wheat – the ingredients of bread flour.
That's the reason why this ingredient creates cakes that have a spongier structure compared to bread.
The Fineness Of The Mill
The second difference between the two is milled finely.
The fineness of the mill is the process of flour incorporated with the liquid ingredients, generating gluten. As mentioned above, the more gluten is produced, the fluffier texture of the cake is.
Cake flour is milled to a finer level than its counterpart. It is one of the reasons why cake flour is the better choice for making a cake than the other.
Although cake powder has a higher level of fineness, it just has the ability to combine with a particular amount of liquid. If you add too much, it will lead to a dense cake.
In a pinch, to answer your question "Can I substitute bread flour for cake flour?", we can say that although you can do that, it should be the last resort.
It would be best to replace cake flour with all-purpose flour (plain flour) or self-rising flour. These two types can make a cake with a light, crumbly texture, the same as what cake flour does.
So, what about the opposite way? Do you ever have a question "Can I use cake flour for bread?". We have the same answer to the above question.
The powder used for making cake should not be used to make bread as it doesn't hold enough protein to create a good gluten texture. If you use cake powder to make bread, the product's texture isn't chewy anymore.
Cake Recipe With Bread Flour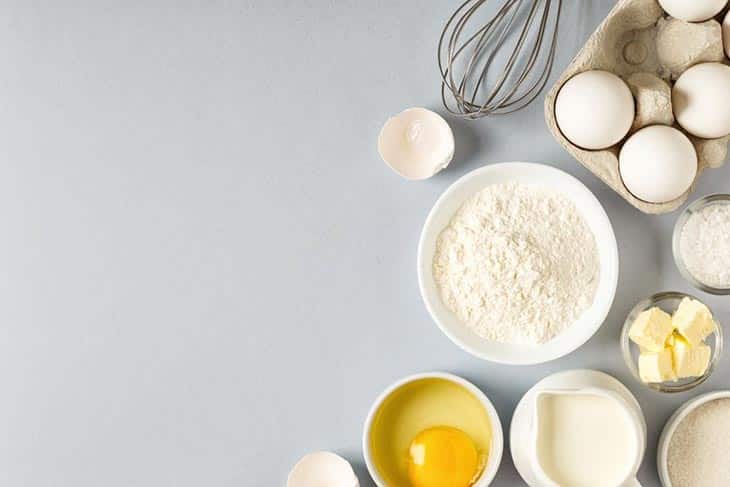 Although dough seems not a great choice for producing a cake, you can still use it, and your dish can still be delicious.
We suggest some tips that help you make a good cake by using bread flour. We also provide some cake recipes using bread flour to help you easily choose and make your favorite sweets.
Things To Do To Substitute Bread Flour For Cake Flour
You can lighten the cake's structure by decreasing the amount of bread flour and adding the absent amount in cornstarch instead.
Cornstarch has a smooth and light profile, which can reduce the density of the bread powder as well as the coarseness of the mix.
The process is quite simple.
Step 1: Mix the flour and cornstarch in a bowl with the ratio of 1 cup of bread flour to 3 tbsp of cornstarch to make plain flour, an ideal ingredient for making a cake. We mix it until well blended and strain it once or twice.
The noticeable thing here is that you must not over-mingle it to avoid producing too much gluten, making the cake chewy when baked.
Step 2: Trick is adding extra baking soda. You can mix two ingredients based on this proportion: around three tbsp baking powder is suitable for 100g bread flour.
Another thing you need to pay attention to is not undercooking. It would be helpful if you observed your banking times and avoided some common mistakes that bakers are prone to have.
For example, adding too much or too little baking soda can make cupcakes sink in the middle.
When your cake seems ready, use a skewer to check whether the inside is dry or not. If your skewer comes out covered in batter, you need to bake it a little longer.
Bread Flour Cake Recipe
Although bread flour is not an ideal choice for making baked goods, there are still a lot of cake recipes that use this ingredient, especially desserts in Western cuisine, and create delicious cakes.
The most popular recipe is sponge cake. We can apply the tip "adding cornstarch" into the mix to make this recipe.
Horeover, we can make some types of cakes such as doughnuts, chocolate cookies, apple strudel, French pastry cream brioche, etc.
Bread flour is a popular ingredient, so you can find it easily, from the grocery store in your street to big supermarkets.
Instead of cakes, it is advisable to use bread flour for its intended purposes. So, if you wonder, "What can I use bread flour for?", here is the answer you need.
Bread flour is used to make bread – one of the staple foods of people around the world.
Other sweet desserts which are particularly suited to bread flour include scones, milk bread, and fruit bread (which contain nuts, raisins, chocolate to add the flavor).
Conclusion
Your food preparation is insufficient, or you miss some ingredients in the recipe does not mean you can not create an appetizing dish.
If you read until here, congratulations! You must have found the answer to the question "Can you use bread flour for cake?" or "Can you use cake flour for bread?".
Don't be anxious if you don't have cake flour; it's fine. You can use bread flour combining the above tricks to bake your cake.
You can follow some recipes we recommend or create a unique recipe. We hope you can enjoy the happiness of baking!