What is Capicola? (Plus 4 Substitutes!)
Capicola is not one of the better known cuts of deli meat, but it is one that you definitely need to try.
In this article, we describe what capicola is, what it tastes like, and what deli meats are a good substitute for it. Scroll on down to get started learning about capicola!
What Is Capicola?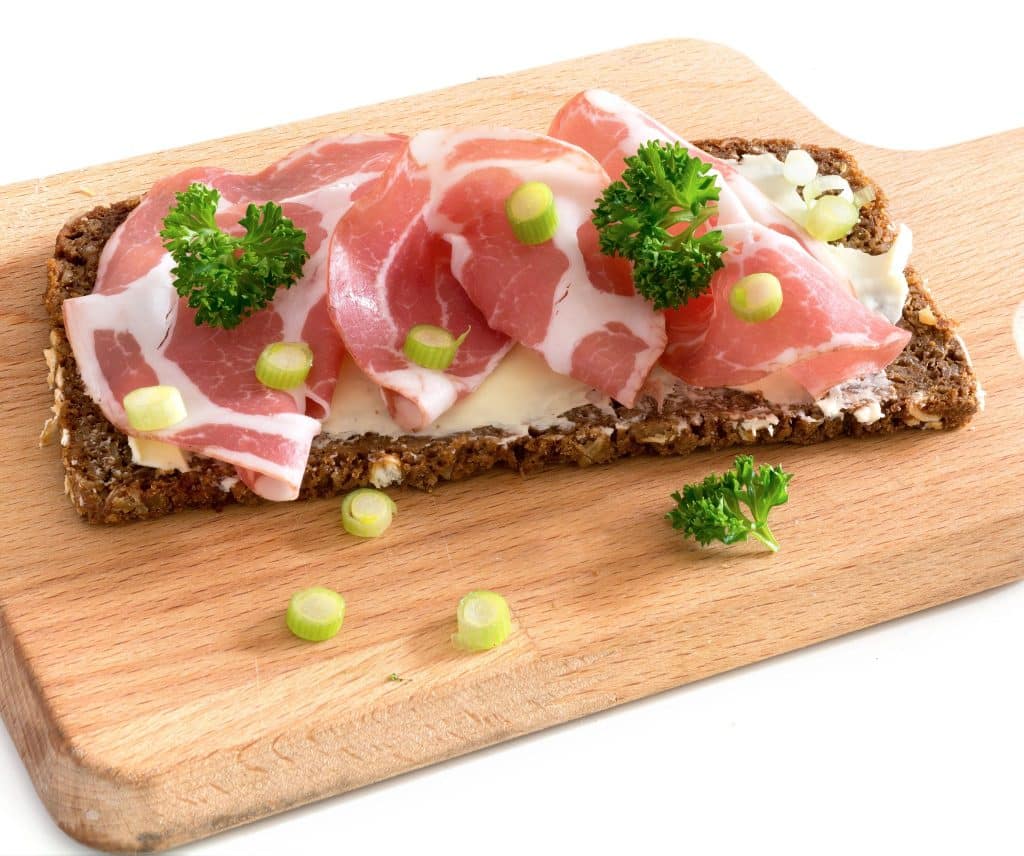 Capicola is a deli meat made from a combination of pork and spices. It was originally made in Italy, but has since been made all around the world.
Capicola is known for its strict ratio of of 30 percent fat to 70 percent lean meat, making it extremely moist and tender.
Capicola is made by seasoning large pieces of the pork neck and shoulder meat with garlic, salt, peppercorns, and other spices. Then, the mix is stuffed into a natural casing and hung for anywhere between 10 days and six months to cure. After the curing process, capicola is then smoked to give it its signature flavor.
This deli meat also goes by a number of different names, like capocollo, capicollo, capo, gabagool, and cappacuolo. What you call it usually depends on the country you're in.
What Does Capicola Taste Like?
The finished dry cured product will have a slightly spicy yet delicate taste, one that tends to really just melt in your mouth. Due to its thinner-than-usual slicing technique, capicola is almost always super tender and smooth tasting.
You will see a larger than normal amount of visible white fat in capicola, which contributes greatly to tenderness, texture, and flavor.
Probably the most common place you'll find capicola meat is inside Italian subs or charcuterie boards.
Recommended Capicola Substitute
There are a variety of Capicola substitutions for you to pick based on your preference. The best substitutions will be similarly cured meats, but ultimately, the best option will depend on the dish it is being used in.
1. Prosciutto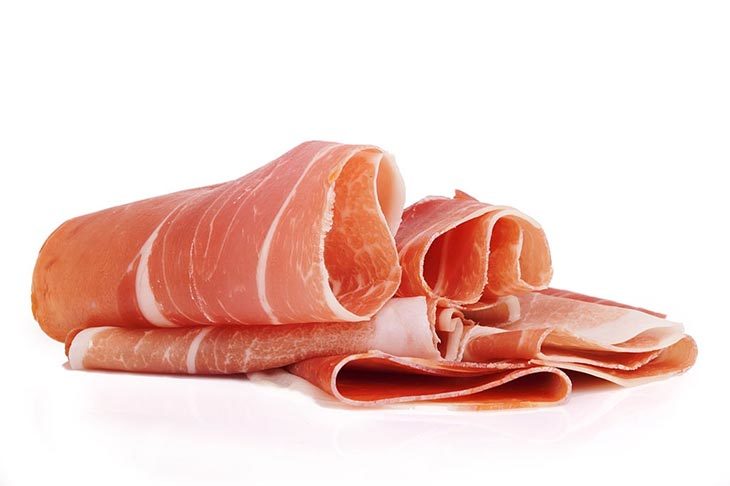 Capicola and prosciutto are both cured meats made with pork and have high amounts of fat mixed in.
Right off the bat, you'll notice that both capicola and prosciutto are quite similar at first glance. Prosciutto and capicola both are dry cured deli meat, which are sliced thin. However, there are differences.
Capicola comes from the shoulder and neck area and always comes from a pig. Prosciutto comes from the thigh and leg area from pigs, but it sometimes also is mixed with other animal meat like goats, cows, and lambs. Proscuitto is also not smoked, unlike capicola.
Capicola also tends to be more tender than prosciutto. This is because prosciutto is usually more leathery and chewy due to the way it is prepared and the longer dry curing process.
2. Bresaola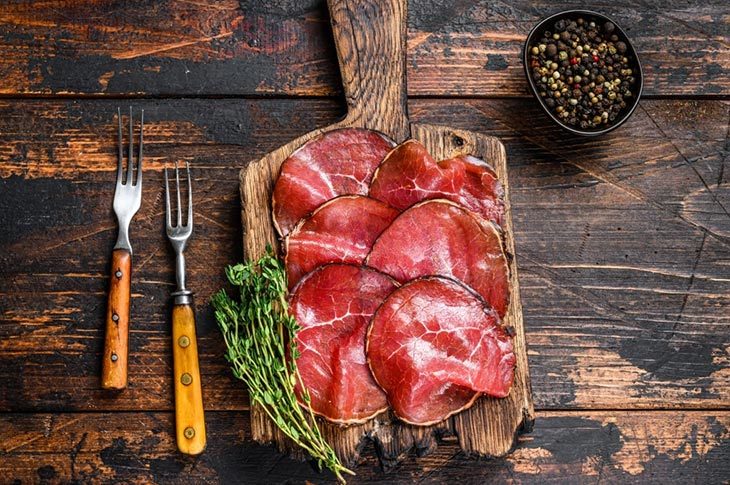 Bresaola is another substitute for capicola as it is also rubbed down in spices, dry cured, and thinly sliced afterward. However, it is not made of pork, but rather beef.
After the aging and meat curing process, Bresaola turns into an eye catching purplish-red or dark-red color. Bresaola is also much leaner than capicola.
Bresaola is sweet and aromatic. This salami is coated with olive oil and Parmigiano cheese, which gives it a different texture and flavor than capicola.
3. Salami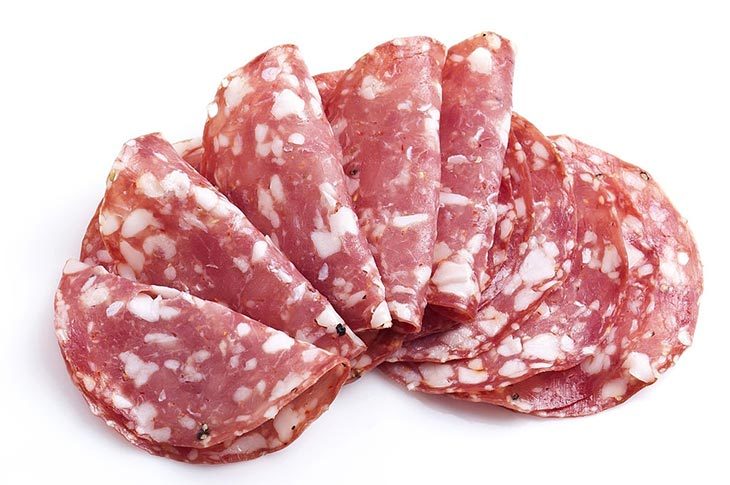 Salami is another type of Italian cured meat that can be used as a substitute for capicola. Salami is made from ground pork or beef along with seasonings, then aged by hanging to raise flavor. Capicola is not made from ground meat, nor is it made with beef.
However, the flavors are close enough that salami or soppressata can adequately be substituted in for capicola in just about any meal.
4. Mortadella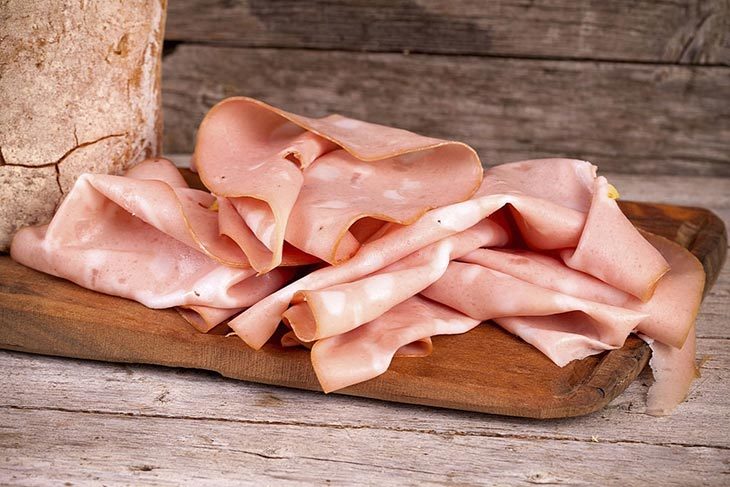 The last option on the list of capicola alternatives is mortadella, which is also sliced meat from Italy. However, mortadella has much more in common with bologna than capicola.
Mortadella is made from very finely ground pork and pistachios. These two aspects greatly changes the flavor and texture of what you may expect from capicola, but it is a good enough substitute when in a pinch.
Capicola vs Prosciutto
I want to dig into the main differences between capicola and prosciutto. These two cuts are probably the easiest to swap out for one another, but they are definitely not the same – even though they may look it.
Different Cuts of Meat
The part of the animal the meat comes from plays an important role in differentiating capicola from the prosciutto.
While capicola uses the pork muscle from the neck and shoulder, prosciutto is obtained from the hind leg or the thigh. This cut is what people tend to use when preparing ham.
Different Animals… Sometimes
Capicola is always, 100% pork.
However, prosciutto can be made using the meat of various animals, including pig, cow, goat, lamb. While pork is the most common meat used when making prosciutto, it isn't used exclusively.
Different Size
Capicola is usually rolled or cased to create a round deli meat. Prosciutto is not, and is oftentimes made in the shape the meat comes in.
Different Price
Capicola is typically cheaper than prosciutto. Capicola takes less time to get cure, usually less than a few months, while prosciutto needs at least two years. As a result, prosciutto costs much more than capicola.
Different Taste And Texture
Thanks to different ingredients, these two types of meat come with different flavors. Prosciutto is also much chewier and tougher than capicola. This is partly due to the cut of meat used, but also the much longer dry curing period used when making prosciutto.
How To Serve Capicola?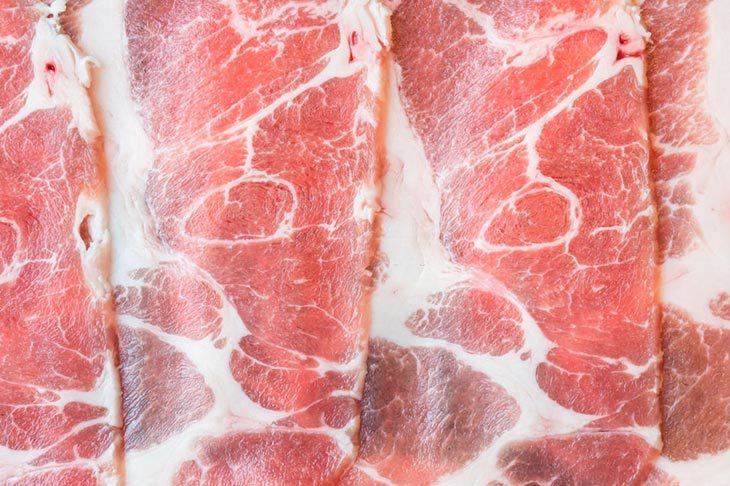 You can serve capicola in just about any dish that you'd typically use other deli meats in. Due to it being a deli meat, it can be eaten right from the fridge and does not need to be warmed up or cooked beforehand.
This means that capicola will go great in a cold pasta dish like antipasta, or in Italian-style grinders and subs. Charcuterie boards are another great place to serve shaved capicola on. Mix in some olives, cheese and other meats, and you'll have a perfect charcuterie board for your gathering!