Great Cardamom Substitute For Your Daily Meals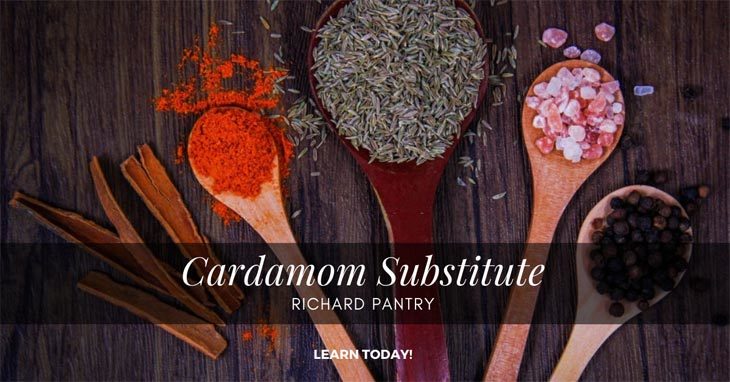 Cardamom is a famous ingredient in India because of its complex flavor-enhancing, your dishes to a new spice level. As amazing as Cardamom is, this ingredient is also quite expensive in the States.
Therefore, based on the cardamom flavor profile, you might wonder: "Is there a substitute for Cardamom?". The good news is you can find a cheap cardamom substitute with these familiar spices in my substitutes for Cardamom list in this post!
7 Ingredients Used As A Perfect Cardamom Substitute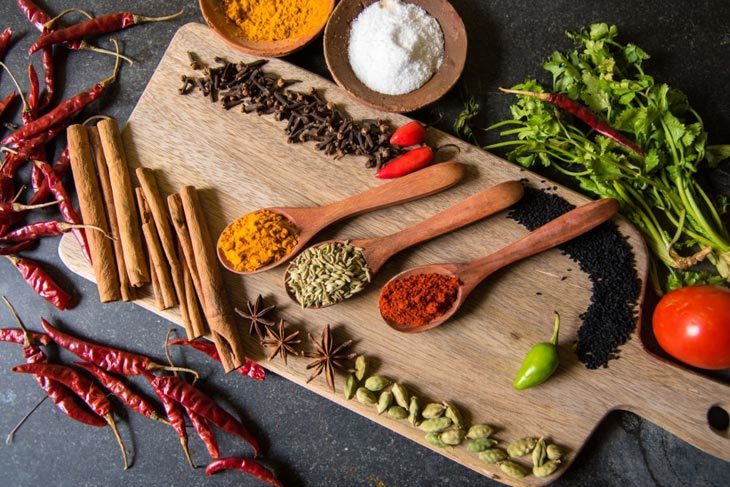 If you're looking for a replica of the spice Cardamom that is more common in your kitchen, check out the cardamom substitutes below.
Ground Cloves
Ground cloves are possibly the best cardamom powder substitute because of their similar flavor. Originating in Indonesia, cloves have a smoky, intense, and pungent taste to our noses.
When mixed in a recipe, cloves give a warm, slightly bitter, and flavorful impression to your mouth. That's why you can find them used widely in sweet and savory dishes.
Depending on the combined ingredients, ground cloves can offer a similar experience with black and green Cardamom.
Normally, it is great with meats, beverages, and desserts to substitute dried Cardamom in those types of recipes. Commonly, you will find them available in whole cloves or ground versions.
Ground Cinnamon
Cinnamon is a common spice that you can find in many dessert recipes like the classic cinnamon rolls. It is an amazing spice similar to Cardamom when you combine it with nutmeg. The flavor of this spice can be described as mildly sweet, pungent, citrusy with some woody notes. With such a complex flavor, cinnamon can solely be the cardamom substitute for baking.
Cinnamon is a great standalone space that can stir up a warm autumn-like in many dessert recipes. You can find them in the cinnamon stick or ground version, but both of them will still deliver the job well. To substitute fresh Cardamom, you can start with this ratio and make your calculation from there: one teaspoon of Cardamom equivalent to 1 ½ teaspoon of cinnamon.
Ginger
If you're looking for a perfect substitute for Cardamom in savory recipes, look no further, as ginger is the perfect cardamom substitute in garam masala. Ginger has an intense aroma and Ravorful taste that enhances your dishes incredibly like Cardamom. It is quite understandable as they are relatives to each other.
Ginger is another native spice in Southeast Asia that has similar traits to cloves and cinnamon. This fresh yellow ginger has a spicy, peppery, sweet flavor with a distinctive pungent aroma.
The taste of it brings an exceptionally warm feeling to your stomach, which is why it is an amazing herb to treat common colds in traditional Asian medication.
Commonly, people tend to use ginger to season meat, spice up soups, rice, and savory dishes. They can also be used as herbal desserts like ginger candy because of their sweetness.
Allspice
If you are not a great spice mixer, you can always go for allspice as a substitution for cardamom. This is a standalone ingredient that gives your recipes a flavorful result immediately.
Although it is a spice of dried berries of the Pimenta Dioica plant that has nothing to do with the cardamom family, many people find allspice to have a flavor combination of cinnamon and cloves, pepper, and nutmeg. This combination alone can already tell how similar allspice is to Cardamom.
A bonus point to this spice is that they are such a popular ingredient that you can find in almost every kitchen cabinet in America. So, if you find yourself out of Cardamom for savory dishes, just grab this Cardamom alternative and substitute it with the ratio of 1:1.
Nutmeg
Nutmeg is known popularly as a great spice coming from Southeast Asia cuisine, for chai tea and porridges. Now, you can also make use of nutmeg to substitute for cardamom seeds recipes because of how similar their flavor profiles are.
The nutmeg has a distinctive and pungent aroma, with a sweet and nutty undertone making it a great spice for many comforting dishes.
If you want a great flavor impression of Cardamom without any slight differences, you can combine nutmeg with cinnamon in your recipes. The cinnamon will add a sharp and warm feeling to your food, while nutmeg helps bring out the sweet and nutty with citrusy notes of Cardamom.
Nutmeg is used widely in many sweet dishes and baked goods like cupcakes, French toast, or puddings. It is also used for seasoning or rubbing on meat and spicing up curries and stews.
Cumin
Cumin is one of the most popular spices in Mexican and Asian dishes. It tends to work with savory dishes because of its particular flavor impression, which can be a great cardamom substitute in curry.
Cumin has a yellow-orange color that is similar to ground cardamom. When mixed in a recipe, there is an aromatic and earthy taste that enhances the mild notes in the dish.
Because of its rich flavor, cumin is more suitable for savory recipes like marinating meat, poultry, curry, and tacos. That's why I recommend that you should only use it as a black cardamom substitute because green Cardamom powder is mostly used for sweet dishes.
Coriander Seed
Coriander seeds have a certain aroma and flavor that can be used as a cardamom replacement. When you buy the whole coriander seeds to substitute for cardamom pods, they will have a specific pungent fragrance. Once they are ground, you'll find an earthy and nutty note, which is similar to Cardamom. You can use ground coriander as a spice for meat and sauces.
How To Use Cardamom Substitute
Cardamom is a flavorful ingredient that can be used for a wide range of savory and sweet dishes. That's why to substitute Cardamom, and it's not easy to find a good standalone spice that can replicate the impression that Cardamom brings to the dish.
That's why you need to mix ingredients to make a great compact flavor enhancer. A great combination of nutmeg and cinnamon will bring out the sweetness and nutty flavor for baked goods and desserts. With half teaspoon of cinnamon and half a teaspoon of ground nutmeg, you can substitute for one teaspoon of ground cardamom when your recipes ask for the spice.
For savory dishes, you have a variety of options for substitute cardamom. Cloves, ginger, and cinnamon are amazing experts for spicing up rice, meat, and savory dishes. You can use a half teaspoon of cinnamon and half a teaspoon of ground cloves to substitute seafood and meat recipes. This combination will bring out a spiciness and smoky flavor to your meat dishes.
Another great combination for your rice, meat, and curries is ground nutmeg and ground cloves if you're looking for a sweet and sour moment. Take half of the ground nutmeg and ground cloves to mix, and you have this versatile mixture of ground Cardamom replacement.
Other spice combinations such as a half teaspoon of cumin and a teaspoon of ground coriander are amazing for curries and seasoning meat because of their earthy and aromatic flavors. While half of a teaspoon allspice can be used for almost any savory dishes like curries, meat, and rice.
What Does Cardamom Taste Like?
Cardamom is such a complex spice that you can use them for many recipes. So, what are cardamoms? What does Cardamom look like?
Cardamoms are small seed pods with a triangular shape and have three types in the market: white Cardamom, Green Cardamom, and Black Cardamom. Each cardamom shell has a slight difference in terms of flavor, which is why cardamom spice is used well in so many recipes.
Overall, cardamom taste is a combination of herbal, spicy, minty, and citrusy with an intense aroma.
When looking at each type, people find that green Cardamom has a sweet and spicy note which is perfect for baked goods, tea, and desserts. Black Cardamom oozes a smoky and minty flavor that sits well for savory dishes and meat seasoning. White Cardamom is not as strong as the others, so they are great for bland and healthy recipes.
If you work on Indian cuisine recipes, there will be a high chance that you are required to have Cardamom. It is one of the most expensive spices globally, but they're also worth their reputation.
When buying Cardamom, you should look for them in Indian grocery stores and choose pods instead of the ground as it would save you more money for preparing your dishes.
FAQs
1. Ground Cardamom Vs Pods: Should You Buy Both?
Cardamoms are available in both versions: cardamom pods vs powder. So, are they the same?
As ground cardamom is basically grinding Cardamom pods or cardamom seeds to ground, there is no difference in taste. However, cardamom pods are much cheaper than ground versions, so you might want to choose the pods if you're on a budget.
2. What Is The Ratio For Cardamom Seeds To Ground Conversion?
Every 12 cardamom pods = 1 teaspoon cardamom whole pods = half cardamom seeds = one teaspoon cardamom ground spice.
Conclusion
Cardamom is a flavorful and complex spice with a high price in the market. Therefore, it might not always be easy to have Cardamom available in our kitchen all the time. As amazing as the flavor of Cardamom, we can always find a cheap Cardamom substitute for your daily meal.