6 Ideas For A Chaat Masala Substitute That Will Work In A Pinch
You want to use chaat masala to elevate your dishes with a kick of tart, salty, and spicy flavor, but you've run out. And you may not be able to find it in which you're at. Is there any good chaat masala substitute?
Yes, there are 6 wonderful ideas that we'd recommend in this article. Not only will they make every bite interesting, they also make gourmets undetectable. Incredible! Scroll down to discover in detail.
About Chaat Masala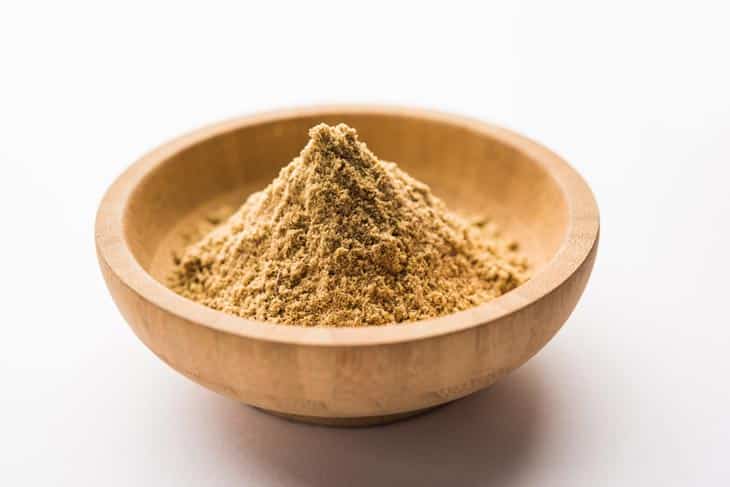 What Is Chaat Masala?
Chaat masala, sometimes spelled chat masala, is not one specific spice but a spice blend. It comes from South Asia, most commonly used in Pakistan, Bangladesh, and Indian cuisine.
How to use chaat masala? If you have a chance to travel to these countries, you can find it in many savory snacks and street foods such as aloo tikki chaat, papri chaat, puffed rice chaat, chicken tikka masala, etc.
What is chaat masala made of? The combination of spices creates this unique seasoning. And, of course, the ingredients can vary from recipe to recipe.
But overall, there are some essential components added in most versions as below:
Black salt (typically known as kala namak) – a kiln-fired rock salt with a pungent smell
Asafoetida (also known as hing) – a ground powder with a strong scent
Dry mango powder (amchoor powder)
Dry roast cumin seeds
Coriander powder
Ajwain powder
Red chili powder
Black peppercorns
Mint leaves
What Does Chaat Masala Taste Like?
Chat masala ingredients are so complicated. Several different flavors are all rolled into one spice blend. Does it stimulate your taste buds yet?
If this is the first time you've smelled it, we bet that it will shock you with the potent sulfuric scent like rotten eggs.
But wait! Once you move past its first initial funk, your tongue will be satisfied with a salty, tart, spicy, tangy, and umami-esque experience at the end.
The flavor is mesmerizing whether you use it on a sandwich, a salad dressing, a piece of fruit, cheese, egg, sauces, drinks (especially buttermilk or lemonade), and about a million other things.
Health Benefits Of Chat Masala
Besides being a powerful seasoning added to dishes to give them flavor, chat masala powder also brings many benefits for health. Chat masala is packed with nutrients: dietary fiber, calcium, iron, sodium.
Also, it contains antioxidants that help boost metabolism, reduce inflammation, combat constipation, and prevent skin problems.
It is a mixture of spices, so different components come with many vitamins. Thanks to that, it supports removing toxins from the body, treats anemia, and cures nervous system disorders.
Chaat Masala Substitute
1. Roasted Garam Masala And Mango Powder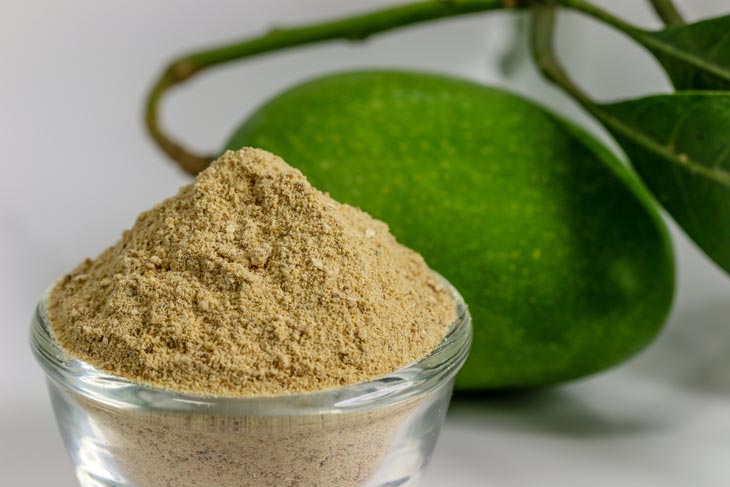 Garam masala vs chaat masala, can they replace each other? That is perhaps the most asked question we've received.
Garam masala is also a popular Indian spice mixture. These seasonings are both built on a foundation of cumin, coriander, chili, and pepper.
But the original one might not be the most appropriate replacement if you like the tart, almost sour taste that comes with chat masala.
Why? The key difference is that garam masala does not consist of dry mango powder. Luckily, it still will be a manageable option by making a new blend that imitates most flavor features of its fellow.
Pour your garam masala into a pan and roast it for a few minutes at low flames. Then add dry mango powder and hing to it.
In case you have no dry mango powder in your cupboard, use lemon or citrus juice instead. Hing is also a less common ingredient so you can consider its alternatives.
After finishing, this blend is a good substitute for chaat masala at a 1:1 ratio.
2. Harissa Powder (Or Pasta)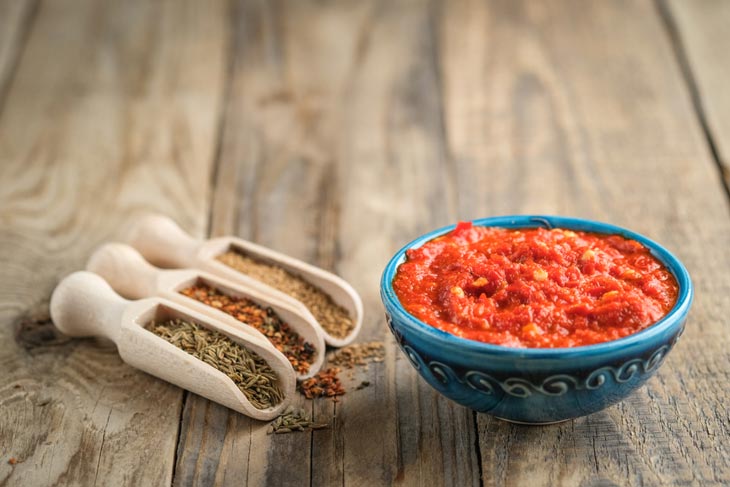 Harissa is a North African hot spice blend with a fiery and garlicky taste. Traditionally, it's served alongside bread, stews, and couscous food.
When you don't have chaat masala seasoning on hand, harissa (flour or paste) is a great candidate. They share many of the same notes in components and flavor profiles.
Harissa also contains cumin, chili peppers, coriander, and mint. Just bear in mind that harissa is much spicier.
Hence, use it in fewer amounts or adjust your measurements accordingly. You can add a tablespoon of lemon juice to this amazing spice to imitate the perfect tangy taste of chat masala.
3. Curry Powder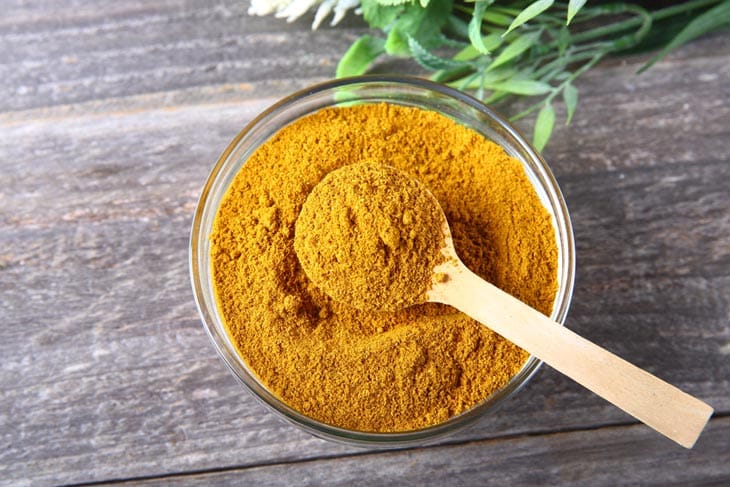 Coriander, cumin, and chili pepper are the base ingredients in curry powder. So mimicking the tanginess of chat masala found in Indian street food is now not a big deal.
What you have to do is blend a tablespoon of lime juice with curry powder.
Always keep in mind that the dominating flavor of curry powder is turmeric. So use it in small quantities; otherwise, you'll regret it for life.
4. Homemade Chaat Masala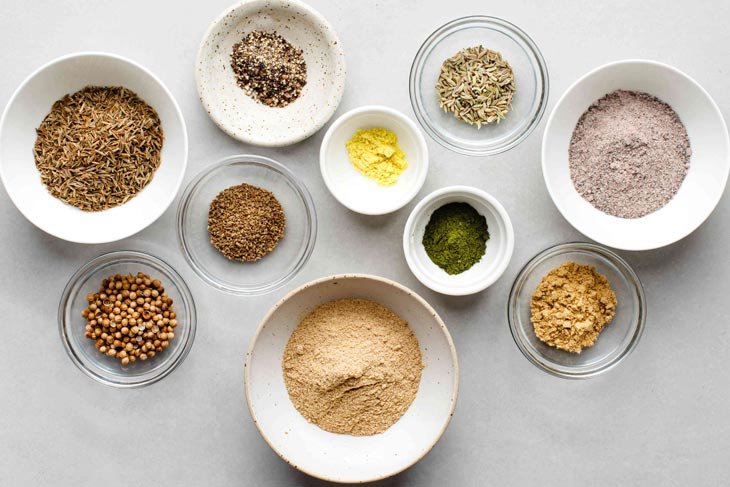 The store-bought chaat masala has run out? You can make your own recipe for chaat masala when you've got a diverse spice rack or a good grocer. The best replacement ever at your fingertips, why not? Here's how to make chaat masala at home:
Ingredients:
Cumin seeds: 2-½ tbsp (12g)
Coriander seeds: 1 tbsp (5g)
Fennel seeds: 1-½ tsp (4g)
Ajwain seeds: 1-½ tsp (3g)
Dried mint leaves: 1 tbsp (3g)
Black salt: 1 tbsp (13g)
Green mango powder: 3 tbsp (18g)
Tamarind powder: 4-½ tsp (16g)
Whole black peppercorns: 1 tsp (2g)
Kashmiri red chili powder: 5 tsp (12g)
Ginger powder: 1 tsp (2g)
Asafetida powder: ¼ tsp
Diamond Crystal kosher salt: 1 tsp (5g) – use about half as much by volume or the same weight for table salt.
Chaat masala powder recipe:
Step 1: Roast cumin seeds, coriander seeds, fennel seeds, and ajwain seeds in a dry pan over medium heat until they get dark brown and release the aroma.
Step 2: Remove from the pan to let them cool down.
Step 3: Combine the toasted spices and the rest of the ingredients you prepared, and then put them into a spice grinder.
Step 4: Grind until fine flour.
Step 5: Store it in an airtight spice jar.
Congratulations! You made it. Your homemade Indian spice blend is now ready to be used for about 6-8 weeks. And its flavor is best the day after making.
5. Mango Powder And Black Salt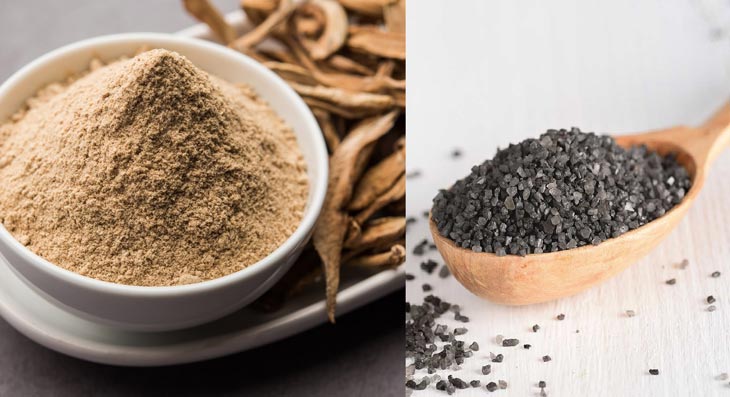 You can consider a blend of mango powder and black salt as a chaat masala substitute. It creates a unique sulfurous taste, and thanks to that, it emulates that of the masala. Use alternatives for mango powder in case it runs out.
6. Lemon Juice and Spice Mixture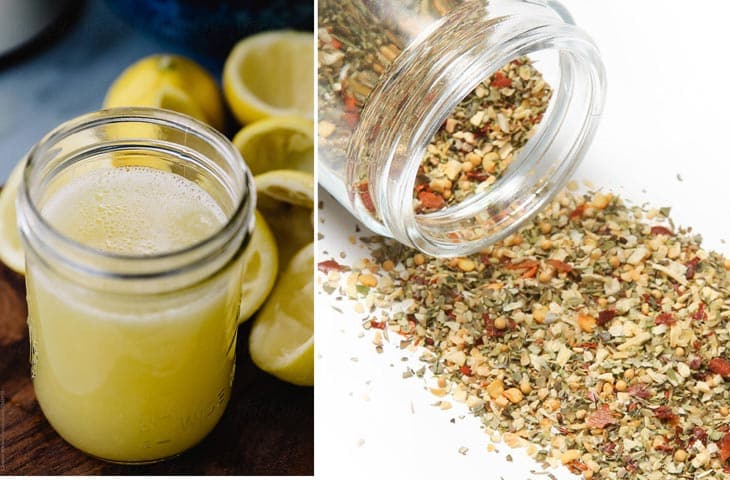 Do the replacements for chaat masala spice above include ingredients not available in your kitchen? Try the last option with the easiest way.
Mix a tablespoon of lemon juice with many simple spices such as cumin, coriander, red chili, and black pepper powder.
The last mixture will have roughly the same taste as the masala. Be brave to switch to others when coriander, cumin, lemon juice, etc., are used up. Similarly, refer to a red chili replacement if you don't have one.
How To Choose A Chaat Masala Substitute?
You can select one of the alternatives listed above, depending on what you have on your spice rack. But remember something on how to select a suitable replacement for chat masala below:
When you pick up curry powder as a replacement, note that it would work well for some snacks and juices. Love enjoying large amounts of spice in your dishes? Harissa is a great choice.
The flavor tone of cumin and coriander in the mixture of roasted garam masala and mango powder will be more discernible than that of chat masala. Thus, this will not suit you if you don't like these strong tastes.
Mixing lemon juice and spice mixture is the simplest and quickest way to get a new masala when you don't have much time.
On the contrary, making your own chaat masala recipe will take your time. But this will be the best stand-in as it combines many essential ingredients and shows the closest flavor of the original.
The Bottom Line
Chat masala is a staple blend of spices that makes Indian dishes irresistible, so it deserves a place in your kitchen. Its flavor is so special that once you've tried it, you won't soon forget.
Someday, a recipe calls for it, but it's used up? It's now no longer a concern thanks to the 6 wonderful options of chaat masala substitute we've suggested above.
We hope you will choose a suitable one and then you will be confident to enrich your cooking skills.