9 Creative Chestnut Substitutes For Your Desserts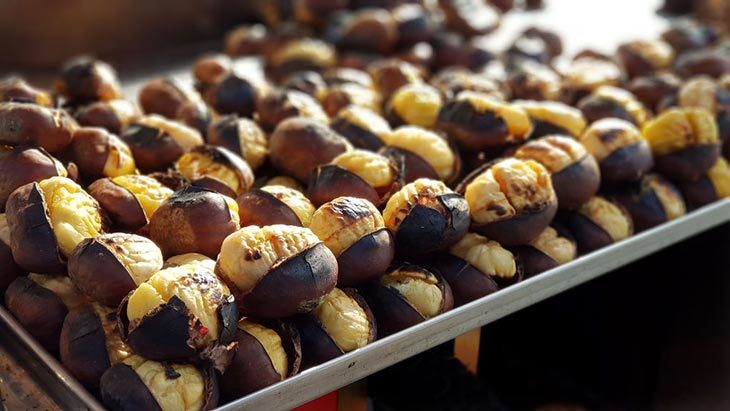 Do you enjoy the crunchy and cracking texture of chestnuts nuts in your desserts? Or the sweet flavor that it brings to many of your recipes? Many of us are fans of chestnuts because they're delicious and beneficial to our healthy diet. However, they might not be around in your kitchen all the time.
So what should you do when you run out of chestnuts? The popular way is to find out the best chestnut substitute for your recipes. And I have just the right list for you below!
9 Best Nuts To Use As Chestnut Substitute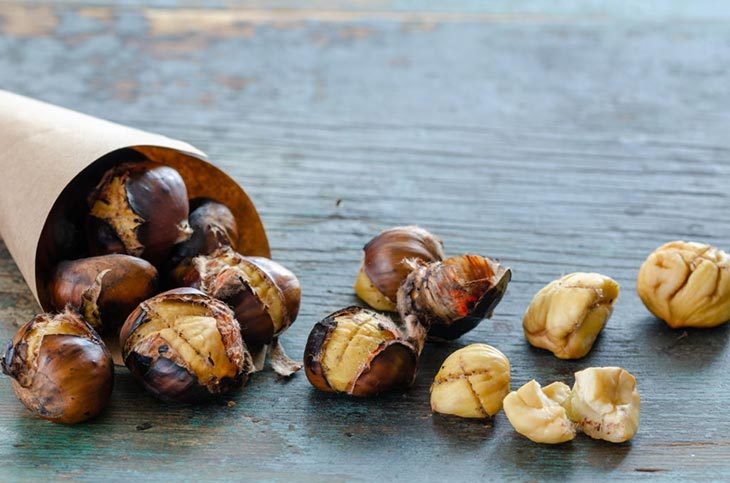 Although fresh chestnut is an amazing nut for your stuffing recipe, it is not always available on your store shelf. So, what can we substitute chestnut with? Let's find the substitutes for chestnuts listed below!
1. Jackfruit Nuts (Best choice)
The first candidate for this substitution list is Jackfruit nuts. This particular nut is commonly used in Asia and Mediterranean cuisine, especially vegan and vegetarian diets. Normally, people know jackfruit only because of the sweet taste of shredded jackfruit for desserts. However, their nut can also be utilized.
Jackfruit nuts, which grow from the fig family, have the same size as chestnuts with a light brown color. When roasted, these nuts will have a nutty flavor with a creamy texture similar to chestnuts. You can use these roasted jackfruit nuts to add a crunchiness to your soups, brownies, or even cookies.
2. Macadamia
The macadamia nuts, which come from macadamia trees with a round and crunchy texture, are a great alternative to chestnuts. This nut, like a peanut, has a high-fat content resulting in a rich and meaty texture. You can find they have a nutty and buttery flavor that fits with many dessert recipes in terms of flavor.
Moreover, these nuts are greatly beneficial if you're on a diet because it has many health benefits like improving heart strength. They are high in calories, healthy fat content, vitamins with low protein.
You can use macadamia for baking cookies, pastries or sprinkling them on pieces of bread. One thing you need to know is they taste better when they are dry-roasted.
3. Tiger Nuts
Tiger nuts are also a great replacement for chestnuts because of their health benefits. Originated in Africa, tiger nuts are tubers coming from a wild grass root, so they are edible even if you have a nut allergy. They have amazing nutrition like fibers, Vitamin E, and potassium that benefit your health, like chestnuts.
Having a small size of a chickpea, they possess a nutty and buttery taste similar to macadamia. When using tiger nuts, you can eat them raw or roast them for a stronger flavor which can also be used as a substitute for water chestnuts.
You can top them on top of cookies, add a crunchiness to your regular salad or oatmeal and enhance the taste of your cheesecakes.
4. Pecan
Another amazing replacement for chestnut is pecan. Since the 1500s, pecan nuts have been used among the Native Americans for their daily meals because of their delicious taste.
It is a nut of Hickory trees that are super healthy because of its minerals and vitamin content. You can find high amounts of fiber, proteins, and low content of carbohydrates in one ounce of pecans. Thanks to its nutrient, the nuts are also as buttery and nutty as chestnuts with a mild floral note.
This is the ideal nut for chestnuts in stuffing and cakes while also adding more texture to the taste.
5. Chestnut Flour
Chestnut can be used as a topping and also a flavor enhancer. Therefore, chestnut flour can be a great replacement if you only need to add some chestnut taste to your dishes.
This ingredient is originally dried chestnut that is grounded to a smooth texture. It has a beige color, similar to potato and cornmeal. When mixing it into your dishes, you can find a distinctive chestnut flavor that is even more intense than raw chestnuts.
Normally, people tend to use it as a baking flour for bread and baked goods, but it can also be used as a substitute for water chestnut and flavored seasoning for your savory dishes.
6. Pistachio Nut
Another potential chestnut substitute is pistachio because of its versatile flavor. They can be eaten raw or cooked in different recipes.
Pistachio is known for its sweet and mild flavor. However, the taste can be varied from bland to intense in a batch of pistachios. Sometimes, pistachios are also available in a salty version, but they will have less natural flavor. When you crack the hard and tough shell, the pistachio has a tender and creamy texture similar to chestnut.
You might even find some pistachio flavoring, but they are often more intense than the real ones so that they might divert the flavor result in a chestnut recipe. Normally, people would use pistachio as a snack, vegetable side dish, and cakes toppings or spread as a chestnut paste in pasta or loaves of bread.
7. Hazelnut
Hazelnut is a common tree nut that you can find in most stores. It is used widely in many recipes, and it can be a great substitute for chestnuts as well. So what are the similarities between hazelnuts and chestnuts?
In terms of flavor, hazelnut possesses a nutty and earthy flavor that is perfect for stuffing with chestnuts recipes. Their texture, when put in a chestnut vs hazelnut comparison, is slightly crunchier than chestnuts. This makes Hazelnut not such a perfect substitute in a chestnut puree.
When roasted, these nuts are super tasty with a nutty aroma and flavor that replicates the chestnuts. They also contain many healthy nutrients for our body like vitamin E, manganese, healthy fats, and high antioxidant content.
8. Almonds
Another popular type of nut substituting chestnuts is almonds. It has an amazing taste for desserts that I think will enhance the complexity of your dessert's flavor.
The almond's skin has an astringent, bitter, and woody taste with a sweet note of the meat. The revealed flesh has a warm, nutty, sweet, and milky taste that is perfect for a creamy dessert experience when you get through it.
Overall, almonds possess a teardrop shape with dark veins, brown and wooden texture with beige color. They also exude a dried bamboo aroma that seems natural and earthy when you bite on it.
Because of its complex taste, you can find it in any type of dish, from savory ones like pesto pasta, burgers, granolas to flavor enhancers on cheese and mousses.
9. Pumpkin Seeds
Lastly, this might be a strange choice, but it is still an effective chestnut substitute when combining with different ingredients. The beneficial thing about buying pumpkin seeds is getting a pumpkin soup out of the big pumpkin.
Pumpkin seeds are basically flat and over-shaped white seeds inside of a pumpkin. You can find a handful of pumpkin seeds which are delicious and full of nutrients for your recipes. Those green pumpkin seeds can be eaten raw or roasted as a snack like chestnuts because of their nutty, warm flavor and crunchy texture.
There are many ways for you to use pumpkin seeds in cooking as well. The most popular method is to top some roasted seeds on your salads or in your bread and cookie dough. You can also mix it with your pesto to give a fun and grainy effect on your pasta as well.
What Does Chestnut Taste Like?
A delicious and classic turkey stuffed with whole chestnuts on holiday is the most familiar image that comes to my mind whenever someone mentions roasted chestnut. However, you can also combine this tasty ingredient with many savory and sweet recipes.
This delicious nut which grows from the chestnut tree has a large, smooth and hard mahogany shape. They are coated with distinctive, beautiful brown and dark veins. When you crack a chestnut open, the meat inside is soft and tender, contains a rich fiber, and healthy fat contents result in a creamy, sweet, and nutty flavor.
That's why you can find chestnuts in many sweet dessert recipes like mousse cakes, cheesecakes, cranberry loaves of bread, brownies, and chocolate torte. With the brown color and nutty taste, this ingredient adds a natural taste to any desserts.
On the same hand, chestnuts can also be a great flavor enhancer in savory dishes. You can stuff them in poultry and meat like the traditional stuffed turkey, or you can also make a tasty puree.
When roasted and cracked into small pieces, chestnuts can be blended in your hummus and soups, and top them on your favorite pasta and salads.
FAQs
1. How To Store Chestnuts?
Chestnuts can be used for up to 6 months if you know how to preserve them properly. There are many ways to store them, but the most important tip is to keep them in a cool and dark place. I would recommend you put it in an airtight container. Then you can leave those jarred chestnuts in a fridge or a freezer safely.
Some creative ways for storing chestnuts are to bury them in layers of sand inside a container or pour them in an alcohol glass jar. These are effective ways as well but might take more time to prepare.
2. Can Chestnuts Make You Fat?
As mentioned above, chestnuts have a high-fat content, so can they make you fat?
The answer is unlikely if you consume chestnuts at a reasonable amount. The reason lies in the fat type inside the chestnut. Saturated fat or trans-fat is a dietary fat that makes you gain weight and affects your heart condition tremendously. On the other hand, unsaturated fat, which is chestnut fat, is actually a healthy one. They can improve blood cholesterol levels and ease inflammation.