Chicken Breast Halves: In What Way Can You Cook Them?
Chicken breast is a versatile protein that can be used in many ways across many cuisines. It is the lean meat taken from the chest muscle on the underside of the chicken.
Each chicken contains a chicken breast with two halves, usually separated during the butcher and sold as a single breast.
There is a wide range of chicken breast recipes in the world with different cooking methods. In this post, we will be covering the common ways to use chicken breast halves. Let's get started!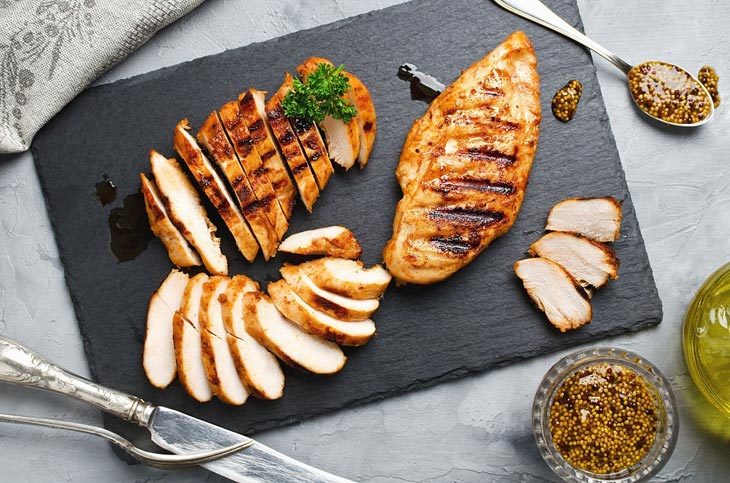 How To Prepare Chicken Breast Halves?
No matter what recipes you're cooking or cooking method, you should always prepare the chicken breast with good care.
From the moment you choose the raw chicken breast to spread it on the pan, your chicken breast should be well-prepared to reach the best result.
A good cooked chicken breast should have nice pale white with soft and strand texture. For every bite, the taste should be light, tender, and juicy. That's why to achieve that result; the raw chicken breast should be fresh with appropriate preparation.
Choose Good Skinless Chicken Breast Halves
As you stroll along the poultry section, you might have noticed there is more than one brand selling raw chicken breast halves. So, how do you choose the best from these stacks of chicken?
You can check the freshness of the chicken simply by glancing through the "best by" date. The chicken would be great if your cooking date is somewhere near the best by date.
Another way to check if the chicken is fresh is the pinkish hue. It is always better to determine the state of the poultry by the look of it. Normally, the chicken would have a fleshy-colored and pink hue.
As it spoils, the color will move from pinkish to grey color. Therefore, if you see a chicken breast package with some hints of grey, it is a no sign.
Give A Nice Cut
Normally, a whole chicken breast is very large. When you buy a piece of chicken breast that is plain, boneless, and skinless at the meat stalls, chicken usually weighs around 3/4 pounds or 12 ounces.
Suppose you try to cook such a giant piece of meat. In that case, you are putting yourself in many difficulties.
As half the time is cooked, the outside will become dry and hard and sometimes scorched when you cook it on a pan. So, how to cut chicken breast?
Before you cook the chicken breast, all you need to do is cut the large chicken breast horizontally (i.e. with your blade parallel to the cutting board) to create two flatter pieces of chicken.
In addition, you can also cut it into small strands, square pieces, chicken cutlets, or bite-sized pieces depending on how your dish is cooked.
Flatten The Boneless Chicken
Flattening the chicken breast might not be common to many people, but it greatly improves a thin, tender, and evenly cooked chicken breast. This technique is a must if you want to make some recipes such as schnitzel, stovetop, or marsala chicken.
When flattening the chicken breast, the meat is evenly spread on each side with a moderate thickness which is easy for you to control the heat and cooking time. So, how do you do so?
First, use a knife or kitchen scissors to trim all the fat or membranes on the breast. Then, place the chicken breast in a plastic bag or on a parchment paper and start pounding the chicken's flat side with the meat mallet.
Season The Chicken
Whether you're cooking the chicken breast on a grill, pan, or in the oven, you must remember to season the meat. You will also want to pre-coat the chicken breast in olive oil to allow the seasoning to stick in most cases.
Be creative with different flavor combinations. You can try using lemon pepper, garlic powder, chili powder, onion powder, and even dry herbs like oregano or basil.
How To Cook Chicken Breast Halves?
Chicken has been cooked and feasted since the dawn of humankind. Its history can already tell how important the role of chicken is in our cuisine. As the world's food industry develops, so does chicken cooking methods.
There are hundreds of ways to cook chicken in the world with thousands of chicken breast recipes.
If you find yourself confused about how to cook these juicy chicken breast halves, here are the common ways that most people cook them:
Oven-Baked
One of the simplest ways to cook chicken breast is oven-baked. The tricky part is the seasoning part and an appropriate cooking time.
You can use baked chicken breast recipes as the main dishes with garlic butter rice or potato salad as a side dish. You can also cut the chicken and turn it into a chicken salad as well.
Ingredients
Two chicken breasts
Two teaspoon of olive oil
Half of teaspoon of salt and pepper
One teaspoon of dried paprika
One teaspoon of oregano
11/2 tablespoon of brown sugar
A quarter of a teaspoon of garlic powder
How To Do It?
1. Preheat the oven at 425 degrees Fahrenheit.
2. Use the meat mallet or even your fist to pound the chicken at the thickest part. This step helps to make them softer and more evenly cooked.
3. Take a tray and line the foil and baking paper or parchment on top. Then, place the chicken breast upside down on the tray. Start seasoning the chicken with about one teaspoon of olive oil. Now, you should use your fingers to rub the muscles. Sprinkle it with spices, pepper, salt, paprika, brown sugar, and garlic powder.
4. Turn the other chicken breast over and repeat the same as in step 3. It would be best if you covered as much surface area as possible.
5. Then put the tray in the oven. Bake for 18 minutes or until the surface is golden brown. You can also use a meat thermometer to measure your internal temperature. When the temperature is around 165 degrees Fahrenheit, your chicken is well done.
6. Remove the chicken breast from the oven and immediately bring them to a plate. Wait 3-5 minutes then enjoy your juicy oven-baked chicken breast.
Grill
Grilled chicken breast is an amazing dish to use with salads and pasta recipes. When being grilled, the chicken breast will have a distinguishing smokey flavor to its meat. With a good seasoning, this dish is irresistible to any chicken lovers.
Ingredients
Two chicken breasts
One teaspoon of salt and pepper
Half a teaspoon of sugar
Half a teaspoon of garlic powder
One tablespoon of lemon juice
Two teaspoons of olive oil
One teaspoon of brown mustard
How To Do It?
1. Cut the chicken breast in half vertically.
2. Keep the chicken breasts in a plastic wrap to prevent the juice from splashing out of the kitchen. Focus on the thickest part and try to pound evenly with the thinnest part.
3. Place the pounded chicken breasts in a large bowl. Marinate them with olive oil, lemon juice, brown mustard, garlic powder, salt and black pepper. Then let it soak for a maximum of one hour.
4. Apply oil to your grill by soaking a paper towel in an oil like vegetable oil or grapeseed oil. Then, use tongs to rub the oiled towel onto the grill.
Preheat the oven to cook directly at medium to 400 degrees Fahrenheit.
5. When your grill is at the right temperature, remove the chicken breast from the brine, shaking off excess.
6. Arrange chicken breast on the grill in a layer, evenly spaced depending on the surface and quantity. Bake for about 4 minutes on each side.
You can check if they are fully cooked using a thermometer. At 165 degrees Fahrenheit is a well-cooked chicken breast.
You can also cut it into one piece and see if it's all white, not pink. They should be nice and brown with grilling marks when they're finished.
7. Remove them from the grill and place them on a clean plate. Let them rest for 5 minutes before serving.
Pan-Fried
Pan-fried chicken breast is one of the simple chicken breast recipes to do if you don't have an oven at home. It can combine with any side dish with a light and tender, juicy taste.
Ingredients
Two chicken breasts
Half teaspoon of paprika
Two teaspoon of olive oil
Two tablespoons of butter
Two cloves of garlic
One teaspoon chopped parsley
1/3 cup of dry white wine
One teaspoon of salt and pepper
How To Do It?
1. Pound the chicken breast for an even and medium thickness.
2. In a mixing bowl, season with salt and pepper. Then combine Italian seasoning powder, chili powder, and onion; chicken breast rub with minced garlic and paprika.
3. Turn the stove on medium to high and heat olive oil in a large pan.
4. Put the chicken breast in hot oil and cook for 6 minutes, trying not to scatter the chicken breast fibers.
Flip the chicken breast and add one teaspoon of butter; Continue cooking for another 5 minutes or until cooked.
When the internal temperature reaches 165 degrees Fahrenheit, the chicken breasts are cooked. Remove them from the pan and set them aside.
5. Reduce heat to medium and add two tablespoons of butter to the same pan. Add garlic to fry for fragrant, about 15 seconds. Add parsley, thyme, and rosemary; cook for 10 seconds.
6. Pour wine or chicken broth and scrape all brown parts from the bottom of the pan. Add remaining butter to the pan and stir until melted.
7. Return them to the pan and cook for a minute or two or until it is just hot.
8. Scoop the sauce over the chicken and serve them onto the plate.
FAQ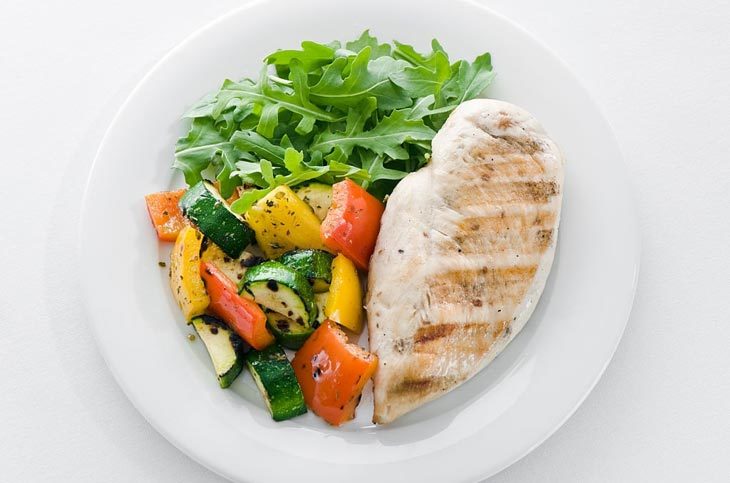 1. How To Store Chicken Breast Halves?
Storing the chicken breast halves is necessary for utilizing the many poultry times in the future. You can put them in an airtight container or a zip bag to prevent bacteria contamination.
Then, you can store the chicken breast halves in the fridge or freezer. This way also applies to not only cooked chicken but also raw chicken.
2. How To Debone Chicken Breast Halves?
Sometimes when you receive chicken breast halves, there are still some bones left. To debone the chicken breast:
Put it on with the thick side facing up.
Use a knife to cut vertically at the thickest part of the breast to find the breastbone.
Once you've found the breastbone, slide your knife and cut along the bone and pull the meat out from the bone.
Conclusion
Chicken breast is a delicious, healthy, and versatile cut that has a wide range of cooking methods.
Knowing how to prepare the chicken breast halves and cook them properly can help you enrich your chicken breast recipes for dinner and show off your cooking skills with these delicious dishes.