Chili With Fresh Tomatoes – How To Make a Fabulous Chili
Chili is such a flavorsome dish that is easy to make and quick meal to prepare. Scroll on down to find three chili recipes that use fresh tomatoes.
3 Best Chili With Fresh Tomatoes Recipes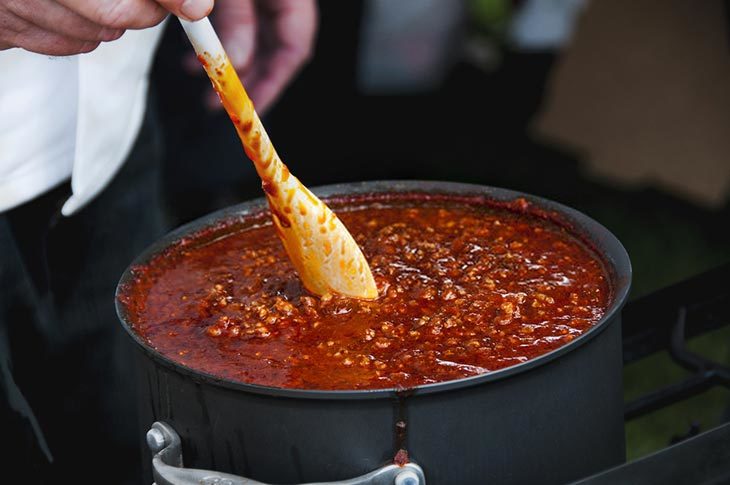 #1 The Classic Ground Beef Chili With Fresh Tomatoes
Let's begin with the traditional chili – the ground beef version.
Ingredients
1 tablespoon of olive oil
2 chopped yellow onions
4 minced garlic cloves
1 pound of lean ground beef
2 and 1/2 tbsps of chili powder
2 tbsps of sugar
2 tbsps of tomato paste
2 tsps of ground cumin
1 and 1/2 teaspoons of salt
1/2 teaspoon of ground black pepper
1/4 teaspoon of ground cayenne pepper (optional)
1 and 1/2 cups of beef broth (or water)
1 (15 oz.) can petite diced fresh tomatoes
1 (16 oz.) can of drained red kidney beans (pre-soak the beans 2-3 hours before cooking)
1 (8 oz.) can of tomato sauce
Instructions
Step 1: Cook the onions and garlic.
In a large, heavy-bottomed pot, add the olive oil and place it over medium heat for around two minutes. Then, add the onions and garlic, stir them occasionally until you feel their smells.
Step 2: Cook the ground beef.
Add the ground beef to the spot and break it apart with a wooden spoon. Continue to stir the mixture often for 6-7 minutes until the beef is brown.
Step 3: Season the chili.
Add sugar, salt, chili powder, cumin, tomato paste, pepper, and cayenne. Stir until the mixture is well combined.
Step 4: Complete the chili.
Add the beef broth, kidney beans, tomato sauce, and diced tomatoes (and their juice), stir well, and bring the mixture to a low boil. You can add a little hot water into the mixture if you prefer a runnier chili.
After that, turn the heat to medium-low and simmer the chili for 20-25 minutes. During this process, occasionally stir so that all the ingredients can combine perfectly.
Step 5: Serve the chili.
Remove the pot from the heat and let the chili rest for around 5 minutes. Then, ladle the chili and enjoy it with your beloved ones.
#2 The Fresh Chicken Chili With Fresh Tomatoes
If you want to bring a fresh wind to your meals, why don't you try a creative chicken chili recipe? We're pretty certain that this fresh and healthy chili will satisfy your hearty appetite.
Ingredients
3 minced garlic cloves
1 minced onion
2 tablespoons of olive oil
0.75 pound of small chunks of chicken breast or cutlets
3 ounces of tomato paste
1 pound of petite diced fresh tomatoes
1 cup of water
2 tsps of ground cumin
1 and ½ teaspoon of paprika
1 tablespoon of chili powder (or more if you prefer a spicy taste explosion)
½ teaspoon of dried oregano (or 1 tablespoon of fresh oregano leaves)
1 teaspoon of salt
2 stalks of petite diced celery
1 cup of drained canned black beans
1 large small diced bell pepper
Instructions
Step 1: Fry the onions and garlic.
Add the olive oil, garlic, and onions in a heavy-bottom pot at medium-high heat. Fry them until you smell the onions and garlic's fragrant.
Step 2: Cook chicken.
Take the chicken chunks into the pot and fry them until their outer layer turns white.
Step 3: Combine the mixture with the tomatoes and condiments.
Put the water, tomatoes, tomato paste, paprika, oregano, cumin, chili powder, and salt into the mixture.
Then, stir occasionally and bring the well-combined mixture to slow simmer for around 3 minutes.
Step 4: Complete the chili and serve it.
Add bell pepper, black beans, and celery to the mixture. Stir the combination continuously until it becomes perfectly harmonious. (If it's quite thick, you can add a small amount of hot water.)
After that, boil the mixture. When you see it's boiling, lower the heat, and simmer it from 20 to 30 minutes. During the simmering process, you need to stir the mixture often to avoid burning the components in the bottom of the pot.
Once the chili reaches the consistency level you prefer, turn heat down, and let it rest around 1-2 minutes before serving.
#3 The Healthy Vegetarian Chili With Fresh Tomatoes
You want to try chili so much but you are a vegan, is there any vegetarian chili recipe? Well, let us show you a savory and healthy vegetarian chili version that you can quickly make at home within minutes.
Ingredients
2 tablespoons of olive oil
1 chopped medium red onion
1 chopped large red bell pepper
2 chopped medium carrots
2 chopped celeries
½ teaspoon of salt
4 pressed (or minced) garlic cloves
2 tbsps of chili powder
2 tsps of ground cumin
1 and ½ tsps of smoked paprika
1 teaspoon of dried oregano
1 large can of diced tomatoes with their juices
2 cans of rinsed and drained black beans
1 can of rinsed and drained pinto beans
2 cups of vegetable broth (or water)
1 bay leaf
2 tablespoons chopped fresh cilantro
1 to 2 teaspoons of lime juice
Instructions
Step 1: Fry the onions and vegetables.
Put and warm the olive oil in a big Dutch oven (or a heavy-bottom pot). Once the oil is shimmering, put the onion, bell pepper, carrot, celery, and salt into the oven.
Stir the combination occasionally until the vegetables become tender and the onion is translucent.
Step 2: Add the condiments.
Season the mixture with chili powder, cumin, paprika, oregano, and garlic. Stir it continuously at medium-high heat until you smell fragrant.
Step 3: Add the other ingredients into the combination.
Put the diced fresh tomatoes (as well as their juice), the black beans, pinto beans, vegetable broth, and bay leaf to the combination. Stir often and let the mixture come to a gentle simmer for around 30 minutes.
Step 4: Blend the chili.
Turn off the heat and remove the bay leaf. A tip to make the mixture more chili-like is to blend it briefly with an immersion blender or mash it with a potato masher.
Step 5: Complete the chili and serve it.
You can add the cilantro, lime juice, and a little salt to the mixture to have a tastier dish. Stir it to combine and divide it into individual bowls to enjoy.
Frequently Asked Questions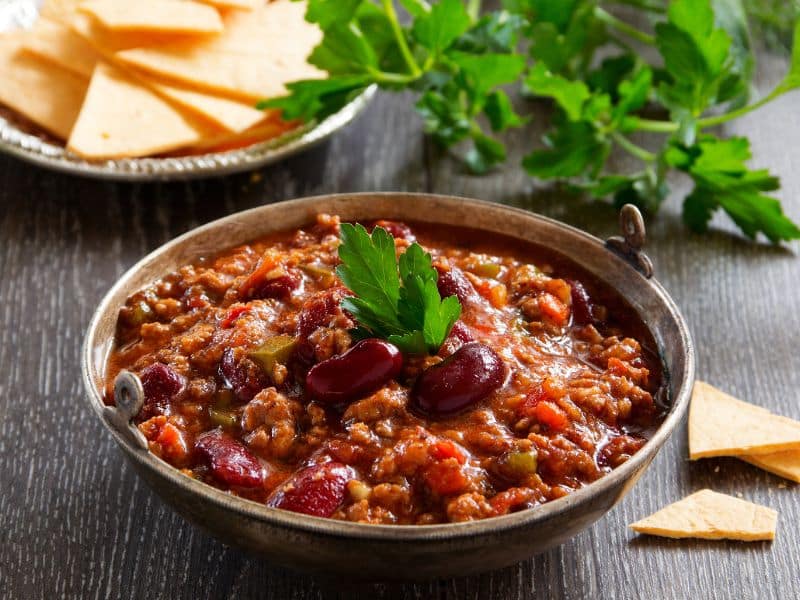 What Goes Well With Chili?
There are plenty of toppings that provide extra diverse flavors to your chili. Some highly recommended "go-withs" are sour cream, cheddar cheese, radishes, cilantro, lettuce, and tortilla chips.
Can You Freeze Your Chili?
The leftover chili will keep well a couple of days in the cool refrigerator compartment and up to a month in the freezer one.
Besides, it is pretty easy to reheat the chili and bring back its initial taste. You can apply the reheating Risotto methods to reheat the leftover chili quickly and efficiently.
Do You Need To Peel Tomatoes For Chili?
The tomatoes break down anyway when you cook them. Thus, you don't need to remove the peels. However, if you prefer skinned tomatoes, you can peel them, but this will take a lot longer.
Conclusion
It is simple to create a yummy chili with the chili with fresh tomatoes above, right?
So, let's try one of these recipes right away and bring a lot of joy to your day with the delicious and nutrient-rich chili.
We wish you a happy cooking time and a hearty dish with your beloved ones.