Today, I want to talk about a kitchen tool that has stood the test of time in the culinary world—the mortar and pestle. Whether you're grinding spices, pounding herbs, or crushing garlic, this trusty kitchen companion has undoubtedly played a crucial role in enhancing flavors. But just like any other kitchen utensil, it requires some care to maintain it, so it keeps working as it should.
Below, I'll elaborate a bit about how to clean a mortar and pestle to keep it in tip-top shape!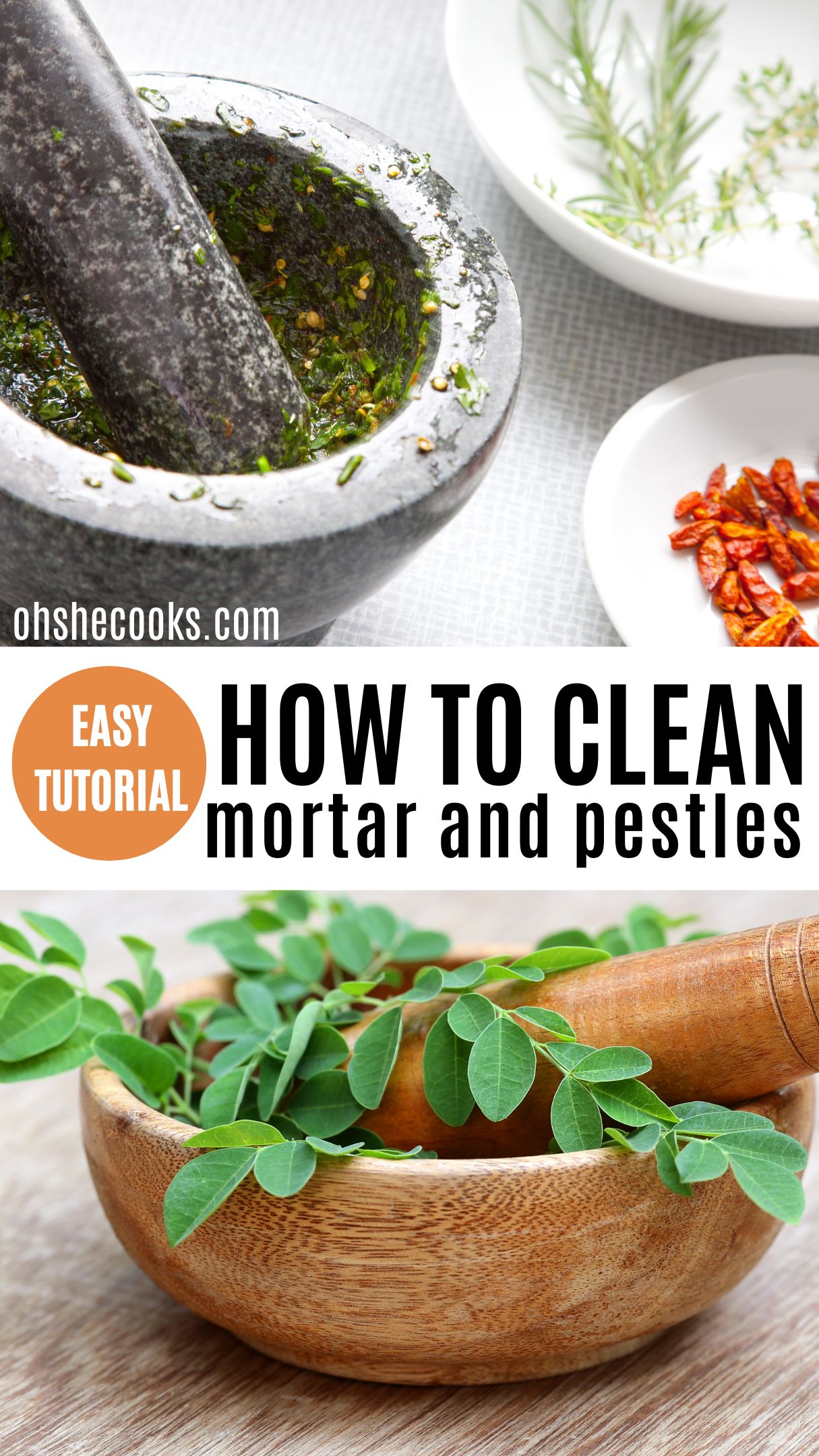 What is a Mortar and Pestle?
Mortar and pestles, used for centuries across various cultures, are essential tools for grinding and crushing food. From curry pastes to guacamole, they have many uses and are a kitchen must-have. After seasoning your new mortar and pestle, follow a few steps to maintain its pristine condition and longevity.
Let's delve into the types of mortar and pestles, as well as how to properly care for this ancient tool. If you don't have one, we have a guide that will show you the best substitutes for a mortar and pestle as well!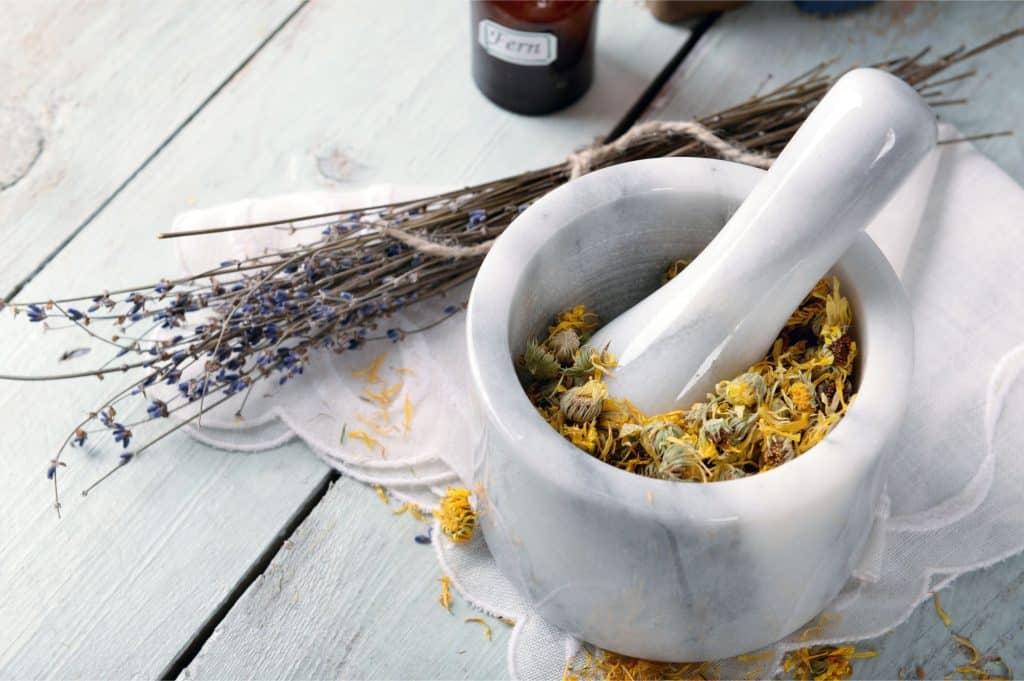 Mortar and Pestle Material Types
Mortar and pestles can be made from various materials, including:
Stone: Natural stones like granite, marble, or volcanic rock are popular choices due to their durability and excellent grinding capabilities.
Wood: Wooden mortar and pestles, often made from hardwoods like olive wood or teak, offer a rustic charm and gentle grinding action suitable for delicate ingredients.
Ceramic: Ceramic mortar and pestles are elegant and come in various designs. They are great for grinding spices and herbs, but may not be as durable as stone or metal options.
Metal: Metal mortar and pestles, such as stainless steel or copper, are robust and ideal for heavy-duty grinding. They are resistant to stains and odors.
Glass: Glass mortar and pestles are less common but offer the advantage of being non-porous, easy to clean, and not retaining flavors or odors.
Since mortar and pestles come in various materials, each will require a specific type of care. If you have a ceramic, marble, or copper mortar and pestle, a regular dishwashing routine will do the trick. Conveniently, ceramic, stainless steel, and marble mortars can even be safely placed in the dishwasher. On the other hand, copper or wooden mortar and pestles should be cleaned by hand using gentle soapy water.
How to Clean Mortar and Pestle: General Guidelines
If your mortar and pestle came with specific cleaning and care instructions, it's important to read and follow them for optimal maintenance. However, if you're looking for some general guidelines that are universally applicable, we've got you covered. Below, we'll share essential instructions to ensure you're on the right track when it comes to cleaning and caring for your mortar and pestle, regardless of the material it's made from.
Initial Preparations
Before we jump into the cleaning process, let's make sure we're well-prepared. Here's what you'll need:
Removing Residue
First things first, we need to remove any lingering food particles or residue from previous uses. Start by rinsing your mortar and pestle with warm water to loosen any debris. If you're dealing with stubborn stains or smells, add a small amount of mild dish soap to the warm water and mix it gently.
Gently Scrub Away
Now, with your soft-bristle brush or sponge, it's time to give your mortar and pestle a gentle scrub. Remember, the goal is to clean it thoroughly without damaging the material. Start by working on the interior surfaces of the mortar, using circular motions to dislodge any stubborn residue.
Pay extra attention to the textured areas, as these tend to harbor food particles. If you're using a granite or stone mortar and pestle, avoid using abrasive cleaners or brushes that might scratch the surface. Instead, opt for a gentle touch and let the warm water and soap do most of the work.
Dealing with Persistent Stains or Odors
Sometimes, certain ingredients can leave behind stubborn stains or odors. To tackle this, you can create a paste using baking soda and water. Apply the paste to the affected areas of your mortar and pestle, and gently scrub again. Baking soda's mild abrasive properties can help lift stains while neutralizing odors.
Rinse and Dry
Once you're satisfied with the cleanliness of your mortar and pestle, rinse it thoroughly with warm water to remove any soap or residue. Take a moment to inspect it and make sure you haven't missed any spots. After rinsing, dry your mortar and pestle completely with a cloth or towel.
Maintenance and Storage
Congratulations! You've successfully cleaned your mortar and pestle. To keep it in pristine condition, here are a few additional tips:
Cleaning a mortar and pestle doesn't have to be a daunting task. With a little care and attention, you can keep it in excellent condition for years to come. Remember, a clean mortar and pestle ensure the flavors of your culinary creations are pure and vibrant. So, don't forget to take care of this kitchen tool—give it the TLC it deserves!