Coconut Flour Substitute – 7 Options Worth Your Consideration
Coconut flour is concentrated from coconut milk, an indispensable part of every family's cuisine, making the dish more delicious and fat.
This one can bring a unique taste to your favorite recipe compared to other flours.
In case you run out of this ingredient, what is the most effective coconut flour substitute for creating a similar flavor? Let's scroll down and check out the article below!
What Is Coconut Flour?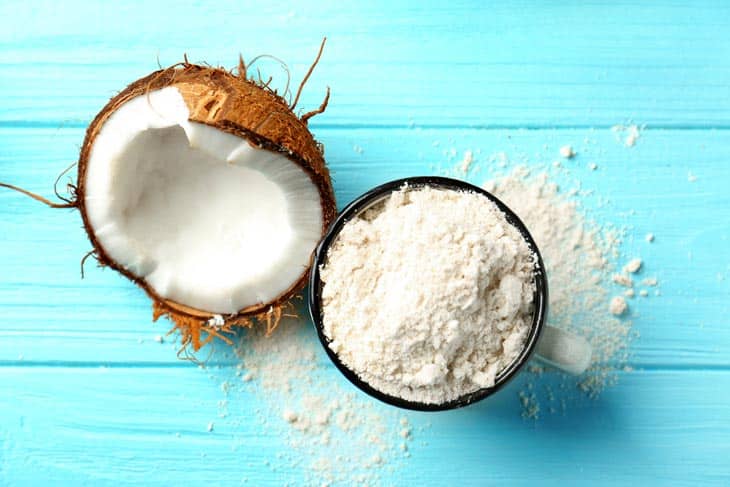 Coconut flour is processed by the method of concentrated coconut milk. People use them as food or flavor in cooking, preparation, and beauty.
Although it is an industrial product, it still has the original taste of natural coconut. So this pure powder is safe for users.
Coconut has many nutrients good for health because it contains fiber and healthy fats. It also benefits the heart and muscles to support the digestive and immune systems.
Similarly, coconut powder used in cooking will also mix the above nutrients in each dish. It creates a fatty, sweet, and coconutty taste for the dish and makes it more delicious.
So what can you substitute for coconut flour but still have the same taste and quality as it? Continue reading the following sections!
Why Should You Use Coconut Flour Substitute?
Although coconut powder is widely popular and offers many health and beauty benefits, some people cannot use it. So, they often find how to substitute coconut flour.
Coconut can cause bloating in people with digestive problems, intestinal irritation, and indigestion.
Besides, coconut powder is hard to use for some average bakers. If used in the wrong dosage or not suitable for the dish, it is easy to make the meal fail.
On the other hand, it is not easy to buy coconut powder or many imitations in some localities. If you buy a poor quality product, it will reduce the quality of the meal and seriously affect your health.
What To Use Instead Of Coconut Flour? – Top 7 Ideas
1. Almond Flour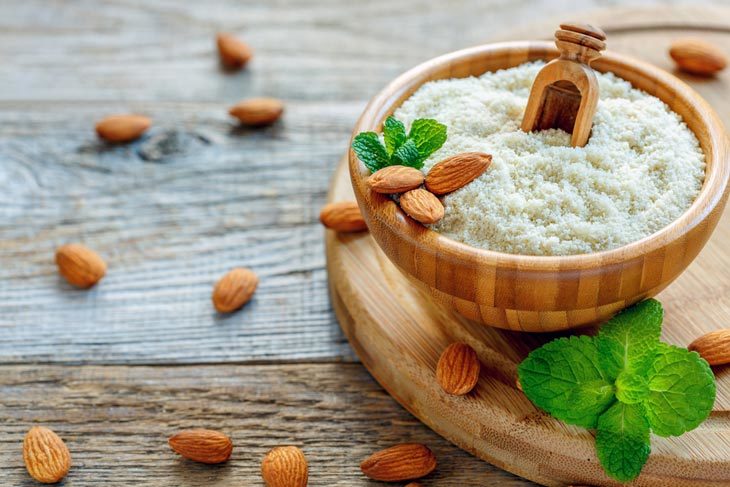 This is the best coconut flour substitute. After going through many stages of roasting and grinding, the almond powder still retains its original nutritional value.
Almonds contain abundant precious minerals, good for the body's health, such as protein, rich in Vitamin E, and usually gluten-free.
However, it contains a lot of unsaturated fat, so you should not consume too much.
On the other hand, the almond powder is also a more expensive ingredient than coconut powder, so you shouldn't replace coconut flour with almond flour often.
When using almond flour substitute for coconut flour, you should increase the amount four times. At the same time, you reduce the number of wet ingredients like water, eggs, milk in the recipe.
2. Cassava Flour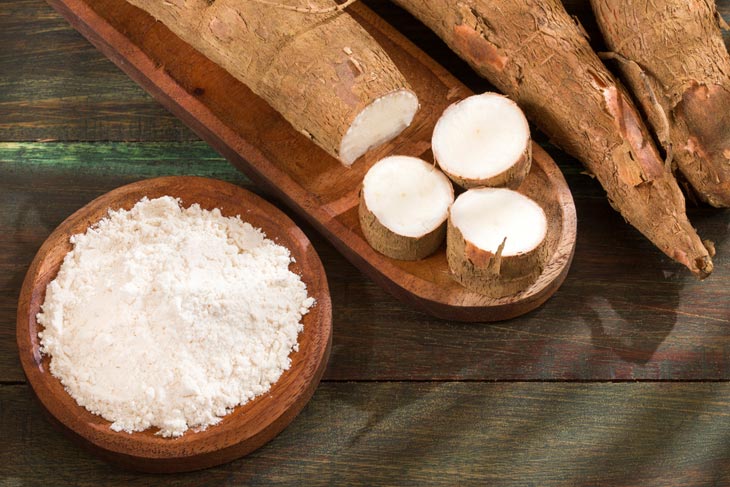 Cassava flour (made from the Cassava plant, exactly Cassava root) is also a suitable alternative to coconut flour. It has a more flour-like texture.
However, it's a gluten-free flour, so it's also considered a good substitute in gluten-free dishes.
Cassava meal has a neutral flavor, dry and smooth texture so that you can use it for a variety of recipes, including savory or sweet dishes.
However, it contains a lot of carbohydrates, so it is not suitable for people with high blood sugar level diseases.
Tapioca flour substitutes coconut flour in a ratio of 4:1. Besides, you also need to reduce the liquid ingredients for the baking recipe.
3. Soy Flour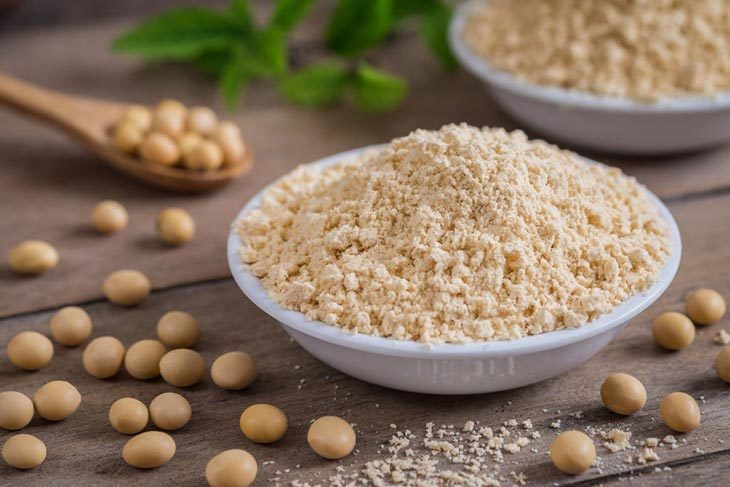 Soy flour is a product from finely ground soybeans. It is a healthy replacement for coconut flour with high protein, fiber, and low carbohydrates.
In addition, soy powder has also gluten-free, so people who are allergic or do not like this active ingredient can safely use it.
However, the only drawback of soybean powder as a substitute is its distinctly different taste than coconut flour. So when using sweet dishes, you should add a little vanilla or sugar to remove the smell.
When using, you need to double the number of soybeans compared to coconut powder. Since the soy powder is firmer, you can use a little extra liquid to mix it well.
4. Rice Flour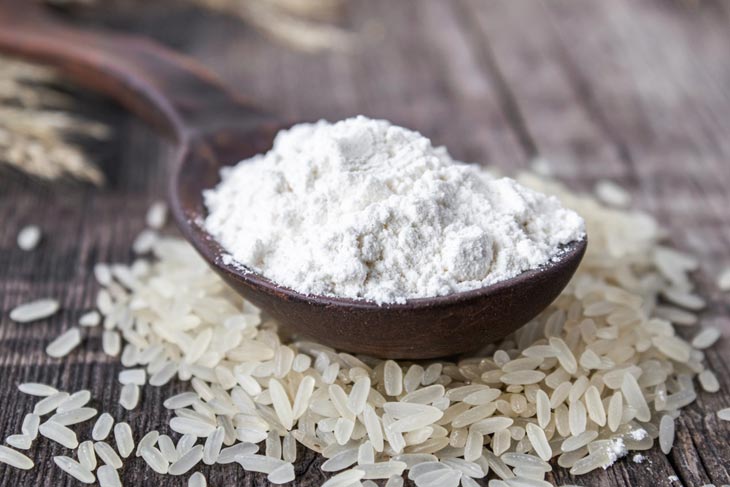 Rice flour is also an effective substitute for coconut flour, used alone or with other ones. It comes in two varieties: white rice powder and brown rice flour. However, white rice flour would be a better alternative to coconut powder.
This type will work perfectly with any dish because of its neutral taste. It contains a lot of soluble fiber, so it is very good for health, especially the digestive system.
When replacing, you should use it more than three times with a ratio of 3:1
5. Chickpea Flour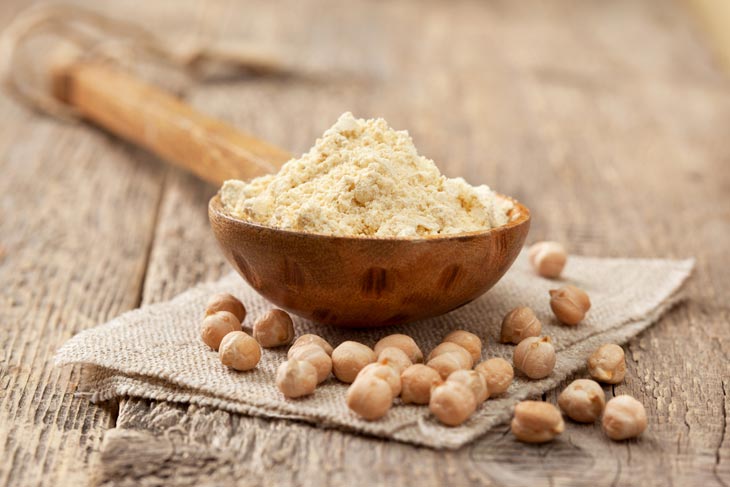 Chickpea flour can be used as an effective substitute flour for coconut flour. It includes the main components are starch, protein, fat, and fiber.
In addition, it also contains many vitamins that bring many health benefits.
A chickpea meal is suitable for those looking for something delicious and nutritious. You can use it in most of your favorite dishes.
Besides, you also can store it in an airtight container for up to 6 months or longer in the refrigerator. When using it as a coconut powder substitute, measure 3/4 to 1 cup of chickpea meal.
6. Flax Meal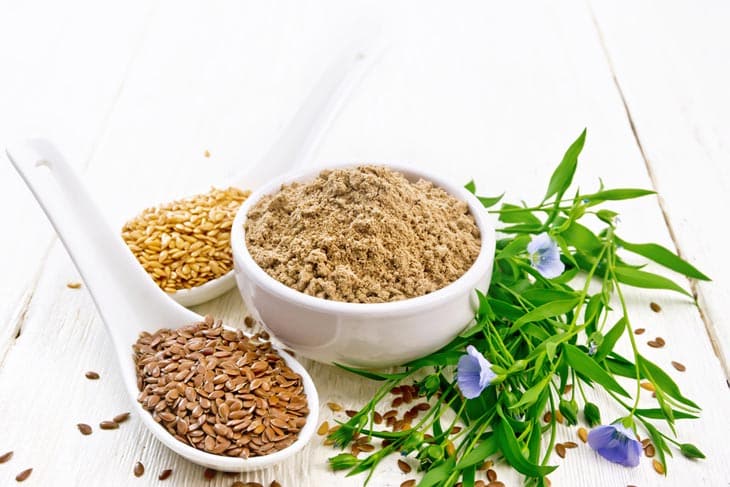 Flaxseed meal is made from plant foods full of healthy fats, fiber, and antioxidants. It is an excellent choice that is a good source of omega-3 fatty acids and proteins.
Flax meal is always a great ingredient in your diet. When using it as a substitute for coconut powder, you can mix a mixture of half flax meal and half almond meal.
However, if you're using a flax meal alone, you'll need to adjust the recipe to triple the amount of coconut meal. Flax powder is always at the forefront of your body's multi-use and nutritional benefits.
7. Sunflower Seed Flour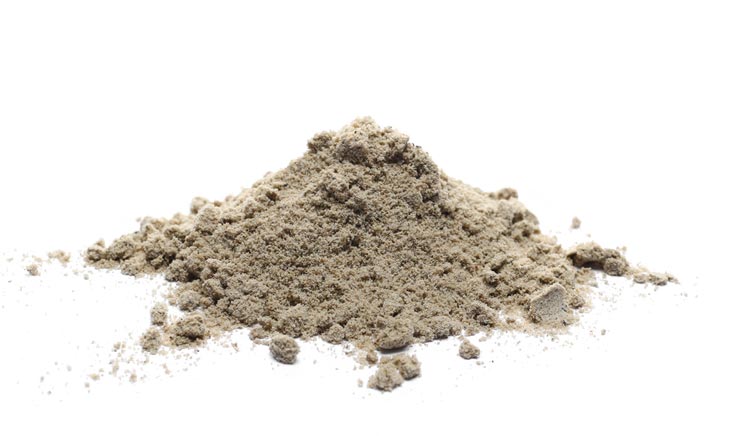 Raw sunflower seeds are ground into a fine powder known as sunflower seed flour. This powder has a nutty flavor and excellent nutritional value, such as Vitamin E, vitamin B, and antioxidants.
It is a perfect substitute for coconut powder for most dishes, both sweet and savory, with a mild flavor. Although sunflower powder is not easy to buy at the grocery store, it is quite simple to make at home.
Sunflower seed meal has a mild sweetness and fleshy taste, similar to coconut meal. Plus, it contains nutrients that are important in reducing the risk of health problems, including heart disease and diabetes.
How To Choose A Suitable Coconut Flour Substitute?
Flavor
How to choose the right flour substitute depends mainly on taste. Based on the dish you are preparing to cook, you will be able to answer what is a good substitute for coconut flour.
For example, if you cook something sweet, you need a sweeter thing like a sunflower meal. Neutral-tasting kinds like rice, soy, or cassava work well with savory dishes.
Nutrition
Flavor plays an important role in finding the right coconut flour substitute. However, the nutritional content is also an issue to consider when replacing.
Most of the alternatives listed above are gluten-free, an unhealthy compound. Yet, each type contains relatively different nutritional content, so it is also important to choose accordingly.
For example, almond and soybean meals are high in protein, making them suitable for people who need extra fat or those on a plant-based diet.
Chickpea powder and sunflower powder are appropriate choices if you need extra vitamins. If you have digestive problems, you can use rice flour.
FAQs
Can You Use Regular Flour Instead Of Coconut Flour?
Although you can consider replacing flour with coconut flour, it is not perfect. Because coconut powder has a sweet taste, flour usually has no flavor.
However, you can still use regular flour as a substitute in savory dishes. In addition, coconut powder has a different consistency than regular powder, so you need to add a little moisture.
How To Make Your Coconut Flour At Home?
If you need to use a coconut powder, but unavailable, or the store is temporarily out of stock, you can make it yourself at home. How to make coconut flour is not too difficult.
You need to prepare desiccated coconut in a blender, spread the mixture on a dehydrating cloth, dry it, and grind it into a fine powder. You can make your safe and effective coconut powder at home with just such steps.
Yet, please check your coconut first to ensure it is still in good condition. Otherwise, your finished coconut products can end up with a terrible taste.
Can I Use Cornstarch Instead Of Coconut Flour?
Yes, of course. Cornmeal is extracted from the endosperm of corn, a carbohydrate type. It is also a neutral flour, which can be used in many ways, but mainly for savory dishes or desserts.
When using cornstarch to replace coconut flour, you also need to pay attention to its ratio. Usually, you need to use twice the amount of cornstarch compared to coconut powder.
Conclusion
Coconut flour is nutritious, gluten-free is quite good for health. However, you cannot use it for some reason, so there are the best flour alternatives mentioned above.
While replacing, you need to pay attention to the correct ratios to create the most similar texture and taste for your dish.
Hopefully, through this article, you will be able to choose a coconut flour substitute that is suitable for your dish and your family's taste.
Enjoy your cooking times!