Cooking spray is a convenient and easy way to add a layer of non-stick protection to your cookware. However, not everyone has access to it or prefer to use alternative options for various reasons.
Whether you're looking for a healthier alternative, a more natural option, or simply trying to save money, there are several substitutes for cooking spray that you can use. From oils and butter to silicone baking mats and parchment paper, the options are plentiful.
In this article, we will explore some of the best cooking spray substitutes that can help you get the same non-stick benefits in your kitchen
What Is Cooking Spray?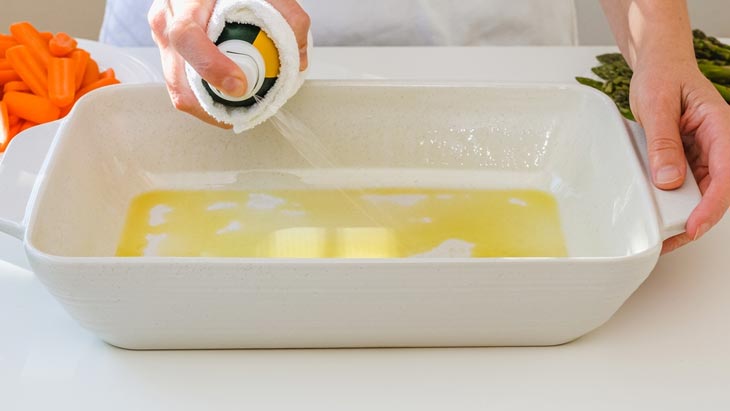 Cooking diffusers are a chemical mixture comprising lubricant, emulsifying lecithin, food-grade alcohol, nitrous oxide, carbon dioxide, or propane.
It has a variety of applications. It aids cookies to glide off the baking sheet, makes slicing dried fruit, or shaping rice cereal treats and meatballs a breeze.
It also protects plastic containers from staining from tomato-based sauces and makes cleaning a cheese grater a pleasure.
7 Cooking Spray Substitutes
Here are some popular alternatives to cooking spray:
Olive oil: Olive oil is a healthy and natural alternative to cooking spray. Simply drizzle a small amount of oil onto your pan and spread it evenly with a brush or paper towel.
Butter: Butter can also be used as a substitute for cooking spray. Simply melt a small amount in the pan before adding your food.
Coconut oil: Coconut oil is another healthy alternative to cooking spray. It has a high smoke point, which makes it suitable for high-heat cooking.
Vegetable oil: Vegetable oil is a neutral-tasting oil that can be used as a substitute for cooking spray. It is widely available and inexpensive.
Canola oil: Canola oil is another popular cooking oil that can be used as a substitute for cooking spray. It is low in saturated fat and has a neutral flavor, making it a good choice for most recipes.
Baking mats: Silicone baking mats are a reusable and non-toxic alternative to cooking spray. Simply place the mat on your pan and food will not stick.
Parchment paper: Parchment paper is another non-toxic alternative to cooking spray. Simply place a piece of parchment paper on your pan before adding your food.
How to Make Homemade Cooking Spray
Here's a simple recipe for making your own homemade cooking spray:
Ingredients:
Vegetable oil or canola oil
Distilled white vinegar
Water
An empty spray bottle
Instructions:
Place 1 part oil into a mixing bowl.
Add 1 part water to the bowl and stir to combine.
Pour the mixture into an empty spray bottle.
Shake the bottle well before using it to ensure that the ingredients are evenly mixed.
Note: You can also add a few drops of lemon juice or your favorite herb or spice to the mixture for added flavor. Just be sure to shake the bottle well before using it each time.
This homemade cooking spray works just like store-bought cooking spray and can be used in the same way. Simply spray a thin layer onto your cookware and you're ready to go!
FAQs 
Can I use cooking spray directly on food?
In fact, instead of brushing your food with oil, spraying it with cooking spray may help you use less oil and provide an equal coating for spices to stick to.
What is the difference between cooking spray and baking spray?
Compared to butter or shortening, cooking spray covers more evenly. Consider using a baking spray, including flour for added release protection, for pans with many cracks and hard-to-reach locations.
Is cooking spray harmful to non-stick pans?
While using Pam instead of oil or butter to save calories in a recipe is a good idea, it's incompatible with non-stick cookware. Repeated use of the oil sprinkler will result in a build-up that is almost hard to remove.
Can you use cooking spray on stainless-steel pans?
Vegetable fat may work well on a stainless-steel skillet. Make careful to coat the whole pan, including the flared sides, with the diffuser.
Why shouldn't you use cooking spray?
Cooking diffusers produce a coating on non-stick surfaces that is difficult to remove with soap and water. The accumulation of fuel affects the performance of a pan over time, and food may begin to adhere to it.