Craving a scrumptious dessert? Look no further than cream pies, the beloved classics that never disappoint. Whether you're a baking novice or a seasoned pro, we've got you covered with a selection of the absolute best cream pie recipes.
Get ready to delight your taste buds and impress your guests with these foolproof instructions for crafting the perfect pie every single time.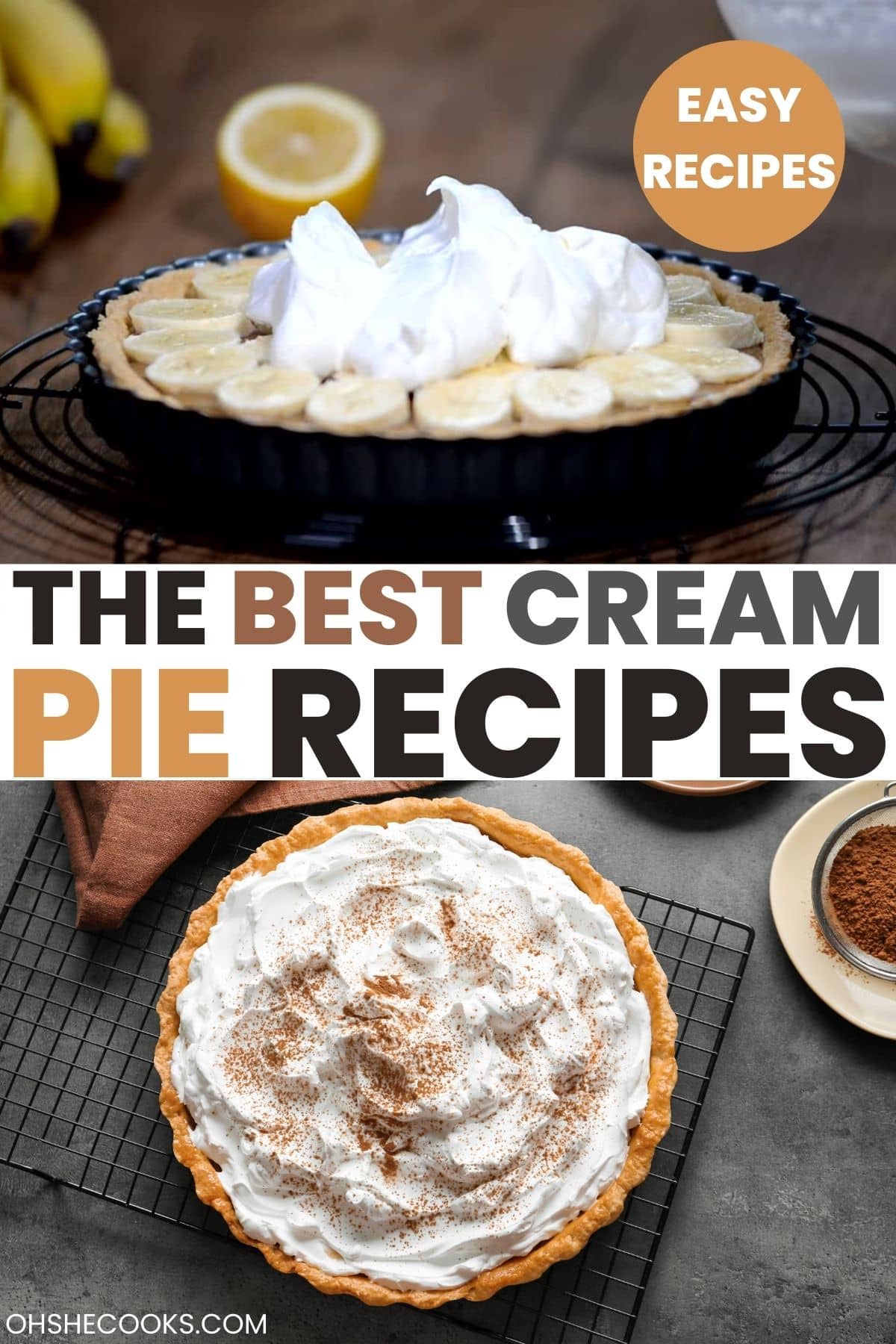 Best Cream Pie Recipes (All Easy Recipes!)
Explore some yummy cream pie recipes below like Pumpkin Cream Pie, Chocolate Cream Pie, and Key Lime Pie and more!
Each of the pie recipes have images with a button below that will take you directly to the pie recipe shown above it.
I hope you find a new favorite cream pie to make, and Happy Pie eating!
Chocolate Cream Pie
You'll love this decadent chocolate cream pie recipe to make for your next family get together.
It's a great recipe for cream pie for Thanksgiving, Christmas, and even Birthday parties too! This yummy pie is a must make!
---
Pumpkin Cream Pie
This pumpkin cream pie is just as delicious as regular pumpkin pie, but is lighter and creamier. Use a homemade or store bought crust and fill it with the creamy, spicy filling for the perfect Autumn pie!
This is the perfect pie for Thanksgiving and will be a crowd pleaser for sure.
---
Fluffy Banana Cream Pie
This yummy banana pie is filled high with bananas and topped with a creamy vanilla pudding filling. It is then topped with toasted coconut and a tasty whipped cream.
If you need a pie that everyone will love at your next get-together, then this banana pie is it.
---
Boston Cream Pie
This is a real Boston cream pie, not cake. The filling consists of pastry cream and a chocolate ganache, which sits on top of a buttery graham cracker shell.
You'll definitely be going back for a second slice of pie with this tasty dessert pie.
---
Nutella Cream Pie
This dreamy Nutella mousse pie is nestled in a dark chocolate cookie crust. Inside, there is a fluffy chocolate hazelnut filling made with Nutella.
This is a creamy chocolaty pie you will definitely want to make as soon as possible.
---
Coconut Cream Pie
Learn how to make this easy coconut cream pie recipe with these easy to follow instructions.
This perfect coconut cream pie is made from scratch and has whipped cream and coconut on top.
---
Pumpkin Cream Pie
This no-bake pumpkin pie recipe is the perfect pie for Thanksgiving, especially since it requires no baking.
This pie is light and fluffy and has the creamiest pumpkin filling.
---
Lemon Cream Pie
If you are a fan of lemon, then you will love this lemon cream pie recipe that is easy to make and will be a hit with everyone at the party.
Top each slice of pie with thin lemon wedges or slices for a little extra fun!
---
Peanut Butter Cup Cream Pie
This easy, no-bake chocolate and peanut butter cream pie is the perfect dessert for those of use who love chocolate and peanut butter together.
Since it is topped with chunks of peanut butter cups, you won't be able to resist this sweet pie.
---
Key Lime Cream Pie
You'll love how refreshing this summer pie is, since it's full of key lime flavor and has a yummy pecan shortbread crust.
I bet you'll want to make one of these sweet pies for every BBQ, cookout and pool party you are invited to!
---
Sugar Cream Pie
This Sugar Cream Pie is absolutely delicious. This sweet pie has a luscious filling of custard and makes a great dessert any day of the week.
---
Oreo Cream Pie
This simple pie is made from only 6 ingredients including cream cheese, heavy cream, and Oreo cookies. It is primarily a no-bake recipe, and it will set up in the refrigerator.
This cookies and cream pie tastes like an Oreo filling, and I guarantee you won't be able to stop eating it.
---
Strawberry Cream Pie
This No-bake strawberry and cream pie is an easy-to-make pie with a smooth strawberry filling in a sweet crust. Yum!
It is a great no bake pie recipe for Summer since strawberries are in season.
---
Common Questions About Cream Pies
1. What is a Cream Pie?
A cream pie is a dessert that typically consists of a crust made from flour, butter, and sugar, filled with a sweet custard or whipped cream, and then covered in a chocolate or vanilla layer.
2. How Do I Make a Cream Pie?
The best way to make a cream pie is to start by making the crust. You can either use a pre-made crust or you can make your own using flour, butter, and sugar. Once the crust is ready, you can fill it with your favorite cream filling.