Does Bloody Mary Mix Go Bad? How To Preserve It Longer?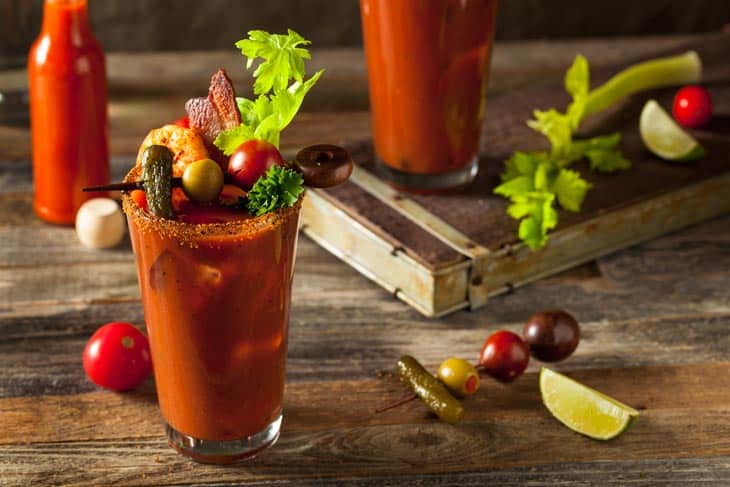 Every bar has a Bloody Mary, thanks to its healthiness and good taste. The cocktail drink has become a classic cocktail bar and a favorite drink for most people.
Nevertheless, we can't always go to bars and get them since they're pricey.
This is due to the fact that the Bloody Mary mix comprises a variety of components. So does Bloody Mary mix go bad? Is storing it as hard as to how they make it?
The information below will answer the question and some storing tips you won't want to miss out on.
Bloody Mary Mix Individual Ingredients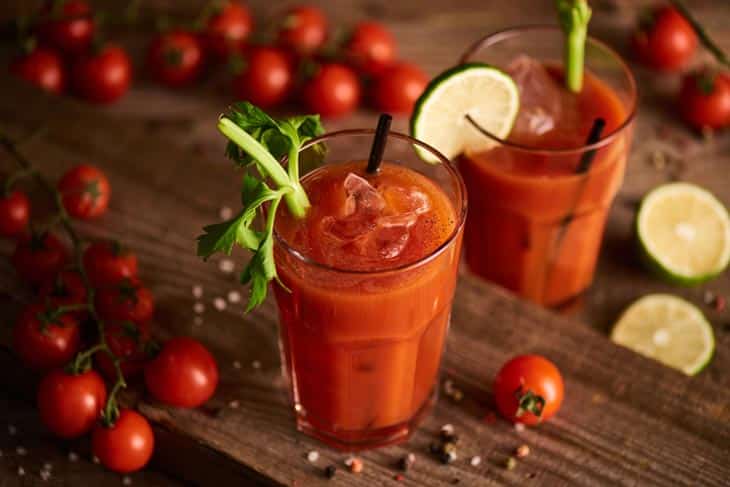 Horseradish, salt, tomato juice, celery, fresh lemon juice, Tabasco, black pepper, hot sauce, and chili vodka are the main components of Bloody Mary mix.
If you don't want to pay your money for such a beverage in a bar or a pub, you can do it yourself by putting some given components into the blender.
Does Bloody Mary Mix Go Bad?
Yes, it can go bad. It will retain its optimum quality for 12-18 months if kept unopened and preserved carefully in a dark, cold, and dry location.
Once opened, the mix will serve the finest quality within 3 to 4 weeks when stored in the fridge.
The Bloody Mary mix shelf life depends on which method you opt for storing. The drink will stay for an extended period because of its high salt index, yet it will worsen with time.
Bloody Mary mix comes with a best-by date rather than an expiration date. The best-by (or use-by) date is a manufacturer's estimate of how long the product will keep its optimum taste and quality.
Therefore, it normally poses little to no risk to consume it once that period has passed.
How Long Does Bloody Mary Mix Last?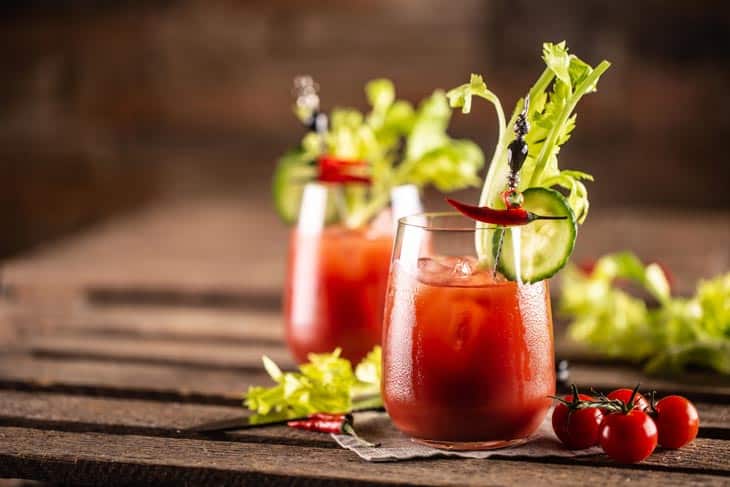 The precise response is very dependent on the storage circumstances. Keep your opened Bloody Mary mix chilled and firmly closed to extend the life of your cocktail mixes.
How Long Does Bloody Mary Mix Last After Opening?
How long does Bloody Mary mix last in the fridge once it's opened? The cocktail mixer that has been opened can be kept in the fridge for 3 to 4 weeks.
In addition, a Bloody Mary mix containing chili peppers should be kept at or below 4 degrees Celsius. This temperature helps reduce bacterial development while also extending the intake quotient.
Temperatures over 4 degrees Celsius, on the other hand, might cause food spoilage.
For mixes with a 100% natural ingredient profile without preservatives, it's advisable to finish them within a week or 10 days after you open them.
Refrigerating food and beverages is considered the most helpful way to store your meal. This method is also applied to storing food like bread pudding.
How Long Does Bloody Mary Mix Last Unopened?
Bloody Mary mix is not necessarily refrigerated if it is an unopened cocktail. It may be kept at room temperature within 12 and 18 months and will retain its optimum quality.
Remember to put it in a dark and cool place.
How Long Does Homemade Bloody Mary Mix Last?
In the fridge, homemade Bloody Mary Mix can last approximately a week. After one or two days, it improves the flavor of the cocktail, so it's a great make-ahead recipe!
However, if your homemade Bloody Mary mix comes with tomato juice, use it within a week to 10 days if you refrigerate it.
How To Tell If Bloody Mary Mix Is Bad?
Inspect the appearance, odor, and taste of your fruit cocktail to see whether it's safe to eat or it's gone bad. It has gone rotten once the opened bottle emits a terrible stench.
You should also toss it if it seems good but tastes bland and flavorless. When the bottle appears to be damaged, discard it. It is unfit for ingestion if the liquid within clumps up.
How To Store Bloody Mary Mix?
In order to extend the Bloody Mary mix shelf life, it is essential to store it properly. You can store unopened or opened Bloody Mary mix following these methods.
Store Unopened Bloody Mary Mix
You can keep your unopened cocktails in the refrigerator or keep it cold and dark outside at room temperature.
Stay far away from direct sunlight and heat.
Check to see if the seal is completely air-tight and closed.
When you store following the above ways, it will keep its finest quality for up to 18 months.
Store Opened Bloody Mary Mix
An opened Bloody Mary mix should be kept chilled at all times.
The bottle's cap should be securely fastened.
Depending on the natural ingredients, it will keep its optimum quality for a couple of weeks to a month when kept in this manner.
One tip for you: You can pour the mix in the ice cube tray and freeze it for later use. You will be surprised how tasty it is.
Is It Bad To Drink Old Bloody Mary Mix?
As long as it is preserved correctly, there are no symptoms of rotting, and the plastic bottle is not broken, consuming old Bloody Mary Mix can not leave you sick.
Food poisoning symptoms include vomiting, nausea, and diarrhea if you drink Bloody Mary mix, which was not kept correctly, exhibited signs of deterioration, or came with a broken glass bottle.
However, owing to the spiciness of Bloody Marys, some have experienced diarrhea after drinking them. Spicy foods include a substance called capsaicin, which can cause diarrhea by irritating the digestive tract.
So, whenever you drink a Bloody Mary mix that shows no indications of decomposition but still has diarrhea, it's possible that it was too hot and should be treated promptly.
Conclusion
Does Bloody Mary mix go bad? We bet you've got the answer – YES, and the lifespan also depends on which components are contained in the key ingredients.
How long will Bloody Mary mix last? If you opened your Bloody Mary mix, you could keep it in a refrigerator, and it will be good to go in three to four weeks. On the other hand, the shelf life is 12-18 months at room temperature if kept unopened.
Hope you find this post helpful. See you in the next post!