Does Canola Oil Go Bad? Tips On How To Preserve It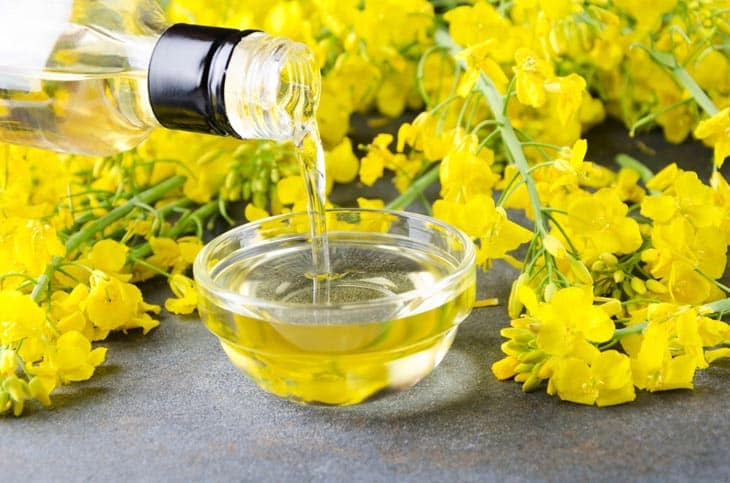 Cooking oil is an indispensable ingredient in a kitchen. It contributes a lot to creating delicious dishes.
One of the most asked questions is, "Does canola oil go bad?" because this type brings a mild taste to your meal.
Someone might think its shelf life is unlimited. Yet, is that true? And what is proper storage? Scroll down to this article to discover the answer and how to preserve it properly!
What Is Canola Oil?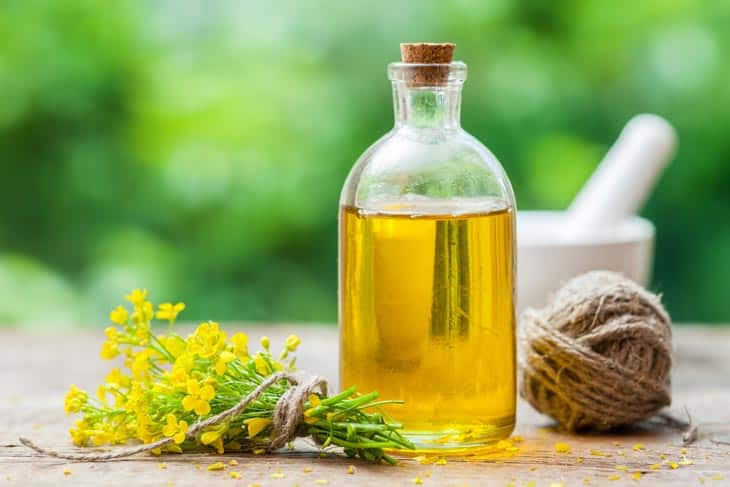 Canola oil is extracted from rapeseeds (also called the canola plant). It is one of the most popular vegetable oil that used in the kitchen. There are four main steps to make it as below.
How To Make
Step 1: Cleaning
Thoroughly clean canola seeds to remove any grit.
Step 2: Heating and drying
Need to heat and dry rapeseeds before extracting. The temperature should be increased slowly during the drying process so as not to break or burn during the drying process.
Step 3: Pressing
Next, put the ingredient into a machine to press it simply.
Step 4: Getting product
After pressing, filter the liquid or wait for the residue to deposit slowly. Then, get the finished product.
Dishes With Canola Oil
It is easy to apply in making salad dressings, sauces, mixing vegetables, and marinating for food. In particular, the taste of it is very slight. It does not affect the typical flavor of the dish.

It appears commonly in dishes such as french fries, steak salad with fish sauce and mint, teriyaki stir fry noodles, etc.
Health Benefits Of Canola Oil
We can consider it as a wonderful gift of nature – one of the most healthy oil. It has outstanding properties to protect health.
As a canola plant does not contain cholesterol, we no need to worry about controlling cholesterol levels when cooking foods that require lots of fat.
This is good news for people with heart health problems since it reduces the risk of heart disease. In addition, it is also very rich in alpha-linolenic acid (ALA).
ALA is a type of fatty acid with a high level of monounsaturated fat that is effective in limiting the absorption of fat. Therefore, dieters consider it as good food for weight loss.
Apart from that, the amount of Omega-3 and Omega-6 found in rapeseeds helps support skin regeneration and prevent acne.
Other Types Of Oil
Of course, not all recipes require cooking oils. Some people even know how to fry an egg without oil. However, you also should know the kinds of oil in case your recipes need them.
We call for sesame oil as the best substitution for canola oil with an equal amount. Technically, you can replace sesame with canola oil in any recipe.
Sunflower oil, olive oil, safflower oil, corn oil, and coconut oil are also alternatives for canola oil that you should try.
They are all extracted from plants and have relatively similar nutritional content. So, choosing one of them to replace is also a good option.
Other types to consider are walnut oil, avocado oil, or peanut oil. However, the above oils are less nutritious compared with canola oil with the same amount.
Does Canola Oil Go Bad?
Can canola oil go bad? Certainly, yes. Like other vegetable oils, it will also spoil after a period of storage.
So, what to do with expired canola oil? After the expiration date, canola oil will be rancid, You can dispose of it by putting it in a jar and tossing it in a trash bin.
Because rancid oil will take your health to serious health hazards such as weakening the cells of your body, leading to Diabetes, or stomach issues.
You also can take it to your local waste center for handling. This is a highly responsible approach.
Furthermore, you should not pour expired canola oil down a drain because it will most likely cause drain blockage and contaminate clean water.
According to experts' estimates, one liter of old grease can pollute nearly one million liters of clean water.
Hence, if you have a habit of pouring excess grease down a drain, please give up this habit immediately to protect our environment!
It is interesting to note that people can recycle excess grease into soap. Many advanced countries in the world have taken this approach to limit water pollution.
It is not as difficult as you may think, and you can turn it into soap bars at home. With just excess grease and a few easy-to-find ingredients, you can create soap bars that are both simple and economical.
How Long Does Canola Oil Last?
So, how long does canola oil last once opened? The unopened bottle of canola oil usually lasts about 12 to 24 months for unopened bottles.
However, from the time they are exposed to the air, their shelf life is only about 6 to 12 months. Moreover, the time you can use it for cooking meals may be longer than the expiration date printed in a package.
In other words, it can still keep its quality for some months from the expiration day. Of course, its shelf life can change depending on the conditions people preserve it, such as at room temperature, in the fridge, or freezer.
How To Tell If Canola Is Bad
To identify damaged cooking oil bottles, you need to consider signs of spoilage such as color, clarity, smell, and taste of canola oil.
When the fats in the bottles begin to deteriorate, they will have an unpleasant smell.
At this point, you don't continue to use it, just throw it away. If you still use it for some reason, that unpleasant odor will ruin your dishes.
The taste of damaged ones often changes from when it was of good quality. In most cases, good quality one should have a light flavor.
When you taste the damaged bottles, you will notice a sour flavor and rancid smells. Certainly, that flavor is not pleasant at all.
The most noticeable feature is its color. The color of the bad oil becomes darker and cloudy. You should get rid of it to protect your family's health.
One more visible sign that you can apply to determine if it goes bad is caps of jars. If the lids appear moldy, it seems that you did not cover the caps carefully.
This makes a favorable opportunity for bacteria to enter the inside of the bottle. For this reason, remember that you should cap tightly after each use.
How To Store Canola Oil
Whether the shelf life of a bottle of canola oil is long or short depends a lot on storage conditions. Let's discover what the best place to preserve it is!
At The Room Temperature
It retains good quality in the long term when kept in a cool, dry, and dark place away from the heat source and direct sunlight source.
Since, when canola oil is in less contact with light or high temperatures, it will slow down the oxidation process.
This is the best way to keep it for longer use. Therefore, storing it at room temperature is the perfect condition.
Moreover, you should also choose a dry, clean, and airtight container to store. If there is still water in the container or outside water gets in, it will create favorable conditions for bacteria to develop and make canola oil go rancid.
Besides, you must not use metal jars to preserve them to keep the best quality since metal jars often cause the oil to burn.
In The Fridge
You can preserve it in the fridge. Nonetheless, if you want to store it for a long time, it is not a good way. At low temperatures, it can crystallize and become cloudy.
You also can melt it by warming ways like soaking it in warm water or using a hairdryer on medium heat to dry around containers.
Nevertheless, you should consider this preservation method to make canola oil rancid faster.
In The Freezer
We do not recommend preserving it in a freezer. First, the low temperature in the freezer will cause it to freeze quickly. Freezing canola oil means that you have to defrost it regularly, so it is very inconvenient.
Second, the structure and composition of it will vary if you freeze it. At that time, it will negatively affect the health of users.
Third, when you defrost it continuously, it will go rancid quickly and shorten its shelf life.
Keep in mind that always make sure a bottle of oil is tightly closed after each use, no matter where you store it.
Final Thoughts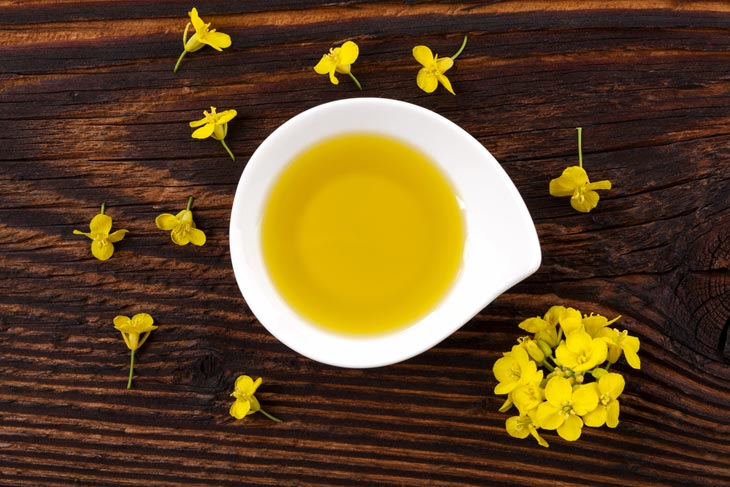 All in all, this post has shown the answer to the question "Does canola oil go bad?" and proper storage.
You can clearly understand the health benefits, how to make it, and ways to identify whether it goes bad or not.
Moreover, the ideal condition to preserve it is at room temperature. In our view, each household should have a bottle of canola oil to create delicious and nutritious dishes for loved ones.