Does Chocolate Syrup Go Bad? 2 Scary Signs You Must Know & Store Guide
Chocolate syrup is a traditional ice cream topping and perhaps the favorite milk flavor of children worldwide. You will see it in refrigerators everywhere.
Fortunately, this product has a long shelf life and does not spoil rapidly. Unopened products are generally suitable for up to 12 months.
However, does chocolate syrup go bad if not refrigerated? What sign tells you that you can't keep eating it.
This post will go through storage, shelf life, and spoilage indicators of this product. Continue reading if that's what you're searching for!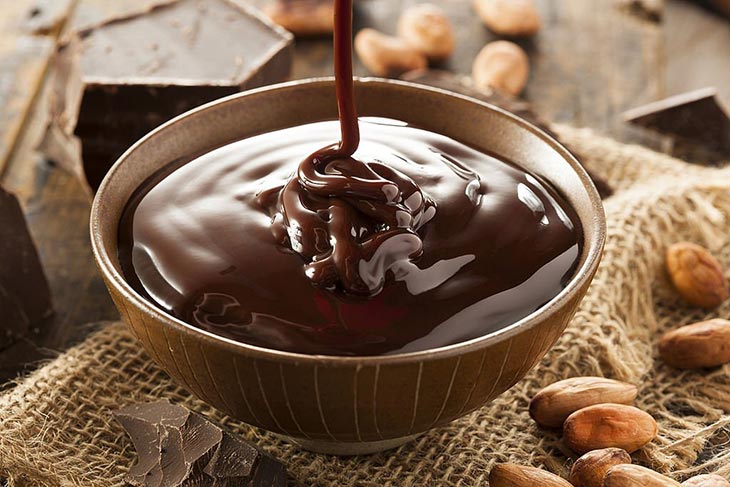 Do Chocolate Syrups Go Bad?
Yes. It depends on the storage space and storage condition. Yet, chocolate syrup's shelf life can be up to 3 years if not opened and stored properly.
Chocolate sauce produced at home has a substantially lower shelf life. Refrigerate homemade sauce two hours after making it and keep it in a firmly sealed container.
Does chocolate syrup go bad if not open? You may keep unopened products for a long time if stored correctly.
But, its quality will deteriorate with time and finally perish, particularly if pollutants get into the container.
There are a few rotting indicators to watch for:
The first is if it produces an unusual odor. If this occurs, you should discard the product.
A notable shift in texture is the second symptom. It might result in clumping or separation.
Any traces of mold suggest that the syrup is beyond its prime, and you should discard it.
How To Tell If Chocolate Syrup Goes Bad?
The time it takes to go bad varies based on the kind of chocolate sauce you use and how you store it.
It might be due to a flaw in the production process, or you just received a bad batch. If you're unsure if it is rotten or not, look for any of the following signs.
Checking the overall look is the best method to determine if it is still safe to ingest.
The expired product has a thick, black, and stiff consistency.
Mold formation is another symptom that has gone bad.
If you see these visual symptoms, throw out the moldy sauce right once to prevent health risks!
The smell is the next thing to check for when judging its quality.
When you first open a fresh bottle, it smells like nothing. When it becomes rotten, though, the aroma changes and becomes sour and off.
How Long Do Chocolate Syrups Last?
When opening a can of deep brown sauce, how long does it last? Storage circumstances primarily determine the exact answer.
To extend the shelf life of the opened product, keep it chilled and well sealed. The sauce kept refrigerated for a long time will maintain its finest quality for 12 to 18 months.
Beyond that time, the texture, color, or taste may vary. But it should still be safe to eat provided you have kept it refrigerated for at least 24 hours, the box is unbroken, and there are no symptoms of deterioration.
How to Extend the Shelf Life of Chocolate Syrup?
If you keep unopened bottles in a cold, dark environment, you should extend their long shelf life. Of course, once you open the syrup, you may cut its shelf life to around six months.
If the deadline comes quickly and you find you still have a lot of sauce to conserve, freezing is a viable solution.
To freeze it, pour it into a freezer-safe, airtight container and securely shut it. You may freeze this deep brown sauce for six months before losing its quality.
When store-bought product freezes, the moisture in the sauce condenses into ice crystals, changing the texture. To avoid this, warm it before using it again.
You may freeze homemade syrup or can it to increase its shelf life. When thawed, the frozen can crystallize and alter the texture, but you can avoid this by diluting it with a bit of liquid during heating.
When preserved and kept correctly, the homemade sauce has a shelf life of up to a year.
Because it does not need a pressure canner, it is a straightforward method to preserve leftovers while maintaining its quality.
The video below shows you how to create the homemade chocolate sauce in as little as 10 minutes. You won't feel bad about it since it's low fat.
How To Preserve Chocolate Syrup?
Like glucose syrup substitute, you need to keep the store-bought deep brown sauce at a dry place, where the temperature doesn't vary too much. The pantry is the most excellent choice, but a kitchen cupboard would do.
When you've opened the syrup bottle, keep it well packed in the fridge until you're ready to use it. It will keep its flavor for a long time this way.
Don't worry if you forgot to put it in the fridge after your previous dessert. Preservatives in store-bought products keep them shelf-stable and allow them to last a long time.
FAQs
Is it OK to use expired chocolate syrup?
Chocolate syrup typically has a best before date rather than an expiry date. Because of this difference, you may use it after the best before date has passed.
Can expired chocolate syrup make you sick?
It will still be safe to consume expired products if you have kept them refrigerated continuously with the original package and there are no signs of spoilage.
How do you keep the chocolate syrup from crystallizing?
Add an inverted sugar, such as honey or corn syrup solids substitutes to avoid crystallization.
Do you need to keep the syrup refrigerated?
It's important to refrigerate syrup after opening them.
Does Hershey's chocolate syrup go bad?
The life of the product depends on a variety of factors. Those things include the best before date, the ingredients, and how you store it.
How long does chocolate syrup last?
It can be up to 3 years if not opened and stored properly.
Conclusion
So, does chocolate syrup go bad? The answer is yes. There are two methods to determine if it has gone bad: appearance and smell.
If it produces an unusual odor or has a notable shift in texture, please consider leaving it. To prolong its life, you may need to:
Make sure you put your store-bought or homemade syrup in the fridge as soon as possible after opening it.
Please don't open it until you need it, and don't keep it out at room temperature once it's in there.
When spooning the sauce out of the container, make sure you use a clean spoon to avoid contaminating the syrup.
With the appropriate storage strategy, you can keep it for a long time!