Does White Bread Have Dairy? Surprising Facts
Shopping for groceries has never been easy for those with a food allergy and vegans.
Your undesired food components won't always be present in front of your face or written clearly on the package. It's sometimes hidden trickily for the sake of sales or a variety of reasons.
However, mistakenly buying those things might result in great damage to your health if you're allergic to them, or the slower the effect of your diet.
Today, we will discuss one of the most familiar things in your grocery shopping, bread, one of the most familiar breakfast options.
Does white bread have dairy? Is there any kind of bread that contains hidden food sourcing that can do harm to people with a milk allergy? Let's find out in the content below.
What Is Dairy In Food?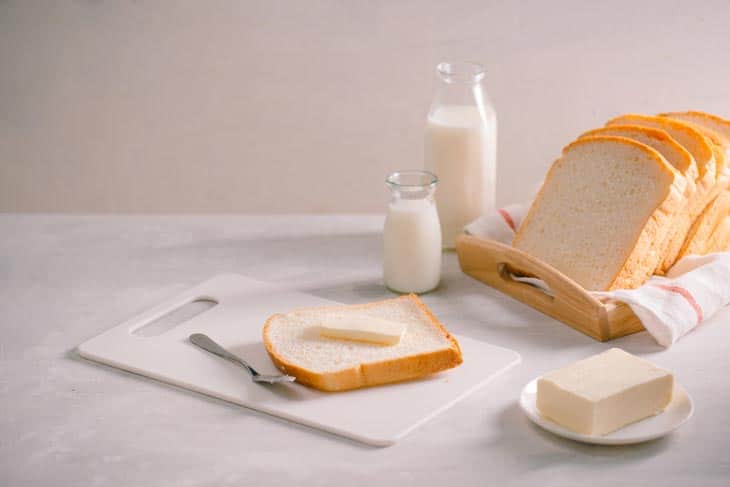 You might often catch sight of food that bears the product label of "dairy-free". What does it mean? Dairy products indicate they are made with cheese, yogurt, and (or) milk ingredients.
The sources of milk can vary differently due to the manufacturer or the food sourcing's characteristics. For example, goats, sheep, cows (most often), or other animals.
Thanks to the presence of this component, these foods contain many essential minerals and vitamins. It can aid you in developing your strong bones while keeping you healthy.
Because milk products vary depending on their fat content, so do these products. They come in skim, low fat, or full fat, with fat varying from 0.15%, 1.5%, to 3.5%, respectively.
The presence of these food sources may do harm to people seeking a dairy-free diet or allergy-free diet due to a health condition. If you're one of them, read on below to avoid making a big mistake!
Does White Bread Have Dairy?
Is white bread dairy free? Yes, it is. If you're suffering from a milk allergy, this one might be your go-to option every time you shop for this food.
It comes in those classic bread recipes that don't contain obvious forms of milk. Instead, it includes water, yeast, sugar, salt, and white flour.
Still, you might want to check the package or ask the baker because some bakeries like adding butter, skim milk, or whey powder to enhance the flavor or follow some special recipes.
Does Bread Contain Dairy?
It's a yes and a no at the same time. Some kinds have, while others don't. There are even some variants that people can add milk products or not depending on their preferences.
Does French Bread Have Dairy?
For anyone wondering, "is French bread dairy free?," the answer is yes. Its standard recipe only includes common salt, water, yeat, and wheat flour.
Sometimes, you might find soya, wheat malt, or broad bean flour in it.
What if you're baking your French loaf and want to add some buttery and creamery taste to it? Is it possible? Feel free to do so!
But a little warning is that this kind doesn't often come with milk derivatives, so chances are you're ruining the original flavor.
Does Whole Wheat Bread Have Dairy?
Is wheat bread dairy free? Sadly, we have to say no this time. Whole wheat loaf indeed includes nonfat milk powder, whey, and a form of casein. Sometimes, they add all three!
However, if you're lucky enough, you might find those in the frozen or refrigerated section that contains no milk or cheese at all!
Does Sourdough Bread Have Dairy?
This recipe comes with a simple ingredient list that includes water, salt, white flour, and sourdough starter. So, it is a big yes from us for the question: is sourdough bread dairy free?
Just to make sure, you can make this one at home to avoid milk or simply buy homemade products as they rarely come with that ingredient.
The good news is that if you want to enjoy a homemade dairyless sourdough, there are plenty of recipes out there.
But in case you're seeking sourdough versions with milk, try buying Pepperidge Farm and Brownberry's products because they contain whey!
Does Italian Bread Have Dairy?
Bread recipes of this one look quite similar to that of the French sibling. So, the answer is the same: no, it doesn't!
Does Pita Bread Have Dairy?
Is there dairy in pita bread? No, it isn't. We consider this one the simplest on this list, with a short ingredient list of just yeast, flour, salt, and water. That's also why it is super vegan-friendly.
Yet, there are also non-vegan pita variants that contain honey, eggs, or milk for extra flavor, be careful!
Or you can change these ingredients into some friendly alternatives, such as mashed bananas for egg substitutes.
Does Rye Bread Have Dairy?
Is rye bread dairy free? Since it is a vegan diet food and has nothing to do with animal-derived components, it contains no dairies.
Though, as we have repeated many times, there are variations where people use additional condiments to enhance the flavor, you might not see it so often in Rye's many variants.
Why? Because it follows strict standards for vegans. Hence, it is less of a headache.
Does Wonder Bread Have Dairy?
Oftentimes, the wonder version comes with the food label that writes "contains milk". Still, the classic type rarely has animal ingredients, eggs, or milk.
Bread Types That Contain Hidden Dairy Products
The name of this section must have creeped you out. Dive deep into it, or you'll regret it!
Prepared Breadcrumbs
Aren't breadcrumbs only ground-up dried crumbs? Why is it appearing on this list? Read again! We said "prepared breadcrumbs" out of all breadcrumb varieties.
They often include some form of dairy in the manufacturing process, such as whey, dry milk powder, a form of casein, butter fat, etc.
If you want to avoid it, try using panko breadcrumbs instead since it is low in sodium and contains no milk at all. Or else, you can make your own by crumbling your dairyless days-old leftovers.
Quick Bread
This section involves pumpkin, corn, and banana variants always made with milk and butter.
Though some varieties might not have actual butter, they use nonfat milk powder and whey protein isolates as solutions that alternative to butter.
Still, there are cases where the food is truly good vegan options. It is when the food label says so!
Yeast Bread
The yeast type, such as sourdough and the French variant, doesn't have any dairies. Nevertheless, you may often catch bakers brushing butter on the crusts or using buttered pans in the baking process.
Just ask them if they did.
Besides, remember that croissants, cinnamon versions, Brioche, biscuits, and Babka always have dairies, unless they are homemade where you can adjust the recipes.
Crackers
If you're buying crackers from the store, its ingredient list almost always appears with the nonfat milk powder, butterfat, or butter.
Don't be so disappointed! There are organic and natural manufacturers producing milk-free diet versions of them. You can find crispbread crackers as the best alternative, or make it at home on your own!
How To Make White Bread
Now that you have grasped all the important information, let's try to make white bread with milk and breads without milk on your own and adjust to your preferences.
Without Dairy
Ingredients
360 grams of flour
1 tsp of kosher salt
1 tbsp of vegetable oil
1 and ½ tbsp of granulated sugar
2 and ½ tsp of active dry yeast
1 and ¼ cups of water at room temperature
Instructions
Phase 1: Preparing the dough
Mix yeast and water in an average bowl.
Add salt, oil, and sugar and stir.
Add flour (240 grams) into that bowl, then mix well.
Add your remaining flour slowly. Avoid adding too much. Ensure that your dough follows the bowl's spoon.
Knead that dough on a floured surface for 4 mins (add extra flour if needed) until your dough is smooth and soft when you touch it.
Place your dough inside of an average bowl that you have greased beforehand. Turn it over, so its top is also greased.
Use a clean cloth to cover and leave it in a draft-free and warm place to rise in one hour until its size is doubled.
Phase 2: Braid and bake your dough
Punch your dough down.
Turn it out to a floured board, then start kneading in 4 mins to let the bubbles out of it.
Get 3 equal pieces out of it.
Style and mold them into your desired shapes.
Place them above a baking sheet (greased).
Cover them and let them rise for 45 mins. In the meantime, preheat your oven so it reaches 350℉.
Bake them for 35 – 40 mins until they are all golden brown.
Remove from the oven and let them cool.
With Dairy
Ingredients
Sugar
Salt
Yeast
Flour: 5 to 6 cups
Yeast
Milk
Melted cooled butter or vegetable oil (as a butter substitute)
Instructions
Add ¼ cup of 105 – 110℉ water to a bowl. Stir with some yeast on top and let that stand for 5 mins.
Warm the milk up to 105 – 110℉.
Once the yeast is foamy enough, add milk, butter (or oil), sugar, and salt, then mix well.
Put in four cups of flour while continuing mixing. Just add one at a time. You will see the mixture become dough-like, loose, and moist.
Pour the fifth flour cup slowly while still mixing. If you're doing it with your spoon and it becomes harder to stir, take it out on a floured surface to knead it well.
When it comes together well and starts cleaning your bowl, toss a small amount of flour until it's moist, smooth enough, and is not sticky.
Knead your dough on a floured surface in one min, and shape it into a round ball.
Drop the dough into a greased bowl, and turn it, so the top is also greased.
Cover with some plastic wrap, then let it stand about 60 to 90 mins at room temperature.
Once it is doubled in size, bring it back to your floured surface, deflate, and divide it into two equal pieces.
Again, style and mold them into your desired shapes. Also, prepare your greased baking sheet or loaf pans (depending on your shapes).
Let them rise till they double in size (about 30 to 60 mins) while preheating the oven to 375℉.
Place them in the oven and wait from 25 to 30 mins until the loaf reaches a minimum internal temperature of 190℉.
Take them out from the oven and let them cool down.
Conclusion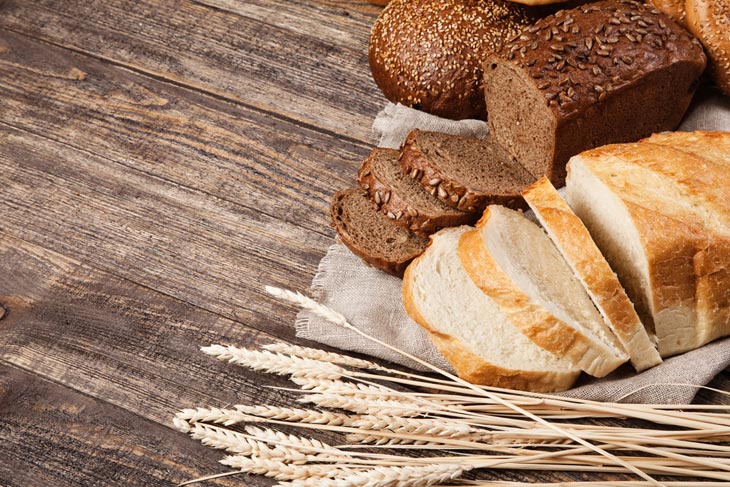 Not only did our article solve the problem of "does white bread have dairy?" but we also covered all the related topics.
Those are necessary knowledge to keep you healthy among many conflicting and varying information everywhere.
Be mindful of your balanced diet, and hope you're staying safe!