What Is The Best Edam Cheese Substitute? 7 Delectable Options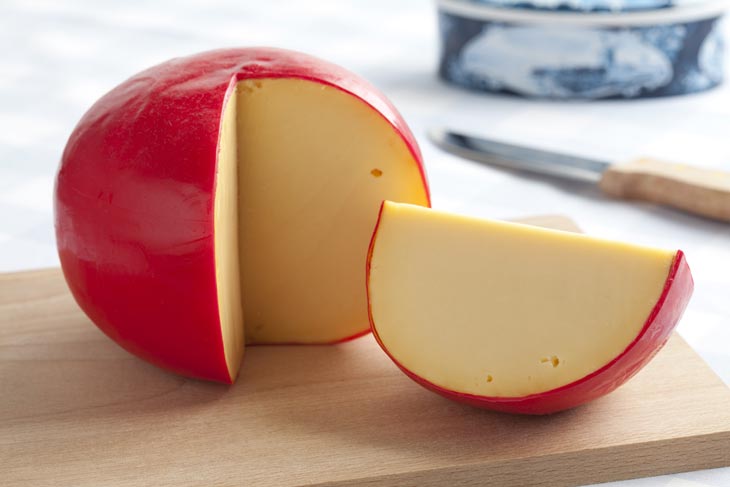 Edam cheeses, celebrated for their creamy and delightful textures, serve as a perfect complement to any protein-abundant delicacy.
You might even enjoy them as a standalone dish with the right sauces and spices!
Unfortunately, Edam foods are not a popular variety in certain regions; hence, the best Edam cheese substitute might be a preferable solution.
Our article will recommend excellent alternatives for this delectable cuisine. Check them out!
What Is Edam Cheese?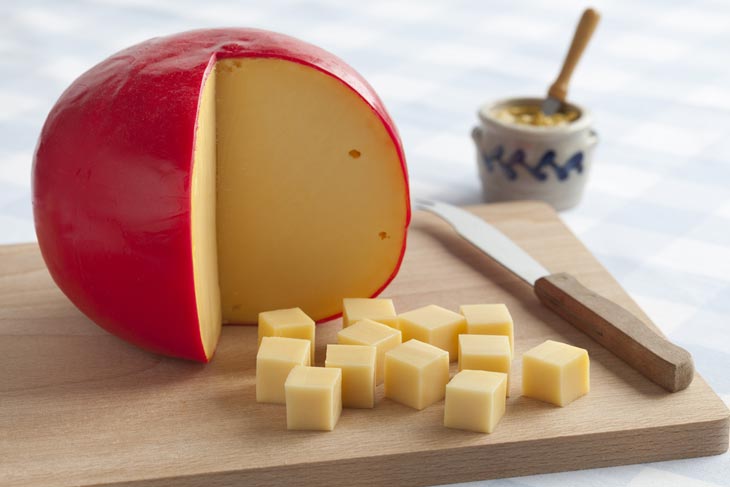 It is a type of semi-hard cheese rooted in the Netherlands' northern regions, where milk from cows lends it the trademark savory flavor.
What does Edam cheese taste like exactly? This cuisine delivers a bouncy quality during its infancy – but turns drier and more crumbly as it ages.
Mature versions enjoy a notable surge in fragrances, while fresher variants are flooded with a creamy texture and softer undertones once consumed.
When paired with luscious fruits (such as apricots, peaches, and plums), young Edams relish the vivid contrast against fresh and vibrant overtones often spotted in other cheeses.
Furthermore, serving it with aged varieties of sour apples or pears will enhance the overall flavor of an appetizer or dessert.
Its base is built upon a seamless fusion of buttery and demented tones, with notes of salt grains surfacing in subtle sparks.
The rest of the manufacturing process emphasizes basic but rich ingredients to yield a powerful notion of calming tastes and sensations.
Each flavor is allowed to settle naturally – without artificial seasoning or acceleration. No chemicals or pesticides are present, either, which renders these cheeses gluten-free.
Nevertheless, vegetarians should be aware of the fermentation process origin, especially if the Edams are manufactured with animal rennet.
Always take special care to confirm the product label.
What Is The Best Edam Cheese Substitute?
Gouda, Cheddar, Gruyere, Fontina, Emmental, and Appenzeller all deliver the best Edam cheese alternatives. Our next sections will dive further into each substitute!
1. Gouda Cheese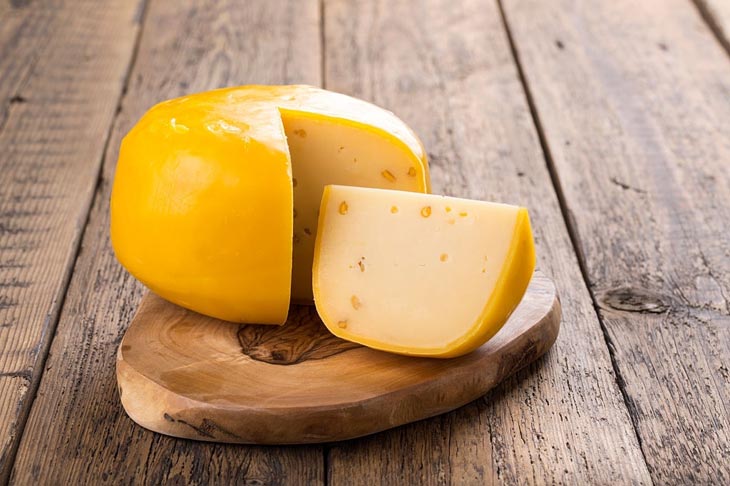 Gouda cheese is an exceptional cow-milk variant from Dutch regions.
Comparable to Edam cheeses, Gouda enjoys a golden yellow color and semi-firm texture, coupled with a mild taste that increases with age. Its flavor is somewhat sweet, nutty, and mildly salty.
Does that mean Goudas and Edams are identical? Of course not! Gouda is prepared from whole pints, hence delivering a richer and smoother consistency.
On the other hand, Edam's texture thrives better in solidity, enhanced by a nutty flavor due to its part-skim milk production.
Nevertheless, you might take this discrepancy with a pinch of salt.
Though both are different in certain facets, most seasoned cooks treat them similarly. Either variant can serve well with wine or beer.
And thanks to its intense odor, a cheese like Gouda will be even more well-appreciated in pasta filata and French sandwich baked recipes.
You may also pair this cuisine with crackers to serve on a charcuterie board.
2. Cheddar Cheese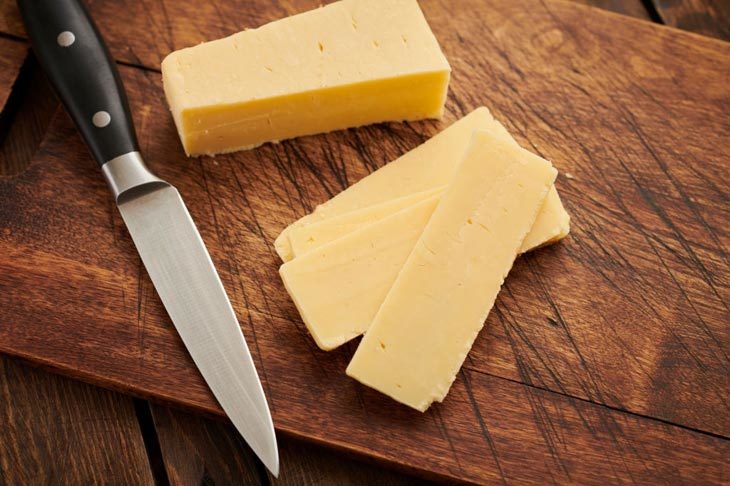 Cheddar is a firm, astringent, and all-natural curd from England, lauded as an unsung hero for your culinary enjoyment.
Due to the inclusion of annatto substances (a reddish-colored seasoning with spicy nutmeg flavor) in some recipes, Cheddar yields a dark orange color that some of you might not like.
But in compensation, annatto helps impart a taste 99% similar to Edams, which is why it is an excellent substitute!
Comparable to Edams, Cheddars are fairly solid, dense, and crumbly, with a biting and salty finish that only deepens over time.
Any Cheddar variety can work as a perfect substitute for Edam cheese. Still, our ultimate verdict leans into Mild White Cheddar, whose melting is more consistent and produces a much better milky fragrance.
It will go in a wonderful match with macaroni and a classic bowl of nachos. You may also enjoy Mild White Cheddar with grilled sandwiches, pizzas, caramelized butter, and other cheesy foods.
Cheese-flavored crackers also deliver an amazing snack alternative for your kids!
3. Gruyere Cheese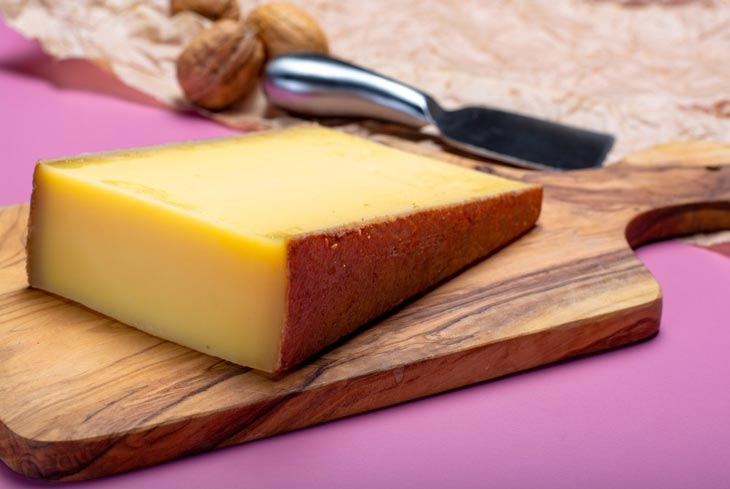 Gruyere is a Swiss grainy curd named after the Friesian municipality in Gruyeres. It often yields a comparable Edam cheese taste in hot dishes (such as soufflés).
Aside from the soufflés, you might also employ Gruyere in Croissant monsieur (a French version of panini), baked potatoes with mozzarella toppings, and pasta bakes.
But unlike soufflés, these cuisines will require extra cooking time for an identical Edam odor.
In essence, fresh Gruyere is a superb combination of cream, butter, and fruity flavors; as it ages, the aroma turns notably more earthy, with softer nuances and a salty aftertaste.
Still, a crucial attribute that puts Gruyere a few levels above Edam lies in the mild flavor, which does not overshadow other components of the dish.
It also accommodates more wine classes than Edam, which we are certain many wine enthusiasts will appreciate!
4. Fontina Cheese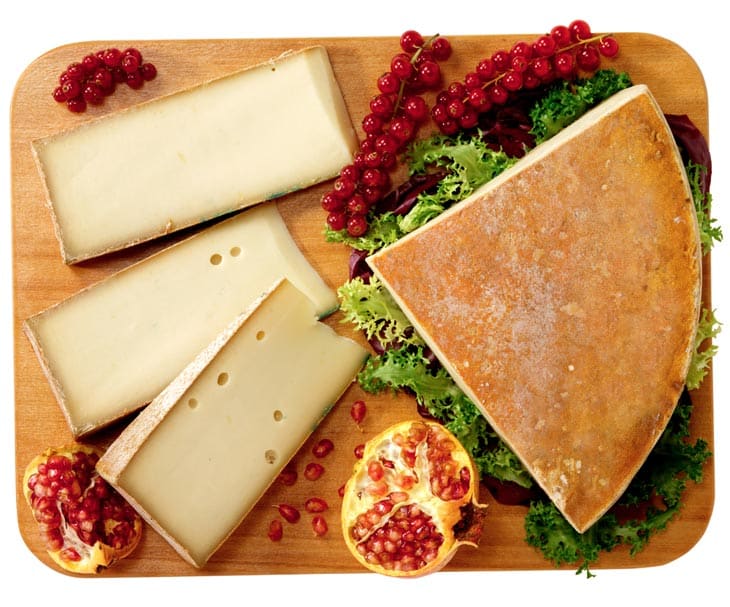 Fontina is a semi soft curd that exudes a buttery and sweet taste. Judging by its "semisoft" moniker, you can already guess its differences compared to Edam's semi-hard texture properties.
More seasoning sauces and simmering time are required as a result – for the soft Fontina to deliver the same solid consistency as Edam.
Nevertheless, Fontina also offers other competitive advantages that any chef should consider!
While its fresh variant boasts an earthy-woody fungus savor, the mature version is firmer, enhanced by tangy odors with a fruity note of gentleness that grows more intense with age.
Fontina is an enticing complement dish to red wines and even Edam itself. It also thrives as a dessert delicacy to consume with fruits, like apples and pears.
5. Emmental Cheese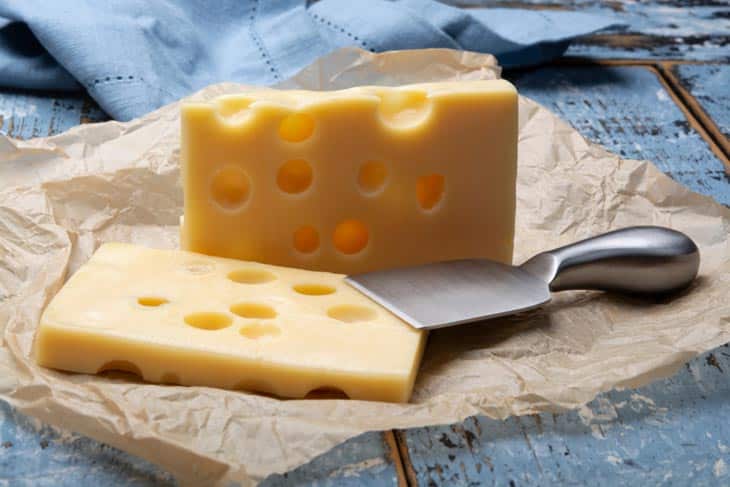 Emmental cheese is another well-received option – even more so than Gruyere for certain regions!
It is a type of yellow curd with relatively high-fat content, originating around Emmental areas in Switzerland.
A notable difference between Edam and Emmental lies in the latter's unique appearance, partly due to the fermentation process. As a result, tiny holes are ingrained all over its surface, resulting in a wilder contour.
The Emmental variants are also known for their grassy and earthy fragrances. Its yellow cream offers nutty and buttery sensations, with a trace of acidity lingering (5.2-5.3 pH according to Science Direct).
Furthermore, top-notch melting quality serves as a distinctive feature for Emmental, making it an ideal addition for your dipping party!
Most people love to enjoy Emmental with fresh fruits and a glass of clean white wine.
Other recipes that work well with it entail everyday soups (such as French onion soup), Charcuterie plates, and Fondue (served on a compact and portable stove).
6. Appenzeller Cheese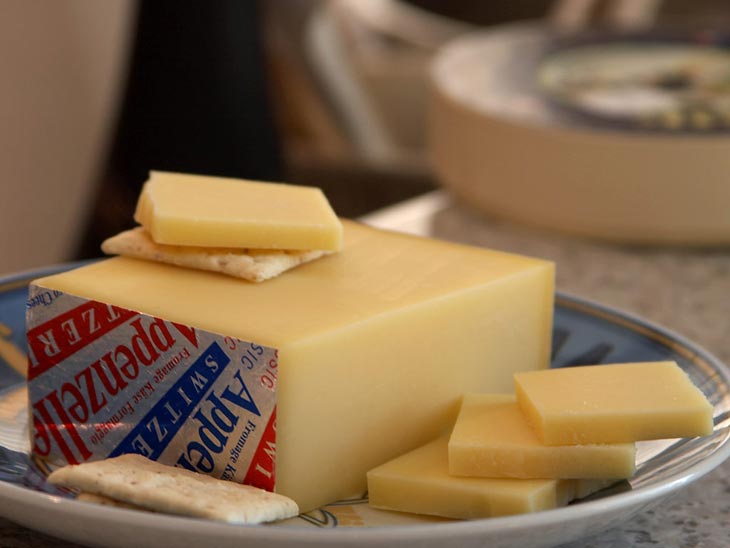 Appenzeller is another Swiss variant stemming from natural and organic cow's milk. It boasts a delectable and crunchy aroma that only deepens in textures over time.
Like Edam, the Appenzeller semi-hard contour is solid and consistent, though the overall flavor tends to be much fainter.
People with spicy tastes should consider adding more sauces and red powders to their dishes.
Three types of Appenzeller are available, with varied flavor levels and hence, suited to different delicacies.
"Classic" (with the faintest fragrance) thrives best in instant foods such as barbecued meats or corn on the cob.
"Surchoix" works wonders on soups, salads, and even soufflés, while "Extra" will suit pasta and sandwiches.
9. Havarti Cheese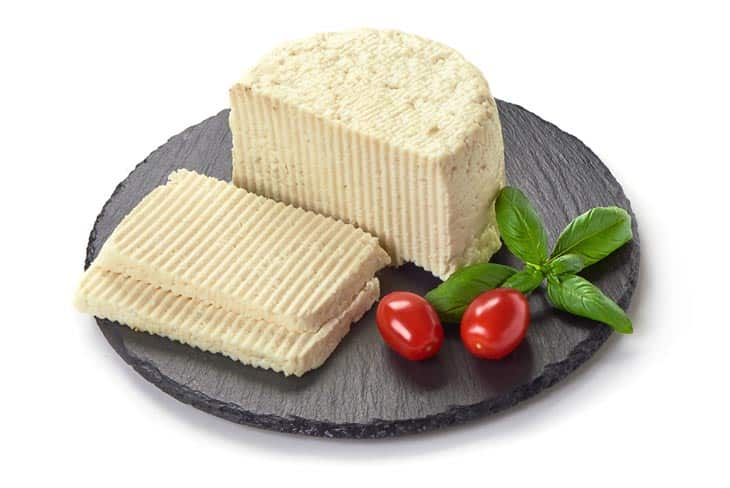 Havarti and Edam bear a lot of resemblances. Both are founded on skim milk, have semi-firm textures, and yield a strong aroma. The sole contrast lies in their melting points.
Most Havarti variants are inferior to Edams in this regard, a crucial consideration to keep in mind while preparing any dishes.
For instance, should your meal require a funkier taste, feel free to add more Havarti than what the recipe instructs.
The reverse also works the same: reduce the amount of input if you wish for a less cheesy fragrance. It's all up to you!
Havarti often pairs well with fruits, red wine, and crisp honey delicacies – a hidden gem for honey lovers!
Conclusion
This article has introduced the best Edam cheese substitute for varied tastes and preferences.
Though there are some discrepancies in contours and fragrances, they barely impact the overall quality of your meal.
Keep in mind our extra tips to ensure these alternatives garner the same flavor, and feel free to reach us if you still have any questions!