Are you searching for some tasty alternatives to edamame? Maybe you're looking for a substitute because you can't find edamame at your local grocery store, or perhaps you're just in the mood to try something new.
Whatever your reason may be, there are plenty of delicious options out there that can serve as a great substitute for edamame. From garbanzo beans to snap peas, let's explore some of the best edamame substitutes together!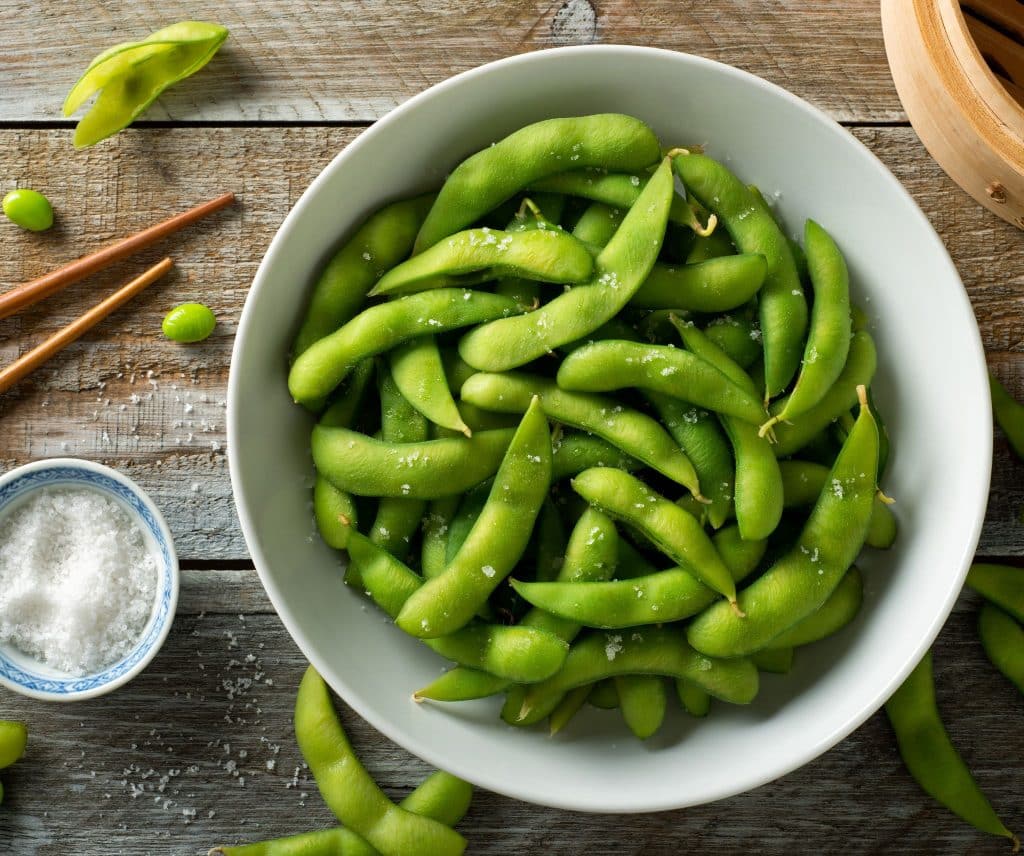 What Kind Of Bean Is Edamame?
The name "Edamame" is a Japanese name for premature soybeans, which means stem beans.
Edamame peas have a small size and round shape of soybeans. However, instead of having a yellow color of ripe soybean, fresh Edamame has a bright-green skin wrapped in its pod.
In terms of flavor, there is also a difference between soybean and Edamame.
Edamame tends to have a sweet and nutty taste due to the high sucrose and amino acid concentration when they are maturing.
Edamame is usually found in frozen in many stores. Frozen edamame is a great addition to recipes and can be boiled, pan-fried, and steamed.
You can sprinkle some salt and serve them in salads, stews, and noodles, or eat them plain with salt as well.
6 Vegetables Used As An Edamame Substitute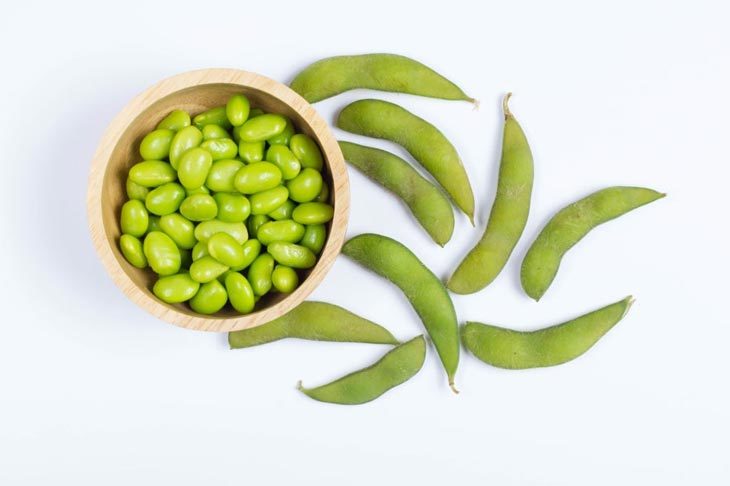 Let's find out what Edamame substitute you can find for your simple recipe with Edamame:
1. Mukimames
At the top of the list, Mukimames is a strange name, but it has the same root as Edamame.
Mukimames is another name for Edamame which are premature soybeans stripped from their pods and sold in small bean batches. When comparing Mukimame vs Edamame, you'll find they have a lot in common.
The Mukimames have a bright green color and small shape of immature soybeans. They have a firm texture with a fresh and nutty flavor.
You can easily find them in the frozen section in plastic freezer bags. Unlike Edamame, they are good to boil on the stovetop or steam in the bag right away without many process steps.
2. Fava Beans
One of the best substitute beans for Edamame is a long-lasting bean type called Fava bean or Broad beans.
Dating back to 6,000 B.C.E., fava beans have their mark in many parts of the world: Europe, Africa, America, and the Middle Eastern.
As popular as they are, when comparing fava beans vs Edamame, these great beans also have a similar deep flavor and texture.
Like Edamame, fava beans are grown in green pods. Their shape is slightly oval, with light green skin. When being cooked, fresh fava beans have a mild and creamy texture.
Their flavor is a combination of slight bitterness, sweetness, nuttiness, and a slight cheesy undertone.
You can find two versions of fava beans: fresh and dried fava beans. The dried ones have less flavor with a grainy texture.
You can use fava beans in many Edamame recipes like stews, soups, and salads.
3. Garbanzo Beans
Garbanzo bean or chickpea is another great substitute for Edamame because of their texture. The flavor of Garbanzo is quite versatile, which can be used to substitute ranch style beans as well.
However, Garbanzo beans can have a beige color that is different from Edamame green skin, so you might consider putting them in salads.
For soups and stews, Garbanzo is a great source of protein and fiber. These beans can add more flavor layers to your dish with their earthy, nutty, and dynamic flavor.
You will find it creamy and light grainy when taking a bite that fills your mouth like Edamame.
4. Sugar Snap Peas
This type of pea with a funky name is a great Edamame alternative because of its similar look. But are snap peas the same as Edamame? Actually, they are two different beans. Snap peas are a combination of garden peas and snow peas.
When comparing sugar snap peas vs Edamame, snap peas are great to substitute Edamame in savory dishes because of the similarity in flavor.
These snap peas are sold in green pods with a round and thick pod wall. Like Edamame, sugar snap peas are green and small with a distinctive sweet flavor.
Comparing snap peas vs Edamame when cooked, these sweet peas can be juicier and crunchier, giving a "snap" sound when you eat them. You can use them as a snack like Edamame or cook them in stews and soups.
5. Lima Bean
Is Edamame the same as lima beans in terms of flavor and texture?
If you love the creamy and soft texture of roasted Edamame, you should take a look at Lima beans.
Also known as buttery beans, this bean type, containing a rich protein and fiber content, has a bigger size than a small soybean. They can be green at a premature stage, then white at their maturity.
Lima beans have a regal and earthy taste that you might not find in many bean types.
When crushing it between your teeth, the buttery and velvety consistency fills in your mouth that makes them a potential Edamame replacement.
Because of its texture, you can use them in a meat-free diet, soups, and stews with other vegetables.
6. Green beans
Lastly, you can use green beans for your roasted Edamame dishes, which are easy to find in most stores.
They are crispy and starchy, which is preferable for steaming and sautéing in recipes.
FAQs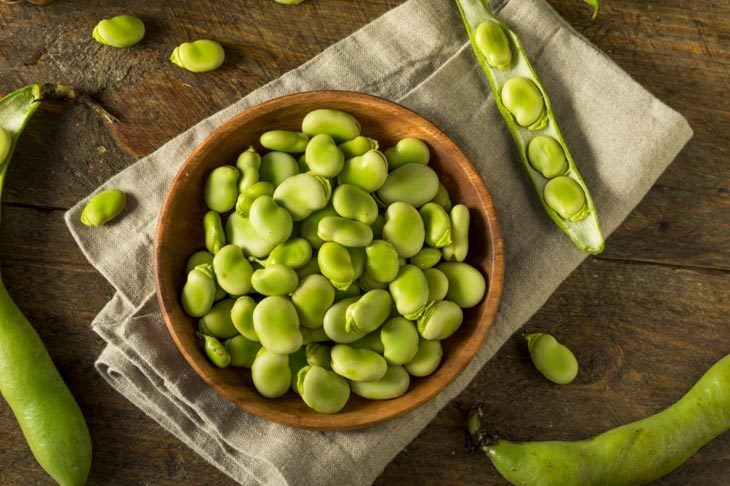 1. Snow Peas Vs Edamame: Are They The Same?
Snow peas and soybeans are legumes with edible seeds inside the pods. This fact makes them hard to distinguish for some people.
However, these two legumes come from different plants and habitats. The hard peas also have a crispier texture than Edamame.
2. Can You Use Edamame As A Broad Bean Substitute?
As we have known, Broad beans or Garbanzo beans have a similar distinct flavor to Edamame.
Therefore, there is no reason why you can't use Edamame to substitute for Broad beans. Edamame is great for many soups and stews recipes asking for Broad beans.