How To Bring Out The Savory Egg Free Lemon Bars With Ease?
The holiday is coming, and you want to blow your friend's mind with the eye-catching and flavorsome lemons bars. However, some of your friends can't eat eggs since they are vegans or have egg allergies. Thus, you can't use egg yolks in your recipes.
Are there any vegan versions of these lemon desserts that you can follow and bring out a similar taste to the classic ones? Fortunately, yes. There are some egg free lemon bars recipes that you can try at home and bring out mouth-watering dessert with ease.
Tangy, sweet, and creamy, all rolled into these incredibly delicious lemons bars! And the best part is that they are all egg-free, so they are suitable for vegans too.
Are you excited to wow your friends with this yummy dessert? Here, let us walk you through some simple-to-follow vegan lemon bars recipes.
The Vegan Version Of Classic Egg Free Lemon Bars Recipe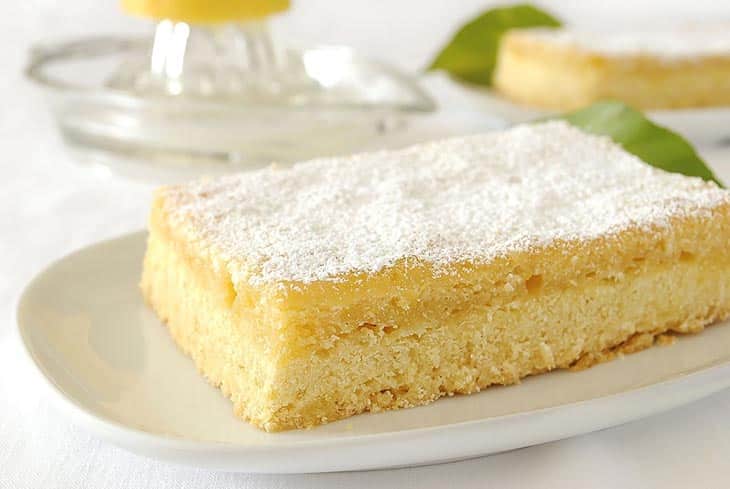 First, let's start with the vegan version of the traditional lemon bar. This recipe calls for only some easy-to-find ingredients and a little bit of effort to bring out the flavorsome classic lemon bars without eggs.
Ingredients (for 16 servings)
Shortbread crust
The lemon filling
1 cup of fresh lemon juice (about 4 lemons)
2 tsp of lemon zest (optional)
1 and ¼ cups of full-fat coconut milk
1 and ½ cups of granulated sugar
6 tbsp of cornstarch
½ cup of powdered sugar for dusting
Instructions
Step 1: Preheat the oven and prepare the pan for baking.
First, preheat the oven to 350°F (around 177°C) and line an 8×8 inch pan with parchment paper, leaving an overhang on the sides so that later you can lift the lemon batch out more quickly.
Step 2: Make the shortbread crust.
Mix the melted butter, granulated sugar, and salt in a medium bowl. Then, slowly add the flour while continuously stirring the mixture to combine.
Once the mixture becomes thick, press it firmly into the prepared baking pan. Make sure the layer of the crust is even and smooth. Bake the crust for 16-18 minutes at 350°F until its edges become slightly brown. Then, remove it from the oven and set it aside.
Step 3: Make the lemon filling.
Combine the lemon juice, sugar, coconut milk cornstarch. If you prefer a tangier filling, you can add a little lemon zest. Whisk the mixture well until all the ingredients combine perfectly. Then, heat and continuously stir the mixture over medium heat until it thickens.
Step 4: Complete the egg free lemon bars.
Gently pour the filling over the warm crust and bake for 15 minutes. Then, remove it from the oven, let it cool at room temperature for 30 minutes, and store it in the refrigerator for 1-2 hours until it is pretty chilled.
After that, generously dust the batch with powdered sugar and cut it into vegan lemon squares before serving.
The Gluten-free And Eggless Lemon Bars Recipe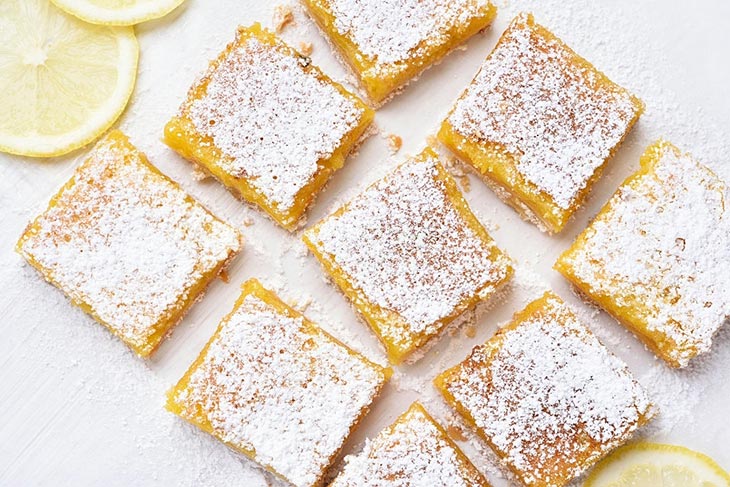 Let's try this savory gluten-free and egg-free lemon bar recipe if you are looking for a healthier version of this mouth-watering dessert.
Ingredients (for 6 servings)
For the crust
1 cup of gluten-free oats or gluten-free flour
1 cup of shredded unsweetened coconut
1 tsp of vanilla extract
½ cup of pitted dates
3 tbsp of vegan milk (such as coconut milk or soya milk)
¼ tsp of salt
A pinch of turmeric powder for coloring
For the lemon filling
350g of drained silken tofu
2 teaspoon of lemon zest (suppose you don't have lemon zest, you can substitute it with orange zest)
½ cup of sugar
3 tbsp of coconut oil
2 tbsp of cornstarch
1 tsp of vanilla extract
2 tbsp of powdered sugar for dusting
Pinch of yellow natural food color powder (optional)
Instructions
Step 1: Preheat the oven to 375°F (around 190°C).
Step 2: Use a blender or food processor to process the mixture of the shredded unsweetened coconut, oats, and salt.
Step 3: Add the pitted dates, vanilla extract, and milk into the mixture. Blend again until the combination becomes pretty crumbly.
Step 4: Spread the crust into the baking pan lined with parchment paper.
A note is to leave the paper overhang on the pan's sides as this helps to remove the batch out after baking more easily.
Step 5: Combine all the ingredients for the lemon filling in a blender or food processor. Then, blend them until you have a smooth and creamy mixture.
Step 6: Use a spatula to spread the filling on the top of the crust evenly.
Step 7: Bake the batch in the oven for 35-40 minutes and cool it for a couple of hours.
The tip to check the batch is to pay close attention to its edges. If they become slightly dry and golden brown, it might be time to take the set out.
Step 8: Store the batch in the refrigerator for a few hours so the soft mixture turns into a thick and chill one.
Step 9: Cut the batch into small squares, then garnish them with some thin lemon slices and powdered sugar.
The Creamy Dairy-Free Vegan Egg-Free Lemon Bars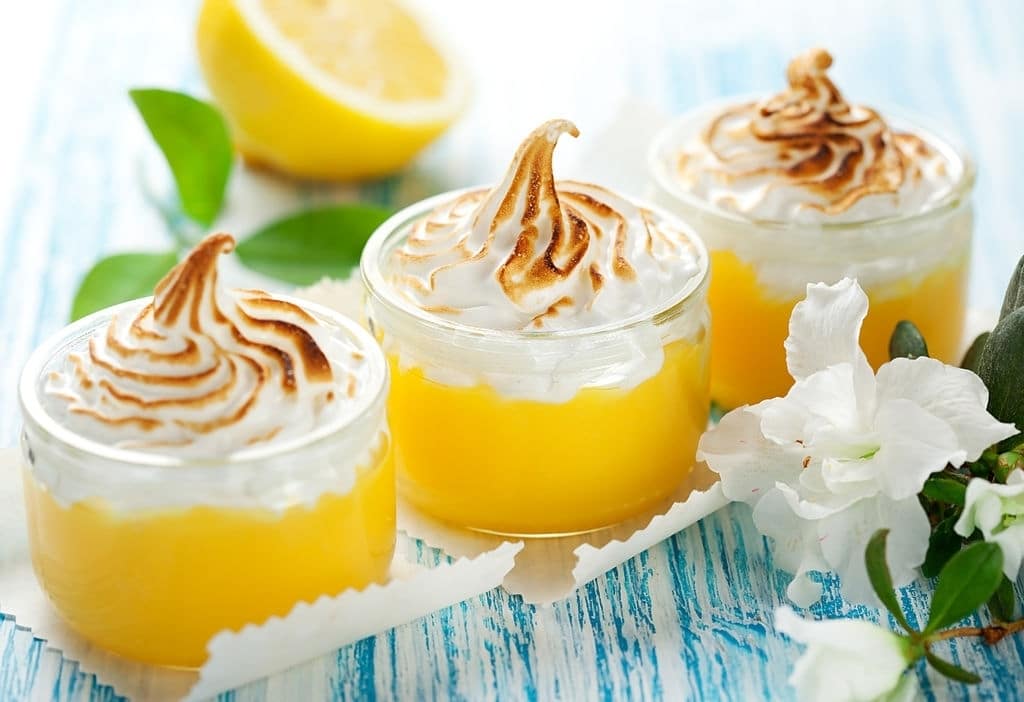 Do you want to bring the fresh air to the classic lemon bars without eggs and milk? If so, why don't you try the rich, creamy, and dairy-free version of these delicious bars? We ensure that you'll fall in love with them at the first bite.
Ingredients (for 9 servings)
For the crust
1 cup of gluten-free oats
1 cup of almonds
2 tbsp of coconut sugar
1 tbsp maple syrup (or honey)
¼ tsp of salt
4-5 tbsp melted vegetable oil (we recommend using the coconut oil)
For the lemon filling
1 cup of raw cashews
1 cup of coconut cream
2 tbsp cornstarch (or arrowroot)
½ cup lemon juice
Zest of one lemon
¼ cup of maple syrup (or honey)
2 tbsp of powdered sugar for dusting
1 pinch of salt
Instructions
Step 1: Soak the cashews.
Pour raw cashews to a medium bowl covered with boiling water. Let them rest for an hour without covering the bowl. Then, remove the water thoroughly.
Step 2: Prepare the oven and the baking pan.
Increase the heat to 350°F (around 177°C) and preheat the oven. Then, use the parchment paper to cover the baking pan. A note to remember is to hang the paper over the pan's sides as this helps to simplify the batch removal in the later step.
First, combine oats, almonds, coconut sugar, and salt in a blender or food processor, and mix them until you have a fine base.
Then, transfer the mixture to a medium bowl. Mix it with melted coconut oil and maple syrup. It would be best if you start with only a tiny amount of coconut oil, then add more if you feel the base is pretty dry.
Stir the mixture until it forms a slack dough. You can test the mixture's texture by placing it between two fingers and squeezing your fingers together.
If it sticks together when pressed, then you can move to the next step. If not, combine it with a few more drops of melted coconut oil.
Evenly spread the mixture into the prepared baking pan. Then place parchment paper on top and press the mixture down firmly using a flat-bottomed object.
After that, bake it for around 15 minutes at 350°F, then increase the temperature to 375°F and bake for 5-9 minutes. After that, take the crust out if you notice its edges become warm brown.
Step 5: Make the creamy lemon filling.
Mix the prepared cashews with lemon juice, lemon zest, coconut cream, salt, maple syrup, and cornstarch in a blender or food processor. Use the high-speed setting to make the mixture smooth and creamy quickly.
In this step, you can adjust the flavor depending on your preference. For instance, you can add more lemon juices if you want these lemon bars featuring a more intense lemon flavor.
Step 6: Complete the baking process.
Spread the lemon filling onto the baked crust in the step above (burst any air bubbles that may appear on the surface. Bake the batch at 350°F for 20-30 minutes until the center is firm and the top layer becomes golden brown.
Let the batch rest for at least 10 minutes before transferring the whole batch to the refrigerator and letting it cool completely for around 4 hours.
Step 7: Garnish the dairy free lemon bars
Once the batch becomes chilled, you can use a sharp knife to cut them into vegan lemon squares and garnish them with lemon slices and powdered sugar.
Frequently Asked Questions
Which Is The Best Way To Store These Vegan Lemon Bars?
The lemon filling is pretty similar to a custard. Thus, it would be best to cover the lemon bars with plastic wrap and store them in the refrigerator.
If you do not prefer eating them cold, you can bring them out of the refrigerator 20-30 minutes before serving. Covering and storing these tasty bars can help to retain their flavorsome taste for up to a week.
How Long Will The Leftovers Last If You Store Them In The Freezer?
Can you freeze the leftover lemon bars to keep them longer? Well, yes, of course.
After baking these tasty bars, let them cool completely and cover the whole batch whole with either plastic wrap or aluminum foil, then store them in the freezer. In this way, you can keep them for up to three months.
When you want to enjoy them, you only need to transfer them from the freezer to the refrigerator, let them thaw overnight, then add a little fresh powdered sugar before serving.
Conclusion
Here, you know some easy-to-follow recipes to create the tangy, sweet, and yummy eggless lemon bars. Which vegan lemon bars recipe do you love the most?
We wish you a wonderful cooking time and hope that you share with us some photos of your tasty egg-free lemon bars once you've completed them.