Eggless and Gluten-Free Pumpkin Cheesecake Recipe
Do you know what is the best sweet treat to have in fall? Definitely dishes with the star of autumn, pumpkin! But you may be worried if your choice is limited because you cannot digest dairy, or you are dieting.
Well, knowing your concerns, we will present a holiday dessert that will make your day much brighter without worrying about its milk content. Instructions on how to make an eggless, easy pumpkin cheesecake is below!
Egg Free Pumpkin Cheesecake Recipe
Vegan pumpkin cheesecake is one of the best choices when it comes to selecting a flavor for cheesecake. The perfect combination between pumpkin and cheese makes it flavor irresistible to anyone who has it on the plate.
One special thing about this recipe is that it can totally be made without using eggs, making it edible for people with lactose issues or people who have a diet. This recipe is so easy to make, and you can enjoy this dish with your family and friends in the holidays in a blink of an eye.
Here are the ingredients and instructions on how you will need to make egg free pumpkin cheesecake recipe.
Ingredients
Crust
Graham cracker or any type of cracker you have preferred to use before (if this is the first time you make cheesecake, Graham cracker will be a safe and wise choice for you)
Unsalted butter
Sugar
Filling
2 teaspoons of cornstarch
2 teaspoons of water
2 pkg 8oz. Packages of Cream cheese (if you want to add extra saltiness, consider using goat cheese in the form of cream)
One-third teaspoon of Brown sugar and granulated sugar
1 1/2 cups of Pumpkin purée (remember to differentiate pumpkin purée and pumpkin pie mix carefully, since it's easy to confuse between these two)
Three teaspoons of condensed milk
Half teaspoon of pumpkin pie spice
One teaspoon of pure vanilla extract
Instructions
Step 1: Baking cheesecake requires a heated oven on the first hand. If you intend to make your own cheesecake crust, you should complete it first before preheating the oven. Otherwise, you can start making the filling as you heat the oven beforehand.
Step 2: For the first step of making the cream cheese filling, you must put the cream cheese and sugar into a mixing bowl and mix it all together until it is smooth and creamy. To save time and energy beating up the substance, you can use an electric mixer. Simply plug it in, set a medium-high temperature setting, and let it do the mixing job and until you find the substance beaten is creamy and flowy, stop the mixer.
Step 3: For the remaining ingredients that make up the pumpkin spice, such as pumpkin puree, pumpkin pie spice, and basic ingredients like milk, vanilla, cinnamon, cornstarch, you can put them all in the mixed ​creamy cheese and use a mixer to beat them all one more time. This time leave the mixer run for 2-3 minutes or until you see all the ingredients have blended evenly.
Step 4: To spread cheesecake evenly on the crust, use a spatula, and gently pour the filling down the crust. Remember to even out the top as well to create a beautiful pumpkin cream cheese surface.
Step 5: Put the cake in the oven and set the temperature to 325F. Let it cook for roughly one hour.
Step 6: Once it is done cooking, remove the cake from the oven and set it aside for cooling for another one hour.
Step 7: Use a plastic wrap to cover the cake and put it in the refrigerator to freeze and settle the cream cheese's density. The newly baked cake should be stored in the refrigerator for 4-6 hours before being served.
Tips For Making The Perfect Egg Free Pumpkin Cheesecake
How long can cheesecake sit out, especially pumpkin recipes without eggs? Well, when first brought out of the oven, it should be placed at room temperature for roughly one hour, and that is the only time cheesecake is allowed to sit out that long. When it has been used already, it can only sit out for half an hour before melting.
All of the ingredients making cheesecake should be at room temperature.
Keep a good eye on the time so that your cheesecake is not overcooked. Otherwise, its cheesecake filling, especially the center part, and crust will crack.
Frequently Asked Questions
Can You Freeze Egg Free Pumpkin Cheesecake?
Yes, you can. If you don't use your cheesecake shortly, freezing is the best method to keep it fresh for a longer time. You can only keep your cake for only max of 2 days in the cooling room but it can be last up to a month if you freeze it in a freezer.
However, How to freeze cheesecake? and is there any requirement in freezing eggless cheesecake? Well, cheesecake is the kind of dessert that is meant to be frozen due to its characteristics for storage.
For the best freezing result, you should put the leftover cheesecake on a plate, wrap it with plastic wrap, and put it in the freezer.
How To Cut Pumpkin Desserts Without Eggs?
The secret to the best cheesecake slicing technique is to put the cake in the freezer 20-30 minutes before serving it. As for the knife, dip in hot water and dry it before using it to cut the cake. With these two tips, cutting cheesecake is at ease since the knife can now slide in and separate that cream cheese texture effortlessly.
How To Stabilize Pumpkin Cheesecake Whipped Cream?
The more cornstarch you put into the cream cheese in the recipe, the more stabilized it will turn out to be. Depending on what kind of cream cheese texture you want your cake to be, you can choose the appropriate amount of cornstarch to implement in your sweet pumpkin dish.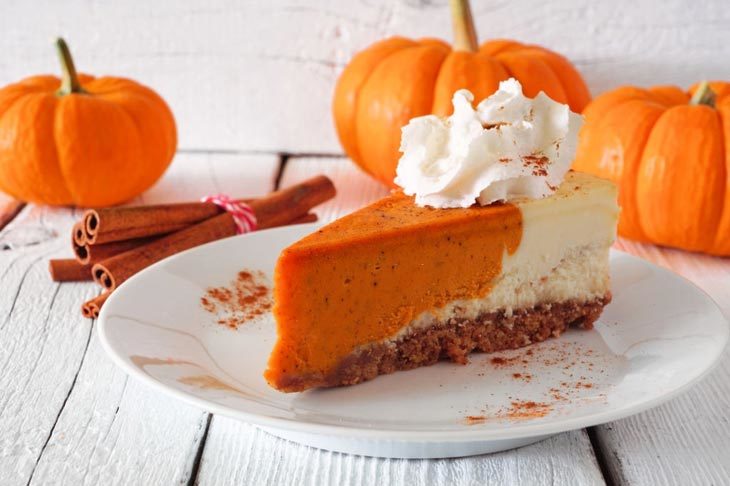 And that's everything we can introduce about making egg free pumpkin cheesecake. Making eggless pumpkin cheesecake is so easy that we believe even the most amateur cook can nail it beautifully.
Have fun making the best pumpkin cheesecake recipe ever, and we will see you again in the next dessert-making article!