Emmental Cheese Substitute – Top Best Easy-To-Find Alternatives
In most Western food, we easily see many dishes go with cheese to enhance its taste. And one of the best candidates in the world can't go wrong with Emmental cheese.
You want to use this Swiss type of cheese to mix with some other ingredients and create a special dish with great taste.
However, you don't have the ingredients on hand. So, how can we find an Emmental cheese substitute?
What is Emmental Cheese?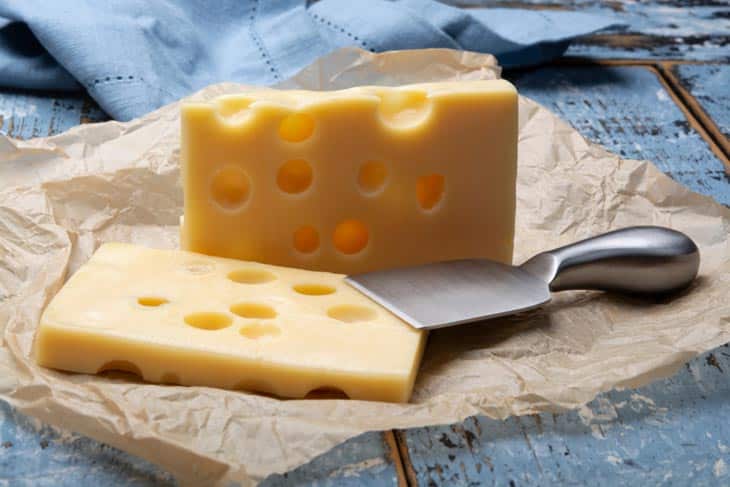 Emmental is known as Switzerland's oldest cheese. And it might be traced back to the 13th century in the valley of the river Emme in the Swiss canton or region of Bern.
It was made with fresh raw milk (unpasteurized) from cows fed solely on grass and hay within designated production regions, with no additions or genetically engineered components.
It's a semi-hard cow's milk cheese with big walnut-sized holes or "eyes" formed during the fermenting process that distinguishes it.
It can range from light and buttery to fruity and full-flavored, depending on its age. With outstanding melting properties, Emmentaler fondue is a popular ingredient.
However, have you ever wondered the difference between the 2 questions "what is Emmentaler?" and "what is swiss Emmentaler cheese?"?.
Emmentaler (or Emmental) is called Emmental Swiss cheese. Both terms are correct: Emmental is the name of the region, whereas Emmentaler refers to anything from there, like America or American.
Swiss Emmental ranges in price from moderate to expensive, depending on the maturing period, and may be found in well-stocked supermarkets or specialist stores.
Emmental Cheese Substitute – Top 10 Ideas
You are going to cook a dish with Emmental cheese, but you don't have it. We will wonder: "What is Emmental cheese substitute in this case?" Let's go with us to find the answer to this question.
1. Gruyere
At the top of this list is Gruyere – a cheese similar to Emmental. We could say it's the best bet for an Emmentaler substitute.
They're all of Swiss origin. Are you wondering about the difference between Emmental vs Gruyere?
Gruyere's flavor will start with an earthy, nutty flavor then end with a fruity note. But this cheese tastes slightly saltier than Emmentaler. It features a dense body first and turns flaky when aging.
We can use Gruyere instead of Emmental cheese in soups, pasta, salads, and quiches. It works beautifully with chicken and ham.
Especially, we can combine it with beer or cider but not a glass of wine since it offsets the overall flavor.
2. French Comte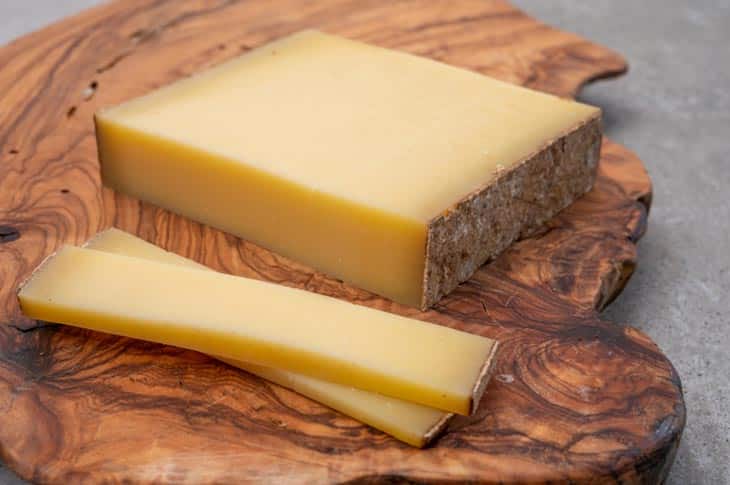 French Comte is produced from the region of the same name (in the charming countryside of Jura Massif).
It is combined between the savory fruity notes and a bit of sweetness and might also be an ideal substitute for Emmentaler cheese.
With the taste reminiscent of roasted hazelnuts and caramelized butter, it can entirely please all cheese lovers. So you can freely toss this sub in any recipe that calls for Emmental.
3. Jarlsberg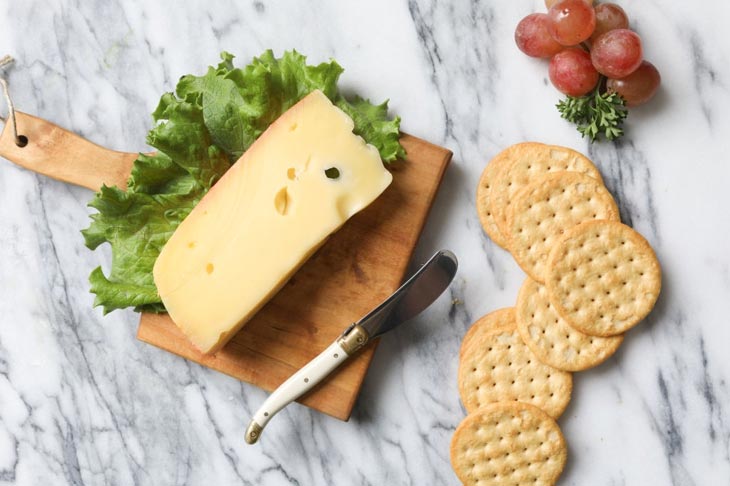 People usually refer to Jarlsberg as a Swiss heritage, but it originally comes from Norway. However, we can entirely use Jarlsberg substitute for Swiss Emmental.
You can call it a semi-soft cheese compared to the ones mentioned above. It is made from cow's milk and can be used on its own as a snack or in cooking.
In terms of taste, it's a very mild flavor, with a softer, sweeter undertone and a nutty finish. It can also be described as a soft and buttery flavor.
You can utilize it as a substitute for Emmental in pizzas, sandwiches, burgers, cheese fondues, and hot dishes.
4. Cheddar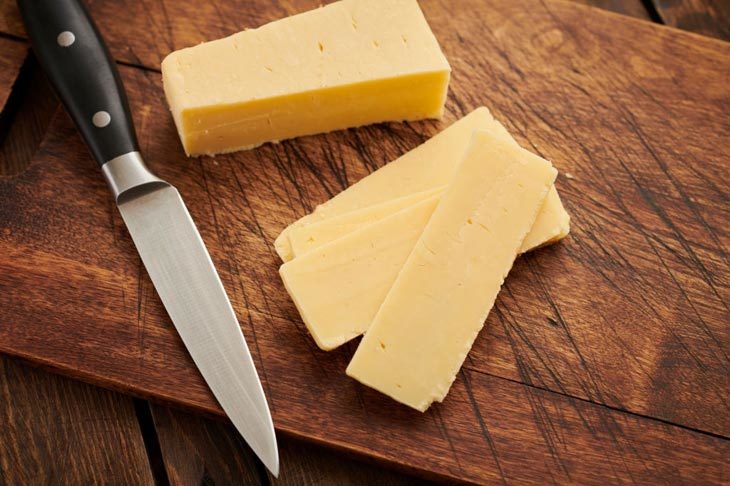 Unlike the ones above, Cheddar originated from the English village of Cheddar in Somerset, southwest England.
It also has a similar Emmental cheese taste which will make you satisfied with a sharp, buttery kick plus a smooth, creamy texture.
Although Cheddar doesn't display large, distinctive holes like Emmental, we can still mix it with some salads or baked dishes to make it better.
5. Gouda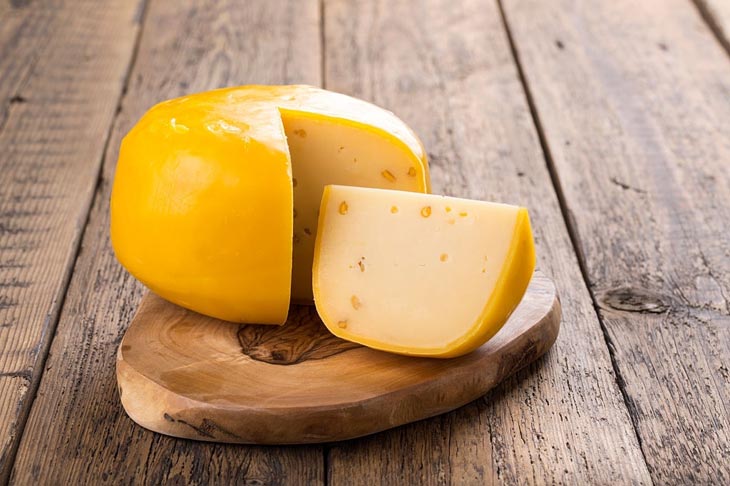 Gouda cheese is rooted in the Netherlands, becoming one of the oldest cheeses and a huge part of the Dutch culture and legacy. It is yellow, almost orange, made from cow's milk.
The nutty, creamy, and sweet notes of Gouda are perfectly displayed by its smooth texture. You can throw this cheese in salads, soups, sandwiches, and cheese fondues like Emmental cheese uses.
6. Parmigiano – Reggiano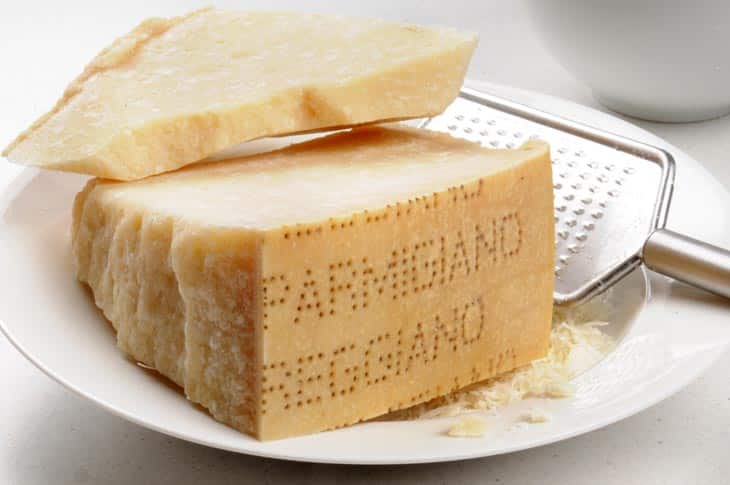 Being well-known for cheese-based dishes like pasta or pizzas, Parmigiano-Reggiano has popped up in almost every kitchen in Italy.
Parmigiano-Reggiano was titled "the King cheese" for the mouthful flavor profile it serves. It starts with a dominant fruity and nutty taste, drives you to an umami note and a sharp aftertaste.
The aroma of roasted almonds and butter found in this cheese can make you addicted when eating it.
Thanks to such a top-notch quality, this dairy product can stand in the place of all kinds of cheese, including Emmental, in any recipe, be it dressing, cooked or uncooked dishes.
7. Brie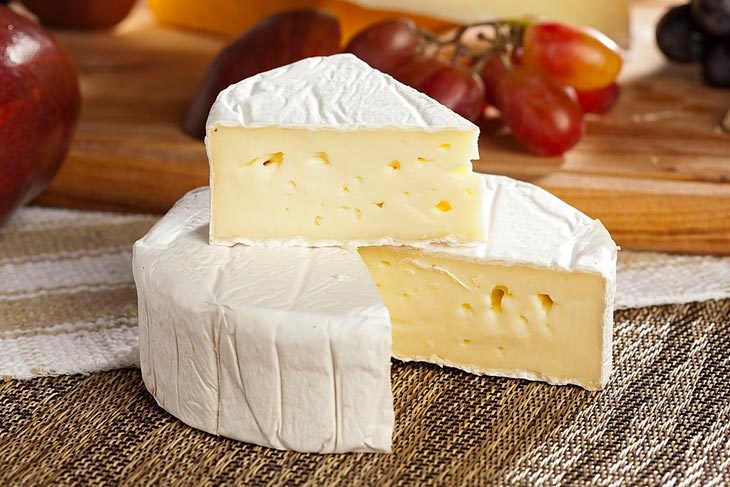 Brie is a progenitor of the cheese world, first appearing in the 8th century in France. Its flavor is now slightly milder and weaker than it was due to pasteurized milk.
This is a light, soft-ripened cheese with an appetizing moldy skin. An earthy, nutty, and creamy flavor with a sense of salt is what you can experience from this cheese.
Because of its soft profile, Brie works well in dishes that call for melted cheese like Emmental and pairs well with wine, nuts, and fruits.
8. Fontina
Fontina is a semi-hard cheese from northern Italy's Valle d'Aosta area and a cow's milk cheese.
This cheese bears a unique taste profile, with a blend of sweetness and pungency, as well as hints of toasted almonds and butter.
For replacement, you can toss it on pizza dishes or use it as a topping. Especially, its creamy consistency melts well like Emmentaler and shines in soups, chowders, sauces, and proteins.
9. Raclette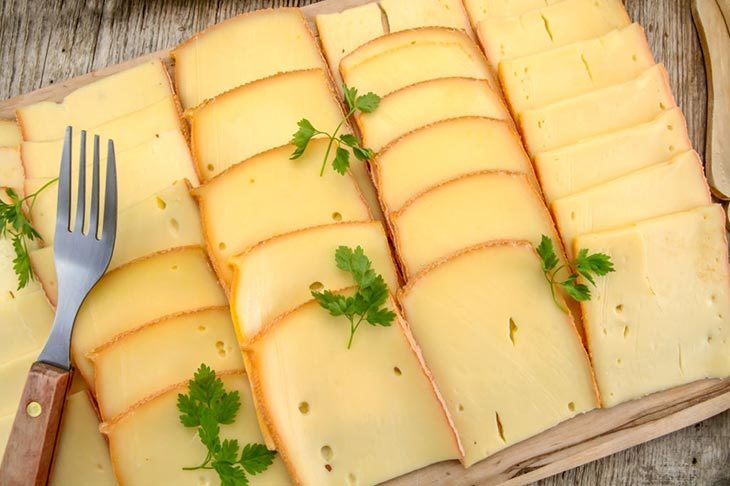 Raclette cheese is also from the Swiss family, and it was first reported in the 19th century.
This wonderful cheese has a nicely creamy texture and a salty flavor with a hint of sweetness and a nutty flavor.
Thanks to this buttery profile, you can use Raclette and Emmental interchangeably without many changes.
The cheese is available cooked, raw, or melted. It goes nicely with cured meats, seafood, vegetables, and potatoes.
Also, you can refer to some raclette cheese alternatives if this ingredient is not available for your preparation.
10. Provolone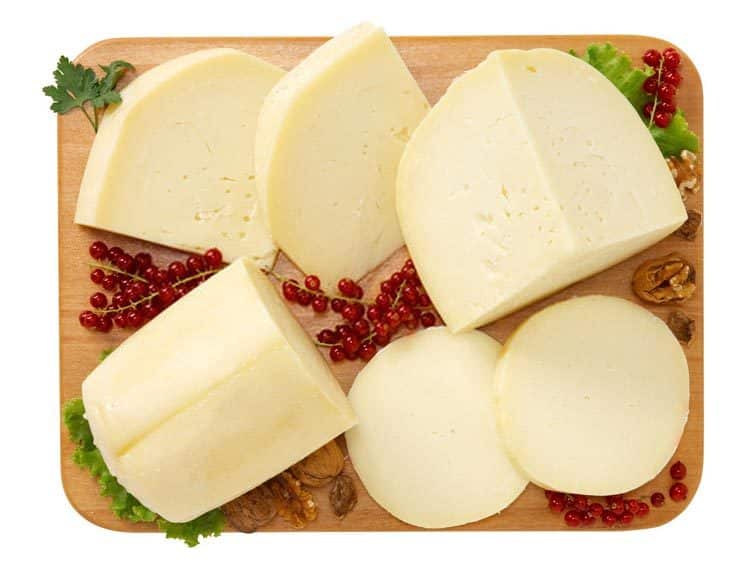 Provolone cheese has a soft texture and offers a nutty and salty undertone, allowing it to easily substitute for Emmental cheese in many dishes like cheese sandwich, grilling, crackers, rolls, or any desserts.
This tasty cheese contains vitamin A, which not only promotes a healthy vision but also stimulates cell division, cell differentiation, and bone formation.
However, you should keep the intake reasonable since Provolone cheese contains excessive saturated fat and salt.
FAQs
We will assist you in locating the solutions to some typical queries, allowing you to comprehend the benefits of Emmental cheese and to store it correctly.
What is Emmental Cheese's Health Benefit?
It is high in vitamin K2 for artery and bone health, as well as phosphorus for our cells and vitality. Vitamin B12 protects our DNA, while copper protects our neurological system and keeps us from free radicals.
Vitamin A found in this ingredient also supports our vision and immune system.
Is Emmental Cheese the same as swiss cheese?
Emmental cheese vs Swiss cheese?
They are not the same, but Emmental is a Swiss cheese that is also known as Emmentaler, Emmenthal, or Emmenthaler.
There are three sorts of Swiss cheese, according to most people: American Swiss, Emmental, and Gruyère.
One of the most popular types of cheese in the United States is American Swiss. Brewster Cheese produces the great majority of American Swiss cheese manufactured in the United States.
How To Store Emmental Cheese Correctly At Home?
Wrap the cheese in waxed or parchment paper and place it in a zip-close bag or plastic container to keep in the refrigerator.
This will enable a limited amount of ventilation while preventing a cheese odor from infiltrating the refrigerator.
If you detect mold, cut around it thoroughly, being careful not to contact the mold with your knife. Emmenthal may be stored in the fridge for up to six weeks.
It may also be refrigerated for up to three months without losing flavor or texture.
To freeze, securely wrap hand-sized blocks in plastic or coarsely grate and store in zip-close bags with all of the air compressed for up to three months.
Allow the cheese to thaw in the refrigerator overnight before using.
Conclusion
After all, have you chosen the best Emmental cheese substitute? Although It might change the taste a little bit in your dishes, it still makes you satisfied with it.
Besides, you can also be creative and use other kinds to combine and make your meal more varied.
Hope that this post will help you find the best solution for you.