6 Best Fish Stock Substitute That Will Make You Surprised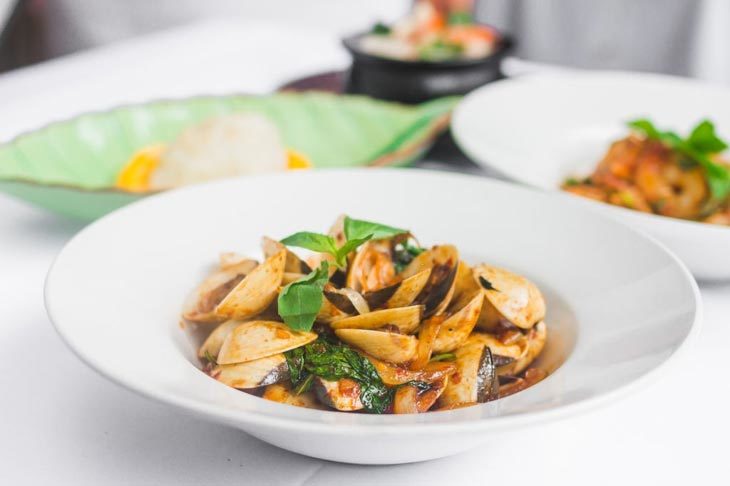 You want to cook a dish with fish stock as the main ingredient, yet you don't like the fishy flavor. Is there any ingredient that you can use instead of fish stock?
Fortunately, yes. We will show you the best and simplest-to-find alternatives so that you can quickly decide which is the most suitable fish stock substitute for your needs.
Before starting our journey, make sure that you know your body and your taste when comes to any substitutions below. Because someone frequently allergy with a few cooking ingredients.
Here we go!
What Is Fish Stock?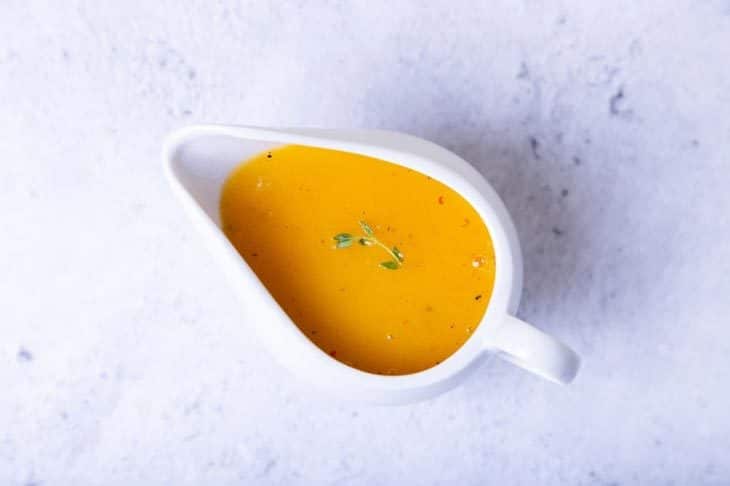 Fish stock is a concentrated milky-white broth made from fish bones, fish heads, and other trimmings.
Despite the variations of fish stock, they all share this typical recipe.
Step 1: Carefully clean the fish bones, fish heads, and other trimmings with cold water.
Step 2: Mix the mentioned ingredients with water and simmer for a couple of hours until the bones marrow and the collagen is released.
Step 3: Season the liquid with white wine, bay leaf, thyme, and black pepper during the simmering process.
Suppose that you are too busy to make fish stock at home. In that case, you can purchase fish bouillon cubes from the local grocery and create a similar-fish-stock-tasting liquid within a short time.
Top 6 Easy-To-Find Fish Stock Substitute
Suppose that you can find any fish bones in the local supermarket; how to make fish stock without bones? Follow the part below to check out the top 6 alternatives for fish stock.
1. Shrimp Stock
The best substitution for fish stock for busy home-cook is shrimp stock – which only takes around 10-15 minutes to make at home. Besides, shrimps are easy to purchase at supermarkets or grocery stores.
This stock type features such an attention-grabbing tangerine yellow shade that stimulates your taste buds. For the taste, it comes with a noticeable shrimpy flavor that evokes the taste of the sea.
Moreover, shrimp shells contain chitosan, which might help fight against obesity and high cholesterol.
A tip to make this seafood stock is to roast the shrimp shells before bringing them to a simmer, which helps extract the maximum flavor.
2. Crab Stock
Are you looking for a fish stock substitute with seafood flavor? If so, crab stock would be the best option to go for.
Crab has earned its reputation as one of the most delicious seafood used in diverse dishes.
It is pretty simple to make crab stock on your own as you only need to simmer the smashed crab shells and bodies, then season them with ingredients, such as bay leaves, parsley, and black peppercorns.
Within an hour, you will have such a delicious and colorful seafood stock. This stock comes with a wide range of orange shades, from dusky orange to shinny orange, depending on the crab type you use in the recipe.
If you are a big fan of creamy taste, we recommend you choose the crab full of fat and roe for the main ingredient.
Simmering the shell full of crab fat and roe at medium heat along with some herbs for around an hour will you bring such an eye-catching, creamy, and incredibly delectable stock.
This substitution for fish stock will surely take the chowder, gumbo, or cioppino taste to the next level.
3. Clam Juice
What else could you use to replace fish stock in cooking recipes?
Well, you can try clam juice (or clam broth) as the secret weapon to evaluate the taste of chowders, sauces, seafood dishes, and soups due to its mineral-like, salty flavor.
This flavor surely evokes the feeling that you're tasting pure ocean concentrate. That's why sometimes, it can be used to replace fish sauce to top foods.
What's about the color? It features a pale yellow shade resembling the white wine's color.
An interesting fact about clam juice is that you use it to create various marvelous cocktails, for instance, the clamato cocktail made from clam juice, vodka, and tomato juice.
4. Meat Stock
Suppose that you are allergic to seafood, which is a suitable substitute for fish stock? In that case, you can go for meat stock, such as beef stock or pork stock.
Each beef stock and pork stock comes with a distinct luscious flavor that can evaluate the taste of any soups or rice dishes to an incredible culinary height.
If you want your dish to feature a rich-brown color, let's choose the beef stock. However, if you prefer a gentle appearance for your dishes, pork stock would be more suitable due to its pale yellow color.
A tip to give the beef stock or pork stock a depth of flavor is to roast or sauté the bones before cooking to get some caramelized flavor.
5. Chicken Broth Or Chicken Stock
Another easy-to-find yet budget-friendly substitute for fish stock is canned chicken broth, which you can quickly purchase in the local supermarket.
For the color and flavor, it usually has a pale yellow appearance and a little bland taste. That's why you need to add ingredients such as parsley, bay leaf, onions, black peppercorns to enhance its taste and appearance.
After seasoning, it could become a mild, flavorful replacement for fish stock in so many recipes, including sauces, side dishes, stew, and so on.
In the event that you are not pressed for time, you should make chicken stock at home as it features a more appealing yellow shade. It also has a more savory and well-rounded flavor and a slightly richer texture.
6. Vegetable Stock
Is there any fish stock substitute that you can use in the vegan recipes? Yes, of course. If you are a vegan, vegetable stock would be a perfect replacement for fish stock.
There are plenty of ways to create your home-made vegetable stock depending on your vegetable preferences. Here, let us show you one of the most straightforward recipes for vegetable stock.
Step 1: Chop up the preferable vegetables, such as onion, celery, carrot, and mushroom.
Step 2: Roast the vegetables beforehand, then cover them with water.
Step 3: Simmer and stir the mixture for 30-60 minutes, then season it.
If you don't have enough to make the vegetable stock by yourself, you can shop for the vegetable bouillon cube. Dissolve one or more cubes in the boiling water, and you will have a pretty delicious vegetable stock or vegetable soup to eat right away within a short time.
Frequently Asked Questions
1.

The Difference Between Fish Stock And Fish broth?
What's about fish broth? Is fish stock and fish broth the same?
Well, they mark a significant resemblance, and you can use them interchangeably in most cases. However, there are still a few differences between the two.
The most significant difference is the main ingredient. For fish stock, it's fish bones, but for the fish broth, it's fish meat.
Consequently, the fish broth will have a lighter and more flavorful taste while the fish stock comes with a more intense flavor.
In case you love the taste of fish stock yet don't like its stinky smell, you can cook this dish from fishes with less fishy tasting. We're pretty sure that this liquid will satisfy your taste.
2. How Can We Use Fish Stock In Our Dishes?
There are plenty of ways you can use fish stock and create flavorsome dishes for your beloved ones.
The first and simplest option to go for is to prepare fish soups with tomato paste. These tasty soups offer a surprising range of health benefits since both fishes and tomatoes are rich in nutrients.
Another way to use the fish stock is to use it instead of water when cooking paella or risotto. In this way, you can bring a breath of fresh air to the rice dishes and blow your beloved ones' minds with their distinctive flavors.
3. Can You Replace Fish Stock With Fish Sauce?
Fish stock and fish sauce are both delicious ingredients that bring the umami flavor to various dishes. So, can you substitute fish sauce for fish stock in your cooking?
Well, you shouldn't use them interchangeably since their flavors are a little bit different.
Fish sauce features an intense flavor of fish and a salty taste. Thus, it would be better to use a little amount of this sauce to add complexity to your meals.
For the fish stock, its flavor is much milder without the intense taste of sal or dish. Thus, you can add it into your dishes in much larger quantities compared to fish sauce.
4. Which Is The Best Fish To Make Fish Stock?
No matter which version of fish stock you are going to make, never use fish that is oily and full of fat. The fatty fishes, such as salmon, will turn your tasty stock into a greasy and unpleasant liquid.
Thus, if you want to bring the best out of your stock, let's choose the non-oily fishes, such as snapper, turbot, halibut, sole, or cod as the main ingredient.
Wrapping Up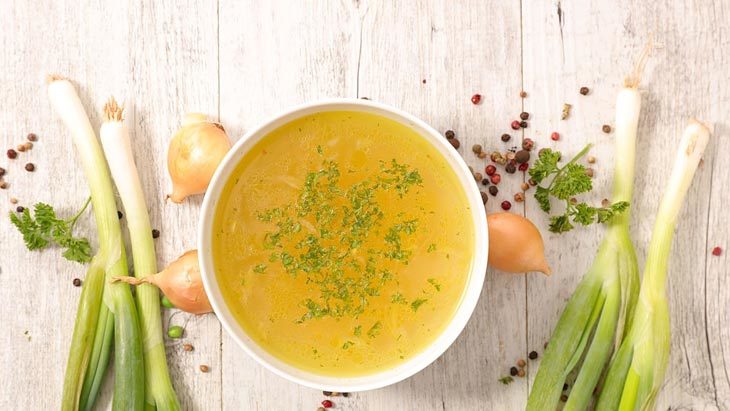 Here are the top recommendations to replace fish stock in your recipes. We hope that you can quickly pick up the most suitable fish stock substitute after considering these options.
We wish you a joyful cooking time and a yummy dish that makes anyone fall in love with after their first bite.