5 Best Ideas For Food Mill Substitute That Worth It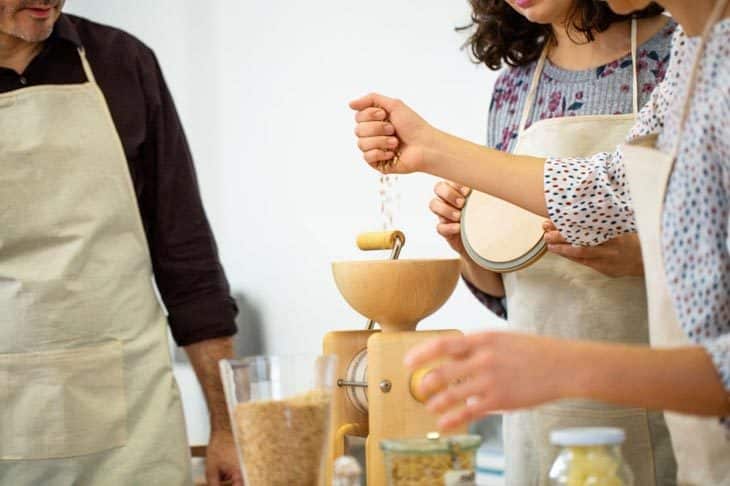 Without a food mill, how to sieve tomatoes? Without this kitchen utensil, how can you mash the soft foods?
There is no need to worry too much since numerous options of a food mill substitute are always ready to help.
Exactly, what to use instead of a food mill?
You can completely try some products. They include a food processor, blender, a set of strainer and spoon, a cheese grater and hand mixer, and potato ricer. Each of them comes with different pros and cons on its own.
But before learning how excellent they are as a substitute for food mill, it would be better to know: what is a food mill?. So, let's get started.
What Is Food Mill?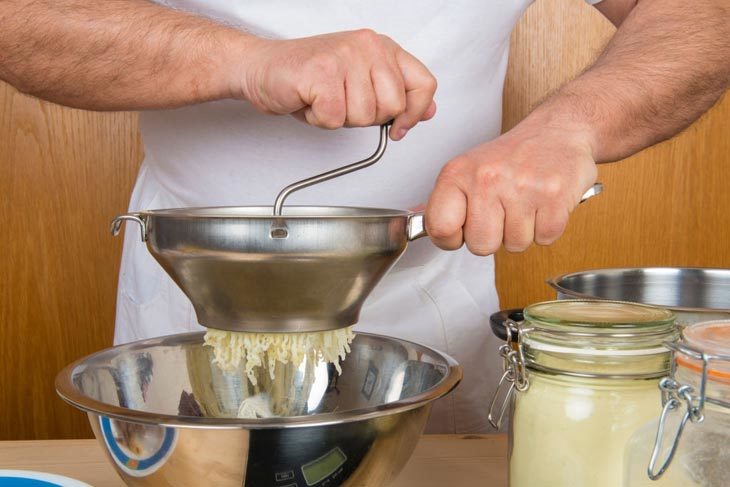 A food mill is a kitchen utensil used to purée both food and drink like sauces, soups, and mashed ingredients.
How does a food mill work? Simply put, it shows its helpfulness in helping foods turn the smooth puree without any skins, seeds, and stems left. It does not matter how your food (hot or cold) is; this tool can do its job well.
For better understanding, let us explain how to use a food mill. And we would like to make sauces as an example.
You can pour it into the machine even while still in the hot condition for the cooked dish.
For the fresh fruits, you need to peel and deseed them first.
Generally speaking, the food milling process not only helps to make a nice soft puree, but it also leads to as much food waste as possible. Honestly, the amount of waste left after milling is extremely small. And you can use these food wastes as compost, then.
5 Food Mill Alternative Ideas
Food Processor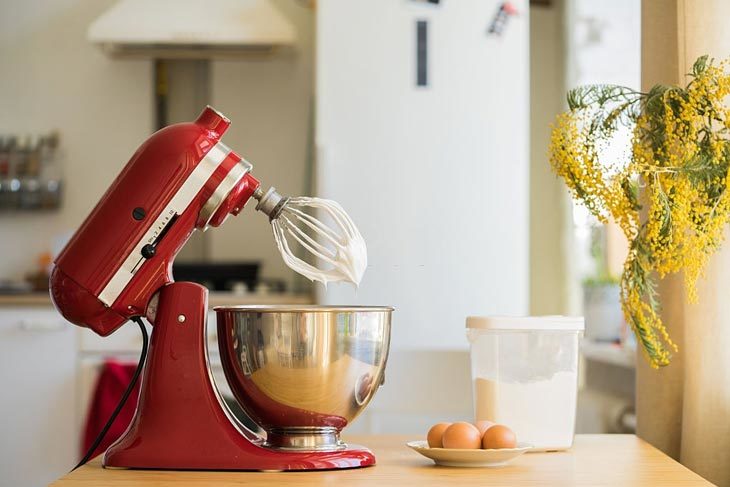 As one of the best ideas for substitution, most homemakers choose a food processor with recipes using a food mill. Over the years, it has been a must-have kitchen utensil in this modern world, especially for young people.
Using a food processor featuring blades with perfect sharpness, you can effortlessly turn foods into creamy soup or puree.
In particular, the finished texture almost hits the same as the one processed by a food mill. Instead of taking too much time for the process, this machine is an ideal choice to save lots of time.
Is there any difference in the comparison of food mill vs food processor?
Despite the good news of replacement, we find a problem with the processor. Deseeding and peeling vegetables and fruits are impossible for this appliance.
It requires you to prepare; otherwise, an additional step of sieving the processed liquid will be needed. Removing food seeds/skin and using a strainer can produce a smooth texture. But in comparison, the latter is truly a better time-saving solution.
Electricity is an indispensable requirement when you use a food processor. In the case of a power outage, it is no longer a good idea for a replacement.
Pros
Versatility
Energy and time-saving solution
Ease of use
Cons
Electricity needed for operation
Call for food deseeding and peeling beforehand
Requirements for additional tools such as strainer and sieve to produce the same delicate texture as the food mill does.
Blender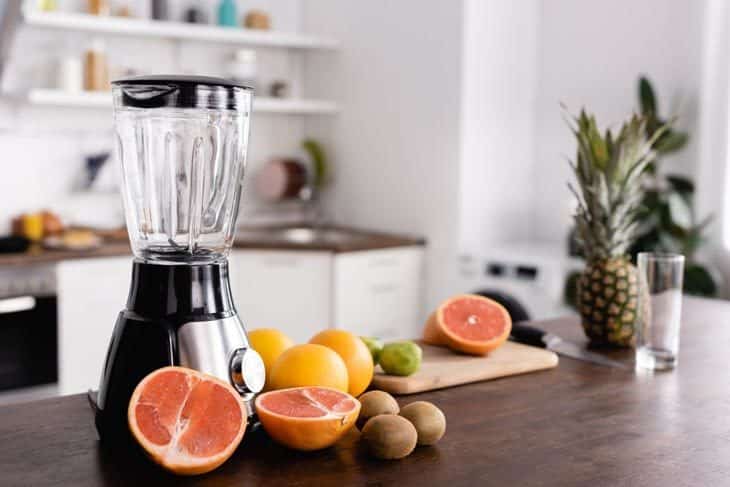 Another kitchen tool that is relatively similar to the food processor in replacing a food mill is a blender.
Like our first recommendation, this one boasts nearly the same popularity in kitchens worldwide. Without a food processor, you can use this machine similarly as a substitute for mill.
With the pulse option and sharp blades, the blender can do the culinary job as a food processor. Thus, it becomes another outstanding supportive product to smash soft foods and make them puree.
Moreover, it is also an option to save your cooking time.
However, comparing food mill vs blender, this device shows the same downside as the processor.
In other words, it cannot remove or separate both peelings and seeds of the vegetables and fruits. Thus, this preparation will be yours.
Nowadays, several expensive modern models featuring high speeds can crush almost anything into a liquid or fine. Yet with a cheap food mill, it is such a hard task for sure.
There is one more drawback in making the blender less effective than the food processor. This machine cannot do its job well with the hot food.
The high temperature can blow the blender lid off so that ingredients inside will fly out terribly. As a solution, we suggest chilling the dish like soup before placing it into the blender.
And once again, no one can run a blender without electricity.
Pros
Effectiveness for saving time and energy
Some models featuring the function of crushing both seeds and peels
Ease of use
Cons
A need for electricity
Bad option for the hot food
Hand Mixer & Cheese Grater Duo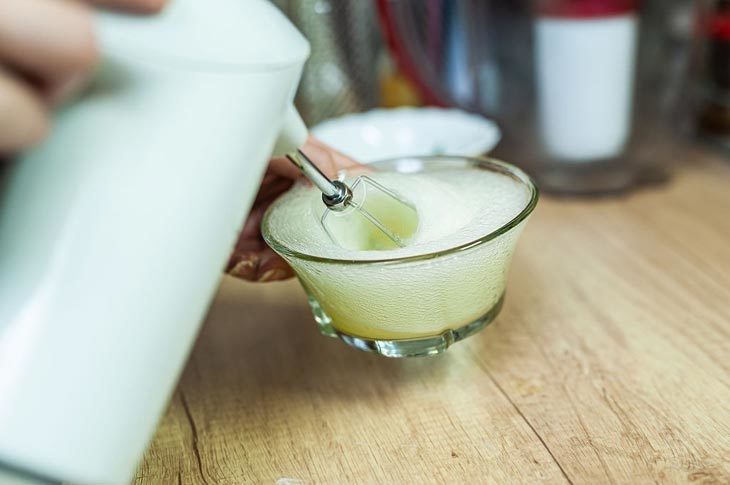 For the softer ingredients such as fresh tomatoes and boiled potatoes, why don't you try the combo of a hand mixer and a cheese grater?
The fact shows that a grater is not only for cheese like brick cheese as well as its alternatives all the time. Instead, this kitchen utensil can grate the cooked foods for the soft cheese-like texture, too.
In some cases, there is no need to use both of them. You can simply use the grater first to scrape the soft foods. If the puree cannot achieve the fine texture that you desire, it is time to apply the mixer to the game.
However, be careful so that you will not overdo that process. With the electric mixer, an overdoing performance can ruin the fluffy consistency of the finished work.
When it comes to the hand mixer and cheese grater, maintenance also holds the key for long-term usage. Washing these utensils right after use will protect them from rusting effectively.
Pros
A combo to produce a liquid with the fine texture
Ease of control
Cons
Limited application
Requirement for extra effort and time
Wooden Strainer & Spoon duo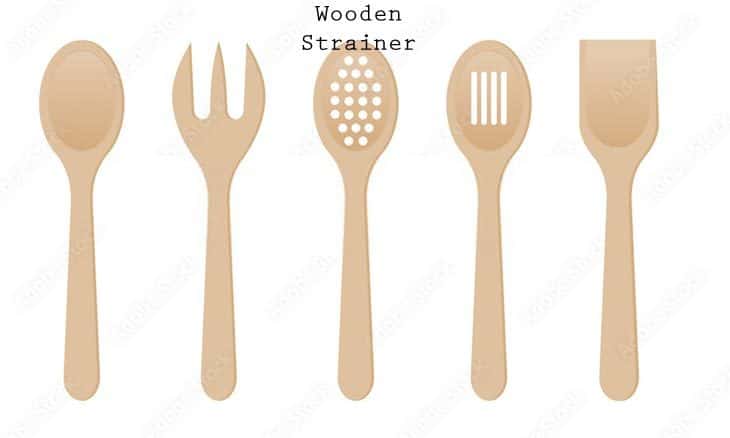 It is not that you always have an electricity source for the food preparation. If you do not mind putting the manual use with a bit of extra muscle, a pair of wooden strainer and a spoon is also worth your consideration as one of the uses for a food mill.
Although this combo is not as modern as the blender and food processor mentioned above, it has its advantages.
With a combination of a strainer and a spoon, you can separate both seeds and skins of the vegetables and fruits much easier and quicker.
Then, by breaking some sweat for the annual performance, you will get a nice creamy liquid. In particular, it is applicable for both hot and cold ingredients.
For better understanding, let's take tomato soup as an example. In a simple way, using this combo is considerably like how to use a food mill for potatoes.
After placing the fresh potatoes on a mesh sieve, you use the wooden spoon and push the tomatoes manually. The stronger you push, the more effective this manual process will be. Nevertheless, do it as slowly as possible so that you will not make a mess in your kitchen.
Pros
No electricity requirement
Great pressing technique for the fine texture
A budget-friendly option
Cons
Limited cases of application
Your energy required
More time needed
Potato Ricer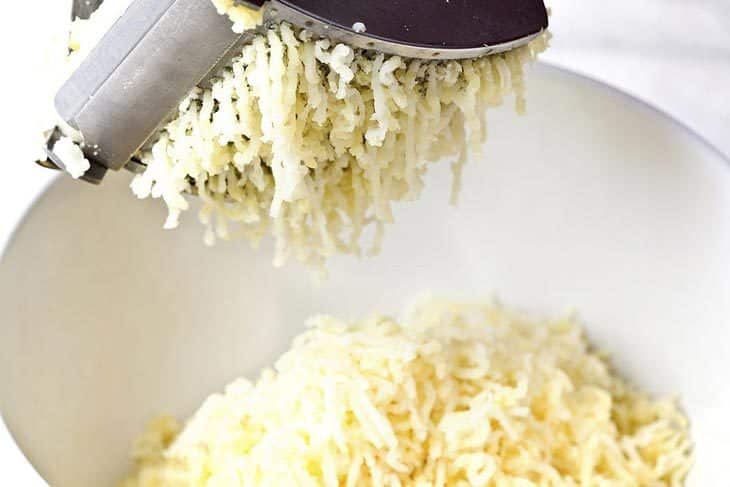 As the name defines, a potato ricer can logically do its great job of pureeing the boiled potatoes. Thus, in this case of tomato press vs food mill, they show the same application.
That said, the potato ricer does not limit its possibility with potatoes only. By contrast, it is applicable for many other foods like mashed bananas as well.
So, how does a potato ricer work in replace of uses for food mill?
Because the potato ricer does not have a big capacity like a food processor, you have to slice the food into small pieces. Next, place a small volume into the hopper and use your manual strength to press those ingredients.
For the best result, it would help if you do the process gradually with a small amount of food. But first, do not forget to remove the skins and seeds of the fruits.
Pros
No requirement for electricity
Great option even for the small amount of food
Space-saving choice
Ease of control
Cons
Just for some certain types of food
Have to peel and deseed ingredients
A Guide Of Choosing Food Mill Substitute
In general, there are two important things to bear in mind for your consideration of a food mill replacement. And here they are.
Your Desired Texture Of The Finished Result
As we mentioned above, it is not that all the alternative options can bring 100% the same food texture as the food mill does. Each of the substitutes is suitable for certain types of ingredients at most.
So, before making the final decision, it is essential to think about the food texture you want to get. For instance, if your food comes with seeds and skins, using a ricer is not the best solution.
The Amount Of Time Needed
Without electricity, utensils such as a cheese grate and spoon can support you well. But sometimes, you do not have a lot of time or do not want to put much effort into the process. For these cases, the ones like a food processor should be the top priority.
Conclusion
It is all about the food mill substitute ideas with their advantages and disadvantages for your culinary preparation. By carefully considering your requirements and budget, choosing the most suitable one is not too challenging.
So, have you picked your ideal replacement yet? If you are still on the fence, feel free to ping us a message for further help.