Galangal Substitute – 7 Best And Easy-Find Substitutions Must Know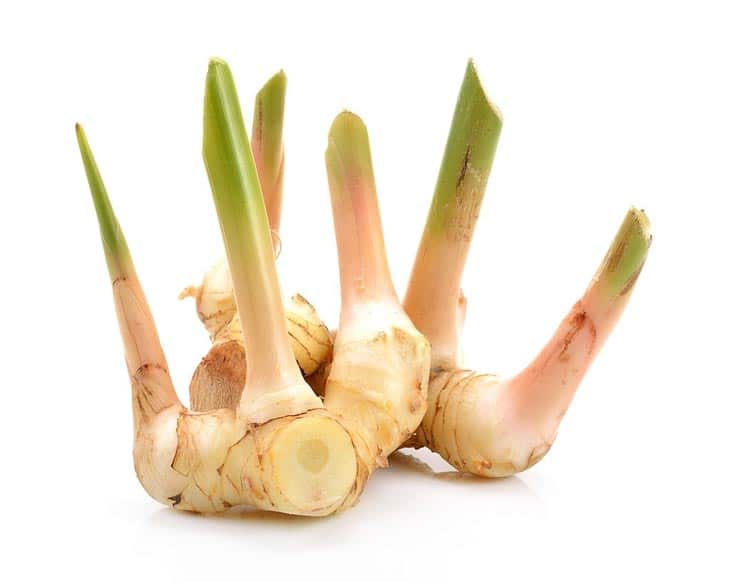 Excellent protein and fresh vegetables are what make our food delicious. However, there is one factor that will always be irreplaceable: herbs and spices with powerful seasoning. Galangal is one of the most used seasonings in Asian cuisine, but now it has become a common spice in the US.
However, it must be tiring to buy galangal. So, what is a galangal substitute that you can use instead of searching for this spice? Check out this article, and we will give you a whole list of the amazing substitutions.
What Is Galangal?
If you have not been familiar with galangal before, think of it as a close relative to ginger. Galangal, or galangal root, is a spice originating from Southern Asia.
It has a similar look and taste when we take galangal vs ginger, but its flavor is lighter and tarter than ginger alone. Galangal is also related to turmeric, having the same appearance, so it may be tricky to differentiate these three ginger brothers from each other.
For many centuries since galangal has been dug and become common, it has been used as a food seasoning or medical practice. Galangal contains much beneficial nutritional value, which has been proved to include minerals that help fight cancer, reduce inflammation and treat infections in adults.
So, where can I buy galangal root? You can easily find galangals selling in Asian markets, close to ginger and turmeric. They are usually sold in the form of whole rhizome, sliced pieces, and powder.
7 Ingredients Used As Galangal Substitute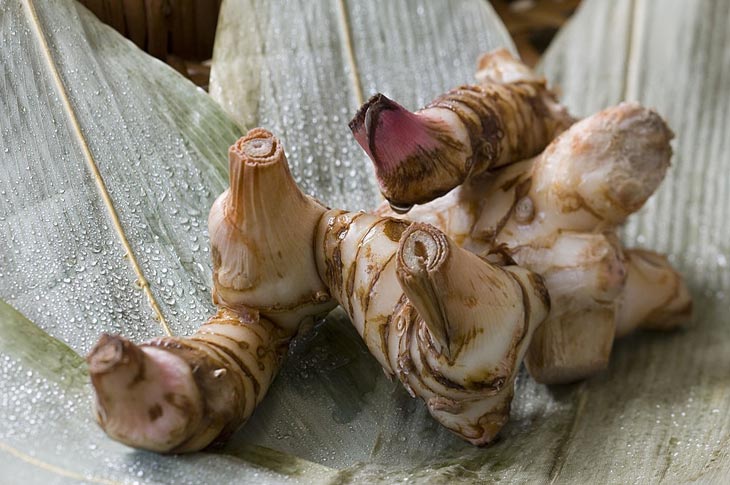 1. Ginger
The best galangal root substitute we can find is ginger. As they belong to the same family with similar texture and appearance, it's an undeniable fact that people can use galangal substitute ginger.
The only noticeable difference between ginger and galangal is the flavor. While ginger is famous for its signature taste of aromatic and zesty with a warm, woody after tone, galangal's flavor is spicier with a more tart taste. Suppose you taste a piece of original galangal.
In that case, you can experience a slightly sour taste with spiciness involved, and in some special kinds of galangal, you can feel the menthol flavor from galangal as well. So, galangal's flavor is more complex when we take ginger vs galangal, but they both have the same warm after-tone with the famous stomach-smoothing effect.
It is easier to find ginger than galangal in any local vegetable store or market, so if you are having trouble finding this special ingredient, consider using ginger instead, and you will have the same effect on your dish.
If you want to replace powdered galangal or ground galangal, use the same type of ginger but with less amount since the ginger's flavor is much more powerful than galangal's.
If your recipe requires one tablespoon of galangal, using half a tablespoon of ginger is enough for your dishes to get the natural spiciness from these spices. You can always increase the amount of ginger later if you find the taste has not reached your expectation.
2. Fingerroot
The family of ginger, galangal, turmeric also includes one more cousin-member: fingerroot. Fingerroot has the same texture as fresh galangal, but they tend to be in a carrot shape with long, pointy tails at the end.
Their skin color is darker than galangal, too, if that's what you need to differentiate between those two. Fingerroot has a brownish-orange color, which is why it is often being misrecognized as lesser galangal.
Like galangal, fingerroot has many healthy nutrients in its ingredients that are helpful for the human body system. It has been used to practice medicine in some Asian regions, including Cambodia and Thailand.
In cooking, fingerroot is an exotic flavor that can go well with many herbal dishes. Especially due to its bright orange color, its powder is used in curries to make curries' flavor more standout.
Substituting galangal with fingerroot is possible under the condition that you pay attention to the amount of fingerroot to use to not ruin your dish's recipe.
Fingerroot, like ginger, has a more intense flavor compared to galangal, so you can lessen the amount of fingerroot used in the first place compared to the amount of ginger you frequently use. Then, if the flavor is not there yet, you can put in more fingerroot to increase the color's vibrato and the taste's complexity.
3. Mace and cinnamon
Another affordable option to substitute for galangal is mace and cinnamon. Unlike ginger or fingerroot, mace and cinnamon have no relative connection to galangal, but combining these two spices will create a mixture that resembles galangal in flavor.
If galangal has a sweet, spicy, warm taste, then mace and cinnamon with their taste characteristics can create the same vibe. Cinnamon supports the warm, peppery tones that reflect galangal, while mace adds up its signature light spiciness.
4. Black/white pepper
Black and white pepper are accessible ingredients that you can find in almost every market. You may have them in your cabinet by now, and to your surprise, you can use them as galangal replacements.
However, black and white pepper can only bring up the spiciness and pepperiness that you are looking for at galangal without the citrusy, sweet profile.
So if all you need at the galangal is its subtle spiciness, you can use your pepper right away, but be careful to measure the amount of using carefully so as the simplex of peeper won't diminish your dish's recipe.
5. Galangal paste/powder
No substitute can replace galangal to the perfect consistency like galangal itself! In this case, we mean that you can alter different forms of galangal and use them to alternate with the galangal you are missing. Galangal comes in many forms: sliced pieces, paste, powder, etc.
If you run out of powdered galangal, for example, consider using sliced galangal or galangal paste. All you have to do is alter the amount you use to ensure the flavor is not overwhelmed while fitting a different texture into your dish.
Among these three forms of galangal, natural galangal and galangal paste will give off the most intense flavor, so you can substitute these two without adjusting. The other option, galangal powder, is lighter in flavor and texture, so you need to increase the powder's using portion.
6. Kaffir lime leaves
In case you wonder why vegetables like kaffir lime leaves can substitute galangal, the answer lies in its citrusy profile. Kaffir lime leaves are one of the best vegetables to use when cooking a dish that requires a natural sour flavor, especially in soup, broth, etc.
For that reason, if you love the sweet and sour natural tone of fresh galangal root, you can purchase kaffir lime leaves and let them do the mission of bringing a light and subtle tone. However, like pepper, kaffir lime leaves substitution has no pepper extract, so you will need to season more spicy flavor to combine the whole ingredients similar to galangal.
7. Lemongrass
If you love Asian seasoning, then you must be familiar with lemongrass. With natural stomach-and-throat-smoothing like galangal, lemongrass is the substitute to use when you want to replace galangal in soups, curries, or broth.
Lemongrass is easy to find in any local market, so you should consider using this simple yet delicate flavor to substitute galangal. You need to remember that lemongrass's flavor is extremely light, and it can only reflect galangal effectively if you use a large amount of it.
The Final Word
And that's everything you need to know about a galangal substitute. We hope that this list is helpful for you when you want to know different galangal substitutes that are similar to galangal.
It can't be uneasy for you to know where to find galangal, so it is best to hold on to this list to cook comfortably without worrying about lacking ingredients.
Thank you for reading this article, and we will see you soon!