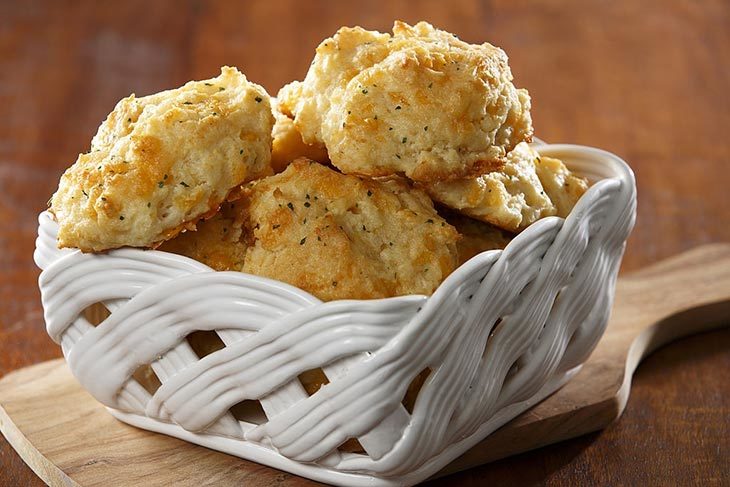 People seem to dislike savory breakfasts because they think that breakfasts are meant to be sweet.
However, after you bake our cheddar cheese biscuit recipe today, you will definitely change your mind. Garlic Cheddar Biscuits are rich in buttery, salty, which will elevate your tasting pallet to a whole new level.
Garlic Cheddar Biscuits Recipe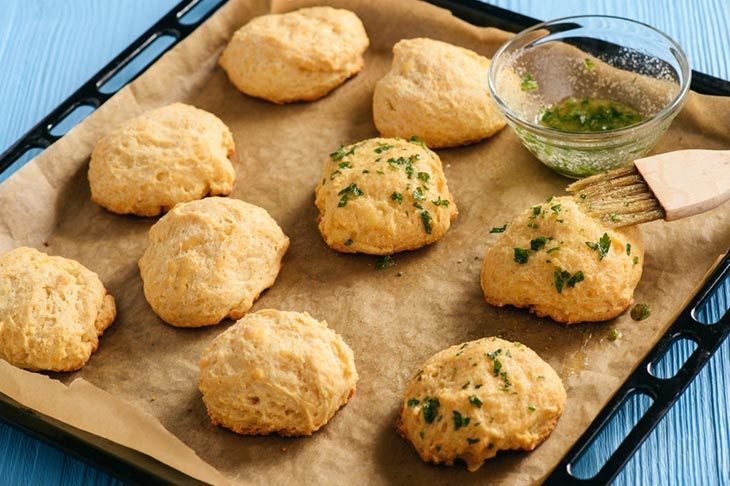 Ingredients
To create stunning, delicious garlic cheddar biscuits, we must have enough ingredients. Only one ingredient missing can have a huge impact on the biscuits' final flavor. Let's have a look through the list of ingredients we should prepare before baking garlic cheddar biscuits:
3/4 cup of butter
250 grams of all-purpose flour
1 tablespoon of granulated sugar
1 tablespoon of baking powder
1 teaspoon of garlic powder (You can use natural garlic powder or store-bought garlic powder)
2 teaspoons of salt
1 cup of whole milk
2 cups of mild cheddar cheese
After you have all the ingredients, let's get our hands down on making delicious and tasty garlic cheddar biscuits!
Instructions
Step 1: Preheat Oven At 425-450°F
In the mean times when you make the biscuits' dough, preheating the oven first hand will save you quite a time. The best temperature to bake cookies ranges from 425-450°F. Make sure to double-check if you have adjusted your oven to the right heat level before doing the next task, making the biscuits' dough.
Step 2: Create The Dough Form
We have come to the most important steps of all, creating the dough for the garlic cheddar biscuits.
The first thing to do is grab the bowl and put butter in it to melt it down. You must heat butter until the point where it melts completely, then put the melted butter aside for cooling.
In another bowl, we combine the essential ingredients in making the cookies together: flour, sugar, baking powder, garlic, and 1 teaspoon of salt. This step requires you to follow the ingredient list's request tightly, or else you may have too many or too little essential flavor in the biscuit.
For example, you can have too much garlic in the biscuit that can cause it to be bitter in the end. If that happens, you have to spend more time fixing it, and that's the last thing you want, right? So, always be careful about how much you put in. Mix this combination well to create a first-hand dough firmly.
In the bowl which has the melted butter, pour milk in it and again stir the milk-butter mixture well. Once you see they have combined with each other, pour this mixture on the dough.
Again, firmly whisk it by hand or by an electric mixer until the dough combines as a shape only. Remember not to stir them for so long; we just one to create a dough that has everything in it so far. As you are mixing, add some more melted or shredded cheese to increase the butteriness and make the garlic cheesy biscuits softer.
If you feel these steps are too complicated, you can replace all baking ingredients with a Bisquick mix. With two cups of Bisquick mix, milk, and cheese in one bowl, this combination can also act as a cookie dough. This garlic butter biscuits recipe is more simple and saves you more time baking the cookies.
After the dough has been formed, it's time to play with your imagination by creating the shape of cookies. You can use a spoon or your own hands to whisk the dough out evenly onto the baking sheet.
You can create as many easy cheesy biscuits as you like on the baking sheet, but make sure that they have rooms in between them. Normally one baking sheet can take up 8 large cookies in total.
Step 3: Bake The Garlic Butter Biscuits for 10-15 minutes
Once you have had all the biscuits in the shape and size you want on the baking sheet, take that baking sheet onto the oven and start baking them.
At the temperature between 425-450°F, bake the cheese biscuits for 10-15 minutes. Actually, you can look at the biscuits on your own to find out if they have been perfectly cooked or not. Well-done cheesy biscuits will turn golden brown at their appearance, typically at the edge.
When the cookies are baked, you should melt the remaining butter using the heating method as well. But this time, add a teaspoon of salt and garlic powder at the end. We will use this butter mixture as the final coat for garlic biscuits.
After 12-15 minutes, remove the biscuits from the oven. Use a brush and brush over new-baked biscuits with the butter mixture to enhance its smell, flavor, and appearance.
Cheesy garlic biscuits are best used while they are still hot inside, so make sure to plate them on dishes and use them right away to enjoy their hot spice. And there you go, your delicious homemade garlic biscuits!
What Are The Tips To Make Delicious Garlic Cheddar Biscuits?
Once you drop the dough into shapes on the baking sheet, you should be quick and manage to get the dough in the oven immediately. The longer time you put the forming doughs at room temperature, the higher chance they won't plump as high as they can possibly do.
Not putting the formed dough in the oven right away is also one of the reasons why your cookies turn out to crumble in the end.
You can choose different types of cheese to put in the cheddar garlic biscuits. Normally the garlic cheese biscuit recipe asks for cheddar cheese, but you can always alter it with any kind of cheese as long as you know it matches the rest ingredients and will create a stunning flavor to your cookies. Like rather than using original cheddar cheese, you can try to spice the flavor up with the change of orange cheddar or white cheddar.
If you want to store cheddar garlic biscuits, put them in an airtight container in the fridge. Due to the characteristics of this treat, you should consume the leftovers in 3-4 days.
What To Serve With Garlic Cheddar Biscuits?
Not only Garlic Cheddar Biscuits can be eaten as a savory breakfast, but they can also be served as side dishes for many main courses like…
Buffalo Chicken Rolls
Ham Stuffed Chicken
Other than these luxurious dishes, the most common way to serve garlic cheddar biscuits is as a base for a filling and savory breakfast sandwich. You can use the cheddar cheese biscuits altogether with sandwiches, fried eggs, bacon, and smoked gouda cheese. This breakfast combo will give a healthy start to your day.
The Final Word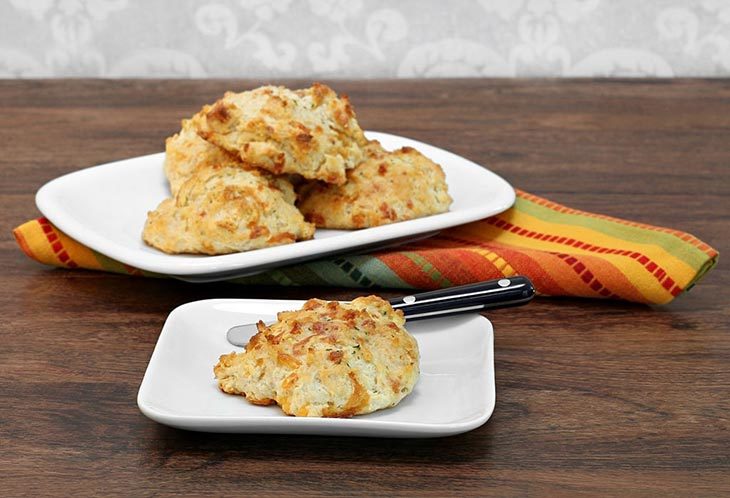 And that's everything you need to know about Garlic Cheddar Biscuits and how to make it. This garlic cheddar biscuit recipe is one of the easiest to make, so why don't you try it on your own and see if you can create these homemade garlic cheese biscuits for your family's meal?
We would love to see you successfully make these cheesy biscuits. See you soon in our next article!