When it comes to finding gelatin substitutes, there are several options that can be used instead of pectin. These alternatives provide similar thickening and binding properties and are suitable for various recipes.
Below, you'll find a few of the most popular gelatin substitutes that you can use!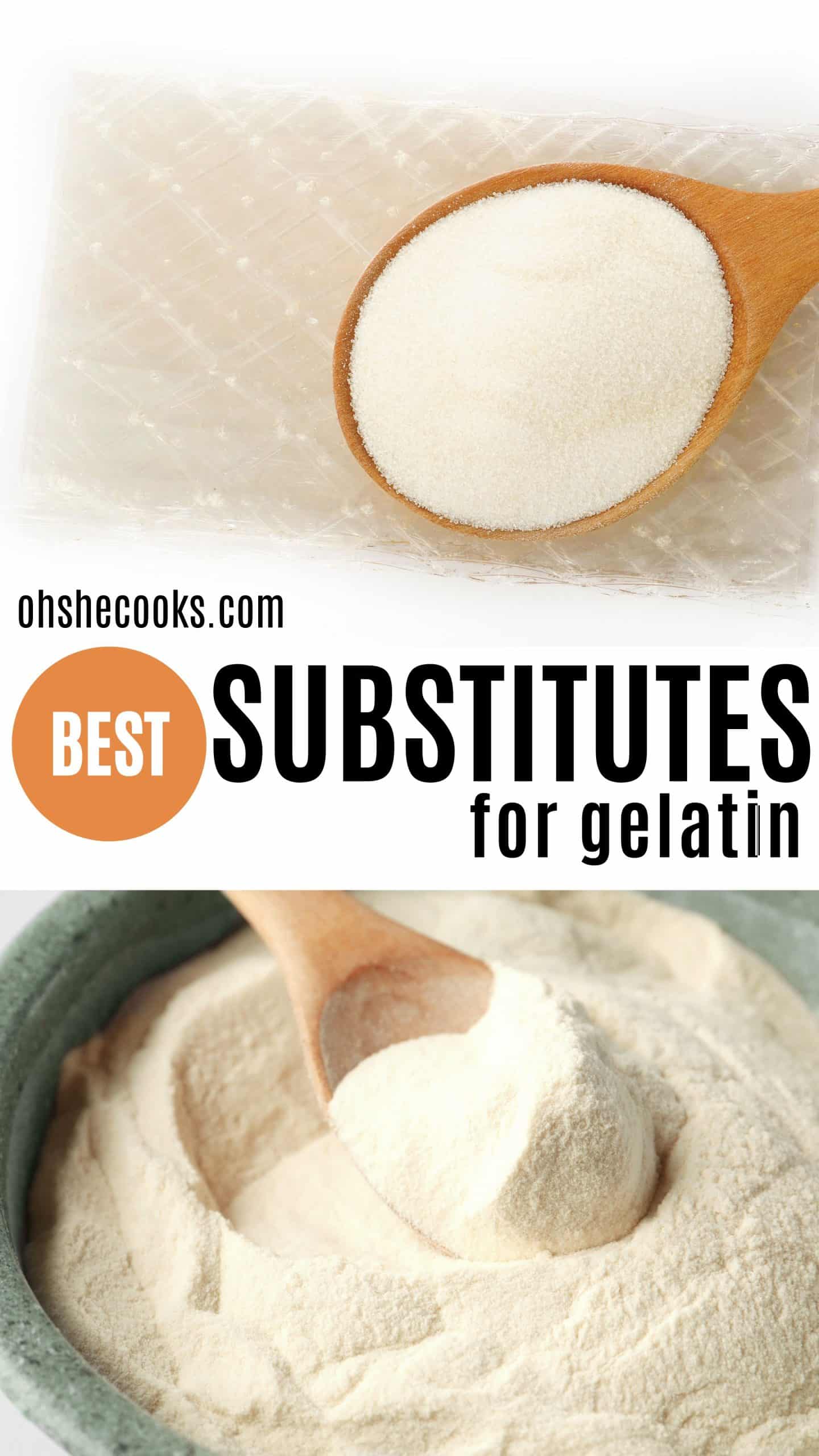 What is Gelatin?
Simply put, gelatin is a substance that is derived from animal collagen. It is commonly found in the connective tissues, bones, and skin of animals.
Gelatin is created by boiling these animal parts until the collagen breaks down, resulting in a clear, flavorless, and jelly-like substance. When mixed with liquids, it forms a gel, which makes it a valuable ingredient in many culinary recipes.
What is Gelatin Used For? 
Here are some common uses of gelatin:
Desserts: Gelatin is frequently used to create a gel-like consistency in desserts such as jellies, mousses, panna cotta, and fruit salads. It gives these desserts a smooth texture and helps them hold their shape.
Pies and Tarts: Gelatin can be used as a stabilizer in pie fillings and tart fillings. It helps to set the filling and prevents it from becoming runny or watery.
Marshmallows: Gelatin is a key ingredient in marshmallows. It provides the chewy and fluffy texture that we associate with these sweet treats.
Cakes: Gelatin can be used to create a jelly layer on top of cakes, providing an additional burst of flavor and an attractive presentation.
Aspic: Gelatin is used to create savory aspic dishes. Aspic is a dish in which ingredients such as meats, vegetables, or seafood are set in a gelatinous mixture. It is often served chilled and can be an elegant appetizer or main course.
Soups and Broths: Gelatin can be added to soups and broths to provide a thicker consistency and add body to the liquid.
Confectionery: Gelatin is used in the production of gummy candies, like gummy bears or fruit snacks. It gives these candies their characteristic chewy texture.
Coating and Glazing: Gelatin can be used to create a shiny glaze or coating on various dishes, including pastries, fruits, and even savory dishes like terrines.
These are just a few examples of the many uses of gelatin in cooking and baking. Its ability to create a gel-like texture and provide structure makes it a great ingredient in recipes.
Top Gelatin Substitutes
Take a look below to find some of the best substitutes that you can use for gelatin! Enjoy.
1. Agar-agar
Many people confuse Gelatin powder with agar powder because they have a similar plasticizing and binding effect.
However, these are two distinct powders. The main component of Agar powder is red Japanese algae and seaweed. It often comes in two forms: powder and fiber.
Unlike Gelatin that creates a thick and flexible result, agar powder produces a hard and brittle product.
That's why agar powder can nevertheless substitute for Gelatin in baking in some circumstances with an acceptable mixing ratio.
In some circumstances, you may see people using agar-agar powder as an ingredient in mousse, bavarois, or jam.
2. Tapioca starch
Tapioca starch is a carbohydrate derived from tapioca root. This ingredient, like vegan Gelatin powder, is 95% carbohydrate with almost no fiber or protein.
Home cooks consider it a wonderful vegan Gelatin replacement in Eurasian-style dishes because of its smoothness, consistency, and stickiness. It often accompanies drinks, soups, stews, stir-fries, and sauces.
However, the textures of these two varieties differ slightly. Tapioca powder has a light yellow hue and is more prone to thickening and binding solutions than Gelatin, which is translucent and can solidify the product.
3. Corn starch
As its name indicates, Corn starch is a fine powder formed from dried corn kernels. Chefs can use cornmeal, like vegan Gelatine, in various ways in cooking, most notably as a binder and thickener.
Because cornstarch and tapioca flour are not transparent like Gelatin, they may not be suitable for manufacturing jellies or transparent foods.
However, if you're merely seeking Gelatin similar foods, they are both acceptable possibilities.
4. Pectin
Pectin is a colored powder and originates from citrus fruits. You can see these additives as an excellent substitute for beef Gelatin since they possess Gelatin's characteristics.
These include clear, easily soluble in water, and capable of producing effective solidification. On the other hand, Gelatin tastes like syrup and can only gel and solidify in the presence of acids and sugars.
One remarkable issue states that scientists often recommend people with medical issues or prone to allergies to use pectin rather than Gelatin.
5. Carrageenan
We can usually find the water-soluble fiber of Carrageenan Gelatin in a wide variety of seaweeds. It's familiar among chefs by being a thickener or stabilizer in various plates.
Some of the most outstanding include soy milk, ice cream, cheese, bread, and several fast foods.
Because this ingredient has a softer texture than non animal Gelatin, you may need to use more carrageenan in your recipes.
6. Vegan Jelly
Another potential candidate on this list is vegan jelly. This type is not a single component but a category of product to be vegetarian alternatives to Gelatin.
Each product might contain vegetable gum, carrageenan, and tapioca dextrin, depending on its brand.
This ingredient is more of an unflavored Gelatin substitute. If you wish to add extra flavor to the dish, use more food flavoring agents such as taro's taste.
Stored-purchased vegetarian jello mix usually gives conventional Gelatine a closeness to consistency and texture, which the product must be able to do.
7. Kudzu
You may have heard of Kudzu, which is native to Asia, particularly China, Japan, and Korea. For many years, people have utilized Eastern medicine. It's famous for its ability to thicken food.
We recommend a ratio of 1 1/2 kudzu tbsp per water cup. Or, add 2 tbsp per cup if you want to gel a liquid.
8. Guar Gum
If you can't find all of these ingredients in your local market, then try guar gum – one of several gums derived from guar seeds.
You can find guar gum primarily in India and Pakistan and to a lesser extent in the United States, Australia, China, and Africa. Guar gum is a galactomannan polysaccharide compound that can thicken and stabilize foods.
This add-in is popular for its ability to absorb water in foodstuff, making it easier to bind and thicken in soups and sauces.
9. Xanthan gum
The development of biotechnology has introduced the polysaccharide Xanthan gum (or additive E415). It belongs to the group of thickeners and stabilizers.
Many nations worldwide have allowed E415 to interfere in the grocery business as a vegan substitute for Gelatin.
On the other hand, home cooks must be extremely cautious when it comes to chemical additions like xanthan gum and guar gum.
According to the manufacturer's instructions on the package, you should use only a minimal amount.
FAQs About Gelatin
What can You use instead of Gelatin in cheesecake?
You can use all the listed above ingredients as substitutes for Gelatin. Agar-agar, pectin, or tapioca starch would work just well.
How do you use Gelatin to thicken?
Usually, for plant Gelatin or animal free Gelatin, you need to soak them in water to dissolve. Then, pour this Gelatin into the mixture you want to solidify.