Let's Find Out The Best Gorgonzola Substitute For You!
Gorgonzola is a renowned dairy product that is well-liked by turophiles. Its blue veining distinguishes it.
So, do you know which product may be used as a Gorgonzola substitute? If not, this blog is for you, or if you already know, check to see if the product you selected is on this list!
Let's keep scrolling to find out more information!
What's Gorgonzola Cheese?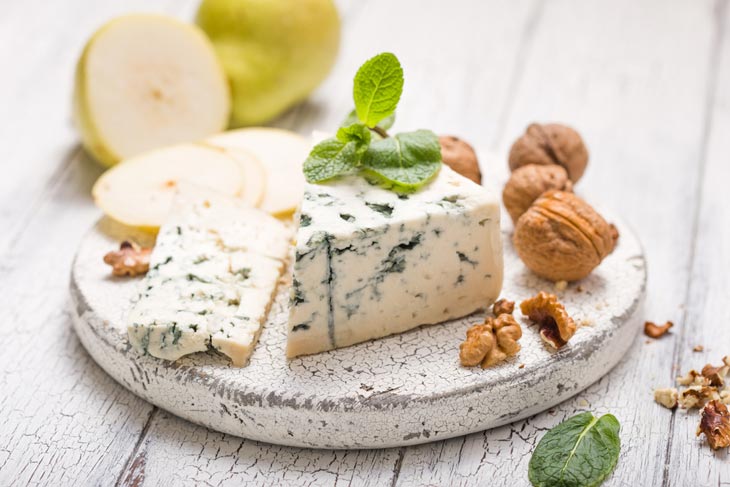 Gorgonzola cheese origin is in northern Italy. It is made completely of cow's milk and usually has a softer flavor.
Cheese Gorgonzola, also known as the blue cheese type, has a soft, crumbly texture with a tangy taste that ranges from buttery and creamy to rich and crunchy, depending on the age.
It fluctuates in hue from white to pale yellow. The fungus Penicillium roqueforti is a special element that gives it its unique blue-to-blue marbling and serves as its unique identity.
Moreover, this Italian cheese has a distinct appearance and is widely used to season risottos, some kinds of pasta dishes, and pizza, or just for a cheese plate, as well.
You can refrigerate fresh Gorgonzola for 5-6 days in an airtight jar wrapped in plastic wrap or aluminum foil. In addition, this dairy product comes in two types of cheese.
Gorgonzola dolce or also called "sweet Gorgonzola", is a milder version and has been aged for two months.
This variant has a sweet buttery taste, light and milky odor, and spreadable, creamy cheese. The mold streaks are a bright blue tint.
Piccante comes next. It boasts an intense, deep flavor, a spicy scent, and a tiny, crumbly texture. It has been held for at least three months, and the streaks are nearly blue-green marbling.
How Is Italian Gorgonzola Cheese Made?
To produce soft Gorgonzola cheese, blend pasteurized whole cow's milk with the fungus Penicillium roqueforti and add some basic ingredients such as enzymes, rennet, and salt.
Within 20 minutes, the milk will begin to coagulate and be chopped into little pieces by hand. The curds are put to a spherical mold after being drained.
Cheese makers have to turn the mixture multiple times by the wheel before being left overnight. Each wheel weighs around 40 pounds, while a completed wheel weighs approximately 26 pounds.
For 3 to 7 days, the wheels are maintained in a warm area. They are then moved to a cold chamber, where each wheel is punctured many times with thin skewers.
Letting air circulate throughout this dairy product and aiding in the formation of its trademark blue mold veins.
Finally, the blue cheese Gorgonzola gets matured for a period of 2 to 6 months. The light cream form requires less age, but the more pungent, crispier variety lasts longer.
The Best Replacement For Gorgonzola Cheese
You are cooking some dishes that need Gorgonzola but don't have it, so what should you do? Would you like to find another substitute for Gorgonzola cheese in recipes?
As a result, this part will be quite beneficial to you. Here are some types of cheese like Gorgonzola.
1. Stilton Cheese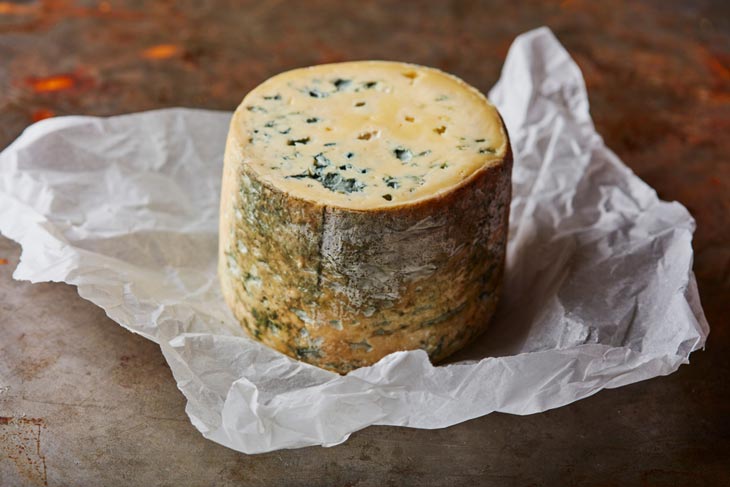 Cheese Stilton is undoubtedly the most popular dairy product in the United Kingdom. We can use bleu Stilton in place of Gorgonzola in both hot and cold dishes.
It bears a strong flavor and a robust scent, with creamy white cheese and nutty opening and a savory aftertaste that lingers on your palate.
Bleu Stilton is blue cheese and has a rich, somewhat tangy finish. It will be a creamier and softer texture as time passes.
Because of its rich, buttery, and creamy flavor, blue Stilton is easily confused with Gorgonzola. In addition, Silton's substitution quantification is equal to the latter, so you don't need to worry about this.
Pasta, risottos, and salads all go great with the addition of Stilton. Not only that, but it would also be perfect in a dessert with sliced apples, honey or its subs, and walnuts.
2. Bleu d'Auvergne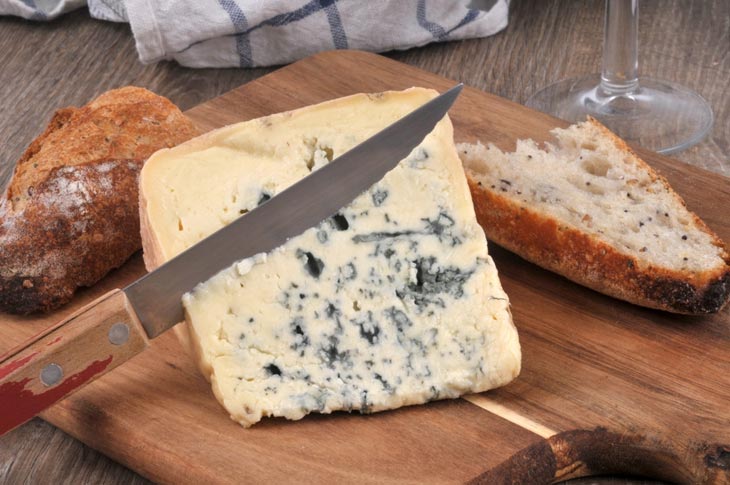 Because the two have a lot in common, here is a dairy product that may be used as a Gorgonzola substitute.
First and foremost, both are created from cow's milk. Bleu d' Auvergne, on the other hand, speaks a somewhat more peppery tone.
As such, you might choose the older Blue d' Auvergne, the French cheese because this aged dairy product might take the place of Gorgonzola's aggressiveness.
Second, it is a different kind of bleu. It is a creamy and flavorful dairy product with a thin salted crust and blue mold veins. Therefore, you don't need to quantify these two because they are comparable.
Bleu d'Auvergne often pops up in several recipes. It may be used as a spice for pasta, salad dressing, snacks, or cheese board.
3. Roquefort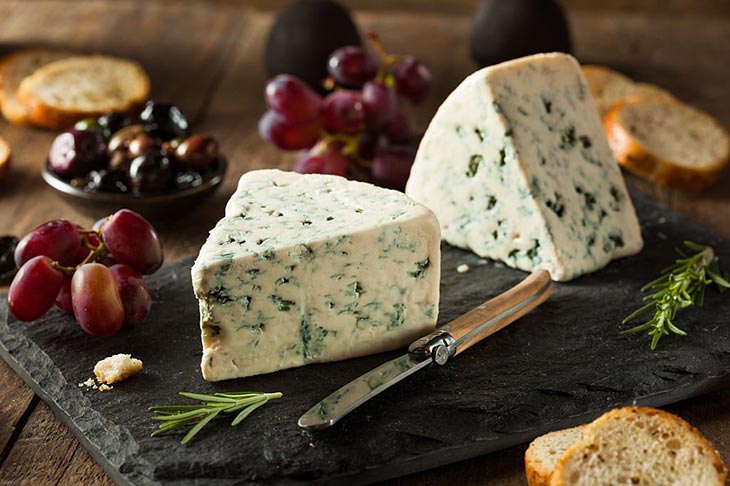 If there is one sort of milk product that is the oldest, it is, without a doubt, Roquefort. It is also known as "le fromage des rois et des papes" (cheese of kings and popes) since it was Emperor Charlemagne's favorite dairy product.
Roquefort cheese is a creamy white dairy product with blue streaks created from sheep milk. It has a creamier texture with a sweet and savory flavor.
It's a crispy, crumbly milk product similar to Gorgonzola that we may use in dishes. On the other hand, Roquefort is creamier, softer in taste, and simpler to consume.
Furthermore, it can take up to nine months to mature, earning it the "longest aged cheese."
Roquefort pairs well with honey and tart apples. Alternatively, rely on the savory flavor of Roquefort, which also works well with meat.
4. Danish Blue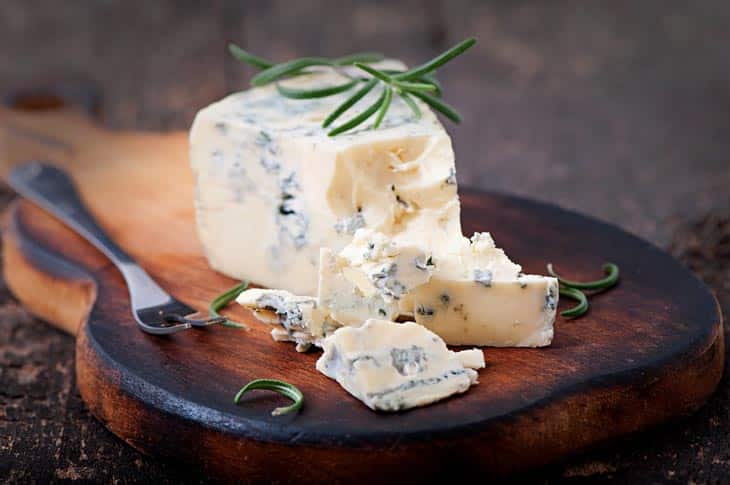 Danish blue cheese, commonly known as Danablu, is a bleu cheese manufactured from cow's milk. It features strong blue veins and is pale yellow, creamy white, or off-white.
This dairy product sports a harsh and salty note and includes 25-30% salt; therefore, it is interchangeable with Gorgonzola.
The Danish blue is high in protein and calcium. The use of this dairy product boosts the nutritional value of the recipe.
Danish bleu is frequently offered as a snack, and it goes well with bread or crackers. It's also a crumb topping for fruit, salads, baked potatoes, steaks, and burgers.
5. Goat Cheese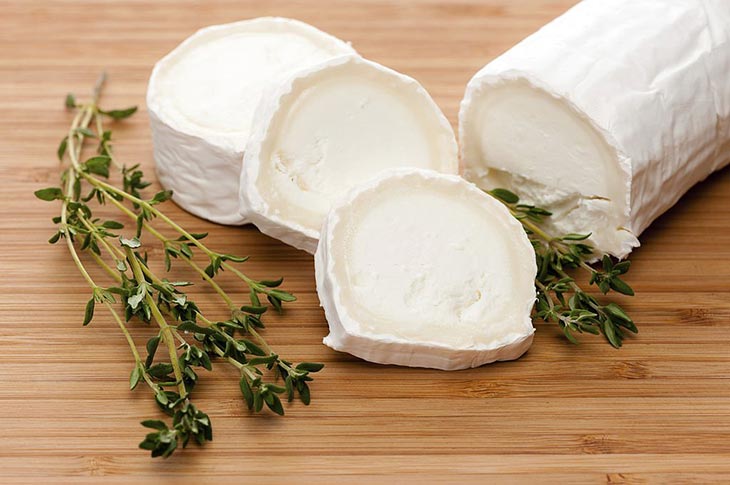 Head for this sub if you want a dairy product that is both healthful and easy to combine with meals while serving as a Gorgonzola substitute.
Goat cheese is a cream cheese that combines well with many dishes. It is especially available in a broad range of tastes and textures, ranging from crumbly fresh, soft cheese to salty, aged crumbs.
Additionally, goat cheese is absorbed differently from cow's milk and provides a hypoallergenic option for persons sensitive to cow's milk cheese.
It's an excellent replacement since it shares the same fat content, but the texture is softer.
How To Choose A Gorgonzola Substitute
If you're not sure which cheese to get, here are a few pointers to assist you in deciding.
However, keep in mind that selecting the proper product for you is dependent not only on the intended usage but also on personal preference.
Please See The Packing Details
Typically, packaging will include creamy, velvety, aromatic, sharp, powerful, and aged. These are taste and texture cues that you should be aware of before purchasing.
Depending on what you wish to use, you should check the label for any non-vegetarian ingredients.
Suitable For Use In Cooking
For others, a slice of great cheese is defined by adding to a meal. As a result, selecting the appropriate kinds of cheese used is dependent on the reason for which it is required.
For example, if you want to discover a product similar to the Gorgonzola cheese flavor and can be used in a burger, you can go with Danish blue or Roquefort.
Take A Chance
Don't purchase the same dairy product every time. Instead, select cheeses that resemble what you know you enjoy.
Sure, it will taste different, but most milk products with comparable appearances have similar flavor characteristics.
FAQs
What Is The Difference Between Gorgonzola And Blue Cheese?
Maybe we'll all ask, "Is Gorgonzola cheese the same as blue cheese?"
We all know that this kind of dairy product is a form of bleu cheese, which is a general term for many variants. As a result, they will differ in various ways.
The first is about their taste. Gorgonzola is crumbly and salty, whereas bleu cheese is sharp and salty with a powerful flavor.
Bleu cheese contains blue, gray-green veins, or blue mold that gives it a unique appearance. The other one is with blue veins going through it.
In terms of components, Gorgonzola is entirely cow's milk blue cheese. On the other hand, bleu cheese may be manufactured from several types of animal milk, such as cow goat's milk,…
Last but not least, because blue cheese is harder in texture, crumbling is simpler. But it will grow softer when aged for a long enough period for the other one.
How Does Gorgonzola Cheese Taste?
This dairy product is flavorful, salty, and delicious, and it will transport you to a rustic barn set in a verdant meadow.
Depending on its age, the texture can range from creamy and soft to semi-hard and crumbly, but the flavor remains consistent.
Conclusion
That is the information we want to share with everyone. It is not difficult to select a Gorgonzola substitute because there are many different substitutes.
Therefore, you don't need to stick to the recipe if you don't have any Gorgonzola ones. You can replace it with the dairy products we mentioned above.
Don't worry too much about the taste, choose what your taste buds tell you!