8 Best Green Onion Substitutes
Green onions, also known as scallions, are a staple ingredient in many recipes.
But if you don't have green onions or can't get them, there are a few green onion substitutes you can use. In this blog, we'll explore some of the best alternatives to green onions and how to use them in your cooking.
Whether you're looking for something with a similar taste or just need a visual substitute, we've got you covered. So, let's dive in and explore the world of green onion substitutes!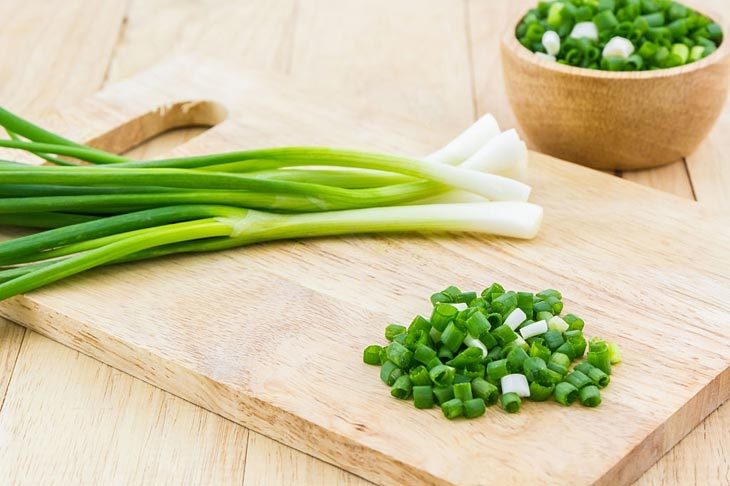 What is a Green Onion?
A green onion, also known as scallion or spring onion, is a type of young onion that is harvested before the bulb has had a chance to mature. It is usually identified by long, slender green leaves and a small white bulb that is often tinged with pink or purple.
The green leaves of the green onion are hollow and have a mild onion flavor that is less pungent than mature onions. Green onions are a popular ingredient in many cuisines and are used in a variety of dishes, including salads, soups, stir-fries, and garnishes.
They are also a good source of vitamins and minerals, including vitamin C, vitamin K, and folate.
Recommended Green Onion Substitute
Here are some great substitutes for green onions:
Chives: Chives are a close relative of green onions and have a similar mild onion flavor. They can be used raw or cooked and make a great garnish.
Shallots: Shallots have a slightly sweet and delicate onion flavor that works well in dishes where green onions are used as a flavor enhancer.
Leeks: Leeks have a milder flavor than green onions but can be used as a substitute in cooked dishes such as soups, stews, and casseroles.
Red onions: Red onions can be used as a substitute for green onions in raw dishes like salads or as a garnish. They have a slightly sharper flavor, so use them sparingly.
Garlic: Garlic has a more pungent flavor than green onions, but it can be used as a substitute in cooked dishes where the flavor can mellow out.
Spring garlic: Spring garlic has a similar taste to green onions, but with a more garlicky flavor. It can be used as a substitute in cooked dishes.
Scapes: Garlic scapes are the edible flower stalks of garlic and have a milder garlic flavor. They can be used as a substitute for green onions in cooked dishes.
Keep in mind that these substitutes may not be an exact match for green onions in terms of taste and texture, but they can add similar flavors and be a good alternative in a pinch.
How To Choose A Green Onion Substitute?
You can choose a list of possible green onion substitutes, but how to choose the best scallions substitute for your dishes? Let's sort out the tips you need to have the best green onion replacement for your recipes:
If you want to substitute green onion in the aspect of green color, choose chives, leeks, and ramps. These herbal spices with the fresh green color look the same as green onion leaves, so you can use them to substitute green onion when you lack the green color element.
If you want a substitute with a nearly identical flavor, take the onion family members like red and yellow onions to be the substitution. Although they do not have the same appearance as green onions, they taste the same. All you need to do is chop the green onion alternative under the same portion as green onions and cook them splendidly in your dishes.
For a complete replacement of green onion, in your words, go with garlic, green bell peppers, or ramps. These vegetables are much easier to digest while still ensuring your recipes turn out to be beautiful and delicious.
Frequently Asked Questions
What is the difference between green onion and scallion?
Scallion is another name for green onions. Green onion and scallion both have long green stalks with white edible stems.
Their difference lies in how they are labeled at the store, making people often confused if they are the same or different. You can either call green onions a scallion and vice versa since it is not a big deal.
How many types of green onions are there?
To your surprise, there are four types of green onions. Since they are not too different, it cannot be easy to differentiate between these types. They are green onions, chives, leeks, and spring onions.
In some regions, people don't usually consider these substitutions as green onions, but somewhat different species that can be replaced with one another.
But if you want to simplify onions into types, you can merely divide green onions into four classes for easy shopping and recognition.
What part of green onions do you eat?
In 1 scallion, you should eat the white-to-green parts just above the roots, as they are edible and delicious if cooked properly. The darker green parts are mainly used for garnish without cooking needed.
However, sometimes old onions may have different shades, so you need to make sure you know how to tell if green onions are bad before consuming them.
Overall, all parts of green onions are edible as long as they are fresh, with you handling the cooking method correctly.