How To Make Homemade Honey BBQ Sauce
Summer reminds me of those vacations at the beach with amazing barbecue nights with my family and friends. Imagining dipping the hot, smoky, and soft meat into the honey sauce makes me want to make a BBQ party already.
If you're planning to make some nice smoky outdoor BBQ, check out my homemade honey BBQ sauce recipes to complete your dishes!
4 Best Honey BBQ Sauce Recipes
What's better than a Barbecue dining by the pool with your families and friends? One of the important elements to make a good BBQ dish is its sauce. So, let's up your cooking game with my favorite recipes for homemade honey Barbecue sauce!
1. Chick-fil-a Honey Roasted Bbq Sauce Recipe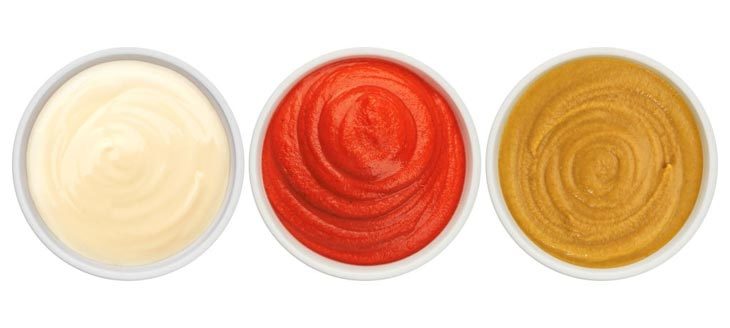 Ingredient
1 cup of vegetable oil
Two teaspoons of ketchup
¼ teaspoon of garlic powder
8 tablespoons honey
½ teaspoon of paprika
¼ teaspoon of onion powder
Two tablespoons of Dijon mustard
½ teaspoon of lemon juice
Two teaspoons of white or apple cider vinegar
One egg
Salt, sugar, and black pepper
How to do it?
1. Take a saucepan and put it on medium heat. Then put in the honey, ketchup, oil, garlic powder, paprika, onion powder, mustard, salt, sugar, and black pepper inside. You need to bring it to a boil and stir it well.
Once the chick fil a honey bbq sauce is boiled, you can pour it into a bowl and let it rest for 10 minutes.
2. While the sauce is resting, take the egg and extract only the yolk. Then whisk it rapidly with a teaspoon of water for 2 minutes. Once it reaches a moderate yellow color, it is good to add into the sauce.
3. Once your sweet sauce is cool; you need to pour the sauce into the egg yolk bowl. While pouring, you should stir it constantly to make a creamy and thick texture.
4. Add in the vinegar and lemon juice and mix them well.
The vinegar will help control the bacteria coming from the raw egg and keep your sauce edible for a longer time.
5. Drizzle it on your grill chick-fil-a sandwich!
2. Buffalo Wild Wings Honey Bbq Sauce Recipe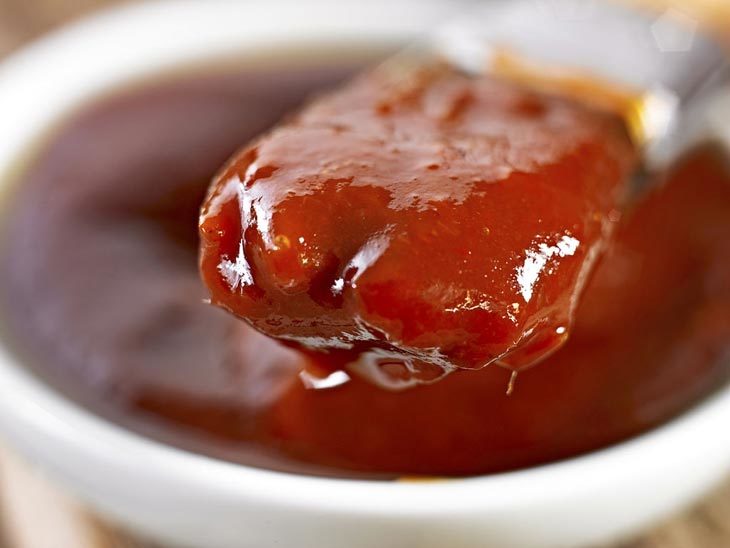 Ingredients
Two teaspoons ketchup
1/4 cup molasses
1/2 cup cider or white vinegar
One teaspoon concentrated liquid smoke
1/2 cup honey
1/2 teaspoon paprika
½ teaspoon onion powder
½ teaspoon garlic powder
1/2 teaspoon chili powder
Salt and black pepper
How to do it?
1. Put on a saucepan on medium heat. Then pour in honey, molasses, liquid smoke, pepper, salt, paprika, chili powder, onion, and garlic powder. Stir them well.
2. Boil the sauce, then put in vinegar and ketchup. Then, you need to lower the heat and keep them from 3-5 minutes. Mix all the ingredients.
3. Once the sauce is mixed, pour it into a bowl and let it rest for 10 minutes.
4. Enjoy this buffalo wild wing sauce!
3. Sweet Baby Rays Honey Bbq Sauce Recipe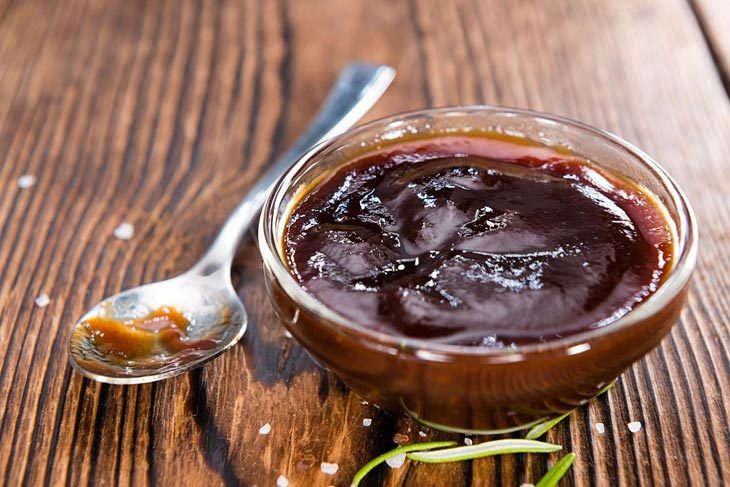 Ingredients
One cup ketchup
Two tablespoons pineapple juice concentrate
Two tablespoons molasses
1/2 tablespoon concentrated liquid smoke
½ cup brown or granulated sugar
Two teaspoons ground mustard
1/4 teaspoon garlic powder
One teaspoon paprika
One tablespoon cornstarch
One teaspoon Cayenne pepper, black pepper, and salt
How to do it?
1. Put in a pot on medium heat. Then pour in ketchup, pineapple juice concentrate, molasses, liquid smoke, granulated sugar, paprika, mustard, garlic powder, salt, and peppers inside and stir it constantly. Once it is boiled, you should lower the heat and let it sit for 5 minutes until the sauce is well mixed.
2. In another bowl, add two tablespoons of water and the corn starch. Mix them well.
3. Add the cornstarch mixture to the sauce and cook it for 15 minutes. When it reaches a thick texture, you can turn off the heat and let it cool down for 10 minutes.
When the sauce is cooling, the texture might get slightly thicker than before.
4. Serve it with tasty barbecue chicken wings!
4. Applebee's Honey Bbq Sauce Recipe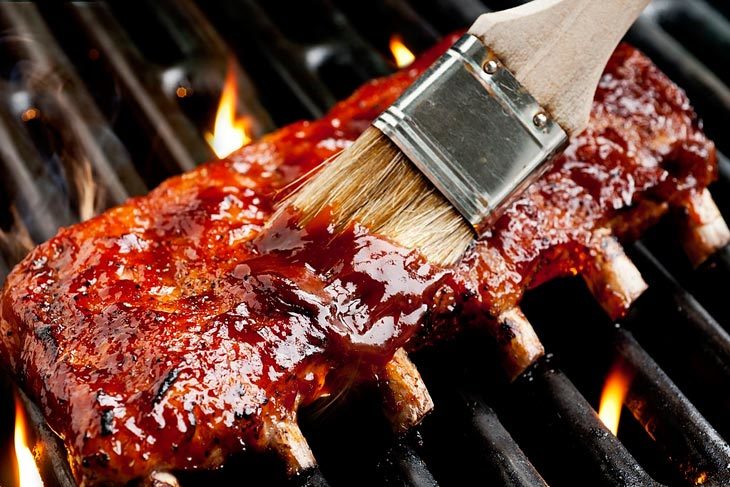 Ingredient
½ cup of ketchup
Two tablespoons of white or cider vinegar
1 ½ tablespoon of brown sugar or granulated sugar
1 ½ tablespoon of Worcestershire sauce
½ teaspoon concentrated liquid smoke
One teaspoon salt
One teaspoon black pepper
How to do it?
1. Put on a medium pot on medium heat. Put in the sugar, sauce, liquid smoke, sugar, ketchup, salt, and pepper inside and stir them.
2. Bring it to a boil. Then you need to put in the vinegar and let the sauce simmer for around 30 minutes. Once the sauce is thickened and well mixed, turn off the heat and pour it into a bowl.
3. Let the sauce cool down for 15 minutes.
4. Drizzle it on top of roasted pork chops or honey BBQ chicken wings, and enjoy!
What To Serve With Honey BBQ Sauce 
Now that you have made a decent amount of BBQ sauce for your future BBQ party, it's time to use them up before they become spoiled. And trust me, these homemade sauces only last for a few days, so you'd better have a good plan for them.
So, what should you serve with honey bbq sauce? Here are some genius ways to use them with BBQ dishes or normal meals.
Smoked meats like a smoked chicken drumstick or salmon are delicious with the honey bbq sauce. With a smoky flavor and mild taste of meat, the sweet baby ray honey bbq sauce will add a beautiful sweetness to the taste of the entire dish.
Instead of boring ketchup, you can also top the bbq sauce on the chicken pizza to add a special effect to your familiar dinner. It also goes super nice with the soft texture of pulled pork. You can also put it on a hot dog and turn the simple dish into a southern-style with grated cheese on top.
Maybe you're on a diet; then there's no problem to add some spices to your healthy salad by drizzling some honey bbq sauce and mixing it with different vegetables. The bland and fresh taste of greens combined with the sweetness and peppery of the sauce is an interesting mix that you should try.
Lastly, because of its complementary taste that can be used for a wide range of dishes, it can also be used in your cocktail sauce to add a rich and sweet flavor to it.
How To Store Honey BBQ Sauce 
As I have said above, homemade classic dipping sauce like tomato sauce, cocktail sauce, and honey bbq sauce doesn't have a long-lasting shelf life because of their recipe ingredients. That's why you need to store them properly in order to use them longer.
When you leave them at room temperature, they can only last for 2 hours because of the growth of bacteria. In order to store them, you need to keep the dipping sauce in a cool place to control the food spoilage process. Normally, it is ideal for storing in the fridge. When they are stored properly, the sauce can last up to 7 days.
So, how to store honey BBQ sauce?
First, you need to sterile a glass jar or an airtight container first by cleansing them with hot water. Once it is cleaned, you should put the sauce in immediately to avoid the growing process of bacteria. Then close the lid tightly and put this jar in the refrigerator.
Conclusion
For an outdoor barbecue dining to complete, you need a great bbq sauce. You can always buy some commercial BBQ sauce bottles, but they won't be as tasty as making them. With my simple honey BBQ sauce recipes, you can definitely work well with familiar ingredients to produce amazing sauce for your meals.