How Long Are Duck Eggs Good For? Interesting Facts About Duck Eggs
How long are duck eggs good for? What are the benefits of duck eggs? Duck eggs are a familiar ingredient used for making various foods and recipes.
They are a great substitute for chicken eggs that are a valuable source of nutrition and give the food a more tasty flavor. However, the eggs can go bad after a long time or stored in unideal conditions.
Continue reading to know more about their shelf life.
What Are Duck Eggs?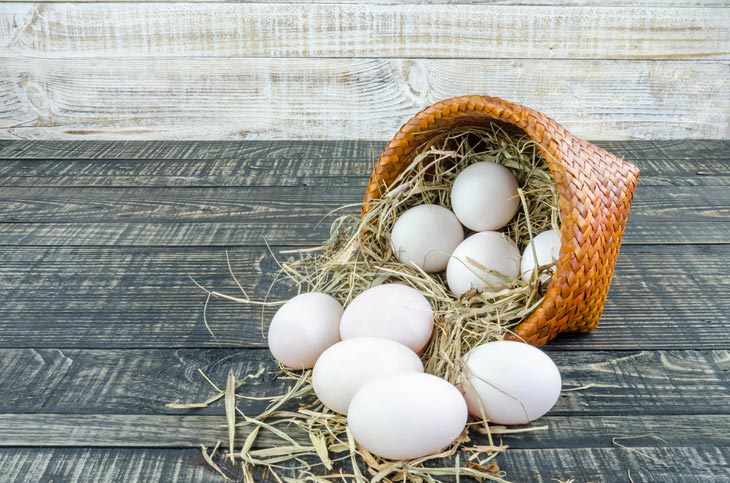 Duck egg is a popular cooking ingredient sold in every grocery store and supermarket. We can replace chicken eggs with duck eggs in many recipes to get a similar, tasty, and creamy flavor.
Size And Appearance
Unlike chicken eggs which are commonly brown and white, the duck eggshells come in various colors.
It depends on the duck breed, but sometimes the same species can give different eggshell colors (white, gray, and speckled to black).
You can differentiate the duck eggs from the other types based on their large size.
The average duck eggs usually have a larger size than chicken eggs in size, with a larger yolk proportion and a thicker shell.
A typical duck egg is also heavier (about 2.5 ounces or 70 grams) with a thicker shell compared to the chicken egg.
Flavor And Benefits Of Duck Eggs
Although you may prefer the chicken egg taste, the duck eggs give a creamier and richer flavor with more nutritional profiles (protein, fat, cholesterol, vitamins, and calories).
Using them for baked goods can make the texture more fluffy and creamy and retain its shape longer due to their low fat content and water concentration.
Therefore, this ingredient is more suitable for custard fillings, cream, or quiches.
Duck eggs are also abundant in high-quality protein combined with amino acids that help the body build protein more efficiently.
As such, just a bowl of egg salad is more than enough for a nutritional morning recipe. Their excellent source of vitamin B6 and B12 facilitates the formation of red blood cells and DNA synthesis.
The dark and creamy yolk of duck eggs contains a lot of antioxidants, omega-3 fatty acids, and more concentrated vitamin A.
Here is the nutrition table of the one duck egg compared to one chicken egg.
| | | |
| --- | --- | --- |
| Nutrition | Duck Eggs | Chicken Eggs |
| Protein | 13 grams | 12 grams |
| Carbs | 185 | 148 |
| Fat | 14 grams | 10 grams |
| Cholesterol | 295% (daily value) | 141% (DV) |
| Selenium | 52% (DV) | 45% (DV) |
| Riboflavin | 24% (DV) | 28% (DV) |
| Vitamin B12 | 90% (DV) | 23% (DV) |
| Iron | 21% (DV) | 10% (DV) |
| Choline | 263 mg | 251 mg |
| Vitamin D | 17% (DV) | 9% (DV) |
How Long Are Duck Eggs Good For?
Commonly, the duck eggs can last for three weeks at room temperature and up to five weeks in the fridge.
The lifespan also depends on the type of eggs and storage condition. The eggs go bad when they are decomposed by bacteria and mold.
According to the Egg Safety Center, the duck eggs are still edible after four to five weeks past the packaging date.
However, old eggs have a higher risk of developing harmful bacteria like E-Coli or Salmonella.
Eating too old eggs may cause food poisoning, and their flavor is not very enjoyable anyway. So it is recommended to throw the eggs away after five months.
How Long Are Duck Eggs Good For After Being Laid?
Fresh duck eggs are in good condition for about 3 weeks at room temp. But you will want to eat them up within a couple weeks for the best outcome.
How Long Are Duck Eggs Good For In The Fridge?
When kept in the refrigerator, the shelf life of duck eggs is 5 weeks. That said, the prime time for eating is within 3 weeks.
Passing this benchmark, the quality might deteriorate, and it's advisable to crack them to check the inside. There is one more convenient way to check their quality. Keep reading!
How To Know The Age Of Duck Eggs?
We usually don't remember when the eggs were bought. You may want to know how long the nutrient-dense eggs have been sitting in the fridge.
Here are some simple methods to check their age.
The simplest way is to check the expiration date if you buy a carton of duck eggs. However, the best-by date only indicates how long the eggs should be offered for sale in stores.
Therefore the expired eggs won't necessarily go bad and are still edible, but their quality and flavor will decrease significantly.
You can also judge the quality of duck eggs by performing a float test if the expiry date is unavailable.
When the eggs get old, the water inside slowly evaporates, and the air will fill in the porous eggshells. Older eggs are filled with more air and float, while the new eggs will sink into the water.
To perform the float test, find a large bowl or tall glass and fill it with cold water. Gently place the eggs in the water to not crack them.
The eggs that sink to the bottom are fresh. The ones that sink halfway are still good to eat, and the floating eggs are very old.
You should note that the old eggs are still edible if they don't get decomposed, but the flavor and texture will decrease in quality. So, how to know when a duck egg is no longer edible?
How To Tell If Duck Eggs Are Bad?
For the eggs that have been stored for more than six weeks, it is best to check their qualities before cooking based on these signs.
When the duck eggs go bad, they will deliver a very unpleasant smell whether they are cooked or raw. Simply crack the eggs onto a small plate and give it a sniff.
If they smell awful or slightly off, the eggs have been decomposed and are no longer edible. Toss them into the sinking and wash the plate with hot water and soap to remove the bacteria.
Also, pay attention to the color and appearance of the egg texture. If you notice any discoloration or black spots in the duck egg white and yolk, they are no longer safe to eat.
What if you don't want to crack the eggs? Check whether there are any cracks or sliminess on the eggshells. The cracked eggs are exposed to the air and give way for the bacteria to grow inside.
Do You Need To Freeze Duck Eggs?
Freezing the duck eggs can increase their shelf life significantly from three or four weeks to around six months.
However, if you plan to use the eggs in less than one month, then it's not necessary to store them in the freezer.
When the eggs freeze, they will expand a little bit and may get small cracks on the eggshells. These cracks give way for the bacteria to enter and ruin the eggs.
Furthermore, the frozen yolk texture can be off and decrease in quality after defrosting.
Therefore, you should not freeze duck eggs used for baking and making muffins. Remember to defrost the eggs in cool water and use them immediately to get the best flavor.
The leftover foods that involve eggs in the making can last around 3 to four days in the fridge.
For the hard boiled eggs, remove the eggshell and separate the duck egg yolks from the white first before putting it in the freezer bag.
How To Store Duck Eggs Properly?
You should learn to store the duck eggs properly to prolong their shelf life and tasty flavor.
As mentioned above, the eggs can last for only nearly a month at room temperature.
So it is best to store the duck eggs in cool and dry places with no light to obtain and consume them in the first month to get the best flavor.
If your fridge doesn't have special spaces for the eggs, put them in a plastic container gently or just keep the accompanying carton.
You can also crack the eggs into a plastic container or bag and freeze them for later use.
Remember to cover the container thoroughly and don't let the eggs contact the other food to avoid cross-contamination. Leave the egg white and yolk separated, or stir it if you like.
Who Should Avoid Duck Eggs?
The egg protein content is a common cause of many food allergies with symptoms like skin rashes, vomiting, diarrhea, or even anaphylaxis.
So if you don't feel very well after eating eggs, visit the doctor for a more precise diagnosis and consider removing duck eggs from your diet.
People with heart disease should avoid consuming duck eggs due to their high amount of cholesterol, as per Healthline.
If you have diabetes or a heart disease history, limit the protein-rich duck egg yolks to reduce the risk of heart attack and strokes.
What if you are too obsessed with duck eggs? I suggest you refer to boiled or fried eggs without oil.
Final Thoughts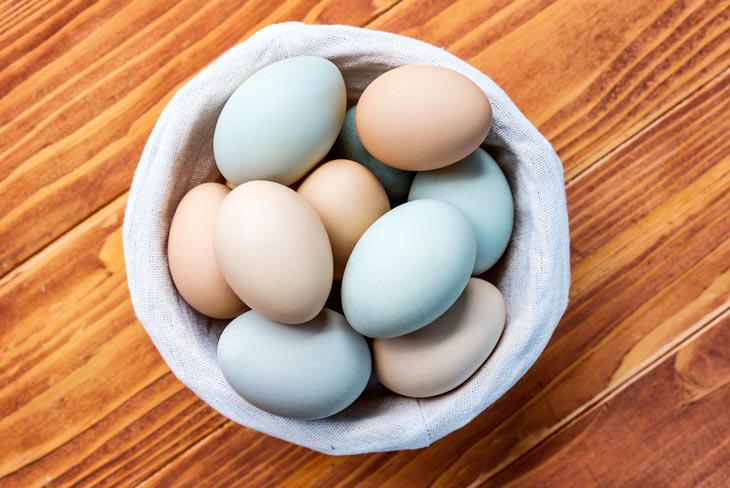 How long are duck eggs good for? I hope you are satisfied with the answer in this post.
To sum up, duck eggs can last from 3-5 weeks at room temperature or in the fridge as long as you store them correctly. However, you should not let the eggs sit unused for too long.
If you find the information provided in this post helpful, please share it with your friends and family members.
Thank you for reading!