How Long Are Ribs Good For In The Fridge?
So, how long are ribs good for in the fridge?
Well, the answer to that question depends on a variety of factors, including whether it is cooked, the type of container it is in, and how close it is to expiration.
Correct Refrigerator Temperature
The U.S. Food and Drug Administration (FDA) recommends that you keep your refrigerator temperature at or below 40 °F (4 °C). All meat should be stored in an airtight container or plastic wrap unless it is supposed to be exposed to the air (for example: brining or drying).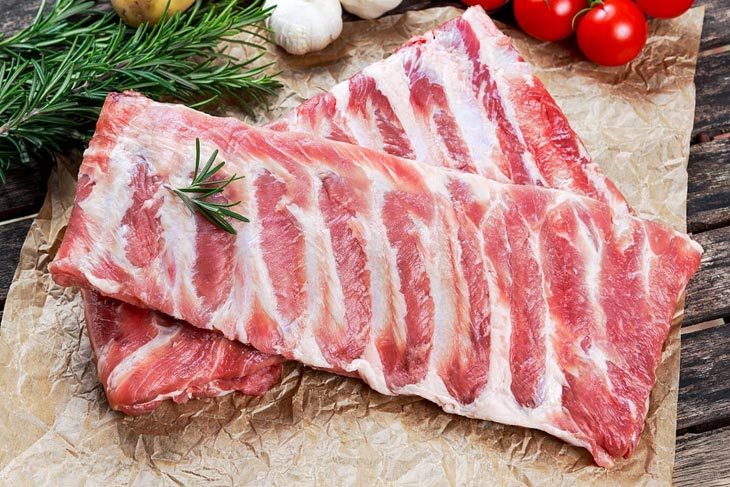 How Long Do Uncooked Ribs Last In The Fridge?
For raw and uncooked ribs (including both beef and pork), their shelf life in the refrigerator can be up to 5 days, but that is an extremely general statement. However, countless factors play into how long is too long.
The better way to judge if your raw meat is fine, is by looking at the date on the package. However, the wording they use on the label is important.
If the date is labeled as "sell by", this is how the date up to which the item is allowed to be sold in the market. Usually, meat – if properly stored in the fridge – can last anywhere from 3-5 days past that date and still be safe.
If the date on the label is listed as an "expiration date", then it is a little more straightforward. Anything past the expiration date should be thrown out immediately.
It is essential to judge meat based on the smell test once it gets past its date. If it smells off in any way, or is slimy or sticky to the touch, throw it away!
How Long Do Cooked Ribs Last In The Fridge?
Cooked ribs only last about 3 to 4 days in the fridge. It is best to let the ribs cool down slightly that you can handle them before placing them in the fridge. Placing extremely hot food into the fridge immediately will bring the temperature down inside your refrigerator, thus making it work harder to keep everything else inside of it safe.
However, don't wait too long. If you leave food out to cool and forget about it after 2 hours, throw it away. Bacteria can grow rapidly on food left out at room temperature for more than 2 hours.
To store cooked ribs in the fridge, place them inside an airtight container, or wrap them tightly in plastic wrap.
How Long Do Ribs Last In The Freezer?
Freezing is the best method for long-term storage. This goes for both raw and cooked ribs.
The FDA recommends your freezer temperature should be at 0° F (-18° C).
If your freezer is at this optimal temp, you can store food in it for years. However, over time, the air and moisture inside your freezer will tend to sap all the flavors from the meat.
Freezer burn is a real thing and happens when meat is left in the freezer for too long. Freezer burnt meat ends up tasting horrible, and usually happens quickest to poorly sealed meat.
Raw / Uncooked
Most ribs come straight from the supermarket already in vacuum-sealed bags. This is the perfect packaging to freeze your uncooked ribs in. Uncooked ribs in this type of packaging will easily last a year or even longer.
Cooked
Cooked ribs can be frozen up to 8 months, but that length of time is more for preserving the best taste rather than keeping it safe.
How Long Are Ribs Good For At Room Temperature?
Ribs and other meat should only be left at room temperature for about 2. The temperature range from 40-140 °F (4-60 °C) is an ideal range for allowing bacteria to grow. After about 2 hours at this temperature, your food will potentially be unsafe to eat.
One thing to keep in mind here is that the higher the room temperature, the shorter the safe time. For example, at 90 °F (32 °C), the bacterial infestation process has already started after only 1 hour, and we do not recommend that you continue to use the ribs.
Tips For Better Ribs Storage
These tips can be used with just about any meat, but we've tailored the answers specifically towards ribs.
Divide into small portions before placing in the freezer to save on defrosting time.
If freezing, vacuum sealing is ideal. However, if you don't own one, wrap them tightly in plastic wrap, leaving no exposed meat. Then, wrap them again in aluminum foil, which will add an extra barrier from the air and knicks that may puncture the plastic wrap.
Keep raw and cooked ribs away from each other to avoid spreading bacteria.
Double-check that your fridge and freezer are at FDA approved temperatures.
If you don't intend to eat all your cooked ribs at once, place them in the fridge at the earliest time possible.
How To Tell If Ribs Have Gone Bad?
With uncooked or raw ribs, the best way is to look at the expiration date. If it is past that date, be very cautious. Bad ribs will be slimy, sticky, have a bad smell, or a combination of any of those. If in doubt, throw out!
For cooked ribs, you likely won't get any tell-tale signs that it is bad until it starts growing mold. It is best to throw it out once it hits a maximum of 5 days in the fridge.
Rib FAQs
Can I Freeze Cooked Ribs?
Of course! This is the best way to preserve ribs, raw or cooked. Just remember to wrap them tightly or use a vacuum sealer.
What Is The Best Way To Store Ribs?
Airtight and cold, and this goes for whether the ribs are cooked or not.
How Long Are Ribs Good For In The Fridge After Thawing?
You can keep cooked or raw ribs for 3 to 4 days in the fridge after thawing. However, it would be better to use them immediately after being thawed.