If you are lactose intolerant or a vegan, you will need alternatives to dairy milk and probably are familiar with Almond Milk.
But, how long can almond milk sit out? If you are curious about the answer, let's dig into this article to discover the answer!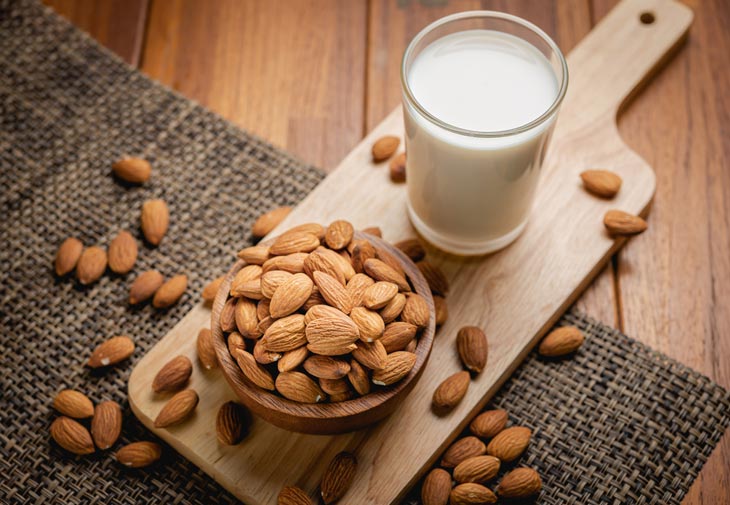 Can Almond Milk Go Bad?
The bad news is yes! Your almond milk can easily go bad if you don't know how to store it properly.
In general, almond milk, like other milk replacements, goes rancid. The spoilage rate depends on the various almond milk you are mentioning.
Shelf-Stable Milk
Shelf-stable almond milk is any variety of milk that may be kept unopened in the cupboard for a long time.
Although the shelf-stable kind lasts far longer than the frozen type, it can go rancid eventually.
It is commonly packaged in Tetra Pak or another aseptic packaging. Manufacturers use paperboard for the outside and aluminum foil for the inside, making the containers unique.
Thanks to this multilayer approach, light, bacteria, and oxygen cannot contaminate the milk from the inside.
The shelf-stable kind lasts considerably longer than its expiration date, but the flavor may degrade ultimately, and you'll have to toss it for quality problems.
Refrigerated Milk
It is available in various packaging options like paperboard, plastic, or glass.
Can almond milk go bad if unopened? Unfortunately, even when you don't open the bottles or cans, your almond milk still goes bad.
It is especially apparent for the frozen variety, which rarely lasts past its expiration date.
Homemade Milk
Since you don't have the extra advantage of a sealed interval like you do with store-bought types, you should use this variety much faster than you would with store-bought variations.
If you are looking for ways to make almond milk, this video will help:
How Long Can Almond Milk Sit Out?
The amount of time this milk can be good varies on the condition you store it. Below is the duration of this milk in the different storage environments: at room temperature, in the fridge, and in the freezer.
How long can it last? It can be good for no more than 2 hours if opened at room temperature, one week in the fridge, and 6 months in the freezer.
Let's keep reading to discover more!
At Room Temperature
How long can almond milk sit out unrefrigerated? It depends on the status of your milk: unopened or opened one.
In particular, if it's a store-bought unopened carton, you can check its expiration date to determine its shelf life.
In case the bottle hasn't been broken or warmed, an unopened bottle is likely not to go rancid even when the expiry date goes by.
The sterilizing technique accounts for its long shelf life. Foodborne bacteria that cause spoiling are killed by heating and drying the product.
Also, it uses the aseptic carton container, which aims to keep almond milk for a long time.
However, that's not always the case. If the milk sits beyond the specified time, it will begin to taste sour.
How long can opened almond milk sit out when opened at room temperature? The answer is around 2 hours.
According to FDA recommendations, any food or drink can go bad after 2 hours. After this period, bacteria will enter and spoil your milk.
In The Fridge
How long can unopened almond milk sit out in the fridge? If unopened, almond milk can be good for up to a week in the refrigerator.
That's because the sterilization process isn't as effective as shelf-stable milk.
Because some almond milk, such as Blue Diamond's Almond Breeze, have no preservatives, store them in the fridge after unpacking to avoid deterioration.
How long does almond milk last in the fridge if opened? If you open the milk container before putting it in the refrigerator, it's best to drink it within seven days.
In The Freezer
Can you freeze almond milk? The short answer is yes! It is the most effective way to store leftover milk and avoid waste.
Frozen almond milk may last approximately six months at its highest quality. However, it's worth noting that its texture will not be the same after defrosting.
Even when you mix it, thawed milk separates and has a terrible taste. Baked or cooked meals, however, can still utilize it.
In these recipes, the texture changes seem barely perceptible and have little impact on the final product's quality.
However, freezing it for drinking is not a brilliant idea. Its consistency will change, and it is lumpy rather than smooth.
How To Know If Almond Milk Goes Bad?
How to tell if almond milk is bad? Like other milk varieties like buttermilk or dry milk, there are many ways to know if your almond milk is sour.
To see if it has gone rancid, try the following:
Look Over The Packaging
Check the packaging to see whether it is puffy, swollen, or leaking. If there is any sign, throw your milk right away.
Although the milk may not be thoroughly spoiled, there's a problem here.
Check Appearance
Inspect for any odd black patches or slight discoloration and anything unusual. Besides, it's better to examine the texture of the liquid as well.
Almond milk doesn't have a thick texture. If you don't keep the pulp in the drink or if it's not homemade milk, it shouldn't be dense.
Almond milk from the store is primarily water and has a consistency comparable to milk. Toss it away if it is lumpy or slimy.
Smell
Almond milk has a nutty and refreshing aroma. If it is a sweetened kind, there is a tinge of sweetness.
If it's vanilla-flavored, you'll detect that flavor when smelling. When you sniff your milk, you should pay attention to this sign.
If you detect any old or sour smell, it's time to throw it in the rubbish.
Check Its Expiration Date
This is the easiest and fastest way to tell if your milk is rotten. If the use-by date goes by, it's best to throw your drink away.
How To Store Almond Milk?
You can store unopened shelf-stable milk on the countertop as long as you ensure the temperature is not too high.
If you are unsure of its shelf-stable type or how to prolong the shelf life of this drink, below are some valuable tips.
Typically, you can store this drink in the fridge or the freezer. Here is the most effective storage method to consider:
In The Fridge
If it's an opened container, it's best to seal it before putting it in the fridge. If the leftover isn't in a resealable container, move it to an airtight bottle.
Place the containers on a refrigerator shelf near the rear. Keep your drink away from the refrigerator door if you need to enhance the storage efficiency.
That's because the refrigerator door is frequently the warmest area of the appliance and is sensitive to temperature fluctuations.
In The Freezer
If you want to expand the lifespan of your beverage, it is a great idea to keep it in the freezer. Here are some tricks:
Freeze milk in ice cube trays: Fill the ice cube trays halfway with the milk and place it in the freezer. Pour frozen milk cubes into freezer containers or bags. Then, put them back in the freezer.
Divide the milk among the containers: Divide it up into containers if you've determined how you will use each portion of milk.
The liquid swells when frozen, so ensure enough there is enough room in every container. After dividing it into small portions, put them in the freezer. Ensure they remain upright before they get frozen.