How Long Do Dried Mushrooms Last? Experts Tell
How long do dried mushrooms last literally? It depends on many factors, from the ideal temperature to your methods to store it. Every step counts.
In today's sharing, we'd like to include the knowledge regarding the life cycle of the dried fungi and the best method to preserve to get its maximum shelf life.
Besides, some tips to make a good meal are also mentioned!
Wait no longer! Start with us now!!
About Dried Mushrooms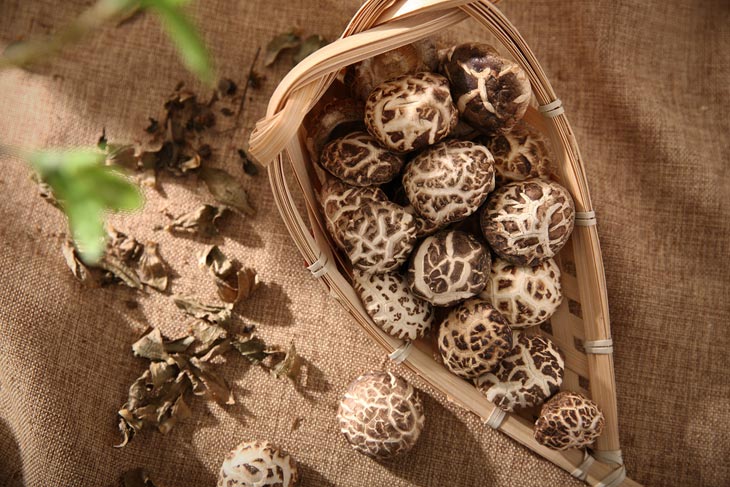 But first, let's take a closer look at our main lead!
Dehydrated mushrooms are defined as fresh fungi that have been machine-dried or sun-dried. However, it concentrates and intensifies its robust flavor without losing the best nutrition.
Besides, the desiccated mushroom becomes an indispensable note to add in many scrumptious meals, for both vegetarian and meatatarian cause its variety in processing and nutrition.
Why Should You Dry Mushrooms?
Humans dry fresh mushrooms to keep it longer because the fresh mushrooms only last for a maximum of 10 days.
The dry form will be much more convenient for all the areas that do not facilitate growing the fresh one.
Moreover, inside the dry form is huge nutrition that supports our health.
Having fat content in low amounts, about 1% and up to 43% dietary fiber, 33% of  Potassium, and 19% of Proteins & Amino Acids in 100g portion size, dried fungi become an excellent agent for reducing the risk of suffering cardiovascular diseases.
How Long Do Dried Mushrooms Last?
Dried mushrooms will last from six to twelve months in proper condition.
It is easily damaged if air enters and goes bad like all food. After contact with air, it gradually loses its true flavor and becomes rough over time.
Therefore, it is necessary to preserve these dried "umbrellas" in sealed containers and place them in a dark, cool place.
To extend its shelf life, some people even apply a freeze-dried method. This way, it can stay healthy in the freezer for up to 12 months. Until now, you can answer the question: how long do dried mushrooms last? But how to store it?
How to Preserve Dehydrated Mushrooms?
Now, how to store dehydrated mushrooms?
A prerequisite condition is to use a sealed/airtight container to keep the air away from your mushroom to store the original taste and scent.
Besides, you should check whether the holder is 100% dry before you drop any mushroom in it.
In case you don't have an airtight container, you can replace it with a sealed jar or tins (Stainless steel) – the one that can eliminate the air penetrating in and food safety.
And there are three ways to store.
Room Temperature
As long as it is put in an airtight or vacuum-sealed container, the quality will be secure! You can leave it at room temperature but in a dark and cool place.
18°C to 22°C is the ideal and standard temperature in this case.
Don't let your fungi nearby direct sunlight, strong lights, high temperature, and humidity because this dried ingredient can be easily molded with humidity.
Don't place it under fluorescent lights as it may be stale.
In addition, you also can store it in a pantry.
Tip:
We recommend you put paper towels or Silica Gel Packs/Desiccant packets (the one attached with the pack you buy or the one you have or buy separately) into as a lining for double protection!
Refrigerated
Suppose the ambience is outside the ideal room temperature range; then you need to use a refrigerator.
After completing the prerequisite condition, you can refrigerate it. One caution is not placing it near spice/vegetables to avoid spoiling your fungi. Isolate it from others.
Freezing
Can you freeze dried mushrooms? Yes, you can! It is the last method we would like to recommend. Freezer can extend the useful life of your mushroom without compromising the flavor or taste.
What Are The Signs That The Dehydrated Mushrooms Have Gone Bad?
But how to tell if dried mushrooms are bad? Below is the signal that you can rely on:
– Smell: The smell speaks volume. If there's no trace of its signature scent at all, it's likely spoiling.
– Color: When its color shifts to a lighter shade, you should not use it.
– Mold: The next indicator you should check is the appearance of the mold. Pay attention to unfamiliar or strange lines/patches. If it has, eliminate it.
– Texture: In case it is brittle or dry out, don't shilly-shally but say goodbye to it. The well-preserved fungi are the firm ones. However, it still keeps the elasticity of the coating.
– Instinct: If you're in two minds about whether it is still safe to eat, it's always a safe bet not to eat it. Until now, we are sure that you can reply to the question: Do dried mushrooms expire?
Dehydrated Mushrooms in Recipes
How to use dehydrated mushrooms? Well, there are a lot of delicious dishes that you can make use of. But, you need to rehydrate it first.
Rehydrate Mushrooms
There are two ways you can rehydrate mushrooms.
Method 1: Indirectly
You need to prepare a bowl of warm water. Do not take hot water because it can affect the mushroomy flavor.
After that, you drop the fungi into the bowl. Wait about 20 mins. Sometimes you shake it a bit to loosen the remaining dust or debris if any.
Then, when the time comes, you clean it with water. And it is reconstituted.
At this time, you can chop and cook the dish you wish.
Method 2: Directly
Take it out from the airtight container and check the sign to make sure it's safe to eat. And under tap water, you rinse it thoroughly.
After you are satisfied with your cleaning, you put the mushroom directly into the dish you want to cook with. As long as the recipe requires above 25 mins to finish, the fungi are ensured to be rehydrated and cooked.
Recipes
Dried forms usually have intense flavors. Therefore, when you normally use a fresh one in recipes, and suddenly it is out of stock, don't hesitate to use dehydrated mushrooms if you need an alternative.
A variety of unique dishes can be created with it. Here are some suggestions for you:
– Pizza toppings:
Some kinds of dried fungi like shiitake mushrooms or porcini can spread over the pizza surface to add extra flavor.
If you can not find shiitake, you can consider a substitute for shiitake mushrooms. As long as you choose the right one, the pizza will surely stand out over others because it has a concentrated flavor of fungi.
– Chicken soup:
When you are making chicken broth, add a little bit of dry mushroom powder into it (you can grind from dried ones). You will be amazed by the flavor it bursts out!
– Bolognese sauce:
Rehydrate the fungi, chop it and then add to the sauce and cook. Remember the flavor of tomato, thyme, and pasta harmonized with each other?
– Roasting beef
Smash dried porcini into powder and rub it in the meat before roasting.
Additionally, you can also rehydrate it, cut mushrooms standardly, add other ingredients, and have an amazing sauce to eat together with roasting beef.
Conclusion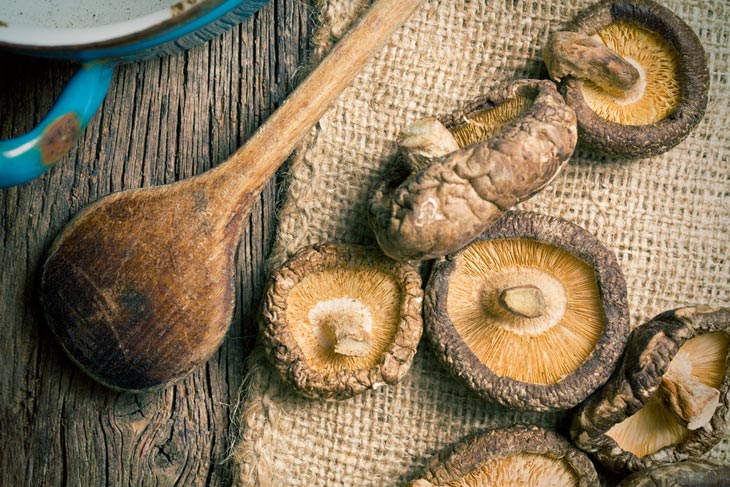 Fungi is rare in the food world when it is not a plant, vegetable, or meat. Even when being dehydrated, it has its distinct tone but also can complement with others very well.
Therefore, with the knowledge from the article about how long do dried mushrooms last, you will take full advantage of the precious food.
We hope it supports your cooking journey.