How Long Do Grapefruits Last In Fridge? The Useful Details
First, we'll learn about grapefruits before giving the answer regarding how long do grapefruits last in the fridge.
Grapefruit is a citrus fruit having a bittersweet to sour taste profile. It's chocked-full of essential vitamins and minerals that your body needs.
We can say that grapefruit is nutrient-dense while being low-calorie, enhances your health benefits and avoids blood pressure impact.
Furthermore, this fruit includes various minerals known to help prevent illness so that it might be good for your immune system. So, is grapefruit bad for you? Absolutely not!
Like any other fresh food, grapefruit must be stored properly to maintain the fruit's freshness and nutrition.
If you like the fruit but don't know its shelf life or how to store grapefruit fresh in the refrigerator for a long time, don't miss out on this article!
How Long Do Grapefruits Last In Fridge?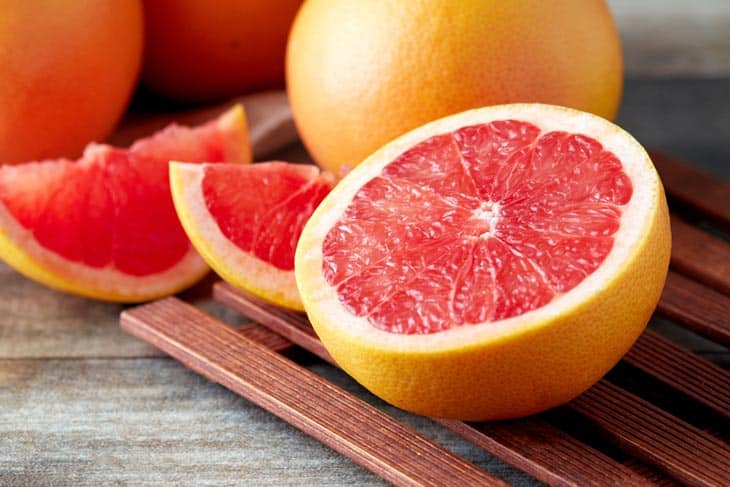 How long is grapefruit good for? Unpeeled grapefruits can keep for nearly a week at room temperature.
With that time, the inside of the fruit is still juicy, the fruit isn't crushed, and it's incredibly sweet, even if the outer skin has wilted and wrinkled.
If your grapefruit is cut into individual slices or circular slices, you must eat it as soon as possible. It will be good to eat for only two days, and you have to throw the food poisoning away.
What is more? With peeled grapefruit, it can be kept for 10 to 21 days in the refrigerator.
When kept in an airtight container in the fridge period, cut-up grapefruit will keep for approximately five days.
How To Tell If Grapefruit Is Bad?
Can grapefruits go bad? Yes, of course.
We'll go over several warning signs of the spoiled grapefruit, such as color of grapefruit, touch, smell, and texture, to help you recognize them and throw them out right away since they're dangerous to your health.
Color
Soft texture and skin yellowing are prominent characteristics of bad grapefruits.
The soft spots become damp and can grow mold, which is generally white color grapefruit at first, and the grapefruit should be tossed out.
Smell
When the fruit spoils and begins to smell, it's usually due to the development of rotting germs such as bacteria, yeasts, and mold. Sulfur chemicals produced by some yeasts are similar to human farts.
Touch
Grapefruit was entirely rotten, with a yellowed body and an awful odor. When you touch and press the shell on the grapefruit body, water will pour out.
Taste
If there's anything else about your grapefruit that doesn't seem right, such as tastes strange and weird, throw that bad fruit quality away as well.
Such problems might not be widespread, but don't hesitate to get rid of the fruit.
How To Store Grapefruits Fresh?
Harvesting season begins at the end of the year. The grapefruit needs to be finished picking and stored right away.
Otherwise, the fruit will be ripe, easy to fall, causing rotten conditions which makes it difficult to store.
You can use slaked lime, which has a considerable amount of calcium hydroxide, to prevent germs and viruses from invading your grapefruit that has just been picked.
Furthermore, because portlandite in lime protects against mold rotting, we can use it to preserve the grapfruit..
In the next part, we will be talking about how to cut grapefruits, so you can keep them fresh for a long period of time!
In The Container
This is a great storage option to keep grapefruit fresh once peeled, wrap it with a sealed container to prevent water from draining and wilting, and then place it in the refrigerator.
At the same time, only separate enough grapefruit cloves to use; the remainder should be preserved to maintain freshness and nutrition. Grapefruit should not be left out in the sunlight.
In The Freezer
Can you freeze grapefruit? The quick answer is a big Yes! You can freeze your grapefruit pieces in a freezer bag or an airtight container with proper freezer time. We bet that is the ideal solution for you!
To minimize wilting from the water draining, cover the grapefruit in food wrap. And then, you place your cut grapefruits in the freezer space.
Most people use this frozen grapefruit to make fresh grapefruit juice or smoothies blended with golden syrup to decrease the original sour taste.
If you taste this drink, you will take in more nutrients and boost your health benefits as well as beauty benefits.
Grapefruit smoothie is not only tasty and nutritious, but it also aids in the elimination of body heat and weight loss.
Plus, you can store your smoothies in the fridge for 1-2 days before using them with fridge temperature at 40 degree F.
Related Questions
Here are some frequently asked questions to help you explore fun facts and significant tips such as: how to thaw frozen grapefruits, right picking methods, etc. Keep reading!
Do Grapefruits Need To Be Refrigerated?
No is our fast response. It's acceptable to keep grapefruits on the counter. So, how long do grapefruits last on the counter? They only have a limited shelf life of around a week.
Use the refrigerator if you need extra time to eat when you're free.
What Color Should Grapefruit Be?
What to look for when buying grapefruit?
Grapefruits come in three colors: white, pink, and red. When a grapefruit is ripe, its hue will somewhat turn crimson.
The greater the taste, the deeper the hue. Choose plump grapefruits with silky, thin skin.
Does Grapefruit Juice Go Bad?
Grapefruit juice may be kept refrigerated continuously and last for around 7 to 10 days after opening. You may freeze opened grapefruit juice to increase its shelf life even further.
To do so, freeze grapefruit juice in an airtight container, leaving at least 0.5 inch of space headroom at the top because the juice expands when frozen.
How To Thaw Grapefruit?
Below are two techniques for thawing your frozen grapefruits:
To defrost your grapefruit overnight, place it in a closed container that will capture the moisture it creates while it thaws in the fridge. The grapefruit will gradually warm up in the fridge, reducing the cold.
For counter use, thaw the grapefruit at room temp. In that case, the fruit will warm up faster, and you'll be able to consume it right away.
How Do You Pick Grapefruit?
If the grapefruit is supposed to fall, the fruit becomes readily bruised and scratched, resulting in shrimp stamping, which is easy to rot and rots soon after a couple of days without picking.
So, if you don't want it to be damaged or scraped when picking, climb on the grapefruit trees and have someone below assist you with the fruit.
To protect the grapefruit trees from collapsing to the ground, use a pole with a pot for grapefruits on high branches.
According to grapefruit farmers' perceptions and experience, ripe grapefruits have a cold aroma, yellow skin, and they seem like they have a sweet flavor.