How Long Do Pears Last In Fridge And How To Store Them Properly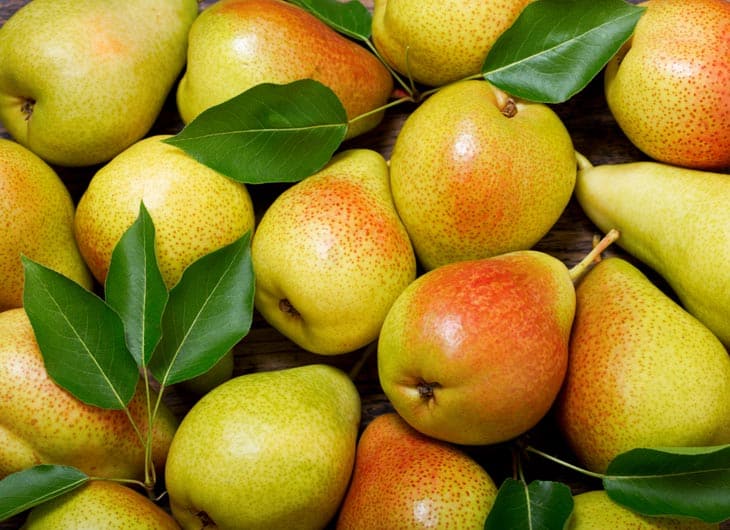 Pears are a super tasty fruit because of their fresh sweet taste and fibrous center. They are also high in vitamin content and rich in essential antioxidants.
If this is the first time you have tried pears, you might have many questions about the fruit storage, for instance, "how long do pears last in the fridge?".
How Long Do Pears Last In Fridge?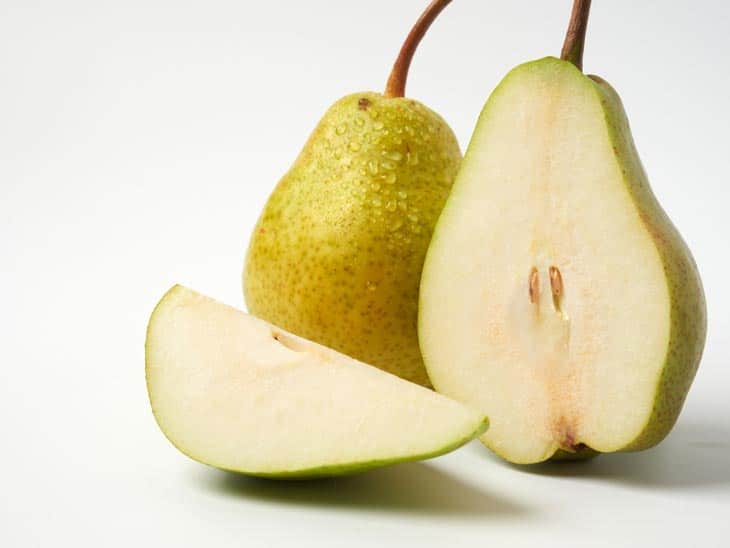 You have just bought a bunch of pears, and you wonder if you should store pears in fridge or counter?
The answer might depend on the pear ripeness. If you have raw pears, it would be best to store them in a dry place at room temperature for about one to four days.
This way, pears will become fully ripe and come with a tasty sweet flavor.
As soon as the pears are ripe, store them in the refrigerator to lengthen their shelf life. So, how long do pears last in the fridge?
Properly stored, whole ripe pears will last for five to twelve days in the fridge, whereas the pear chunks only last for up to three days.
That is because pears quickly turn brown and decrease quality after being cut. Thus, you should sprinkle the cut pears with lemon juice before storing them to prevent discoloring.
What about the shelf life of mature-yet-unripe pears? Can you put pears in the fridge before they ripen? Will pears ripen in the fridge?
The shelf life of unripe pears is almost as long as the ripe ones. But, the unripe pears usually taste blander and sour. Thus, do not refrigerate pears before they are fully ripe.
How To Detect Spoiled Pears?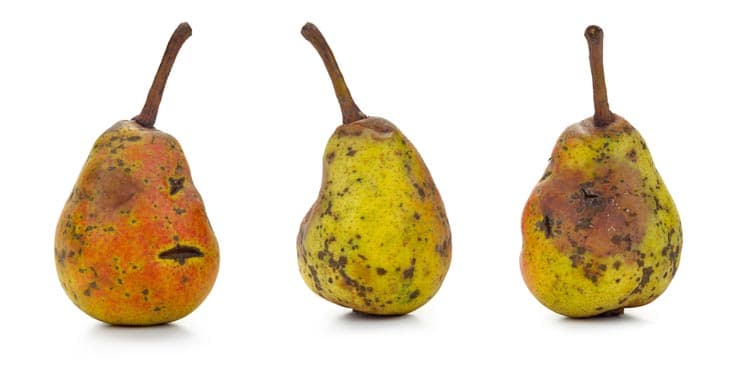 Now you know – how long are pears good for, and you might come up with another question: how to tell if a pear is bad.
Here are some common signs of spoiled pears to get rid of them:
First, you can check for dark spots or blemishes on the skin. Besides, you can touch the pear to test its softness. It may be spoiled if it is soft enough for your thumb to pierce the skin.
You can also test the smell. If the off odor appears, discard the pear right away.
Sometimes, the pear might look good outside yet become rotten inside. Hence, you should cut it open and check its flesh – a very soft and brown one indicates the pear is completely spoiled.
How To Prolong The Freshness Of Pears?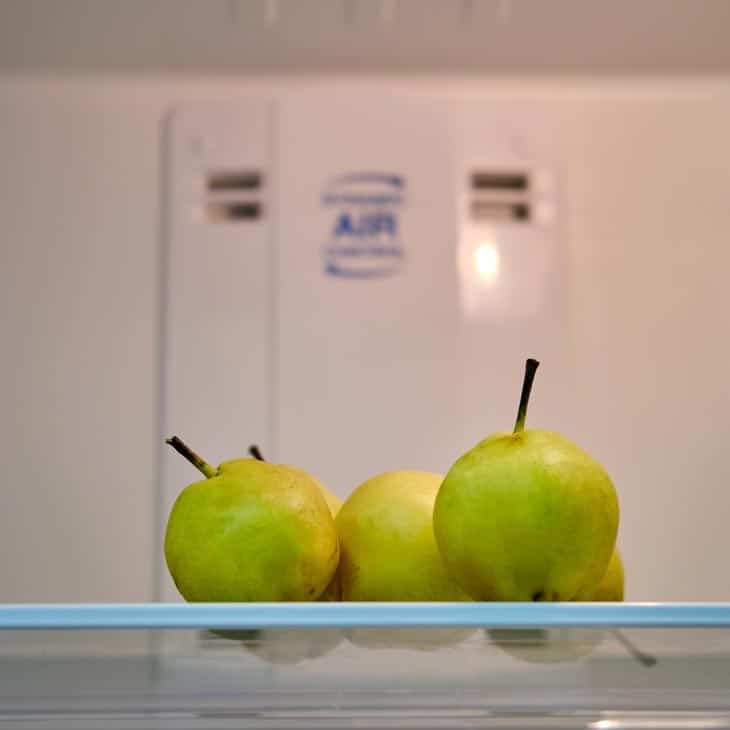 Storage is the most important factor of the pear's freshness. Thus, we will show you the top 2 storing methods to maximize pears lifespan in this part.
Short-term
If you have just purchased pears, and want to use them within a few days, let's try this short-term method. The steps are as follows.
Step 1: Examine your pears for ripeness.
Let's start with washing your pears and testing the ripeness level. The ripe pears need to be refrigerated, while the unripe ones need to be left outside.
So, how to check the ripeness of a pear?
You can apply gentle pressure at the top near the steam. A slightly soft flesh indicates a ripe pear that you can eat immediately.
On the other hand, if the flesh is quite firm, the pear is unripe. You need to leave it at room temperature a few days before using it.
Step 2: Store unripe pears in a dry place.
For unripe pears, store them as a whole in a dry place, such as in a fruit bowl on the kitchen counter.
It is necessary to use the pressing technique to check the pears daily and see if they are ripe enough to eat.
Step 3: Store ripe pears in the refrigerator.
It is better off storing pears as a whole since this helps to extend their shelf life up to twelve days.
If you have sliced your pears into small chunks, wrap them tightly in a sealed container to limit air exposure.
Note: you can use a little saltwater on the pear chunks as it is a good method on how to stop pears from browning when preserving.
Long-term
It would be best to freeze pears using the syrup-backed method for long-term usage.
This method enables you to use the uncooked end-product – perfect for making the salad. You can also cook it using sautéing or baking techniques.
Step 1: Clean and rinse the ripe pears.
Step 2: Prepare the syrup solution.
You can make the syrup by boiling sugar and water in a saucepan. You should use 2-4 sugar cups per 4 water cups. Then, simmer the mixture until the sugar dissolves.
Step 3: Pre-treat the pears.
Add the pears to the syrup, cook for around two minutes, and let cool.
The food preparation process can significantly reduce browning.
Step 4: Transfer the pears to the freezer-safe containers.
After the heat transfer, pack the cool fruit in freezer-safe bags or containers.
If you use bags, pack flat to coat the pear slices in syrup. On the other hand, if you use containers, leave room for headspace and use a piece of crumble wax paper to keep the pears dipped in syrup.
Step 5: Label the pear containers and place them in the freezer.
Label the bag or container with the date to easily track how long it has been in your freezer. After that, place the pre-cooked pear on the back of the freezer to avoid air exposure.
Freezing helps to lengthen the pear lifespan to up to 10-12 months. For further information on how freezing helps preserve food quality, you can learn about the thermodynamics and appliances in food freezing.
Frequently Asked Questions
What Is The Best Method To Store Pears?
The answer might depend on your purpose of using pears. If you want to eat the fresh pears within a few days, store them on the counter or the fridge.
Nevertheless, if you want to save the juicy pears for the winter, it would be best to pre-heat and freeze them. This way, they can last for months.
How Can I Slow Down The Ripening Of Pears?
As mentioned, pears hardly ripen when they are in a cold temperature. Thus, storing your fruit in the refrigerator is the best way to slow down the ripening process and maintain its quality.
Can I Eat Spoiled Pears?
Bruised pears are safe to eat though they might be less tasty. So, what to do with pears going bad?
You can remove the bad parts, use the rest as an apple substitute and bring the fresh air to your apple pie. You also make pear oatmeal muffins -the savory and healthy dessert.
However, if you notice any rotten or moldy signs on the fruit, you should throw them right away.
Conclusion
Knowing "How long do pears last in fridge and other places" is quite helpful to store them properly. Let's follow the storage methods above, so you can prolong the freshness of your sweet fruit.
If you still have any questions about pear storage, leave your comment below. We will do our best to address your queries.